Essential oils feature the concentrated essence or aroma of plants, preferably herbal. You can consider the leaves, flowers, roots, stems, bark & other elements for extraction.
The benefits happen to support air freshener, aromatherapy use, beauty product & even bug repellent.
It's somewhat difficult to afford all the necessary essential oils within a reasonable budget. Therefore, many enthusiasts look for DIY essential oils at home to save the wallet.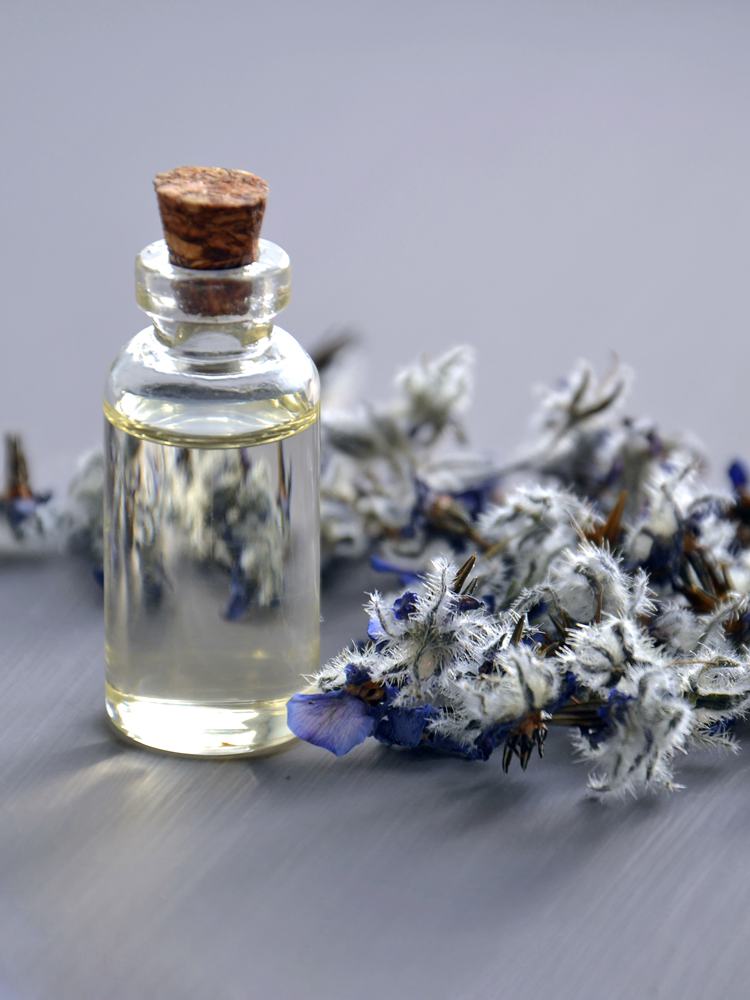 Why Should You Use DIY Essential Oil?
Genuine essential oils are extremely expensive, regardless of the context. But prepping the oil at home requires almost nothing from the fiscal perspective.
Cheaper oils are primarily diluted, causing issues where concentrated oil is necessary. Direct extraction means you can dilute the liquid as per your necessity.
Commercial essential oils tend to include some preservatives or chemicals. Chances of getting pure oil remain low with the supermarket/online purchases.
And it's possible to encounter physical reactions to certain oil blends. Therefore, sticking to homemade oils can definitely secure your full physical response.
Let's take a look at the DIY essential oil ideas you should try by yourself.
1. At-Home DIY Essential Oil
It's more like a standard DIY instruction to prepare any type of essential oil. The strategy concerns steam distillation for the process. However, you must get to know the basic differences between infused oils & essential oils.
Pure oil extraction seems to come from chocolate mint or mints only. But the process prefers lavender, oakmoss & patchouli for blends.
You just need to put a sufficient amount of fresh plant material on a closed crockpot. Implementing six steps using distilled water will eventually prep the oil. Also, you can check the essential tips for proper material amount.
DIY: Check the Tutorial
 2. Essential Oil Perfume Recipe
Why not consider saving $9 - $10 on a single ounce of essential oil? Hit the backyard garden to use a good amount of fresh lilacs for your essential oil.
The video comes with an onscreen description to let you understand the whole process. It should feel considerably simple for anyone to have the ingredients. Likewise, you can attempt different recipes through particular plant elements.
Neutral oils like grapeseed oil on a pan will initiate the extraction in the kitchen. Cooking the flowers for ⅚ hours should accomplish the genuine liquid.
3. Basic Essential Oil Recipes
It's not an easy task for many beginners to succeed on the first attempt. But any beginner should try the simplistic 10 formulas for prepping essential oils.
You'll know the oils for – perfume, relief, cleaning, spray, face, headache, bath, deodorant, lip & body.
Each recipe features a straightforward process with necessary ingredient lists. Particular method comes with additional tips to enhance your experience.
DIY: Check the Tutorial
 4. Easy Recipes of Essential Oil
The article appears more like the practical example of the previous guide. However, you can definitely try the featured four recipes using common ingredients.
Its list incorporates – essential oil salve, lavender shampoo, hand soaps & window cleaner.
You can combine the extracted essential oils to accomplish the tasks by yourself. But you may need some additional purchases of oils from rare plants.
DIY: Check the Tutorial
 5. Homemade Essential Oils
Let's find everything good about a plant using its concentrated essential oils. The presentation simply depicts all the steps to extract the whole plant's essence.
It concerns the common steps for extracting the essence in a proper way. But the video actually checked lots of red roses to set the on-screen example.
The detailed process will explicitly require vodka, dark bottle, strainer & clothes. And it'll take several days to complete the extraction for personal applications.
6. Self-Care DIY Oil Recipes
How about using essential oils for physical ailments regarding personal care? The content provides a perfect guide on usable oils for self-care.
You must look into the specific favorite list of plants for distinctive personal ailments.
And you better hit the DIY methods for skincare, bath, roll-on, spray & massage. Details on each recipe should suffice your proper understanding.
DIY: Check the Tutorial
 7. Anti-Aging Essential Blend
Almost everybody wants to look young, fresh & attractive all the time. And the video actually focuses on creating a blend rather than extracting the oils.
The process requires pure lavender oil with additional essential liquids for support. Steps to initiate the blend look easy enough to obtain the blend.
You better look into the promo code for getting a commercial discount. However, you can check for pure essential oils by yourself upon availability.
8. Recipes for Sound Sleep
Is there anyone to reject the demands or importance of sound sleep in life? You better stick with the homemade recipes using essential oils for a sound sleep.
The short article features four defined segments to address your sleep requirements. You can start with 'Peace and Calm Bend', 'Clear the Air Bend', or 'Ease the Mind Blend'. However, don't forget the universal 'Best Sleep Ever Blend' for consideration.
Surprisingly, the recipes actually need 2, 3, 4 & 5 essential oil ingredients respectively. You ought to know the dilution guideline to avoid negative impacts.
DIY: Check the Tutorial
 9. Gift/Holiday Oil Recipes
Specific essential oil seems part and parcel for anyone to prefer natural remedy. And you can surprise the near & dear ones with the favorite recipe. And the article lets you explore 15 different blends to ride gift or holiday packs.
Overall aspects of the covered recipes are somewhat wide enough to meet your specs. You can prep serum, gel, spray, salt, blend, rub, scrub & even cream.
Simple directions with necessary ingredients come with individual recipes. Initial cost will reach very high with particular essential oils from rare herbs. But you can consider the at-home extraction process with common plants.
DIY: Check the Tutorial
10. DIY Citrus Oil Recipes
All the citrus fruits are rich in multiple vitamins to recover malnutrition issues. And you can definitely create a functional blend of citrus essence right at home.
The article contains only four recipes to help with your physical ailments. And the list concerns – grapefruit, bergamot, sweet orange & lemon. However, you need to gather additional ingredients to receive the maximum wonder.
Not to mention, each citrus recipe incorporates multiple recipes with distinctive ingredients. It also lets you know the intended application of your prepped blend.
DIY: Check the Tutorial
 11. Fall Diffuser Bomb Recipes
Everybody tends to use air fresheners to address any disgusting living space smell. However, you're free to set an aromatic blend for a long-lasting fragrance.
How about essential oil diffuser bomb recipes to enjoy natural autumn aromas? The presentation has 5 simple yet effective homemade recipes to make it happen.
Initial description should make it clear about the intended process. Also, the video description contains every ingredient necessary to create the exact bombs.
12. Essential Oils for Diffuser
It's more like an elaborate content on essential oil blends for diffusers or air fresheners. A total of 20 recipes at home is sure to leave you impressed with the aroma.
The descriptions are somewhat short but clear enough for instant understanding. Likewise, each blend involves multiple common as well as rare essential oils. And you can consider saving the budget on readily available herbs.
You must keep the general guidelines in mind to dilute the intended recipe. And don't forget to check the integrated links for additional info on essential oil diffusers.
DIY: Check the Tutorial
13. Fundamental Oil Infusion
Can you actually make essential oils from plant extraction by yourself? Well, the answer comes in the comprehensive article on DIY herbal liquid processing. It exclusively encourages to start with the standard oil infusion strategy.
But you must check the integrated guiding links to decide on the initial cost. In fact, implementing the precise process actually requires reasonable startup investment.
Details on choosing the herbal plant for oil infusion hold extreme significance. And you'll get to know important facts about its spices as well as the flowers. But it only discussed aromatherapy infusion to follow a brief rose infusion process.
DIY: Check the Tutorial
 14. Full Essential Oil Guideline
The dedicated website to essential oils literally comes with a complete directory of the blends. In fact, there's no better article to know homemade blends of essential oils.
And the section on DIY essential oil recipes features 18 different web pages. In total, you'll get to learn about 172 recipes to cover every possible aspect of your life. You just need to click on 'Read More' on an individual recipe to explore its content.
The page should contain all the possible variations with different essential oil ingredients. And pictorial descriptions for every step clarify the process without confusion.
DIY: Check the Tutorial
Final Words
Saving the money on precious oils can't get any better than the aforementioned guide. DIY essential oil recipes cover the fundamental extraction as well as homemade blends. And you can comfortably try the extremely broad variations with available resources.