Depending on your home, you may want to put a gate at the end of your driveway. This is a common upgrade for people who want a little extra privacy. It is a relatively easy project that most people can do by themselves in the afternoon.
A gate for your driveway can add an extra layer of security to your home. It can deter solicitors, prowlers, and other kinds of inconvenient visitors. With a little bit of work, you can build a DIY driveway gate that will protect your home for years to come.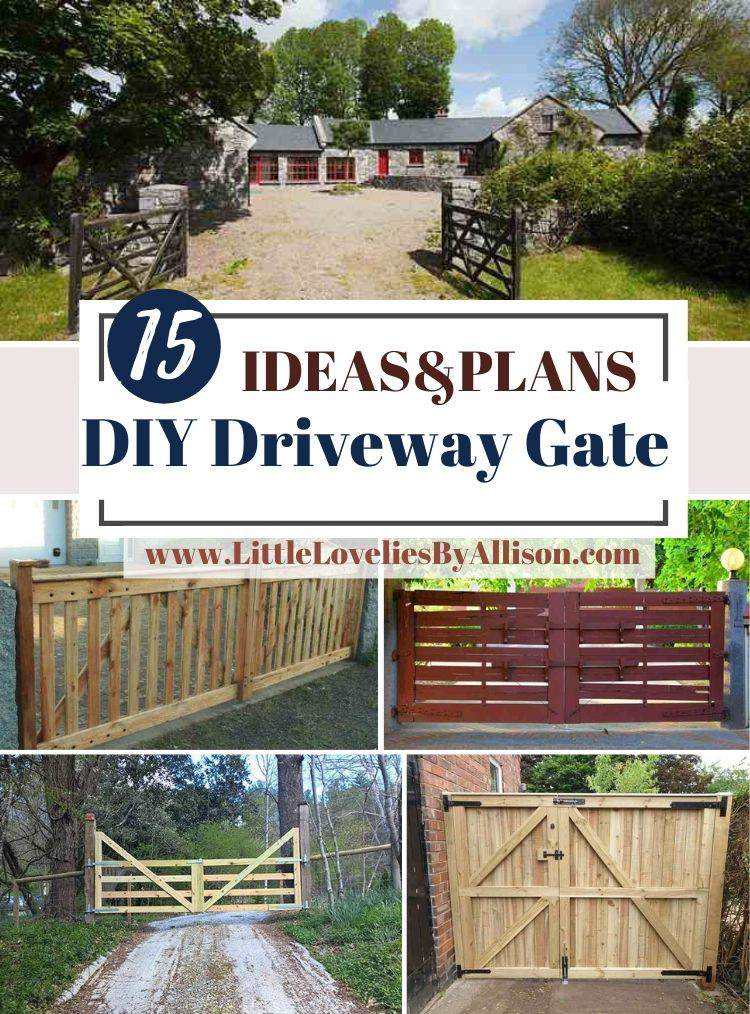 1. How To Build A Driveway Gate
If you're looking to build your own driveway gate then this is a great deep dive into the costs, mindsets, and skills involved to get this masterpiece done. It is a wooden gate build so if you stick through this entire video you will come across great pointers and steps on this DIY. Get your tools ready, purchase your materials as inducted, pay rapt attention and produce your masterpiece.
2. How To Build A Driveway Gate
Are you searching for an inexpensive way to mount a gate and obtain your privacy? This video walkthrough gives insight and step-by-step instructions on how to make this wooden gate using six-foot redwood, tongue and groove, pine, framing, treated wood, and other materials as seen in the video.
3. How To Build A Wooden Gate
If your gate is not in its right shape, with this Video you can learn how to redo it the right way. With this simple video process, you can make a gate that won't sag. See how the blend of notching, gluing, and screwing the frame can add strength, rigidity and prove the test of time for you. It may not be a redoing you're up to, but even if it is a fresh start you can keep up the pace and create yours.
4. Easy DIY Driveway Gate
Installing a driveway gate is a great way to add a little elegance to your home while protecting your privacy. How one is installed will depend on the look you want, the materials you want (wood, wrought iron, etc.), and whether or not you have a fence of some sort already. But in this case, the creator used Iron and that doesn't change much of a thing. All you need to do is ensure that you can weld or if not get a welder to do some of the details and you can then proceed with the rest.
5. DIY Driveway Gate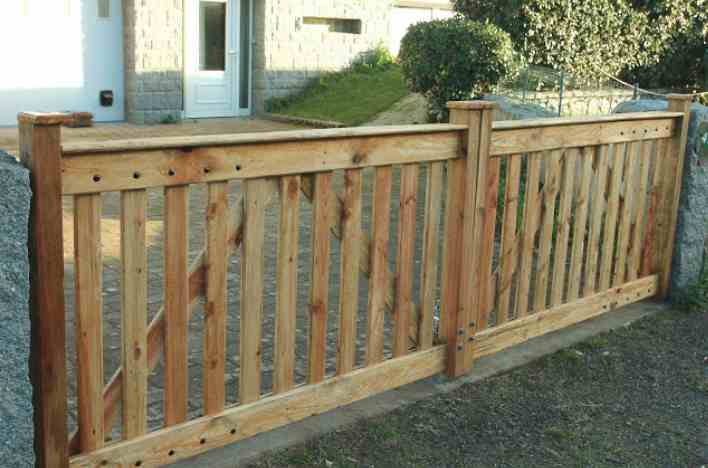 As usual, (not really though) pallet wood was chosen for the raw material. The width of each gate meant that the wood was from non-standard size pallets. The four vertical sides of the gates were 'stringers' from two-way entry pallets.
Diagonal braces were used to stiffen each gate. For the vertical slats, lay uncut timbers for the gate perimeter flat on the ground to the desired gate dimension and lay the slats upon them until a pleasing result is obtained.
In this case, 11 evenly spaced slats were deemed sufficient. The slats were secured between horizontal rails that were fixed to the vertical sides of the gates. Construct other parts and have your gate all set up.
6. How To Build A Driveway Gate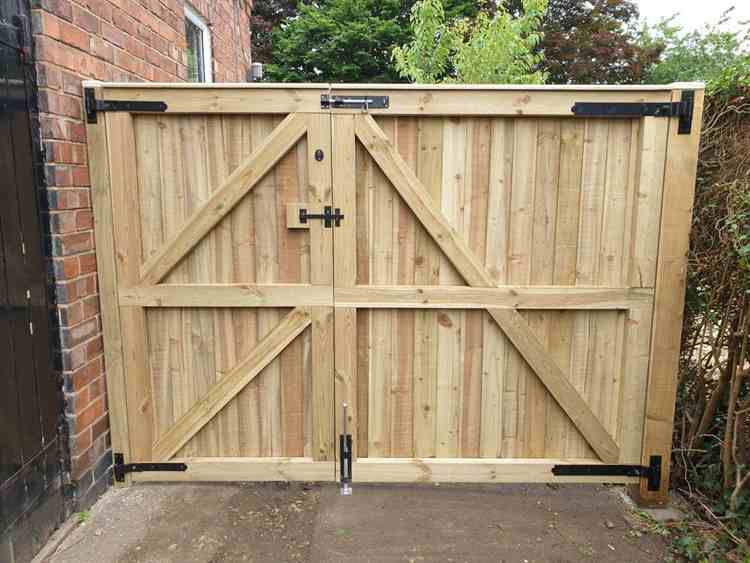 If this is your choice gate, then you're at the right spot. After you must have decided on the gate dimensions, post sizes, the framework design, what cladding to finish the gate in, and the hardware (including hinges) that would suit the gate best, you can proceed to use the following materials to aid a relatively quick build.
Gate posts, Scrap wood for stakes, Frame fixings, Galvanised ring shank nails, Decking screws, Feather edge cladding, 95mm x 45mm C16 timber for framework, 2 sets of hook and pin hinges, Suffolk thumb latch, Brenton gate bolt, Ballast, Cement, Gravel, Exterior wood glue and working tools.
7. DIY Driveway Gate Build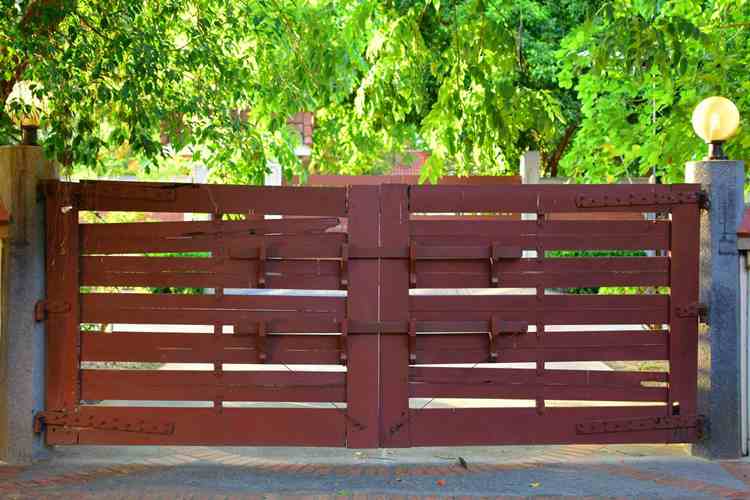 To build a driveway gate, you will first secure posts on either side of the driveway. Then, you will build two frames for the structure of the swinging doors. Then, attach risers for them to sit or roll on and hang them on the posts. You can build this gate to suit your taste and your ground contour either as a single swing, double swing, or sliding gate.
8. DIY Driveway Gate Build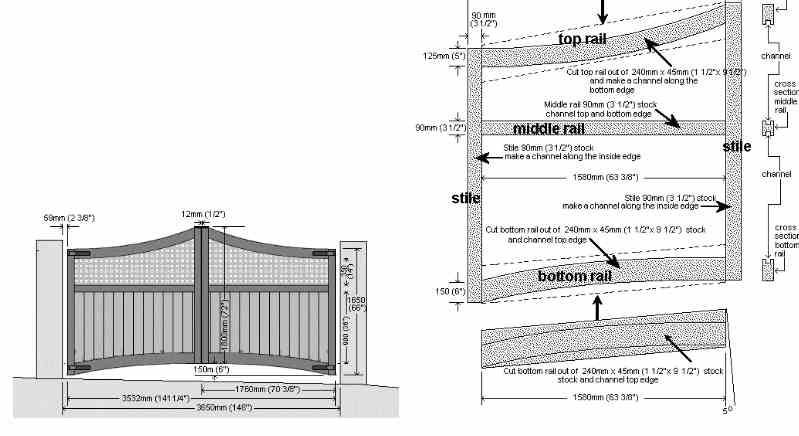 In the process of building this sturdy lumber gate, Chances are, your gates might have a different width and probably open over a different ground contour. Therefore, use this example as a guide only and make any necessary adjustments. Get your fine, dressed, treated stick lumber and with these simple instructions, you can have your gate too.
9. Homemade Driveway Gate
I think you're just gonna love the way this gate looks. It can be mounted elegantly at your driveway or your garden entrance. Speaking of mounting, let's learn from the tutor how to first build this wooden gate without much stress. It's inexpensive and saves a lot of your time by providing you with basic know-how. Go through and have a wonderful build.
10. How To Build A Wooden Gate
How this old raggedy fence turned out to look this good with the gate is quite amazing and interesting. In this video, you'll learn how to build a 12-foot wooden gate that won't sag. There's a little secret though, the secret is the lap joint that makes for a strong joint that will keep the gate from sagging for years to come.
Here's what you'll need; wood glue, handles, hinges, screw, latch, drop rod, oscillating tool, speed square, Kreg pocket hole jig, table saw, impact driver-drill, and circular saw.
11. How To Install Large Driveway Gates
Eventually, you will get to install or mount up your gate at your desired location. So to make this gate you're going to need posts to which your gate will have its support. Firstly you'll want to concrete your post to the ground and let it set before you think of mounting your large gate. This is to have a really good sturdy gate.
12. DIY Automatic Driveway Gate For $300
I mean, who doesn't get tired of opening and closing the gates themselves? Probably trying to rush off somewhere and you need to pause to close the gate after you. A stress relief good news is here for you.
You can make this automatic driveway at a really low cost as compared to what you'll purchase elsewhere. But you can build this and have your privacy and still won't be stressed out using the gate.
13. DIY Wood Gate Plans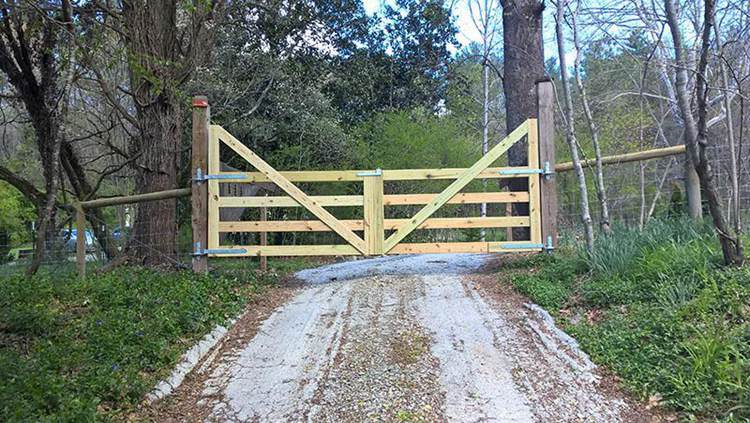 Allow this article to help you build a better gate. A gate that will not sag and you will be proud to build and own yours. So right here you'll have varieties to choose from because they're different gate building patterns like the double-V rail gate, X-rail gate, cape cod board gate, and Maine board gate. Have a beautiful build and enjoy your privacy.
14. Building Wooden Driveway Gates In Four Steps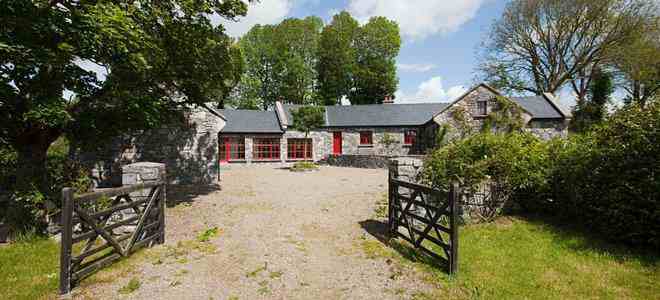 You will work effectively if you have a fence wanting a wooden gate, however, many of the principles can be applied to other fence types and gate needs as well with a little ingenuity and some Do It Yourself know-how. But with this, you begin by attaching your post. Build your wooden gate frame, attach risers and finally hang your gate. Don't think twice, just do it.
15. Driveway Entry Gate DIY
You can make this metal gate for your driveway at a rate that won't break your wallet but will at the same time grant the quality you desire. Please note that this gate is in no way meant to be secure, one could easily walk around on the uphill side. But this is a nice way to close up the driveway and also a great addition to your home.
Conclusion
These driveway gates do not only protect your home and keep you secure but also adds a bit of elegance and style to the home. As much as they're different styles and patterns, you're not restricted to what is here. You're allowed to be creative beyond this and see what magic your fingers can create. Have fun building.