If you need a prop to use for your event or to add to your evil look costume then this DIY devil horns can make that even scarier. More so, it is not actually difficult to create but you will need to have the eye of an artist to pull this.
There are a couple of collections listed in this article that may help you make a choice.
1. DIY Devil Headband
If you have the basics in sewing then this should not be difficult for you. Get a hairband and cut your shape of a horn using whole fabrics or the scrap. When you are done sewing, set the horn firmly with fiberfill so it can stay upright. This is an easy way to make devil horns.
2. DIY Devil Horns With Veil
This cute horn is made of lace material but there is something that can easily be used to make it stand. It's the scallop edge. It looks more of a veil with a horn than just a stand-alone horn. You will need to get a lot of sewing done to arrive at this.
3. DIY Realistic Devil Horns
These realistic DIY devil horns look like they were growing from the forehead. Well, it's just art and you can make this for yourself too. People use gelatin to create skin effects so attach your horn to your forehead and begin the painting work.
4. How To Make Devil Horns
This can be so scary especially with the red horns and the red hair too. These DIY horns are made from easy accessible materials such as felt and a headband. To make it stand upright, you will need to stuff some toy stuffing inside what you have sewn together.
5. DIY Quick And Easy Devil Horns
Devil horns and a quick makeup gives the perfect effect. You can always find supplies that are within your budget but in all you do, don't miss using the prosthetic adhesive and the air dry clay. To create your horn, you will need the Crayola Air dry clay to mold.
6. DIY Devil Horn Headband
The felted wool sweater stash might just be the best bet. Cut out your pattern and stuff them appropriately. You can sew up and keep them somewhat safe.
7. DIY Devil Horns
These prosthetic DIY devil horns sincerely look devilish and scary. This is good material for Halloween. You will need about 4 hours to get this done and some modeling clay to start off. Use a toothpick to give the horns some character. Mold, dry and paint.
8. Halloween Devil Horns Makeup
The eyes are cool but the horns are way cooler. These are made from paper Mache and acrylic paint. Design the shape of the horn and give us a caption. Add some support for pasting and painting. When you are done, you can attach to the head
9. DIY Devil Baby Costume With Horns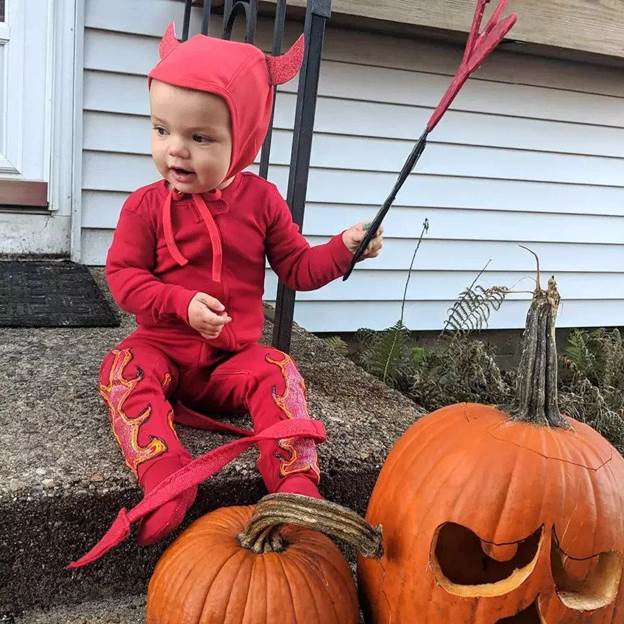 If you have access to a zip footie then you are one step closer to where we want to be. You will need a red toddler bonnet, a cardboard box and a black duct tape. Use a foam and cut the pitchfork on it. The flames can be made on a fabric and attached to the zip footie.
10. Sculpt Demon Horns DIY
These DIY devil horns somewhat resemble maleficent by the pattern and design. If you can't get a blacktop then you can try looking for it. This black horn is made from foam and paper towels. You can always make them either more realistic or fancier. Trace each piece and attach to the main horn.
11. How To Make Devil Horns
This construct is made with polymorph. When it gets cold it turns really hard. Form your shape with it and go-ahead to paint.
12. Easiest Devil Horns DIY
This horn is attached to the forehead and looks real. This is pretty much easy to do with a pack pinch peanut. Pinch it to shape and paint.
13. DIY Demon Horns
This DIY devil horns as the name implies looks demonic. You won't believe a cosmetic sponge can be used for this. Paint as soon as you are done.
14. DIY Spiral Horns
These horns really look catchy and appealing. If you want to act as the villain in any scene then this is where you should be. This lightweight is made of old newspapers cut into some pieces and shaped like a twisted horn.
15. DIY Devil Horns Makeup Tutorial
Click for more details
For prosthetic purposes, you can always make a horn and design it the way you want it to be. You will need to pass through the sculpting layer, the painting area and finally the wound creation. You will also need to fit your nails in terrible paint layers and get your face make up done.
16. DIY Devil Horn Hair Clips
Instead of going through the stress of making really horrifying and real DIY devil horns, you can as well make a hair clip that can easily serve the purpose. Choose any color of polymer clay and form it into the shape of a horn. Position them on the clip and glue.
17. DIY Devil Horns Headband
This project uses Fimo clay and rhinestones to give the horns a bit of glow. When you mold to shape, make some holes in the clay before baking. These are where the glitter stones will be attached.
18. DIY Huge Devil Horns
Some horns need to be huge and well pronounced to fit the occasion it is meant for. These dark DIY devil horns are made of some really thick material. The horns are attached to a headband so they can stay on the head perfectly.
19. DIY Devil Hair Horns
Do you already have a costume idea for Halloween? If you don't then you can easily come up with this DIY devil horns costume so you can thrill people. The first step is to tie twin top pigtails and secure wires on the headband. Secure the pigtails end with bobby pins.
20. How To Make Demonic Horns
This horn neither shoots upwards nor face each other squarely, rather they twist and curl and bend to the back. But all these are done with the help of a headband. This method is the tin-foil/ paper Mache method. Wrap the foil to shape and cover with a masking tape. The glue gun marks the ridges then it is covered in paint.
21. How To Make Paper Devil Horns
This is made of paper and it is easy to carry about. You can also easily detach easily and reuse. Guess what it is made from? Tissue!! Just mold and glue.
22. How To Make Cheap Realistic Devil Horns
If you are running low on cash but need DIY devil horns, then try this. I think these devil horns are quite realistic. If the idea is to scare people with the horns, then I would recommend making this one. The process of making these devil horns is quite easy to follow.
23. How To Make Cardboard Horns
Cardboards look fragile but they are good enough for this. Fold the cardboard into a circle and continue to reduce the size until it forms a spiral hair horn. Keep attaching until you get the shape you want.
24. How To Make Devil Horns
This can be made from paper clay and it looks like a mold. Right, it sure is! Mold your clay into a horn. When it is hard enough, you can paint up with acrylic. There are two shades of paint. Once the clay is dry, glue your clips. For the tail, cut a piece of cloth and wire it around with the fabric.
25. DIY Devil Horns And Costume For Kids
You can always make a baby costume using horns, a mustache, a fork, and a cape. The horns look like they can glow in the dark.