Want to go deer hunting? You sure need a deer blind, it's the best thing ever. You can keep yourself hidden and go about your hunting time with ease. Many pay a lot to get a deer blind constructed for them, but with this guide you can easily and effortlessly make one at a cheaper rate, and in a more customizable way.
In this article, we have put together 25 DIY deer blind projects that you can make with ease. So, without further ado, let's see how it's done.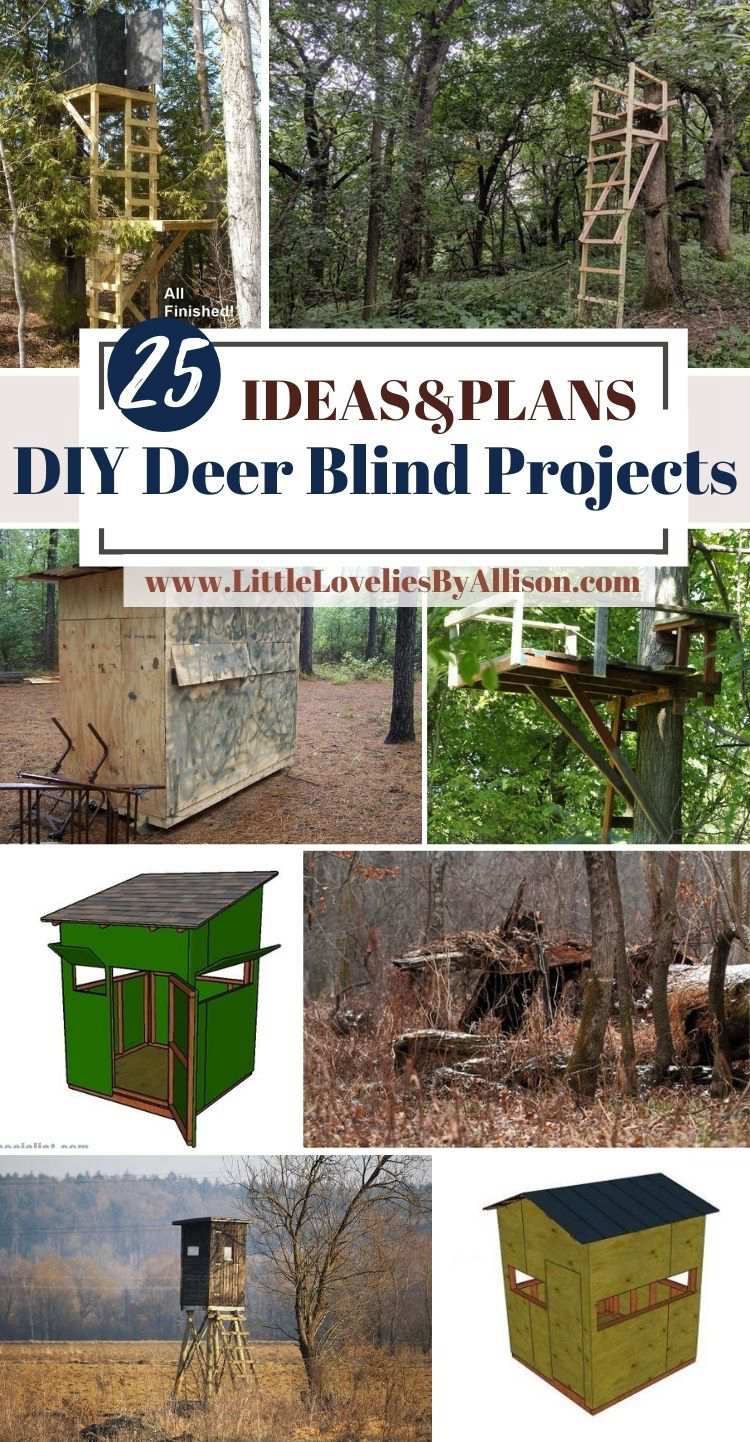 1. How To Make A Deer Hunting Blind
This is a pretty simple deer blind video guide, it will teach you how to make a box-like deer blind in a couple of hours. It's quite inexpensive, it cost $200 to make this, and you'll need only 3 woodworking tools for this project, a miter saw, a paslode nailer, and a rigid cordless drill set. It's a quick and easy guide, great for beginners.
2. DIY Deer Hunting Blind
Here is another 6x5 box-like deer hunting blind, it's pretty cool since it's an elevated hunting blind. This means the creator makes the box-like blind above ground with sturdy wooden legs. It's pretty easy to make if you follow the making steps properly.
3. DIY Simple Deer Stand
This amazing video guide teaches you how to make a deer stand and also how to make and shoot a compound bow: You can find this in the description below the video. The deer stand will cost under $400 and it's super easy to build.
4. How To Build A Blind Box Tower
This is another amazing video guide on how to make a deer blind Box tower, just like the previous guide about how you can make an elevated deer blind this is almost the same, but with a different building technique and style. The tower is also different and looks more sturdy than the previous one.
5. DIY Deer Hunting Stand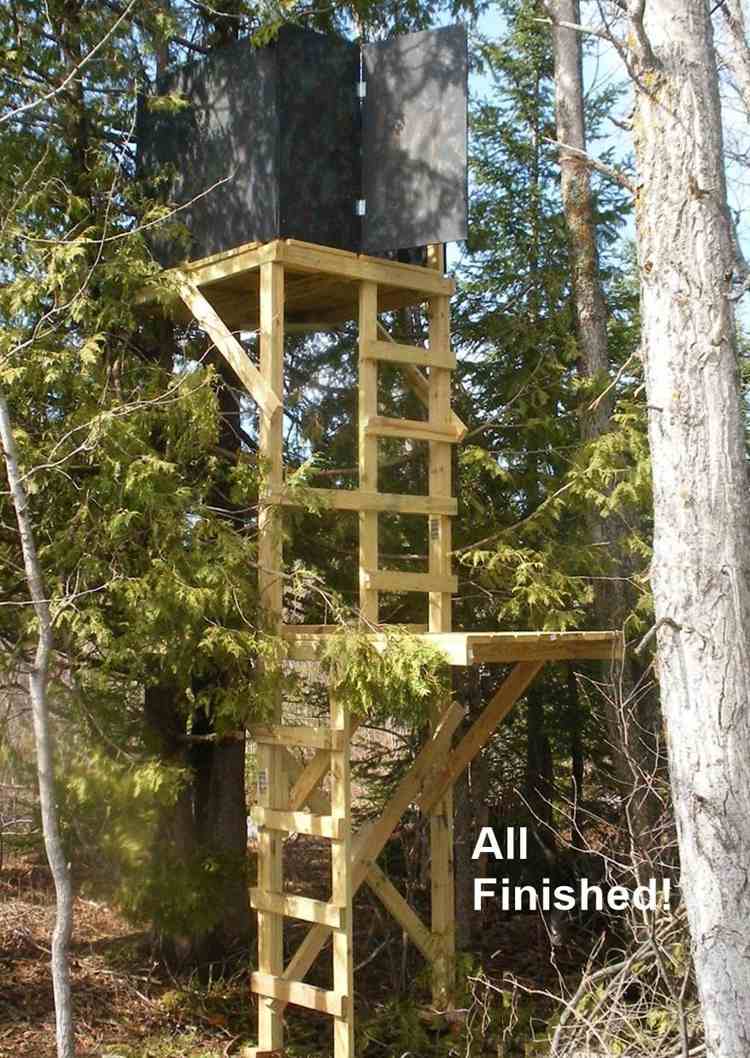 This is a 15" deer blind with a lot of height. It's super tall and if you set it up in the right place you can get a lot of concealment and privacy. The creator used some OSB boards plywood, threaded deck boards, Galvanized common nails, some deck screws, and lots more. It's a simple project that will require more than one person to finish.
6. DIY Deer Blind Plans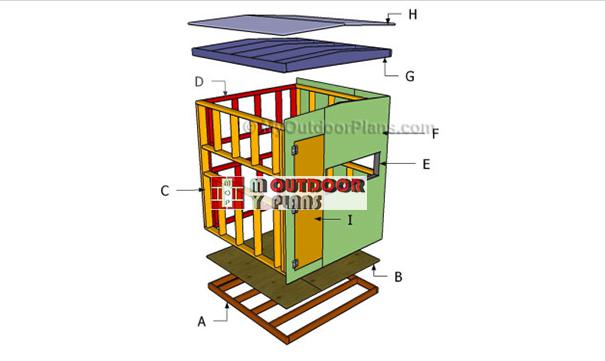 This guide features a detailed building plan on how to make a 6x6 deer blind. The creator used cedar, pins, and redwood boards for the construction and it's more sturdy and secure than most deer blinds on this list. If you don't understand the write-up, you can check the YouTube link to get the video version of this project.
7. How To Build A Deer Stand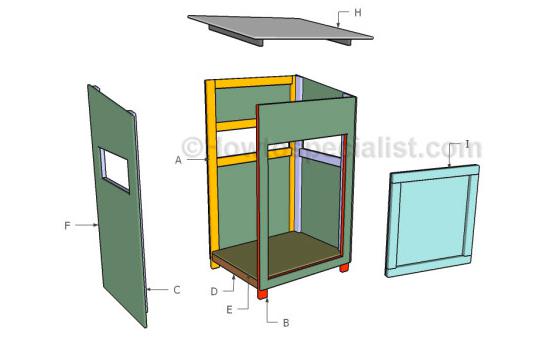 This deer blind is pretty straightforward, don't you think? The creator made some kind of sketch to see how it would look before he started cutting the wood boards into the desired dimensions. The creator used a lot of lumber and plywood, stand brackets, and other woodworking tools. This guide also contains a free building plan that you can try out and share with others.
8. How To Build A Deer Blind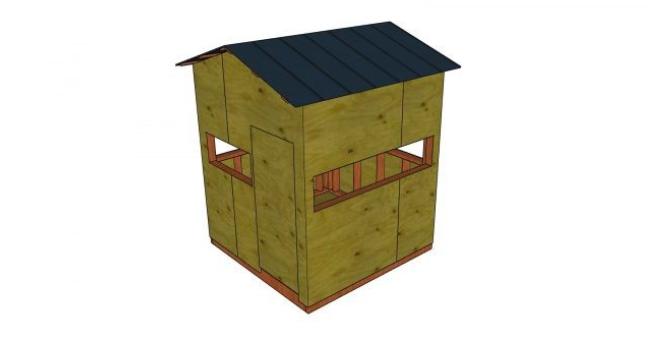 This is one of the best deer blinds on this list. It is simple to build because of the way the creator broke down every making process, even for a beginner to understand. This deer blind is also super sturdy and durable.
9. DIY Deer Blind Build
Here is a ground deer blind, it's not elevated but yet it's still super effective, cheap, and easy to build. It's the perfect video guide for beginners who don't have so much to spend and would still want a decent deer blind for hunting. This guide gets done to the making process with ease.
10. Deer Hunting Blind Build
This is an economical deer hunting blind. It's a 5x6 deer box blind and it's pretty easy to build. It's also an elevated deer stand with a base made of 4x4 wooden posts and other wood planks. The top was made from some OSB and plywood boards. It's also pretty cozy because the creator insulated it due to the freezing weather condition in that area.
11. How To Build A Hay Bale Blind
This is unique and by far one of the most effective and super sturdy deer blinds to be ever made. The creator used some plywood boards like every other project on this list, the construction was kept simple and unique but he decided to cover the entire box blind with hay, this gave the deer blind a camouflaged look of the surroundings and this makes it perfect for hunting.
12. How To Build A Deer Stand
With this time-lapse video guide, you're going to make a deer stand with a lot of plywood and lumber, nails, some woodworking tools, and a few other supplies in 10 minutes. How true can this be? Well, check the guide and find out.
13. 5x5 Deer Plans
This deer blind build is pretty easy to follow than most guides on this list. The creator elaborated more on things he used, the dimensions, how he arranged the wood boards for assemblage, the cut list, and other materials and tools needed for this project to be brought to completion. It's simple to follow.
14. DIY Deer Blind Plans 4x6
The same woodworking tools and materials used in the previous guide are the same as the ones used in this one. The only difference is the dimensions. The creator made this in 4x5. It might look smaller but it's perfect for hunting for more than one person inside at a time.
15. How To Build An Inexpensive Deer Blind
This is an 8-foot tall deer blind made with 2x4s and 1x2s wood boards. The making process is super easy to follow and understand. It's also an elevated deer blind that costs about $100 to $300 to make.
16. DIY Natural Deer Hunting Blind
It's hunting season, what are you waiting for, choose your location, choose your tools and let's go out into the wild, and let's make ourselves a natural deer hunting blind. It's not a perfect structure, just get as much wood as you can find In the bush and make a simple deer blind.
17. Custom Deer Blind Build
This project started with the creators making the base for the blind, then he attached the leg frames, before talking about reinforcing it with Tire bond III wood glue, and some nail screws. The making process is effortless and the deer build is a simple elevated build.
18. DIY Deer Hunting Box Blind
This deer hunting box blind is highly effective, and durable. It cost about $140 to build and the creator used a lot of treated lumber for the frame.
19. DIY Hunting Blind For $30
Deer season is about to start and the creator can't wait to make a deer hunting blind, so he went ahead and built one for as cheap as $30. After cutting the wood to the desired dimensions, it took him 7 minutes to put it together and set it up on the ground.
20. Recycled Pallet Wood Deer Blind
So, wouldn't it be cool to use some of the recycled pallet wood for the project? This guide is perfect for those that already have pallet wood at home and have no idea what to do with them. The rest invokes using a few simple woodworking tools.
21. DIY Cedar Deer Blind Plans
This is an elevated deer blind made with cedar lumber boards, wood filler, wood glue, screws, plywood, and other woodworking tools for cutting and finishing. The elevation height of this box blind is quite low so you don't have to worry if you're scared of heights.
22. DIY Hunting Tree Stand
This is a simple tree stand, it's not a box-like build, so if it's raining, you're definitely getting soaked. Although it's an elevated deer tree stand, you can only build this efficiently with the help of a tree, the structure will be fairly attached to a tree as well as other wooden frame parts going into the ground, giving it strength and stability.
23. DIY Box Blind
This is an amazing deer box blind the creator made with plywood boards. He first started with the base, then the frame, before covering everything with the plywood boards. The step-by-step guide is super easy to follow.
24. DIY Deer Blind: Wooden Ladder Stand
This is a cheap, and easy way to make a deer blind that keeps you hidden if you decide to paint it to blend with the environment. Although the creator left it with its plain wood tone, it's pretty easy to spot any deer from way up, it's an elevated blind that was built with the support of a sturdy tree.
25. DIY Hunting Blind For $0
Don't have a dime? Don't worry, you can still make deer hunting blind with ease. Although you'll need some basic tools for cutting and nailing the junk and scrap wood to each other to form a ladder tree stand blind.
Conclusion
That's how easy it is to make a deer blind, so say goodbye to spending unnecessarily on professional woodworkers, when you can get the job done yourself at the comfort of your home, and still get the effectiveness and functionality of the item you're building. Have a great hunting experience, cheers!