Have you ever wanted to make a DIY corset? Well, you are in the right place. What is a simple and effective way of losing inches from your waist? Make your own corset! Most corset begins at the underbust and extends down to the mid-hip. Most corsets feature laces up in the back. This allows for a snug fit, but with modesty panels, it can be worn comfortably over your clothing.
This article will show you 25 ways of making a DIY corset. There are a lot of ideas to choose from, you might have to go through the list a couple of times to make your pick. However, I am certain that you will find an ideal DIY corset project that you can make yourself. The process isn't very hard. If you have an idea in sewing, then this should be easy for you, but even if you don't have the knowledge, you should be able to make a DIY corset using the simple to follow instructions.
1. How To Make A Corset
In this video tutorial, you will learn three methods to make a corset. The first thing you need to do before getting started is to find the pattern that you would like to make. The pattern used in this video is a one-size pattern, unlike others that will have multiple sizes in one package. Instead of cutting the pattern directly, the instructor traces out the pattern on a sheet of paper. You can decide to use this method or watch the video further to learn another method.
2. DIY Corset Tutorial
Kiana explains how to make a corset in this video with all the materials and patterns you need. The corset she made at the end of the tutorial is transparent because she did not use organza. It is just one layer of fabric. If you want to do a double layer ( fabric and lining), she explains the ways you can go about that too.
3. Corset Top Tutorial
A corset is among the most sought-after DIY projects and there are a lot of tutorials on it. In this video, you will learn how to make a corset with a strap. The first thing that needs to be done is cutting the pattern for the corset. Then, cut the patterns out on a piece of fabric. If you would prefer strapless, you can just remove the strap patterns and you're good to go.
4. Underbust Corset DIY
Making an underbust corset is super fun! You will need the following materials for the project; bais, fusible interfacing, contrasting lining, bonnie, thread, and denim materials. The purpose of the contrasting lining is to ensure the chalk is visible. The first thing you need to do is to attach the lining to the fusible interfacing.
5. How To Make A Corset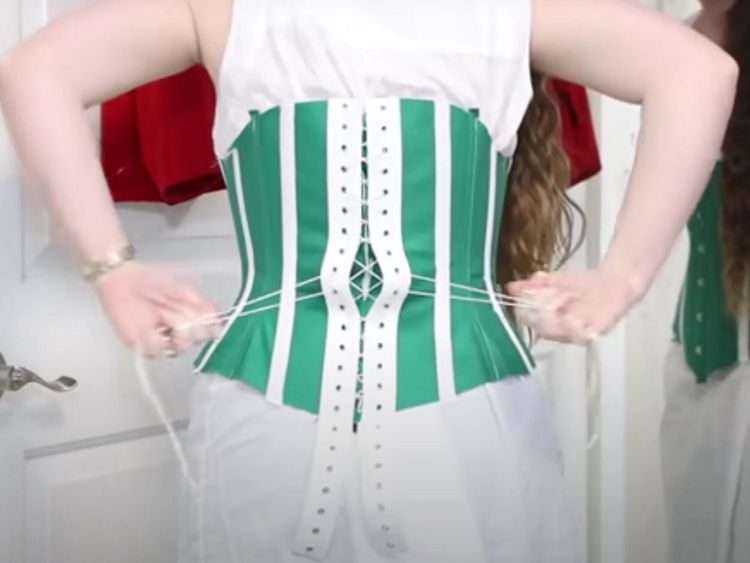 It is either you find a pattern or make one for this pretty corset. After getting a pattern, the next thing is to determine your measurement and choose the fabric you want to use. To have very neat and straight cuts, pin the patterns to the fabric and cut through the lines of the patterns. wikihow
6. Sport Mesh Corset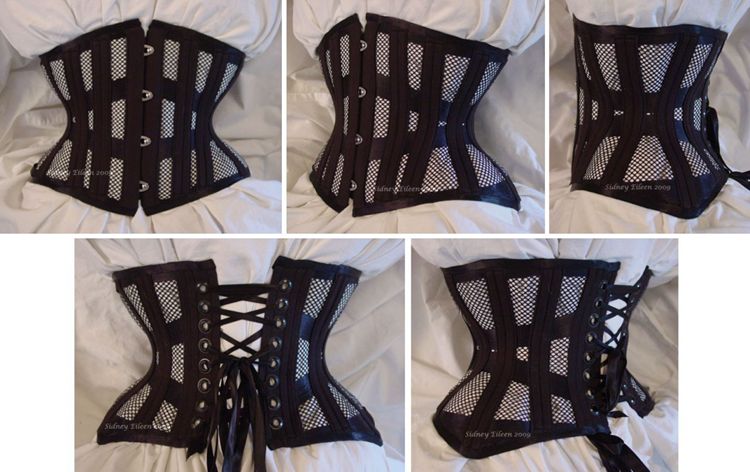 In this guide, you will learn how to make a mesh corset using synthetic sport mesh. However, the mesh must be a very heavy-duty one with a mesh hole size of nothing less than ⅛". You can check the link below for more details. sidneyeileen
7. How To Make An Adult Corset Without Sewing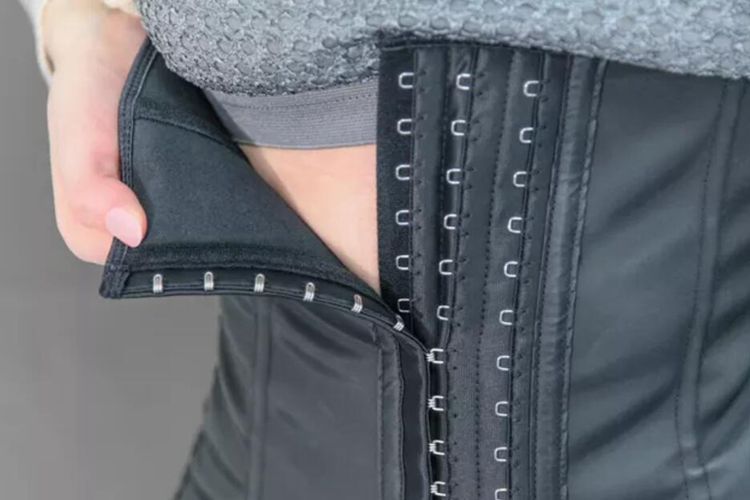 If you don't know how to sew, this idea is for you! All you need include an old fitted t-shirt, duct tape, and scissors. After getting these materials, put on the t-shirt and ensure it fits very well, else you will need to pin it inward. Then, ask someone to wrap the duct tape around the shirt. ehow
8. DIY Corset Pattern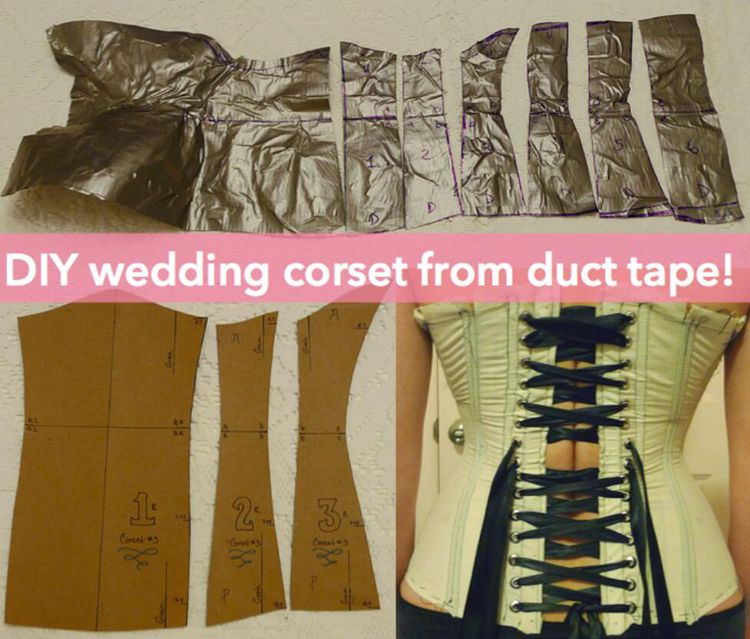 When you have a non-standard measurement, you should use a custom pattern for your corset. Because a store-bought pattern will require great alterations and disfigured your corset. The custom pattern used here is made from duct tape. offbeatbride
9. DIY Corset Tutorial
Corset tops are really cute and turn out beautifully on jeans and pants. The patterns used in this video tutorial were obtained from Nava Rose. The first pattern uses two types of fabrics; one for the lining and one for the outer layer. The fabrics are upholstery and Spandex. The first thing is to get your pattern pieces.  The pieces are six altogether.
10. How To Make A Corset Top
You need to check out this strapless bustier top! It turns out to be amazing. The fabric used for the top is wine in color and golden lace was used to decorate the corset. Both colors align excellently. You need a proper measurement before you can start cutting the fabric because the top is strapless
11. How To Sew A Corset With Bra Cup
Drafting a corset pattern with a bra cup is much easier than without a cup. Let's see how the instructor goes about it. Get drafting paper, a ruler, measuring tape, a pen, and a bra cup. The instructor starts by measuring the central front, then aligning the tip of the cup with the centerline. Then, she went ahead and measured the underbust and half-length.
12. DIY Corset Belt
You can use Jean or any kind of fabrics you're not using anymore to make this corset belt. To tie the corset in the middle, you can use ribbons, bands, shoelaces, or anything you have around.  Other materials you'll need include some eyelets, scissors, and pliers. Find out more about this corset belt below.
13. Zipper Corset
Learn how to make a zipper Corset in this guide! It will fit beautifully on any simple dress or white blouse. Let's see how to join the zippers together; you'll need 268" zippers for this corset. But you only need to stitch 24 of them together side by side for the corset. Check the link below to know what happened to the other two zippers. instructables
14. Kimono Corset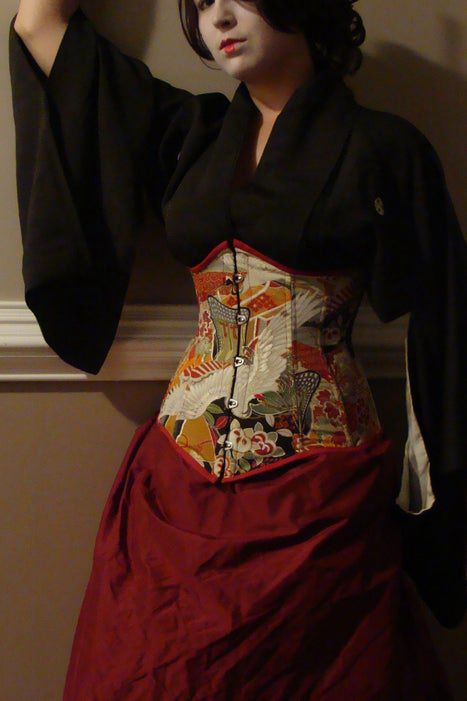 Boning is very essential to a corset, as it makes the corset fit snugly and beautifully. Though they can be expensive, there are some alternative ways to make s boning aside from the store-bought. In this guide, heavy-duty cable ties were used as the boning and it works very well. instructables
15. Simple Corset Tutorial
For this corset, you don't necessarily need to have a pattern first. All you need to do is to have what you want to make in mind. However, you can change it later. Get an old t-shirt and duct tape and be ready to work. instructables
16. Duct Tape Corset DIY
Duct tape has been known for its awesomeness and for fixing almost everything. In this guide, you will learn how to make a corset top from an old t-shirt and duct tape! The first thing you need to do is to put on the old shirt and start taking on it. The taping can be done by some as it's almost impossible to tape yourself all around. You can add the regular duct tape for the first layer and add any other color you want as the second layer. Instructables
17. DIY Corset Underbust
To make this underbust corset, you need bias, net materials, scissors, a chain, a sewing machine, and drafting paper. Since the vet is underbust, there's no need for a bra cup. Start drafting from the underbust and you're good to go. The corset has four parts, making a total of eight parts with the back.
18. DIY Victorian Corset
The Victorian corset can also be called a straight corset! In this video tutorial, you'll learn how to make a straight corset. The prerequisite for this tutorial is that you must know how to draft basic body patterns using Nathalie Gray's method. If you know how to draft the pattern, the work is half done. Check the link below for the full tutorial.
19. DIY Easy Wrap Corset Belt
An easy wrap corset doesn't require a band, or shoelace to tie it in the middle, all you need is a belt. The corset is made from textured wool fabric, fusible woven interfacing, lining, ridgeline boning, sew-on snap buttons, and a ribbon for the belt. The boning and snap button have to be sewn on to make the corset beautiful.
20. How To Make A Victorian Corset
This guide will show you how to draft patterns for this simple Victorian corset, how to cut the fabrics, and how to stitch them together. The fabric is cut into 12 pieces and joined together to form a nice corset shape. See the link below for more details about the simple Victorian corset.
21. Corset For Business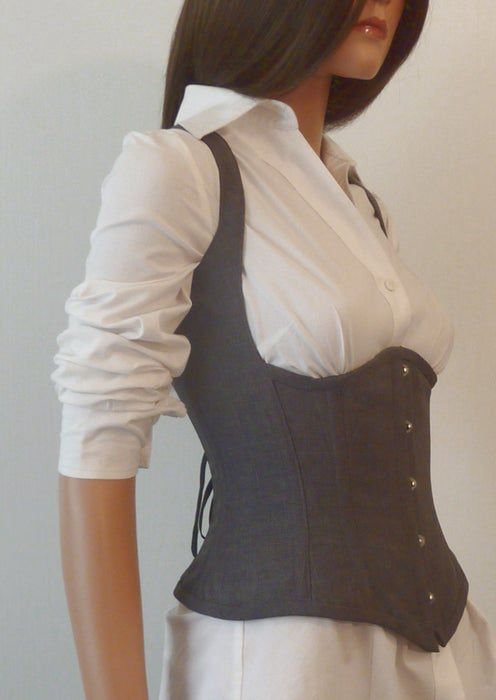 Depending on your sewing skill level, this project is not as challenging as most DIY crafts and it takes up to 15 or 20 hours to complete. The total cost of the project ranges from $30 to $50. However, if you don't have any tools before, it can cost more than this. instructables
22. Corset Drafting And Sewing
The idea of making a corset for yourself is great! You will have to draft the pattern, cut it and sew the corset together. This guide will provide easy steps to go through all these processes with instructions. Follow this guide and make a fine corset that makes you look sexy. instructables
23. Safety Pin Corset DIY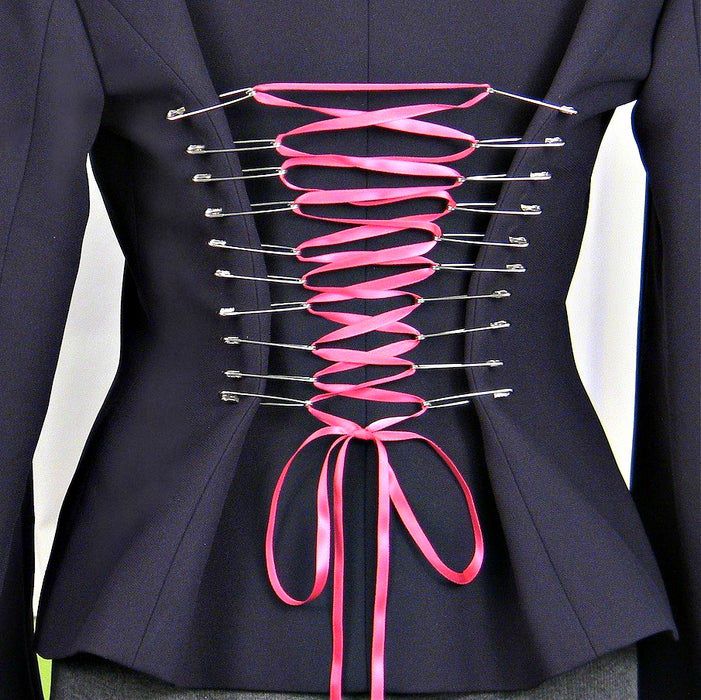 A safety pin corset is a simple way of making an effective lace-up corset with some basic supplies you can find around. This technique of safety pin corset can be used to adjust a loose blazer and make it look better and fit on you. The number of safety pins you need will depend on the size of the corset. In this guide, 20 pins were used. instructables
24. How To Sew A Corset With A Basque
Drafting the pattern for this corset requires a lot of understanding of the sewing terms. If you're a beginner, you might have to watch twice to understand the pattern correctly. Once you're done with the pattern, everything else is much easier.
25. DIY Corset Top
Do you have a beautiful top and you think it's not fitting very well on you? Bring it out, let's turn it into a fitting corset top. The first step in turning the top is to cut off the front and back helm. It would be best if you keep them somewhere because you'll need them later. Then, get a spaghetti top and use it to trace out the shape of the corset on the fabric.
Conclusion
When it comes to cloth fitness, corsets have gained popularity in the fashion trend for this! Corset brings out the shape and style of your dress. There are lots of ways you can DIY a corset, but all of them require you to have a pattern. The pattern will help make the work fast and easier.
The 25 DIY corset ideas above will guide you through your corset crafting journey! Check them out and start making something.