A clock remains one of the most important things to have in a house or office. There are a lot of beautiful homemade clocks that you can DIY easily.
In this article, I have listed 25 DIY clock projects made by creative people around the world. All the projects listed here have a tutorial that shows you how to make the clock. Trust me, you will find a clock that you will love.
1. DIY Plywood Clock
This has to be one of the most simple DIY clocks I have seen. Using just plywood and a bunch of other materials, the creator was able to piece this beautiful clock together. The process of making this clock is pretty easy. I would highly recommend this DIY clock for modern houses looking for the best interior decor.
2. DIY Clock Project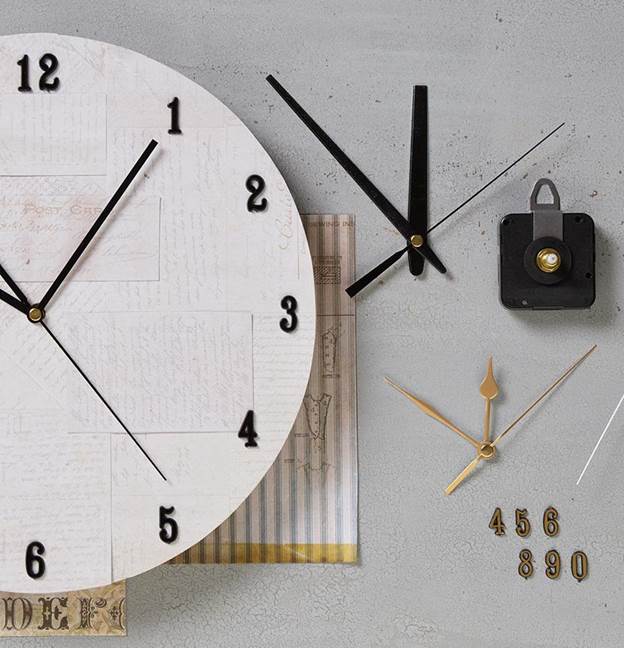 If you have never made a DIY clock before, then reading this isn't a mistake. I was able to find this free project that shows you 4 easy steps on how to make a clock. You will need scissors, paper, a shamrock craft clock movement shaft, and a couple of other tools.
3. DIY Chalkboard Clock
Imagine having a clock that you can write on, this would be great because you would be able to write down short reminders using chalk. In this DIY tutorial, the creator will show you how to make your very own chalkboard clock. The steps in making this DIY clock are very easy to follow.
4. DIY Rustic Wall Clock
Your rustic home decor would not be complete without a rustic wall clock. They are lots of rustic wall clocks out there, but you would agree with me that most of them are quite expensive. This tutorial shows you how to make your very own rustic wall clock without having to spend too much.
5. DIY Tidal Clock
I included this for people who love tide clocks. This DIY tidal consists of an airtight acrylic container that has two chambers, a front chamber that is visible, and a hidden chamber at the back. The making process might take some time to finish but if done rightly, you would love your new tidal clock.
6. DIY Wooden Clock
I must say, this is an amazing wooden clock, it can add beauty to your home. The first step for making this would be to cut the wood, which can easily be done with special tools. As you might have noticed, only one piece of wood carries the clock mechanism. The making process is very easy.
7. Rustic Wood Clock DIY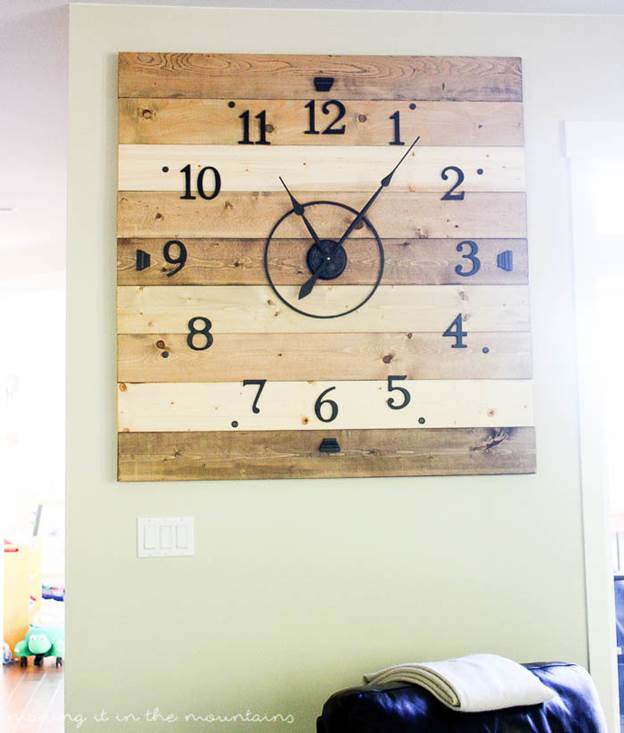 Here's another amazing clock that will most definitely get attention from your friends. Is this pallet wood? No, it isn't. You won't believe how cheap it was to make this beauty. The creator used 9 boards for this clock. I love how she stained the 9 boards with different colors.
8. DIY Photo Wall Clock
It could be your face or your baby's face, but I would prefer a dog or cats maybe because I am into pets. In this tutorial, the creator will show you how to perfectly make a photo wall clock using any face of your choice. The making process involves using a printer, so, be sure to have one around.
9. DIY Minimal Modern Block Clock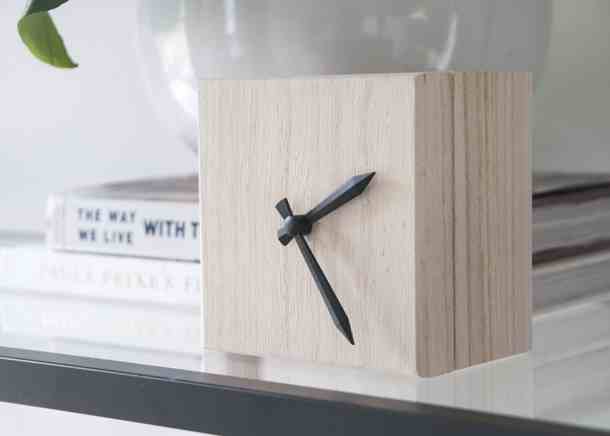 Some of us just want to turn to the side of our beds and check the time without being awoken by annoying alarms. I found this minimal modern block clock. It is ideal for office and home use. The best part of this box is the space inside it that can be used to store little stuff. Now, that's cool.
10. How To Create A Photo Wall Clock
Are you looking for something big to try? Here's an amazing idea from the successful homemakers. You could decide to use family pictures or pictures of your baby, either way, it would look amazingly outstanding. You will need a total of 12 pictures to put this clock together. Each picture representing the numbers on a clock.
11. DIY Plate Clock
All you would need for this clock are two things. A pretty looking plate and a battery-powered clock mechanism. You might not be able to find the exact plate used in this image, but there are other pretty ones to try out. Imagine using a black plate and a white clock mechanism, that would look great.
12. DIY Digital Clock
Is it possible to build a digital clock? Yes, it is, but making one of these would take some time to finish. You would also need some special tools like a CNC machine for cutting, a real-time clock, and a couple of other tools and materials. You will also need to do some programming, not to worry, the source code used has been provided for free.
13. Live Edge Bicycle Clock DIY
Words are not enough to describe how amazing this DIY clock looks. I was amazed when I got to know that the creator made this beauty out of a bicycle tire, wood, and some clock parts. The making process is fun to follow. You will need to take out the spokes and tube from the tires and then
14. How To Build A Hidden Shelf Edge Clock
This guide will show you how to build a hidden shelf edge clock that can change colors. Sadly, this isn't going to be one of those 5 minutes or quick projects. You will need to spend some time making this, you will also need a couple of power tools. I think this is a great way to add beauty to your home.
15. DIY Smartphone Alarm Clock
This unique box can display the time with help from your smartphone. Also, the box can charge the phone, also, it houses a mini amplifier and speaker. As simple as this DIY alarm clock looks, it takes a lot of time to build. However, the time taken will be worth it in the end.
16. DIY Wooden Digital Clock
I found a DIY clock tutorial that requires some electrical and woodworking skills. If you do not have any of these, there's no harm in trying to build one using the steps from the tutorial. The creator made the steps pretty straight forward.
17. DIY Large Wooden Clock
If you are looking at making a bigger clock for a huge hall, the making process is actually very easy to follow. All you would need to do is get larger parts for the build. In this tutorial, the creator explains how to build a large wooden clock from scratch.
18. How To Make A Paper Clock
Making a paper clock would be completely cost saving. In this DIY clock guide, the creator will teach you how to make a paper clock that has unique designs. You will need to do a couple of paper folds to achieve the beauty seen in the image above.
19. DIY Wood Slice Clock
The creator in this DIY guide was able to turn nothing into something. This would look amazing in a rustic home, the creator used a wood slice to create a DIY clock. I love the wood burned leafy vine between the numbers. Here are some supplies you will need; spray paint, wood-burning tool, medium oval basswood, and a couple of other materials.
20. DIY Clock
The best part about this DIY clock is that it can be painted to fit any home decor. This is a pretty simple DIY clock that was made using a clock kit, scissors, decorative paper, paint, a wooden tray, and a couple of other materials and tools. This DIY clock would look great on a bookshelf, what do you think?
21. PVC Pipe Clock DIY
I found an amazing DIY clock made using PVC pipe. My favorite part about this PVC pipe clock has to be the LED lighting used inside of it, the LED makes the clock look great in a dark room. The making process is pretty straightforward and easy to follow if you have all the required materials handy.
22. DIY Component Wall Clock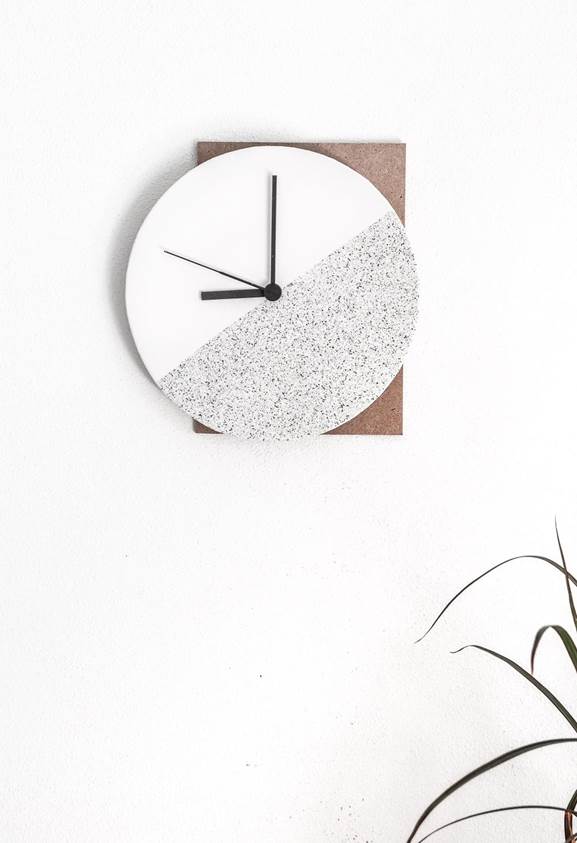 I would recommend this amazing DIY clock for a modern house. Making this is pretty easy. You will need a wooden plank, speckled pattern paint, clock mechanism, a drill, and a few other materials. The first step would require that you drill a hole, then you'll have to spray it, then put the clock mechanism together and that's basically everything.
23. How To Make A Modern Wall Clock From Wood
If you are looking for a DIY clock made of wood, here's one to check out. While doing research, I stumbled upon a tutorial that shows you how to make a modern wall clock from wood. The making process does not involve the use of many power tools, you will only need a drill.
24. DIY Marble Clock
This clock tells the time by the location of marbles, reading it at first might be difficult but once you get the hang of how to tell the time with this marble clock, you will love it even more. This has to be the most difficult to make DIY clock on our list, but if you are in for a challenge, I'd love to see you try.
25. DIY Embroided Basket Clock
Last but not least on our list of DIY clock projects is this beauty made by using a basket, clock mechanism, and embroidery tools. If you are good with embroidery you should totally try this out. Installing the clock mechanism is very easy. The tutorial will show you how to piece everything together.