Pressing is an important part of the hard cheese-making process, it goes a long way to determine the hardness, texture, and shape of the block or wheel of cheese. It is thus safe to say that a cheese press is a device of great value for anyone involved in or planning to get involved in cheese making.
A perfect cheese press should be able to successfully expel whatever moisture (whey) remains in the curd and enhance the final texture. Like all DIYs are created to do, these DIY cheese press tutorials will show you how to make your own DIY cheese press for little to no funds at all.
It is usually easier if you already have some or most of the materials used in the tutorial of your choice. Come along on a journey of a $10 DIY cheese press machine that can stand on the same platform with their over $200 counterparts.
1. How To Make A Cheese Press
The materials used in learning how to make a cheese press in this instructable are easy stuff to get and can be found in any place, regardless of the demographics. You'll need wood (remember to precut them at the point of buying to reduce your load), 2 springs, wingnuts, washers, wood screws, etc. Just a little bit of woodwork is required over the course of this tutorial, so be sure to cay your woodwork tools.
2. DIY Inexpensive Cheese Press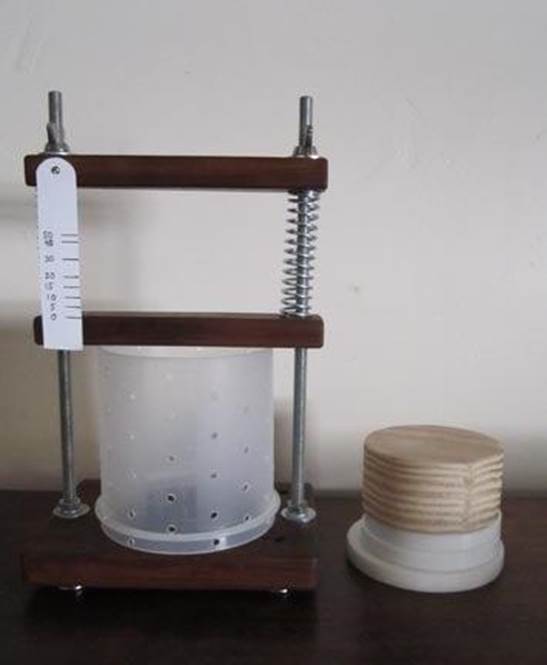 For just $10 to $25, make this DIY inexpensive cheese press that gets the job done just as well as the store bought ones which can cost even above $200. The DIY cheese press created with this tutorial can handle up to 2 pounds of curd and 50 pounds of treasure. Materials required include wood of varying dimensions (you will find the dimension given in the tutorial), screw-in feet/ a plastic pitcher, mineral oil, drill and bits, jigsaw, handsaw, etc. Remember that pre cutting your wood during purchase always goes a long way towards easing your work.
3. How To Make A Cheap Cheese Press
Learn how to make a cheap cheese press through this quick and easy tutorial. You are going to use 2 pieces of plywood or solid wood, put them on top of each other, and drill holes at all 4 corners.
After the drilling, metal rods that are slightly thinner than the holes are inserted into one of the wood boards, the cheese mold is then placed on the board (in the middle of all the rods) and a mason jar placed on the cover. All that's left to do is put the second wood board in place and place a weight on it that fits your needs.
4. DIY Cheese Press
This DIY cheese press uses 2x4 and some 1x4 clean untreated wood, nails them together into a rectangular box, and incorporates poplar wood as the base and cover of the box. This easy and inexpensive DIY cheese press has the advantage of not needing cheese molds, as the box functions as the mold.
Alternatively, you can craft your wood into any shape you desire to get different shapes for your cheese after pressing. All you have to do to use this is line the box, put it in the curd, and place weights on the lid.
5. DIY Dutch Cheese Press
A Dutch cheese press is a bit fancy but not to worry, this DIY Dutch cheese press tutorial video will work you through the steps and make it seem as simple as breathing. The first step is to cut your lumber into a 7.5" x 7.5" with base thickness being 1.5", then cut 2 more pieces of 2x2 each that are 16" long and one piece of 2x2 at 7.5" long.
These first cuts are what you'll be using to form the base of your DIY Dutch cheese press. The entire process involves a lot of woodwork so be sure to have all your woodworking tools handy and in good shape.
6. How To Build A Cheese Press
Threaded rods are fixed to a wooden board such that they are placed on either side of a cheese mold, 2 more wooden boards are fixed to the threaded rods at the top (slightly spaced from each other) and the machine is used to press down on the mold effectively. The great part about learning how to build a DIY cheese mold is that DIYs like this one eliminate the issue of weight imbalance on top of the cheese mold and all the sliding off of the weights that are prone to happen in such a case.
7. Homemade Cheese Press
This homemade cheese press also works as a cider press; 2 for the price of 1. You'll be saving double and the woodwork is a challenge worth taking on. White oak was used in this instructable as opposed to pine which is most regularly used in woodwork such as this. This is to eliminate the production of an aftertaste in the cider which pine is almost always guilty of bringing about.
8. DIY Cheese Press
For this DIY cheese press, you will need 2 pieces of 1" thick boards (18" x 24"), 4 small chunks of wood cut to make legs for the setup, 4 one inch dowels that are about 16" long, food-grade sealant, your woodwork tools, and sanding materials. It is a pretty basic setup that has the cheese mold in-between the 2 wooden boards – one acting as the base and the other as the top – with the desired weight to achieve the press placed on top of the top board.
9. How To Make A DIY Cheese Press
Materials required are a 6" PVC connector fitting, two ¾ x 12 threaded iron pipe, 2 screws, a 6" cast iron damper, a scrap piece of 4" PVC, and scrap pieces of wood alongside your woodworking tools. The total amount spent in making this DIY cheese press was less than $32 dollars and the results are great. The instructions also go forward to show how to use the press and end results, unlike most DIY cheese press tutorials that only show you the process of how to make a DIY cheese press.
10. How To Make A Cheese Press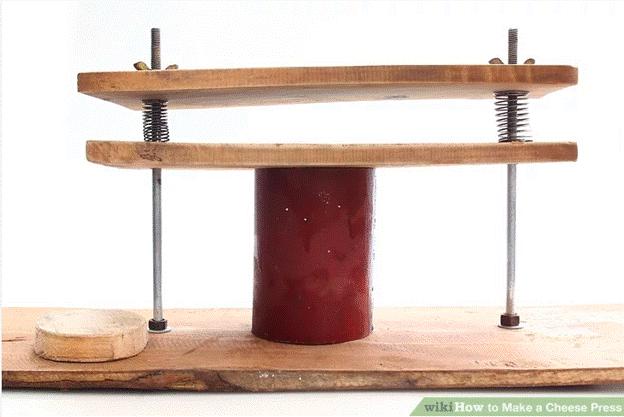 Made completely of basic materials you can easily find around, it's easy to learn how to make a cheese press using this guide of just 12 easy to follow steps. You'll need wood, springs, nuts and washers, threaded rods, and your tools. The making process of this DIY cheese press is easy to follow. However, It will take some time to complete.
11. How To Make An Inexpensive Cheese Press
The whole point of DIYs is not just functionality or creativity, but cutting costs and this DIY shows you how to make an inexpensive cheese press. It is also a good way to regulate the amount of weight involved in the pressing process, especially as different types of hard cheese require different weights.
12. Building A Cheese Press
A Dutch cheese press that is a beauty to behold, building a cheese press is made simple and understandable in this tutorial video. There's a ton of woodwork involved so get ready and remember to choose the best possible wood for your press.
13. Cheese Press DIY
It costs far less to build a cheese press following this cheese press DIY than it does to buy one, which is always a good reason to follow any DIY tutorial video. Be sure to go through the video completely before gathering your materials, that way you're sure of exactly what you need and can be better prepared.
14. How To Make A Cheese Press
A simple homemade cheese press made from very basic materials that can be sourced anywhere, this DIY cheese press can easily be disassembled to allow for proper cleaning and easy storage. The best part is that you need just a handful of materials and tools; a flat plastic sheet, springs, wood, handheld drill, PVC pipe, thread rods, fender washers, etc.
15. DIY Cheese Press Tutorial
This DIY cheese press tutorial is basic, yet highly effective. It also uses the method of a cheese mold pressed down between two wooden boards. The wooden boards help to distribute the weight used for the press evenly and it's possible to vary the number of weights based on the type of cheese you're making and its requirements. Major supplies used in this DIY cheese press include a cheese mold, galvanized floor flanges, wooden boards, galvanized pipes, a mason jar, and your woodwork tools.
Conclusion
We have come to the end of this article on DIY Cheese press projects. All the projects listed in this article were made by creative folks like me and you. Replicating them shouldn't be a big deal with the right skill and tools at your disposal.
Thanks for stopping by, if this article has been helpful, feel free to share it with your friends and family members who might want to make a DIY cheese press.