Cats love to scratch, if you are a cat owner, you would agree to this. Most times, seeing your cat struggling to scratch can make you feel sorry for him or her. The best thing you can do to help your cat is to build a cat scratching post.
There are many designs out there and we have listed some of the best ones. Below you will find a compilation of 25 DIY cat scratching post ideas that you can make from home. The process of making a cat scratching post is very easy.
1. DIY Cat Scratcher
This is a wooden DIY scratching post made of well-sanded plywood. Make your base and on your post, carefully wind your rope. Begin by hot gluing the rope to the post and the wind around the post tightly. Attach the post to base and drill screws in and your post is ready.
2. DIY Cat Scratching Post Using PVC
This DIY cat scratching post is made using PVC pipe. Place the wood on a slightly bigger felt and hot glue felt to wood. Make a circle on a scrap piece of wood to fit the pipe. Screw the cut-out circle from the wood onto the pipe. Apply hot glue and wrap the rope all the way to the top and you have a good job there. Items needed are; wood round, 3inch PVC pipe and PVC cap, 50ft rope, felt and a scrap piece of wood.
3. How To Make Cat Scratching Post
This is a nice cactus-shaped post, made with; rope, fur fabric, tape, plywood, sewer pipe and triangle, pipe caps, pipe 90 angle, pipe coupler, hot glue, saw, and staple gun. First make your base, prepare the pipe and attach the pipe base. Glue first pipe to base, start to glue rope, glue pipe triangle, and rope as well. Make the first shelf, glue straight pipe, and rope. Make top shelf and voila.
4. Durable DIY Cat Scratching Post
For this build, you will need plywood, 18 plus inch, sisal rope, hammer, trim nails, screw, drill, drill bits, wood glue, rug, sharper/pencil, and box cutter. Cut out your base of 2 by 2 ft square, drill post to center base. Apply wood glue and stick carpet to it. Wrap rope and you're done.
5. DIY Cat Scratching Post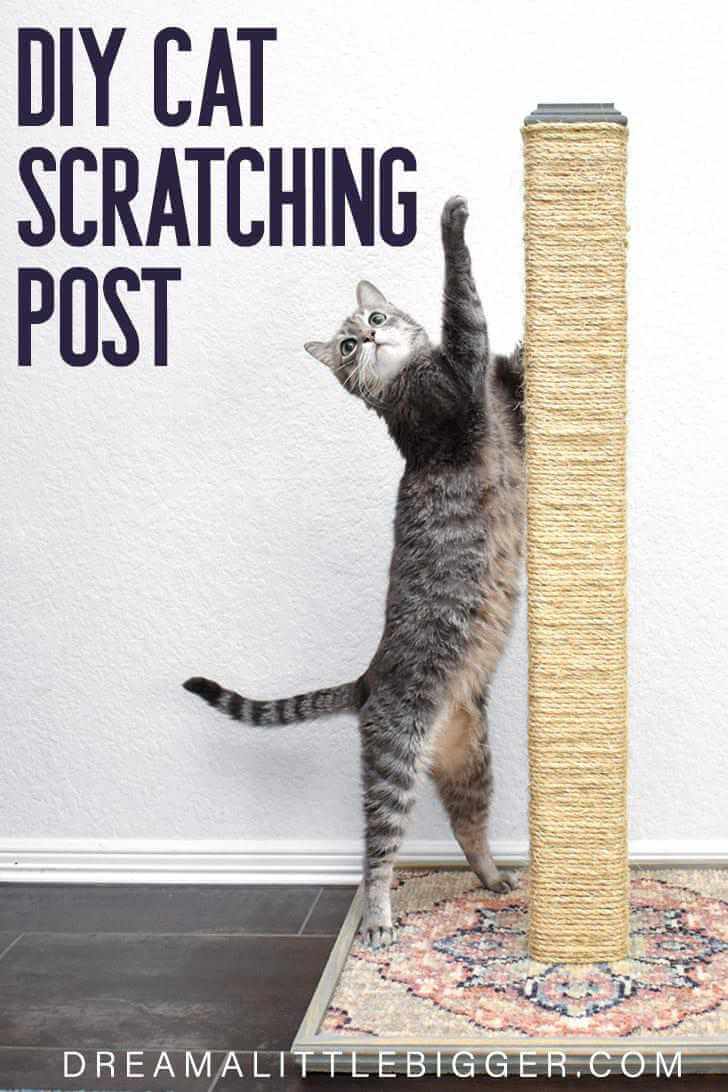 You will be needing the following equipment for your DIY scratching post; circular saw, drill & bit, utility knife, staple gun, hammer, speed square, rope, wood screws, wire nails, wood glue, post cap, and rug. On your base center, attach the post using wood glue and wind your rope from bottom to top. You can let your cat at it now!
6. Durable Cat Scratching Post
This works pretty well when upcycling an old cat post base. Measure your base so you can cut the rug to size, glue rug to base, and work your rope on the list from bottom to top (you can switch rope colors in between to add beauty) and that's done.
7. DIY Cat Scratcher With Carpet
If you have an old cat scratching post, you may want to avoid going through the rigor of creating anew. Regular posts are made with sisal ropes but this is made with carpet as it is less messy than fraying ropes.
8. DIY Cat Scratching Post And Storage Bin
This is an easy peasy method of having your cat post without any woodwork. Get a bucket with a lid (maybe a paint bucket). Run your adhesive vertically along with the bucket, hot glue the start of rope to the bucket, and wind the rope all the way up to the lid. You can fill the bucket probably with sand to give it stability and that's done.
See also: 16 DIY Cat Wheel Plans
9. How To Make A Cat Scratcher
This quite an easy scratcher made out of a pizza box. Create a square tray with the pizza box, then cut out cardboard strips. Take out the strips and add glue to each strip holding them together tightly then apply glue to the bottom of the tray and place strips inside. Your scratcher is ready.
10. Cheap DIY Cat Scratcher
Begin by stapling mat to a wooden base, add cardboard tube to base center. Apply glue around the tube and wind rope from too to the bottom. Glue top cap and that's it.
11. DIY Modern Cat Scratching Post
This is an easy post that slides over the arm of your couch. Drill rope to the wood and begin to wrap all the way to the top and drill rope at the top to secure tightly. Assemble other parts of the wood and then fit to the arm of your couch.
12. DIY Cat Scratching Tower
Measure and cut shelves, upholster shelves with carpet, fix the top and bottom end, measure, and cut a pole, install caps, wrap rope on the pole and you're done. Use ½inch drill bit, liquid nail, carpet, rope, cardboard tube staple gun, and screw gun to achieve this.
See also: 14 DIY Cat Fountain Plans
13. DIY Cat Scratching Post
This is unique and quite easy in a technical way, Lol. You will be needing a drill, wrench, knife, trowel, sanding machine, cutting saw, 5kg mortar, basin, 8mm threaded rod, nuts, washer, body protectives, and lots of cardboard. Pour mortar in a basin to get your base molded in the right shape, cut out square cardboard of equal sizes, make a hole through the center and align boxes through base rod spiraled or straight. Place second mortar on top of lined up boxes then add 3D printed cat figurine or a carved one. Your beautiful post is set for use.
14. DIY Cat Scratch Post
This is made using tires and some wood. Begin by extracting the tube from the tire, then insert the wooden post through the tube without letting it out at the top. Fill the tube with sand to give stability then wrap the tube with sisal rope. On the main tire, put the kneaded pad in the center, wind the rope on the tire. Attach the first post to a base with the main tire on top of the base and that's it.
15. Cat Scratching Post DIY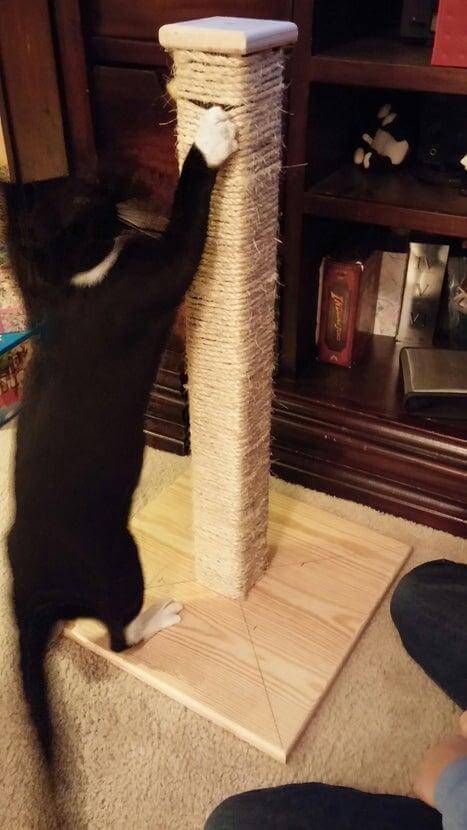 Get the following items ready; table saw, drill press, power hand drill, drill bits, framing square, sandpaper, brad nailer, base, post, cap, screws, rope, and screwdriver. To save cost you can get your post from an old table leg and mount it on your wooden base.
16. DIY Cat Scratching Pad
A simple DIY wooden scratcher could be hung up or laid on the floor. After getting these materials; saw drill, staple gun/adhesive, 1x10 wood, 1x3 wood, twine, and screws. Wind rope on the wood and then punch hike for hanging if you'd want that and that's that.
17. How To Make A Cat Scratcher For Free
A simple cat scratcher made with cardboard. All you need is just cardboard, box cutter, glue, ruler, tape, hole punch, rope, and catnip. Make a frame out of your cardboard, cut strips of cardboard to fit into your frame tightly. Punch holes at the top of all the strips and add glue to the strips to hold them together inside the frame.
18. DIY Cardboard Cat Scratcher
This is a super duper-easy cardboard scratcher. Measure and cut cardboard strips, fold up one strip completely, and tape together. Wrap up another strip on the first fold and tape it together, then do the same for all your strips as much as you want. Wrap up the final with a decorative sticker. Cardboard boxes, ruler, pencil, paper-knife, clear tape, and decorative stickers are what you will need to get this done.
19. DIY Cat Scratching Pole
Some of the things you will need are as follows: sisal rope, plywood, 3inch wood screws, 2 by 4 board, carpet, circular saw, hot glue gun, straight edge, tape measure, screw gun, scissors, and a staple gun. Firstly, measure and cut out your base, upholster base with carpet, attach post to base, wrap post with rope, upholster post top and finish up wrapping the rope, and voila!
20. How To Make A Cat Scratcher
The following is required of you for this DIY; 12x12" piece of plywood, one wood screw, blade, screwdriver, dowel, 8x8" cardboard square (80), 7x7" cardboard square (80), and 6x6" cardboard square (60). Paint base to add beauty, make a square at the center to fit in your Dowell. Drill dowel to the base with a wood screw. Start attaching bigger squares of cardboard to the dowell and move on to the next so it progresses from biggest to smallest and your post is done.
21. Colorblocked Cat Scratching Post
You will need an 18″ round wood circle, 4×4 wooden fence post (about 20″ tall), drill & screws, white 4×4″ post cap, 150 ft of ¼″ nylon rope*staple guns, electrical tape are what will be required. Dye rope to the desired color and wrap up the rope on the post, switching between colors where necessary. Glue a post cap on top and you can let your cats eat it now.
22. DIY Cat Scratching Pad
With your cardboard strips in place, roll up each tightly onto the other until you get your desired size. Use a piece of fabric to cover up the sides of the cardboard and it's ready. Use these to achieve your DIY; cardboard boxes (3 large or 5 medium size boxes), duct or masking tape, fabric, Box cutter, and straight edge.
23. DIY Cat Scratching Post
Beautiful DIY cactus scratching post made of pipe, if you have the following items then you can easily set up your post for your cat with ease. 50cm x 50cm plywood, 50cm x 50cm fake grass, plastic Christmas baubles, 54m sisal rope, Glue sticks, Glue gun, Hammer, Drill, Strong glue, Sand, or concrete, flowers. For the pipe; 60cm of 80mm pipe, cut into 8cm pieces, 6 x 80mm connectors, Toilet flange to fit 80mm, 80 mm 43 degrees bend, 80 mm 95-degree bend, 2 x 95-degree junction.
24. DIY Hanging Cat Scratching Pad
Gather your materials; scrap piece of 1x4 wood, natural fiber rope, hot glue
leather string, carpet remnant, scissors, drill, and bit. Wrap the rope around the 1x4. Glue down to secure. You can also hang the scratchpad from a doorknob and let your cat scratch away!
25. How To Make A Self Scratcher For Cats
So far, this is way the easiest scratcher. No cardboard, no woodwork, no PVC pipes. Rather get 2 brushes, 2 hinges, some screws, marker, screwdriver, and double-sided tape. Attach the hinges to the edges of both brushes by screwing them to place, place double-sided tape on brushes then attach to a table leg and it's that easy!
Conclusion
We have come to the end of this article, have you found a preferred DIY cat scratching post to make for your furry friend? We also have other amazing cat-related articles like DIY Cat beds and also DIY Cat litter boxes. Thanks for stopping by.