You would agree with me that there are times when a regular car jack might not be enough for your car. If you have ever been in that situation where your hydraulic jack or scissor jack isn't enough, you have arrived at the right place.
In this article, we have put together a list of DIY car lift projects that you can DIY. Some of the projects here are easy while others are not. Find the one that suits you and start building. Feel free to show any of these plans to professionals in the metal or woodworking business for help.
Are you ready to build? Let's begin.
1. DIY Car Jack
This is one of the best DIY car lifts on our list. It is not very easy to build and would require a whole lot of skill. It is made of iron. Unfortunately, this DIY project does not show you in detail how to build this car jack, however, there is a downloadable 3D model that can be of help. The file is a 3D drawing of the car jack. You will need the Adobe Acrobat Reader to view the file. How does it work? This jack works by pushing on both sides thus lifting the middle section which will be placed under the car.
This car jack or lift is much more effective than regular ones, however, the building process might not be easy. If this project seems overly complicated for you, feel free to check other easy DIY projects below. Also, you can show this 3D model to a handyman, he might be able to build one for you. However, it would cost you more.
2. Homemade Car Lift
Have you ever wanted to work on your car but do not have enough money to afford a car lift? Check out this project. It shows you how to make a homemade car lift using materials that you probably have laying around your backyard. I would highly recommend this homemade car lift for people who do not have a lot of money to make an actual car lift or money to hire one.
The hack is easy, all you would have to do is stack a lot of wood on all four tires. For this to work, you will need a car jack. The tutorial will guide you on a proper way to do this. Remember, doing this has its risks, be sure to pay rapt attention to the video before going ahead to do this homemade car lift. With this method, you can raise any car 20-inches or more above the ground which is quite cool.
3. DIY Heavy Duty Car Ramp
Here's another amazing project I was able to find. The making process isn't easy. You will need a whole lot of steel. I would not advise using wood to build this, the risk factor is quite high with wood and would be as strong as using metal. For this build, the ramps are constructed from 50x50x5mm angle iron (L profile mild steel) and 16mm ribbed rebar. There are four rear legs, these are trailer legs and can be purchased from Amazon or your preferred store.
You will need approximately 48 meters of an angle iron or 8 x 6m lengths. The full tutorial of how this was built can be accessed by clicking on the link below. This project would be a whole lot easier if you know your way around metalworking. I highly recommend this DIY car lift as the most durable one. The risk should be very low being that metal is used. Be sure to double-check and triple-check before getting on one of these, any mistake could be fatal.
4. $80 Car Lift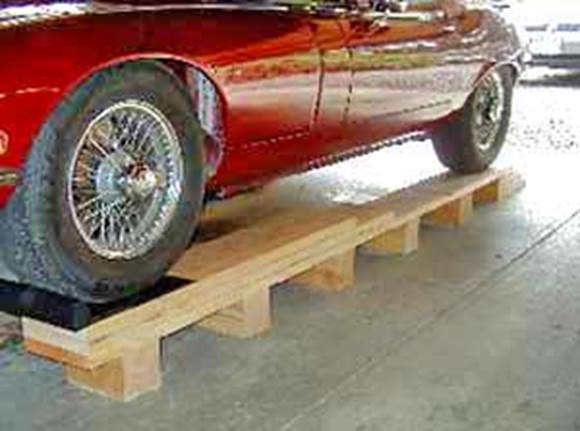 With just $80, you could own this car lift. It is made of wood, it isn't quite high as you would expect but this height would do. You should only build this ramp for cars that can drive onto it. A car that can't move won't be able to get on this ramp. The build is very easy to follow. For the car to be able to drive up the ramp, the creator nailed pieces of 2" x 4" together to configure a sloped ramp-entry.
The tutorial will give you an idea of how to build yours, the creator talks about how he was able to achieve his desired height. You can make yours higher if you want. He also shows how he was able to make the ramp a non-slip ramp. I would highly recommend this project for woodworking experts who want to build a cheap car lift from scratch.
5. Extra Lift For Car Jack
While researching I found a very simple hack that can save you from the stress of having to build a ramp for your car. Lifting a car is easy with a jack, but not everyone has money to purchase an expensive jack that will lift the car very high. Using a regular car jack, you can add extra lift to it by using wood at the bottom. I think this is a smart idea that all car owners would love. You can have two jacks, one with the extra lift and one without.
The making process of this DIY car lift starts with drilling mounting holes on the wood. Be sure to use very hardwood for this project. The next step in the making process is adding a base block. The final step is adding a larger wood as the base plate. Using larger wood at the bottom prevents the car from rocking off the jack while being lifted. I think this is a great idea that you should consider making for your car lift needs.
6. Homemade Jack For Car
While doing my research, I found yet another amazing project that you can try out. This tutorial shows you how to make a homemade jack for a car using a couple of tools and materials like metal, heavy-duty nut and bolt, and more. Unfortunately, the tutorial doesn't describe in detail how to make the homemade jack. However, the video should give you an idea of all the things you should do.
I would highly recommend this tutorial for people who know their way around metalworking. Making this should be easy. Being that this homemade jack for a car is made using metal, you might not have to worry about the jack breaking while cranking it.
7. DIY Inexpensive Car Ramp
This tutorial is for people who would want to lift their cars up a little bit to maybe change the oil or check for any leakage. This guide will show you how to build an easy car ramp for car lifting. For the materials, you will need 2 ea. 2"x6"x4' boards. The making process starts with cutting lumber, after cutting them, you will then need to nail them together.
As I said, this is an easy car ramp that anyone can DIY in no time. You can decide to make your higher, that completely depends on what you want.
8. DIY 2-Section Ramp For Car
One cool way to lift your car for repair or maintenance purposes is by using a ramp. There are a lot of tutorials out there that show you how to build ramps, however, we only include the best of the best on our list. This project will require a lot of materials. You will need 2 ea: 2 x 8 x 12ft, 45+ 2 Inch coated construction screws, Construction Glue, and 1 ea: 2 x 4 x 6. You will need to cut the wood into various sizes, the guide will tell you what to do.
Next up, you would need to stack and nail the cutout pieces. How does this ramp work? Unlike other ramps, this one is detachable, you will need to drive all the way to the top and then detach the ramp stack. When you are finished working on your car, you can attach the ramp stack and drive out. I think this is a fantastic project. It is also very easy to make with the materials and tools at your disposal.
9. Electric Scissor Car Jack Build
Here's another fun project that you can do in your spare time. This electric scissor car jack build is not so easy to make but would be worth it in the end. For the making process, you will need a 12V DC Wiper motor for the car, a metal piece, and an old scissor car jack. For the tools, you will need a marker, a hammer, a drill, and a couple of other items.
The creator doesn't explain in detail how he was able to make this but the video tutorial shows you all you need to know. The build process starts with making holes in the metal piece for the 12V DC wiper motor. Afterward, you will need to somehow connect the motor to the scissor jack. Some welding would need to be done and would require welding tools. Having followed this tutorial to the end, you will have an amazing electric scissor car jack.