Car air fresheners are very simple to make, you will need some basic materials which are very common in all air fresheners such as oil. Follow this guide and learn how to make an air freshener for your car today.
We have actually listed 10 DIY car air freshener projects that you can DIY easily, if you do not have time for DIY, you can quickly purchase an affordable air freshener for your car.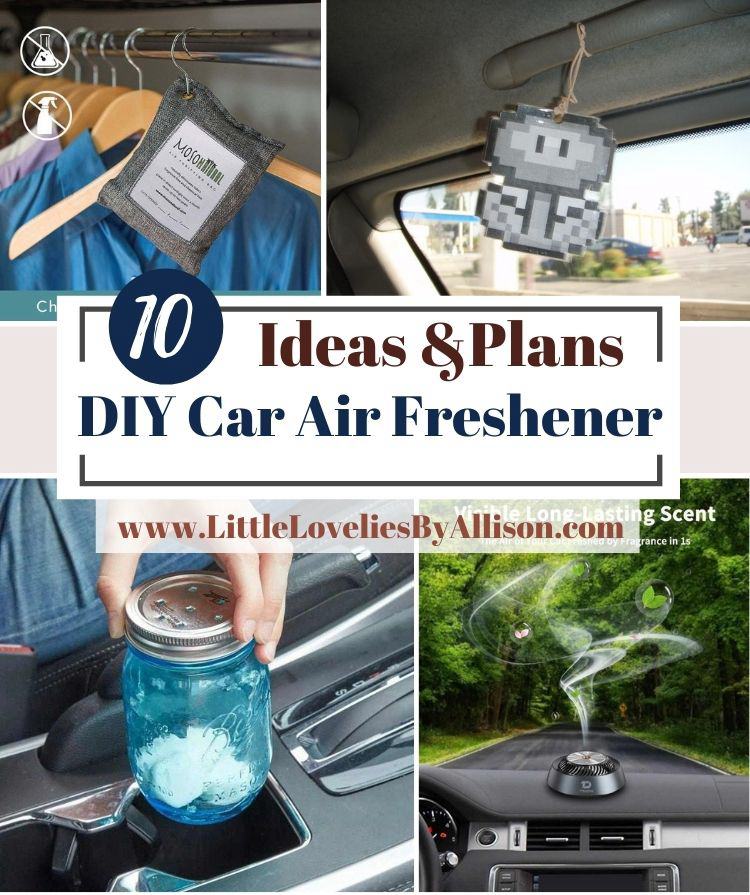 1. How To Make A DIY Car Air Freshener
Air freshener is a very nice air-purifying thing to have in your car always. Since it can get hot, the car is filled up with different heat and sweat coming out from people in the car. This car air freshener will take care of everything. The materials mentioned include different fragrances of essential oils, cotton balls or makeup wipes pad, plastic bag, spools of tulle netting, and ribbon for tying.
2. DIY All Natural Car Air Freshener
It is not a bad idea to want to smell really nice and at the same time want to save a couple of bucks. This natural car air freshener is very health-conscious, it doesn't affect your health or breathing because it's all-natural. All you need to have one of these is a cotton pad and essential oil.  You can get the cotton pads for $1 and the essential oil for $10 per bottle. The guide instructs that a 5-6 drop of essential oil is good for a cotton pad and it can be placed in the cup holder or air conditioner.
3. Homemade Car Air Freshener
This instructable guide started by listing the materials needed for the car air freshener; fabric softener, hole puncher, tape, rubber band, and scissors. Then, the second step talked about how to cut out printed images and using the images to shape the fabric softener. After this, use take to align the fabric softener and staple the layers together. The last step is to punch a hole on the tip of the air freshener and pass through a rubber band through the home to hang their freshener.
4. DIY Car Air Freshener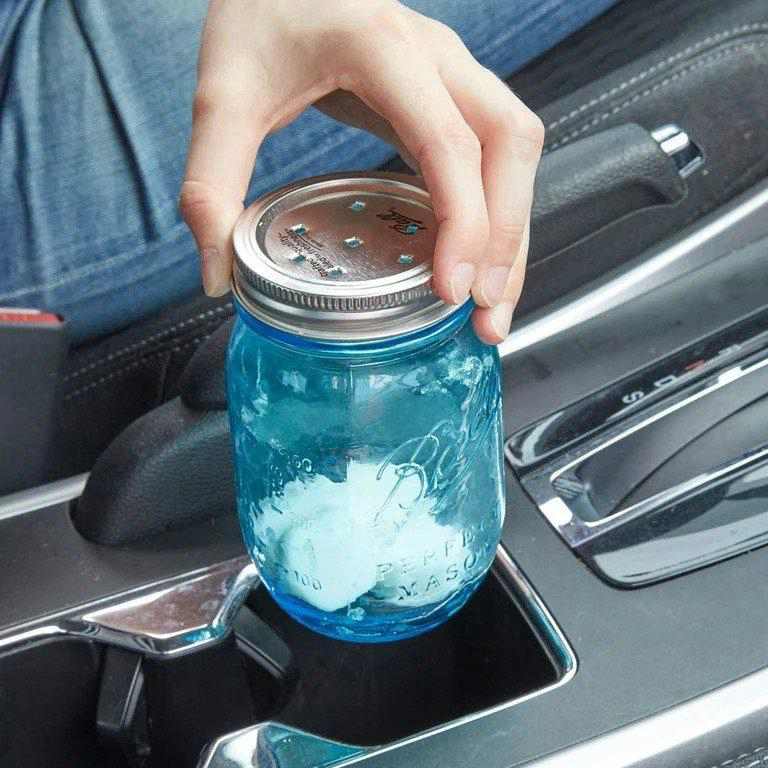 This is made from a jar (with a tight lid), cotton balls, fragrance oil, and a hole puncher. The first step according to this guide is to clean the jar and punch holes on the lid. Then, add 4-5 drops of the fragrance oil on the cotton balls or makeup wipes. Drop the soaked cotton balls in the jar and fasten the lid on it. Place the jar in the cup holder of your car and you're good to go. It is very easy and the cost of making one is very cheap.
5. Long Lasting Car Air Freshener
This is an already made car air freshener with packed essential oil. All you need to do is open up the air freshener and add essential oil to it, close it, and adjust the diffusing power. The cost of this is approximately $45. It is very easy to set up, once you get the air freshener, all that remains is the addition of essential oil.
This will be a very good option for you if you don't have the materials and tools to make air freshener by yourself from scratch. It comes in handy and can be ordered for or picked up from an online store or local shops.
6. DIY Natural Car Air Freshener
To make this, you need some air-drying clay, rolling pin, scissors, essential oil, water, a pattern for clay, cord, super glue, beads, feathers, and acrylic paints. The video started by identifying the materials listed above, then the instructor cut some amount of clay and softened it by hand. After this, the clay was flattened with a rolling pin and smoothened with water and hand gently. Then, she pressed the pattern on the clay and made the hole for the cord to pass. The video guide is easy and well explanatory.
7. DIY Aroma Beads Car Air Freshener
Unlike in every other tutorial, in this video tutorial beads and fragrance oil were measured by weight. 1 ounce of fragrance for 8 ounces of atoms beads. Both measured into a jar, the jar was shaken thoroughly and left to dry up. The drying takes up to 5-10 days and if the beads don't dry up on time, extra beads can be added to soak up the fragrance oil. Once the beads are dried up, it is time for molding. The materials used include a jar with a tight cover, fragrance oil, weight balance, and aroma beads.
8. Homemade Car Air Freshener
Here is another easy one to make, you will need a jar, metal rings, a hole puncher, and a spray bottle, these things can be easily gotten from stores near you. The steps required are just 3 and they are very easy to follow. Check out the tutorial below for more details.
9. Original Air Purifying Bag For Car
This natural air purifying bag can be purchased from Amazon at $24.95. It naturally absorbs odors, air pollutants, and moisture without masking them. The major ingredient inside the bag is Moso bamboo charcoal. Hang it in your car and start breathing in a cool and healthy fragrance.
10. How To Make Aroma Bead Car Scent Air Fresheners
This super fast and super amazing aroma bead air freshener is made from scented aroma beads, fragrance oil, candle die at $4.99, Mason jar at $4, and measuring cups. Measure a cup of aroma beads and pour it inside the mason jar, add 2-3 drops of candle dye to it and some fragrance oil. Cover the jar with a lid and mix them.
Conclusion
If you own your car, after maintenance, another important factor you should consider is making your car smell good, if you are a guy, all the girls would want to hop into your car again and again. If you are a lady, the guys would literally drool. However, make sure you don't go overboard trying to make your car smell nice. Thanks for stopping by!