Do you want a canoe so bad, but do not know a thing about building one? I have got you covered. After days of research, I was able to compile this list containing a couple of DIY canoes that you can make.
A DIY canoe isn't going to be easy to make, if you have never made one before, brace yourself, because it won't be an easy ride.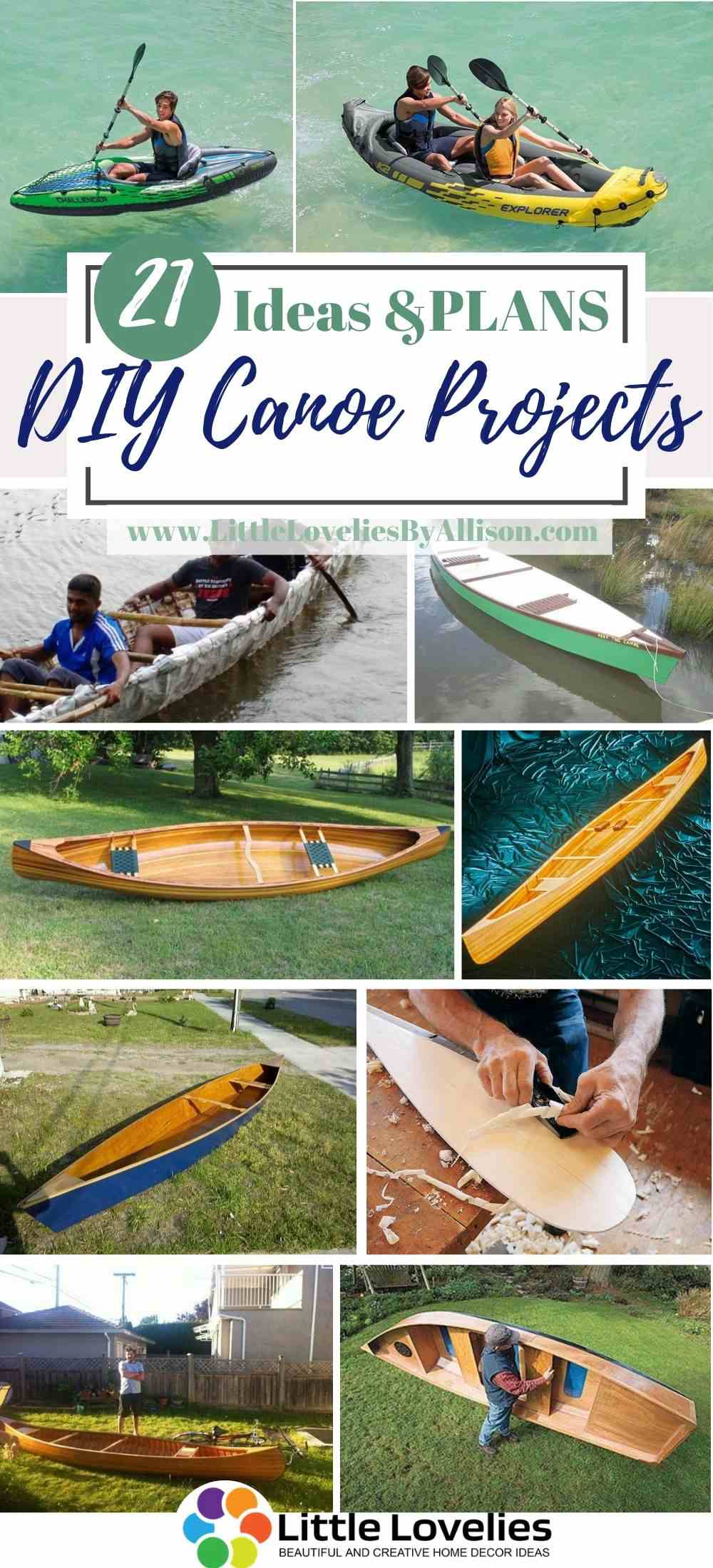 1. How To Build A Cedar Strip Canoe
If you have a flare for camping and fishing then you should think of getting this for yourself. Of course, you should know by now that it takes quite a lot to get a wood work as big as this done. The cedar strip gives this canoe an amazing look.
2. How To Build A Canoe In 72 Hours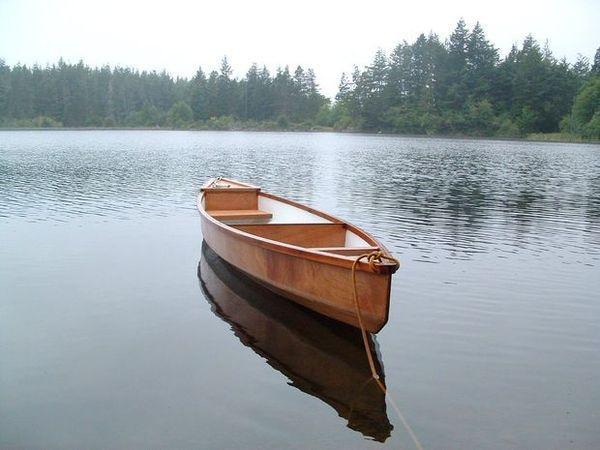 There is always a form of satisfaction that comes with building your own boat for yourself. This can be done in 72 hours. You want to ask how? First thing first, if you do not have power tools then you can comfortably use hand tools. They still serve the same purpose. Use plywood, some are less expensive. You can also use cable ties instead of wires to get this done.
3. How To Build A Canoe
Family trips are always very interesting when everyone goes together in a canoe. We get to share experiences as we row-along. Don't forget to take your camera with you. This DIY canoe has a flap for about 4 people and you can choose to make yours a bit wider to carry more persons.
4. How To Build A Low Budget Canoe
Sometimes, you do not need to break the bank to get a canoe for yourself. You may just need less cash and more work. This plywood canoe is neatly done with fewer materials. The body is made of exterior plywood and the fittings use scrap wood. The process is a stitch and glue style. For a better outcome, use brass nails, not steel.
5. DIY Cedar Strip Canoe
When building a canoe, there are a number of things to put into consideration. Build a strong back then cut the molds out of the plywood. Wrap the cedar strips and mount the molds on the strongback. You mill the strips and bend the stems. After building the hull, close it. When you get to vanishing, use epifanes. That is what makes it look this way.
6. DIY Duct Tape Canoe
As strange as it sounds, this canoe is made of duct tape and PVC tubes. It is waterproof and it can be on a river for more than four hours. The interesting part of this DIY canoe is that you can use it and throw away because it is disposable. You begin your framing with tubes and end by sealing it with duct tape.
7. DIY Simple Canoe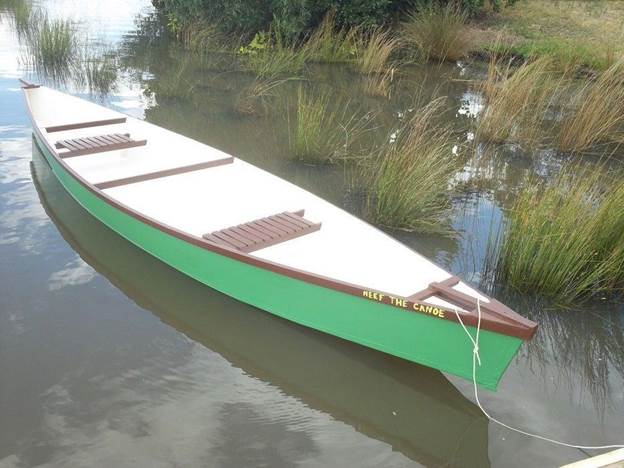 You can make a boat as adorable as this from marine ply. Stick the planks with frames in the middle. Add decks and thwarts, yokes, sails, and outriggers. This boat is created for two people only and the best experience is a fishing experience. With this plywood DIY canoe, double paddle actually makes it a lot easier.
8. DIY Rowing Boat Plans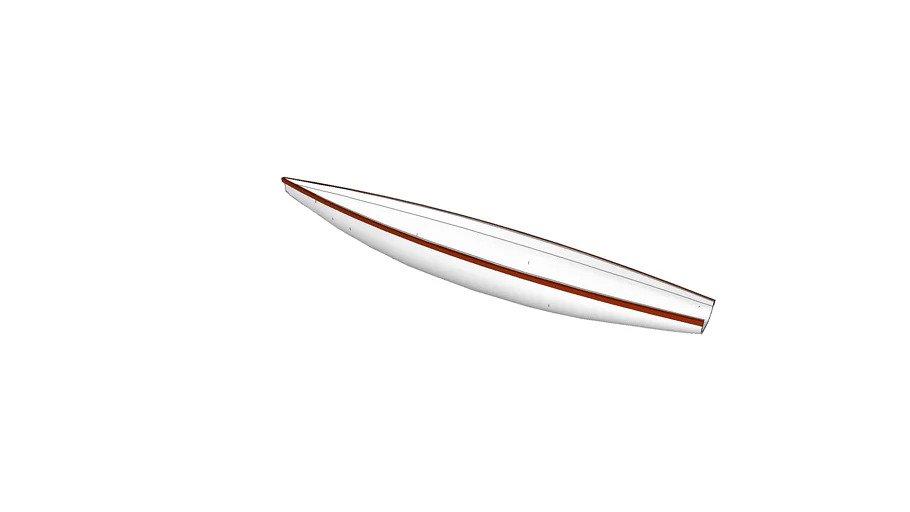 This DIY canoe is made from dense closed cell foam called Plastazote. Water can hardly go in and the beam can be up to 700mm. wooden gunnel strips are used to stiffen the hull. This is cost-effective and it can make your recreational experience worth the while.
But if you feel that you are not skilled enough to make a canoe yourself, take a look at this great guide that will help you choose the best for you - https://www.globosurfer.com/best-canoes/.
9. How To Build A Plywood Canoe
This can be done in very simple steps. You will need just 3 pieces of plywood for this. The base and the two sides of the canoe. By far, this is one of the easiest DIY canoes I've seen. The wider the shape, the better it can stay on the water.
10. DIY Canoe Paddle
Making a canoe can be stressful but making a paddle is easy. This traditional solid wood canoe paddle can be made from just any wood. It has to be strong and lightweight. Use a board with a symmetrical growth ring pattern. Choose the wood, design it, shape it, and finish up.
11. Making A Canoe From Plywood
Plywood happens to be one of the normal materials to be used to make a canoe. Mark the pieces accurately. Fix the nails and make a curve. Take away the extra pieces. This measurement will give you a base and 4 side pieces unlike the regular. Be sure to fix enough zip ties to avoid water from getting into the canoe.
12. DIY $1 Bushcraft Kayak
This is a transparent kayak using branches and plastic piping wraps. A scotch tape and a knife will give it a perfect finishing. This costs about $1 to create from start to finish. You won't need to use more than a day to make this. This is even better for fishing because you can see the fish that swim under you.
13. DIY $100 Kayak
This DIY kayak is a homemade kayak but it costs about a hundred dollars to create one of these. There are so many costly materials that will be needed here. This is made of a wood frame and a pipe on the base.
14. Time-Lapse Making A Cedar Strip Canoe
The details put into this DIY canoe is really fabulous. It is made with cedar strips and every space on the bottom is closely knit together amazingly. When you are done, you can inscribe what you want on it. This ascertains that you don't need to be a carpenter to make a canoe.
15. DIY Bamboo Canoe
If you want a really easy way out then this is your plug. This does not take a lot of time to work on and of course, as many as three people can fit in comfortably. This DIY canoe is made of bamboo and it does not have any sharp end. It actually shouldn't have any sharp end and it should be smoothed with a knife. The sheet used to cover it is made up of gunny jute bags. Instead of using strings for this, you can use a cable tie. And add more weight for stabilizing.
16. DIY Duct Tape And PVC Canoe
Duct tape and PVC can be used to make a canoe that lasts long. This DIY canoe uses thin but sturdy plywood. After assembling your materials you will need to build a basic frame and this is made up of PVC. There is a need for more support for the canoe and you can do this by fleshing out the frame and try to make it watertight. In order to make seats for it, you can take seats from an old and abandoned chair and remove the legs. This flap can comfortably sit in the canoe.
17. How To Build A Plywood Canoe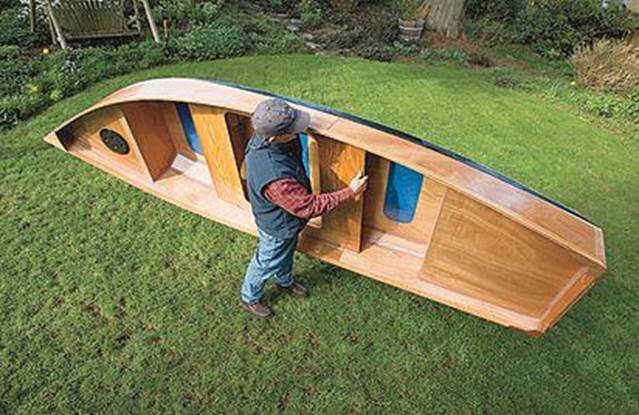 Building a canoe of your own is pretty much satisfying and you can play on the making process the best way you want to. Plywood may sometimes not feel strong but there is a very good material to be used for the boat. It can be rowed, poled, or powered by a small trolling motor. The blue areas on the deck have a special connotation. It is epoxy mixed with graded masonry sand and coloring. This even produces a non-skid area on the deck.
18. DIY Miniature Canoe
This is a small crafted DIY canoe that can be used for decorations. It is made like a normal canoe but it is really small and no one can fit into it. Of course, except crafted human beings also. It is made of plywood and the parts are glued together to form the base of the canoe.
19. DIY Cedar Strip Canoe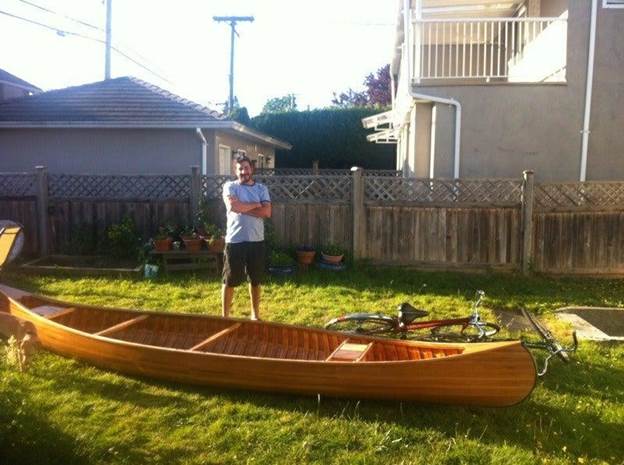 Building a canoe from scratch may not cost too much but it will surely take your time. Remaking a canoe may not cost much depending on the materials you decide to use. A canvasback canoe was turned into a cedar strip canoe. The hurtful part of the entire process was stripping off the leather weave seats. After stripping the entire boat you will have to seal the gaps, this includes the inside. Then the seats will need to be replaced.
20. Inflatable Kayak
You can always purchase a canoe to save you the stress and the time used in making a brand new one. This kayak set is actually inflatable and you can deflate it and put it away.
21. 1-Person Kayak
This canoe comes with an oar and it is specifically meant for one person alone. When you are done with it, you can easily deflate it and put it in the storage.