Any fashionable bow tie of your particular preference will cost considerable bucks. But you're free to take your chances with some worthy DIY bow tie ideas. We narrowed down the options to keep you occupied with simple yet enjoyable projects.
1. No-Sew Bow Tie
It's indeed the simplest method to accomplish a stylish fabric right on top. The pre-tied fabrication skips hassled sewing or an intricate pattern.
Assembling an alligator clip with hot glue will get the tie ready to go.
You just have to watch the video depiction, with no commentary. Instead, the onscreen steps continue to appear in consecutive sentences.
2. Simplest DIY Bow Tie
Simple sewing of a certain fabric will give you a definite style in outlook. The tutorial covers all the easy steps with pictorial inclusions.
Looking at the images will reveal the whole process for any novice sewer. Not to mention, there's no need to pay attention to the wordy details.
3. Mini Bow Tie Dressup
Get dressed in no time with a perfectly matching bow on the chest top. Of course, the primary idea goes with decorating the glasses.
Fabric sheet, glue dots & adhesives will do the ultimate trick for crafting the tie. There are 7 points with images regarding the steps.
4. Girly Bow Tie
Nothing can match the slight fun of a stylish female to wear a bow tie. Using a fabric with needle, thread & glue will immediately prep girly wears.
Everything continues in normal motion with background commentary. Following the video depiction should make it unbelievably easy for everyone.
5. Dapper-Looking Bow Tie
Make yourself comfortable, dashing & stylish for the next big event. Prepping organic cotton sateen lets you make one matching top knot headband.
There are six steps with minimal details in words. Going through the facts should explain the process. Of course, integrated pictures should keep it simple.
6. Bow Tie from Shirts
Making a suitable bow tie may seem somewhat unorthodox for many. But you can definitely try old shirts to craft several beautiful ties with patterns.
In simple words, you're to convert shirt fabrics into sewed baby bibs.
Following a lengthy introduction, you just need to follow the commands. There are many pictures to capture the whole idealization against its words.
7. Adjustable Bow Tie
Choose any suitable fabric to shape one suitable tie to match your kid's uniform. You're free to use ordinary cloth, even scraps, for the project.
Onscreen depiction comes with background speeches to explain the facts. And attachment of Velcro enables a universally fitting style for any event.
8. Little Boy's Bow Tie
Craft a super cool bow tie without spending much of your time. And you're to implement a cheater version to shape a Velcro closure tie.
You're to go through the detailed 12 steps complete the project within minutes. Apart from the simple words, you can utilize the pictures for close idealization.
9. Clip-On Classic Bow Tie
You may think of getting something unisex rather than standard-styled ties. Not to say, you can easily craft the accessory to spruce any particular outfit.
Instead of fabric clothing, the idea utilizes burlap to make a single-colored flapless bow. Watching the video tutorial comes enjoyable with commentary against music.
10. Giftable Bow Tie Project
Find your ultimate pattern from endless options to suit your perfect outlook. The tutorial comes short yet detailed enough to let you understand the basics.
You'll need nine different items to accomplish the project.
And the total steps count six against several pictures for the individual stage. Combining the complete details is likely to get yourself one commercial-level pattern.
11. Easy Paper Bow Tie
Shape ordinary print paper to satisfy your quest for something different. And you're to make a start with printing out a favorable pattern.
Onscreen implementation lacks commentary; only music gets to enrich the vibe. But some worded commands right on the video should explain everything.
12. Holly Leaf Bow Tie
Do-it-yourself craftsmanship can come up with anything like the leafy tie. You just need to download the template for setting the project in motion.
The rest appears easy with nine different segments, full of explained words. Additional pictures manage to capture the process for a better understanding.
13. Universal Bow Ties
The simple yet comprehensive tutorial covers almost everything for your project. There are many tips to get yourself or your beloved one an actual class.
Easy words on the accessories, steps & supportive tips should light you up. And minimal complexity comes with the implementation, thanks to in-depth explanation.
14. Wooden Bow Tie
Basic knowledge of woodworking project enables you to utilize the scrap pieces. The material may seem unorthodox, definitely not something worthless.
Background speech keeps you occupied with the video tutorial for 4.5 minutes. It covers every step clearly, letting you catch the processing from inside out.
15. Easy-Sew Bow Tie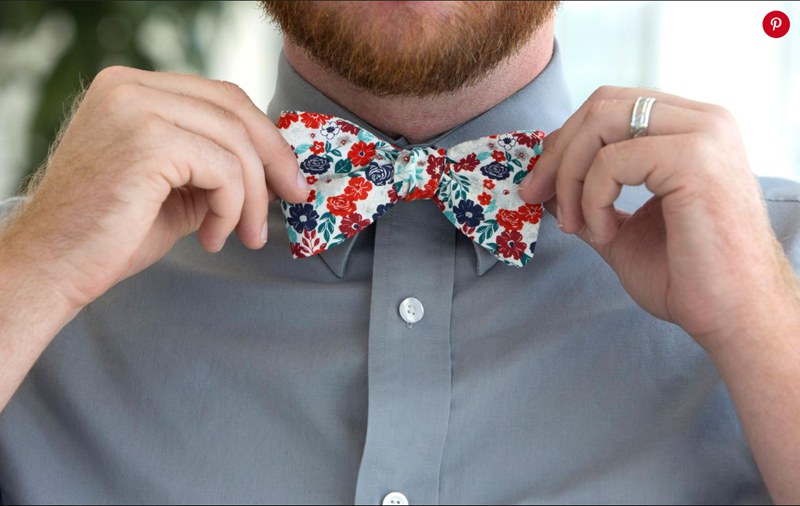 It's one well-organized tutorial to reveal the associated tricks to make your bow tie. There are seven different steps with specific words on explanation.
Inclusion of capturing images is likely to give you optimum support on its projection. Also, you can use the slight tips on finishing touch for a better appeal.
16. Patterned Bow Tie
Don't look back on expensive purchases from established showrooms. Impose interfacing over a suitable fabric to assemble the primary structure.
The introductory part concerns your interest towards the project.
Likewise, there are nine different steps with sub-sections to accomplish the objective. And pictures will tell more words than the already-explained words.
17. Origami Paper Bow Tie
The whole project is absolute fun & enjoyable from every aspect. Shaping ordinary origami paper can get you one solid-colored tie with simple expertise.
The video starts with a time-lapse introduction to follow a regular implementation. And you don't even need any extra words to understand the points.
18. Crepe Paper Bow Tie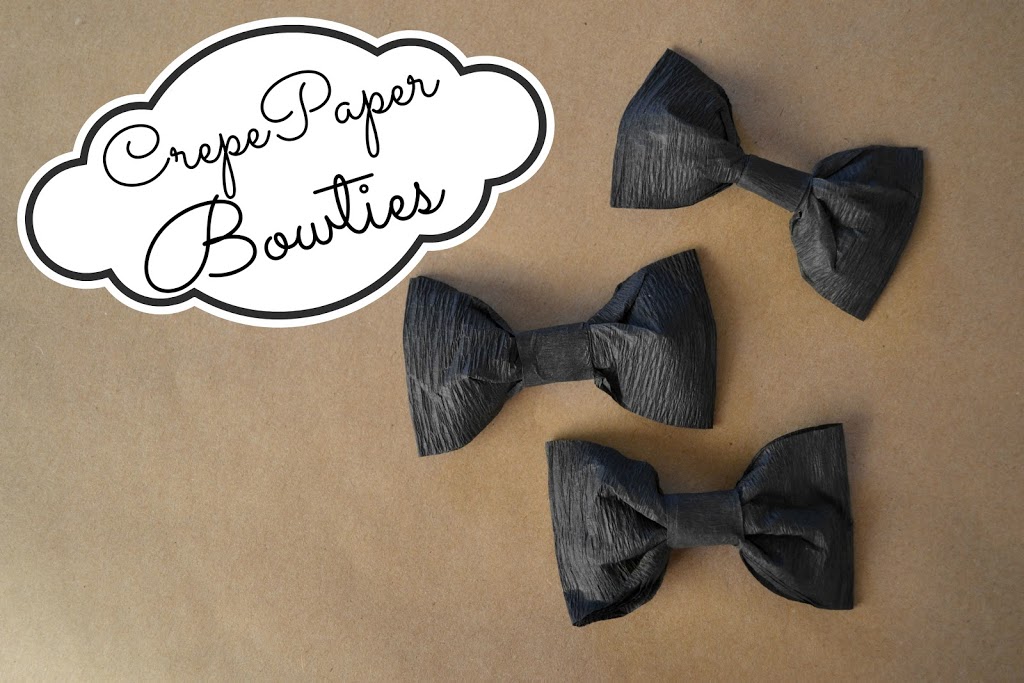 Basic household items let you make a stylish pre-tied tie with no expense. Not to mention, the idea uses tissue paper topiary explicitly to craft the outcome.
There are minimal words on the entire project, featuring absolute simplicity. You just need to stick with the six segments to include guidance with additional pictures.
19. Bow Tie without Pattern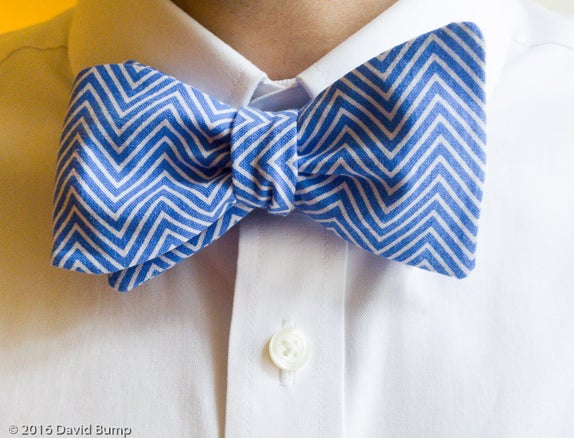 There's no need to get the wallet over expensive, highly beautified bow ties. Spending $5 by yourself can deliver one perfectly matching look for your preference.
The introductory part comes long enough to explain the facts, including necessary materials. You'll have to take your time with the seven comprehensive steps to ensure maximum accuracy.
20. Handmade Bow Tie Card
Time to celebrate the next father's day with a decorative bow tie gift card. The video tutorial continues in a normal motion with detailed background speech.
Keep watching the process from the beginning to plan your own idea on its modification. It's one handmade combo anyone will love at first glance after completion.
21. Bow Tie Napkin Fold
Whether it's a clothed napkin or fabric square, feel free to encourage your outfit. Assembling the final design remains incredibly simple, requiring washi tape.
You'll have to implement the five simple steps arranged in consequential order. It becomes easier with the inclusion of some pictures throughout the article.
22. Streamlined Bow Tie Sewing
Craft a classy bow tie without creating any mess over intricate sewing patterns. The tutorial lets you imply one simple project almost an apprentice can handle.
Everything comes rather easy with reduced sentences regarding the steps. Following the pictorial words, you'll find a video integration to understand closely.
23. Ribbon Bow Tie
Making a ribbon tie appears one hassling task unless you utilize origami paper. The video is entirely self-explanatory, even without any commentary.
The time-lapse implementation continues to keep going with folds on the paper. It's likely to take some time, but definitely worth your attention.
24. Bow Tie with Necktie
Transform your standard necktie into a plausible bow tie with some tricks. It's all about making folds to compact the existing dimensions.
There are nine steps, each one featuring certain details with additional pictures. If you can't catch the words, the edited images should suffice.
25. Victorian Bow Tie
The appeal comes different from almost all other standard ribbon bow ties. You'll have to assemble precisely shaped ribbon fabric to induce sophistication.
The time-lapse video requires no additional speeches to explain its processing. Following the onscreen depiction can help you to idealize the complexity.
Conclusion
Shaping the right bow tie is all about the fabric of your intention. The rest is easy with the methods mentioned right above. You just need to patch your practical requirements with all the detailed process.