Have you ever wondered if there was a way to dry boots quickly? Well, I did. They say the best way to keep your feet warm is to keep your boots dry – but I always found that they never dried fast enough. So I set out to find a solution and this is what I came up with, a DIY boot dryer! Now, before you go and buy materials, think about what you have lying around the house or pick them up very cheaply at your local hardware store.
This article is a compilation of the best DIY boot dryer projects created by people out there. I had to do research to compile this list. I am currently trying to build one of the projects for myself, already gotten about 70% correctly. So, what are you waiting for? Check out the DIY boot dryer projects listed below, pick one, and start building immediately.
You May Also Like: 25 DIY Shoes - How To Make Homemade Shoes
1. DIY Shoe Dryer
In this guide, you will learn how to make a simple shoe dryer powered by a small fan and can be used to dry two pairs of shoes at the same time. The shoe dryer has three components;  a fan as the air source, a wooden box to contain and discharge the air, and 3" PVC pipes to direct the air to each shoe.
2. How To Make A DIY Boot Dryer
Check out this amazing DIY boot dryer! It can be used to dry a pair of shoes and a pair of gloves at the same time. It has two parts; the airbox and the PVC pipes for the dryer. For the air box, a wooden one is better. You can get some scrap wood around your workplace and assemble it into a nice box then you're good to go.
3. DIY Boot Dryer
This great boot dryer is powered by a mini air pump and is built on small wood pieces. Other materials required for the boot dryer include PVC pipes, PVC elbow connectors, PVC Tee connectors, two pipe straps, and two steel clamps.
4. DIY Boot And Glove Dryer For Ski
Here is a great plan for a huge ski boot and glove dryer! The airbox is a triangular design made from thick PVC pipes. Two mini window fans are connected to both sides of the airbox. Them, vacuum hoses, and PVC pipes are attached to the air box for the boots and gloves respectively.
5. Cheap Boot And Glove Dryer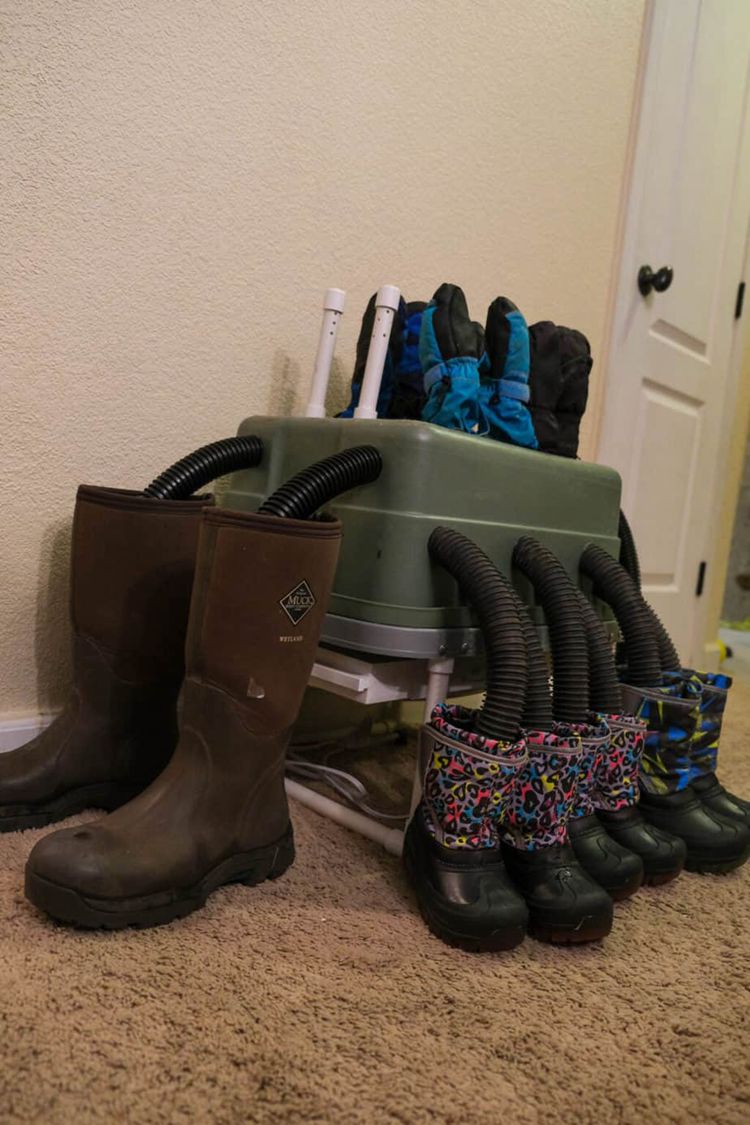 Are you looking into making a family-size boot dryer?  Here is an amazing boot dryer that will allow you to dry up to 5 pairs of shoes and gloves at the same time. All the 10 air outlets for the 5 pairs of shoes are made from a vacuum hose and they are connected to a small window fan. The air left for the gloves is made from PVC pipes. thecrazyoutdoormama
6. How To Make A Boot Dryer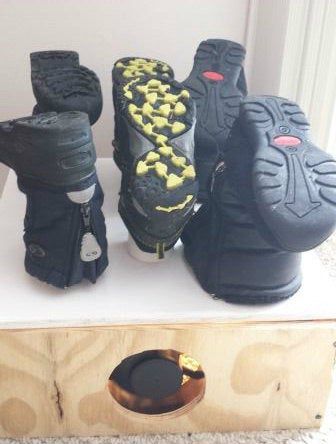 The design of this boot dryer requires a lot of materials and tools but it is very amazing and effective. However, the most important thing is the power source to connect the mini fan. Once you have the fan connected and the airbox ready, you can start drying your shoes and boots. instructables
7. DIY Snowboard Ski Boot Dryer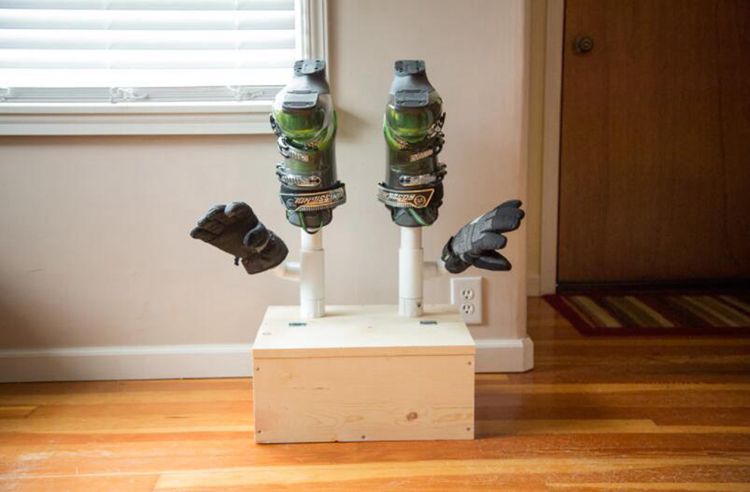 This snowboard ski boot dryer is designed to sit on a forced-air heat vent. With this, your boots and gloves will dry faster and get rid of all the mucky smells. See the link below to learn more about the DIY snowboard ski boot dryer. rei
8. DIY Boot Dryer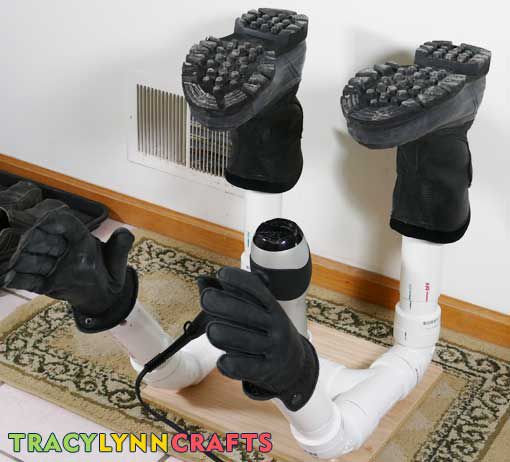 Pvc pipe and hairdryer are common materials used for shoe drying. Both materials are accessible, cheap, and easy to set up. This boot dryer can dry up a pair of shoes and a pair of gloves at the same time. It is very easy to set up, once you understand the concept from this guide. tracylynncrafts
9. PVC Glove & Boot Dryer DIY
Here is an amazing boot dryer made using a 1 ½" PVC pipe and hairdryer! Aside from the PVC pipe, you need other accessories for PVC pipes such as elbow and tee connectors. For the hairdryer to work, you will need a power source to connect the hairdryer.
10. Custom Boot Dryer
The best part of a DIY project is that it is always customizable; you can use any materials you can get, you can modify the design to suit your needs. Let's see how you can set up this amazing custom boot dryer. Get some wood and plywood pieces and turn them into a box, drill holes around the box and attach pipes to the holes. With these simple steps, you will have your boot dryer.
11. Custom Built Ski Boot Dryer
After skiing for a long time, your boots tend to be wet from all the sweat accumulated from your legs inside the boot. And as you know that getting a boot dry using the natural methods can be very long and buying a commercial boot dryer can be costly, the best alternative you can sort after is making a boot dryer by yourself with a few basic materials such as hose pipe, PVC pipes, steel, and fan.
12. Making A Boot Dryer DIY
Aside from the rain, sweat can get your boots all messy after a long exercise or walk. Now, to get the boots in place faster you need a boot dryer to dry them. All you need is to understand the concept behind the boot dryer and gather all the materials required as listed in this guide. The materials include PVC pipe, PVC elbow connectors, PVC Tee connectors, hose clamp, and some rubber fittings.
13. How To Build A Boot Dryer
The size of a boot dryer depends on the number of shoes you want to hang on it. For this shoe dryer, it is a large square box with a hairdryer connected to its side and eight PVC pipes attached to the top. Each PVC pipe is one shoe which means that the shoe dryer can accommodate four pairs of shoes. straightchuter
14. DIY PVC Boot Dryer
Boots are an essential part of clothing that keeps your feet warm and dry especially during the winter. However, as your feet are getting dry and warm, the boot is absorbing all the sweat from your feet. And if this sweat was not taken care of, the boots can become smelly and rough. Therefore, to take care of the sweat, you need a boot dryer to keep the boot dry always. The boot dryer is made from PVC pipes and a hairdryer. diyhowto
15. Boot Dryer With Hair Dryer DIY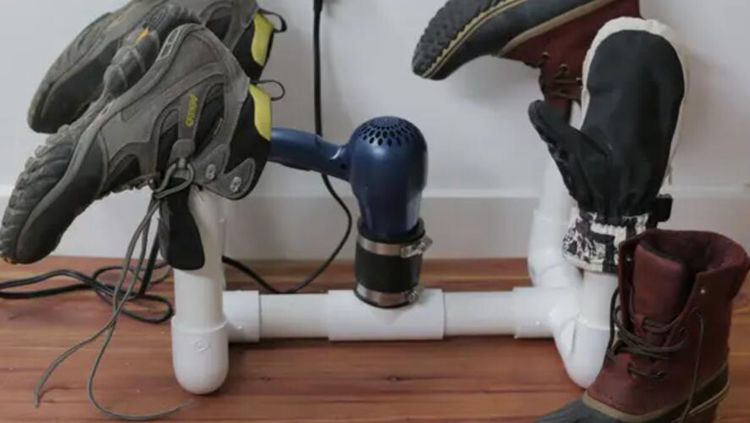 The materials needed for this boot dryer include PVC pipe, four PVC 90º elbow, three PVC tee pipes, PVC cutter or saw, power drill, measuring tape, DWV flexible PVC coupling, and hairdryer. With all these materials you can dry two pairs of shoes or gloves at the same time. buzzfeed
16. Homemade Boot Dryer Idea
Probably, most large families might not be able to afford individual boot dryers for every member of the family, but this homemade boot dryer is very cheap compared to the total cost of buying an individual dryer. The materials needed for the boot dryer include a large cloth drying rack and a box fan. Open the drying rack and place the fan beneath it on the dowels and the air going upward. Connect the gan and hang the boots over it with the rack. mammacandoit
17. Boot And Glove Dryer
The design of this boot and glove dryer uses a large wooden box, a fan, and some PVC pipes. The first part of the project and the hardest is making the wooden box, it needs to be strong enough and wide for the air coming from the fan to circulate and move out of it from different holes on top of the box. The PVC pipes were attached to the top of each hole to direct the air to the boot.
18. Homemade Oak Boot Dryer
This homemade boot dryer is made from a scrap of oak wood! It looks really nice and cheap. However, the design is axing and it is not necessarily you made your own with oak wood, you can use any kind of wood you find laying around you. Asides from oak wood, other materials needed for the booking dryer include
19. How To Make A Shoe Dryer
During the rainy season, it is common to get your shoes/boots wet anytime you go out. But going about with wet shoes is as frustrating as something else, so to make your shoes dry faster (so you can put them on back), you need a shoe dryer to do the drying for you in a couple of minutes. The materials needed are very few as the whole design is simple. You need PVC pipes, PVC elbow connectors, PVC tee connector, and one rubber fitting.
20. Fast DIY Boot Dryer
Here is a simple and fast way to dry your boots using PVC pipes and their accessories and a hairdryer. Boot dryers were made in a way that both shoes can be dried at the same time. All you need to do to set up this dryer is to connect the PVC pipe and accessories, then connect the hairdryer and put it on the opening of the PVC pipe.
Conclusion
No one likes a wet boot and shoes, everyone wants to go about in a clean dry boot. This guide will show you how to DIY simple boot dryers using some basic materials like wood, PVC pipe, fan, and cloth racks.
The two main sources of air used for the boot dryer is either a small fan or a hairdryer. These two air sources are very accessible and cost-effective.