Everyone who owns a boat needs a boat stand; it's that simple. Having a boat stand at home, in your backyard, or your garage helps you support the port and starboard side of your boat so that it will be safe off the ground and easy to access anytime you wish to go on a boat ride with family or friends.
This article will show you a couple of DIY boat stands for your personal and professional use. Let's begin! Go through the list, pick your preferred project and jump on it.
1. How To Make A Cheap Boat Stand
Check out this excellent cheap boat stand that comes with a set of wheels. Now, these wheels are attached while making the boat stand from scratch. The boat stand is sturdy, durable, cheap, and easy to build. All you have to do is get hold of the materials and tools required. This project is inexpensive and less time-consuming.
2. How To Make A Boat Cradle
Here is another simple boat cradle, or you can instead call it a boat cradle. It is made up of two parts, one at the front of the boat, and the other at the back, holding the entire weight of them efficiently.
The creator got some cart dollies for the first boat cradle base. Then he used some wooden boards to make a frame for the stand. As far as the creator's construction goes, it's pretty sturdy and can hold the weight of a large boat without breaking.
3. Boat Stand Quick Build DIY
The creator of this guide started off making a quick sketch of how the boat stand should look in the end, and he then proceeded to cut a threaded metal pipe into the required dimensions using a hand metal cut-off saw. You'll also need a welding kit. You'll require a few easy-going materials and tools to perform this project efficiently. Check this video tutorial guide to learn more.
4. Making A Cheap Boat Stand
Looking for an inexpensive boat stand, first, start looking for a hoist safety stand. You'll need two of those, and you'll also be modifying it to make it fit into the design the creator made for it to work as a boat stand. It's pretty cheap to purchase and also easy to make. The creator of this video guide spent more time explaining how this idea would work. Once you have a full grasp of that knowledge, you're good to go.
5. DIY Kayak Stand
Here is a wooden kayak stand made with hardboard, nylon straps, hardboard dowels, and other wooden pieces under $10 through 8 simple steps. Firstly, you'll need a design for the paddles. After that, you can start cutting out the shapes and drilling your holes on the wooden paddles to form your stand. You'll require just a few simple woodworking tools for this project.
6. Portable Kayak Boat Stand DIY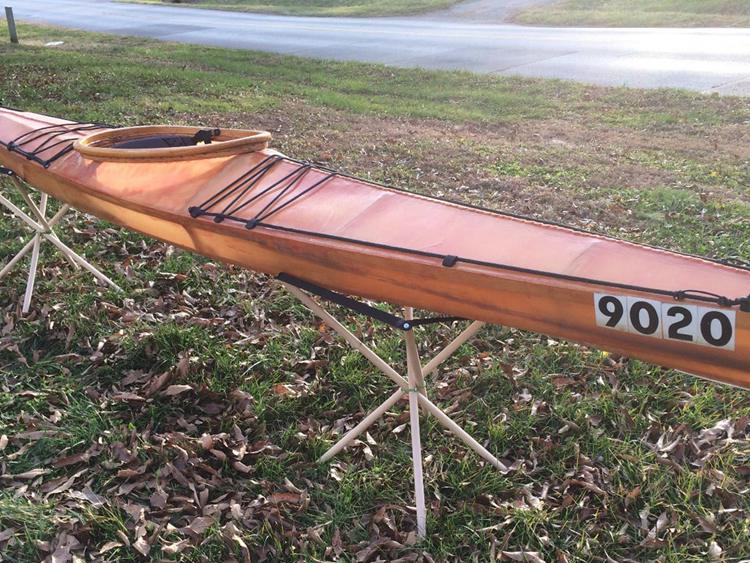 It's a thing of joy to have a portable boat stand, lightweight and easy to carry around from one place to the other. This guide offers a unique way to make this mobile kayak boat stand in a few easy-going steps. It's cheap to make, the materials and tools needed for the making process are minimal and easy to come by, quick, and easy to set up. It is less time-consuming.
7. DIY 5 Minute Canoe Stand
Want to make a canoe stand in less than 5 minutes? Here is a guide that will teach you how this can be made in 3 easy steps. You'll need to purchase the legs of this stand from a store near you or IKEA as the creator did.
You'll also need about four old rag cloths and duct tape. It's that quick and easy. This boat stand can only take the weight of a kayak boat; anything heavier will cause the boat stand to bend or break.
8. DIY Boat Stand Plan
Here is a super easy boat stand guide that comes with a simple plan that shows you from start to finish how to make this boat stand with ease. You don't need complex materials for this project; just three materials were used by the creator and a few woodworking tools to complete the job efficiently. This boat stand is sturdy and easy to move around as well.
9. DIY Bait Boat Stand
This boat stand idea works for a fishing bait boat and not a large one. It's pretty small, easy to move around or carry with or along on a fishing trip. The creator purchased a few metal pipe fittings, elbow connectors, and other pieces that make up the bait boat stand. The making process is quick and easy to follow.
10. Mobile Jon Boat Stand DIY
Take a look at this fantastic DIY, the creator made his boat stand using wood, and it's pretty mobile because it moves on small, sturdy wheels at one end of the stand and a place where you can rest your hand to quickly move the boat stand in and out of your garage.
This boat stand was made to carry a 12-foot Jon boat and other Jon boats with a slightly larger size. You'll need essential woodworking tools for this project, and it's not time-consuming at all.
11. DIY RC Cheap Boat Stand
Do you own an RC boat? If yes, you need this boat stand idea to make something that will fit into your RC boat and keep it safe off the ground. This video guide is made up of a simple photo slideshow of the making process.
However, it's super easy to understand if you follow it carefully, taking notes of the calculations of the dimensions. This RC boat stand is made of wood, and that is super cheap and easy to purchase.
12. DIY Boat Motor Stand
Here is an inexpensive boat motor stand that you can make with ease. The basic material needed is wood which is super easy to come by, a tape measure, a miter saw, and other woodworking tools that you have available.
The making process is quick and easy to follow, and the creator did a great job explaining how this boat motor stand can serve you better. All you have to do is follow the video guide to the end before you begin.
13. DIY Cheap Kayak Stand
Are you looking for a low-budget kayak stand? Look no further. Here is a guide that will show you the most extraordinary way to set up a kayak stand using PVC pipe fittings, ''T'' connectors, PVC cement, a knife, and a few other tools. The making process is simple to follow, in 5 easy steps.
Although PVC pipes may draw attention to their durability and strength, you don't have to worry; it's. Super sturdy and can last for a long whole before any need for replacement. In addition, this boat stand cannot carry heavy-duty boats because it's made of PVC pipe, which is a lightweight material.
14. Semi DIY Boat Stand
.
Check out this semi boat stand that requires two director folding chairs, which you'll strip to form a boat stand. If you already have these chairs available, you're in luck, and you can proceed with this guide with ease.
If you don't have these chairs and you'd love to give this guide a try, all you have to do is purchase the chairs and modify them with the steps in this guide. Another cool feature about this boat is that it's foldable and easy for you to carry around from the back of your truck to the garage and anywhere else.
15. Fishing Boat Storage Stand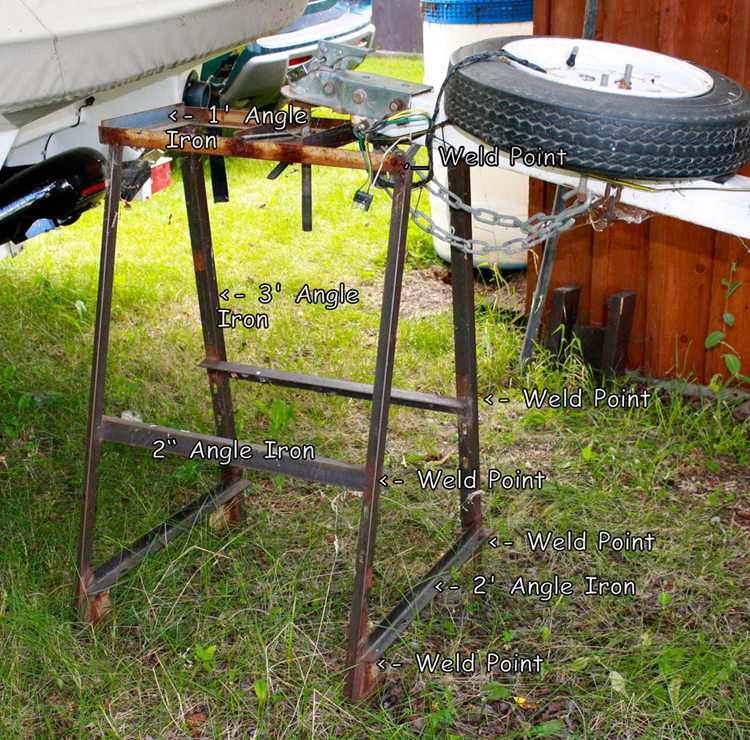 You are looking for a sturdy, durable boat stand that you can use to keep your boat safe for as long as you want?
Here is a boast stand guide in which the creator used materials like angle iron, thread bar, a trailer hitch ball, and a few other iron pieces to form the stand. A standard welding kit is required to make proper welds to the iron pieces. For the cut list, check the guide to learn more.
Conclusion
It is quick and easy to make a boat stand from the various materials that have been mentioned above. They are affordable, easy to make, and durable. Keeping it simple is the goal, and I hope this DIY boat stand guide can meet your needs and offer a long-lasting solution. Thanks for your time and attention, till next time, bye for now.