If you are looking for easy-to-do birdbath ideas to encourage the gathering of birds in your garden, you are in luck. This is because we have compiled several DIY bird bath ideas which are simple. DIY bird baths are cheap and beautiful ways gardeners welcome birds into their house's outdoor space. These constructions enable feathered friends to cool down, bathe themselves and hydrate conveniently. Additionally, we'll have you know that birds don't just take baths for fun only as these baths help to remove parasites and stuck debris from their bodies.
Furthermore, bird baths have ways of beautifying your outdoor space uniquely, no matter the design you adopt. Moreover, bird baths serve as a haven for local birds as the loss of arboreal habitats is becoming a concern. Thus, as you help birds when you provide everything they need in your garden, you are helping these endangered species. Although there is a wide range of bird bath designs, we selected the ones you can do yourself while enjoying the process.
Below are the 65 DIY bird bath ideas we gathered.

1. Tippy Pots Planter and Bath
One of the captivating ways to make a bird bath is the tippy pot planter and bath idea. The topsy-turvy style of this bath makes it fun to make. Additionally, this bird does not only work for birds as the pots are perfect for planting flowers, ferns, herbs, and other greenery.
2. The Barnyard Terra Cotta Bird Bath
The Barnyard design is one of the numerous terra cotta bird bath designs. This design combines creativity and a charming flair. At the end of the project, the print depicts a beautiful barnyard. Additionally, this birdbath will not only be more inviting to your feather friends but will also beautify your backyard immensely.
3. Recycled Glassware Bird Bath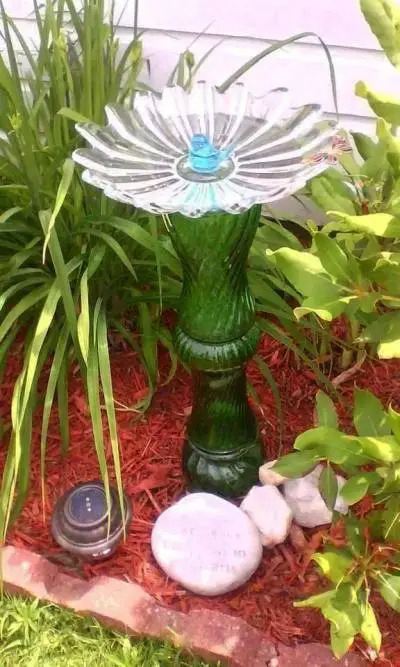 You might have a collection of mismatched glassware left from broken sets. If you don't, you can go through junkyards, vintage stores, and even your grandmother's kitchen to find these glasswares. You can search for thick and colored glass and attach them with glue. See DIY tutorial.
4. The Handprint Bird Bath
For the handprint bird bath, you make use of terracotta. This bird bath is terracotta flower pots of different sizes stacked together. However, the beautiful pattern left by paints running down the sides of these pots gives it an incredible difference. Source.
5. Teapot Bird Bath
Another innovative design for bird baths is the teapot design. This gives off a whimsical invitation to birds for a tea party. You can blend mismatched teapots, cups, and saucers with a coat of the same paint. Thus, you add a fun and unique design to your birdhouse. View.
6. The Tomato Cage Bird Bath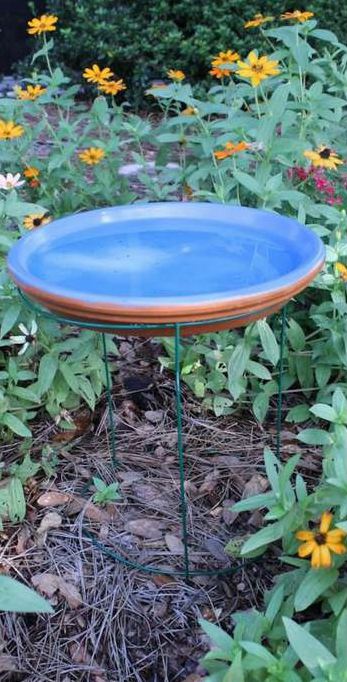 If you have been looking for a DIY bird bath that requires no spending, you have found one. This design is for people who aren't big DIYers. Furthermore, this bird bath is very easy to do.
7. One-of-a-kind Bird Bath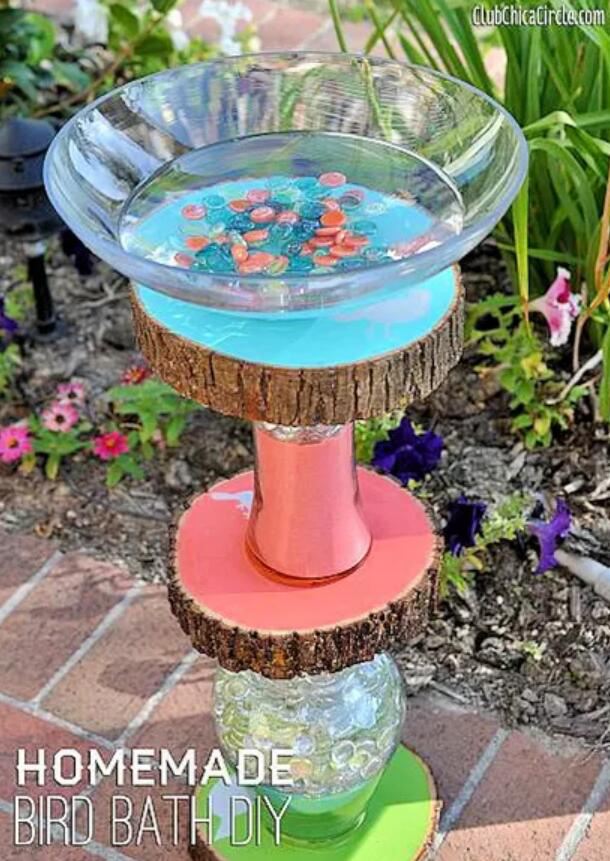 This bird bath is true of a kind as its stacked nature allows DIYers to use different colors. Additionally, you can fill the vases you use with various items like pebbles, colored gravel, sea shells, and other fun fillers. Lastly, this project has wood slice separators that give it the desired stability.
8. Salvaged Chair Bird Bath
Perhaps you have an old chair that you can't sit on anymore, and you don't want to toss it out; you can use it for your bird bath. You can place a saucer in the middle of the chair, becoming a beautiful, unique bird bath.
9. Stacked Stone Bird Bath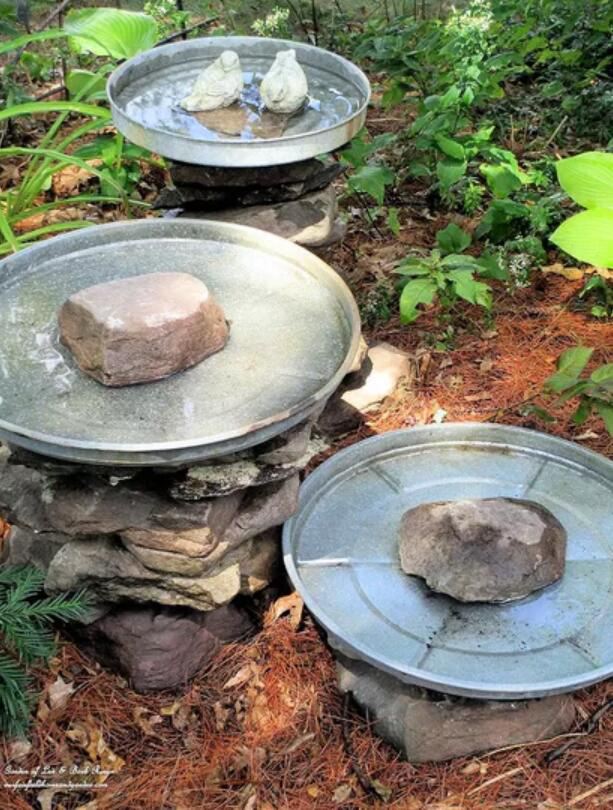 Stacked Stone Birdbath has a rustic look which adds structure and natural water features to your garden. You can use galvanized trash can lids for the basins. Then you can add stones to make the basins more steady.
10. The Cement Doily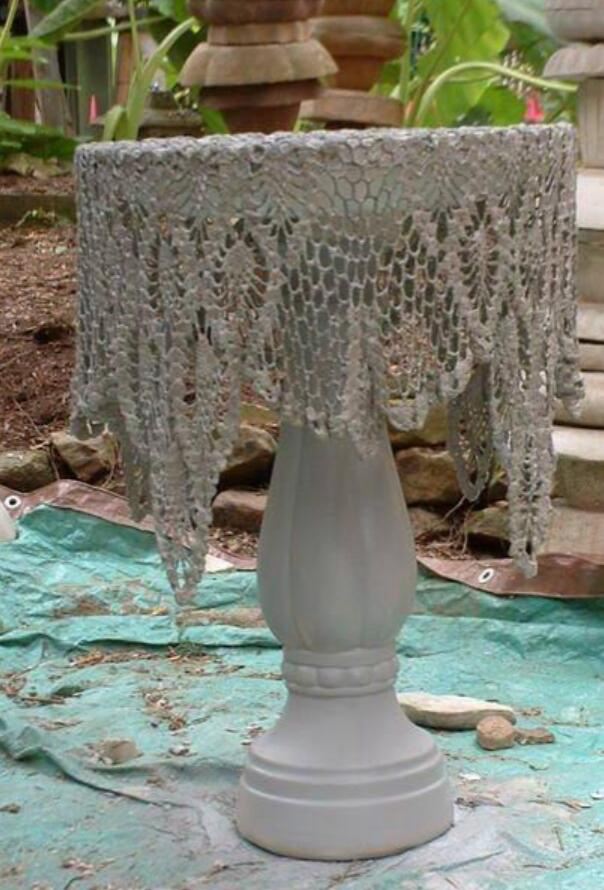 If your bird bath is old and you feel you want to dispose of it, don't. There is a way to make it look more beautiful than it was previously. Get a doily and dip it into cement. Ensure it soaks the cement and lays it over the old bird bath. You will be amazed when you see the transformation it will cause. Source.
11. Glass-lid Hanging Bird Bath
Another bird bath idea suitable for hanging from strong tree branches, awnings, and balconies is the glass-lid hanging bird bath. Get a glass lid and strong chains to hang the tub. Fortunately, it is easy to remove the bath for cleaning.
12. The Chip Platter Bird Bath
This bird bath is from an inexpensive chip platter. To create this beautiful piece, you attach a PVC pipe to the bottom of the platter, and you connect it to a metal rod that you can stake to the ground.
13. Cute Serving Dish Bird Bath
As its name implies, this bird bath is cute. You can get a colorful platter or serving bowl from a thrift store. Furthermore, you can complete the beautiful design of this bird bath by using a recycled carved table leg with a stable platform as a stand.
14. The Angel Bird Bath
The angel bird bath originated from a woman who wanted to create something in memory of her late granddaughter. To make this masterpiece, you can get an angel figurine and a plate pie.
15. Repurposed Lamp Bird Bath
Another bright idea we discovered while searching for bird baths was the repurposed Lamp bath. You can get an old ornate lamp from a yard sale or thrift store. Then, you can paint the lamp to make it more attractive. Finally, you add a basin to store water for the birds.
16. The Easy Bird Bath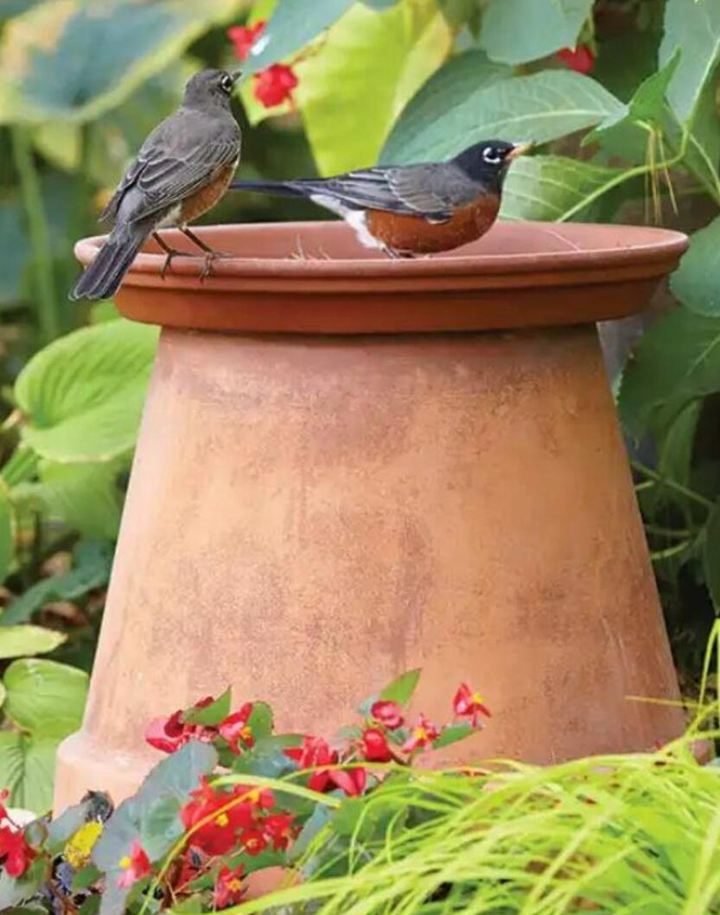 This bird bath is made up of a terracotta saucer and container. Additionally, you can use a cracked or chipped pot to make your bird bath. Turn the jar or container in your garden and put a saucer on its base. You can then fill the saucer with water.
17. Jewelled Concrete Bird Bath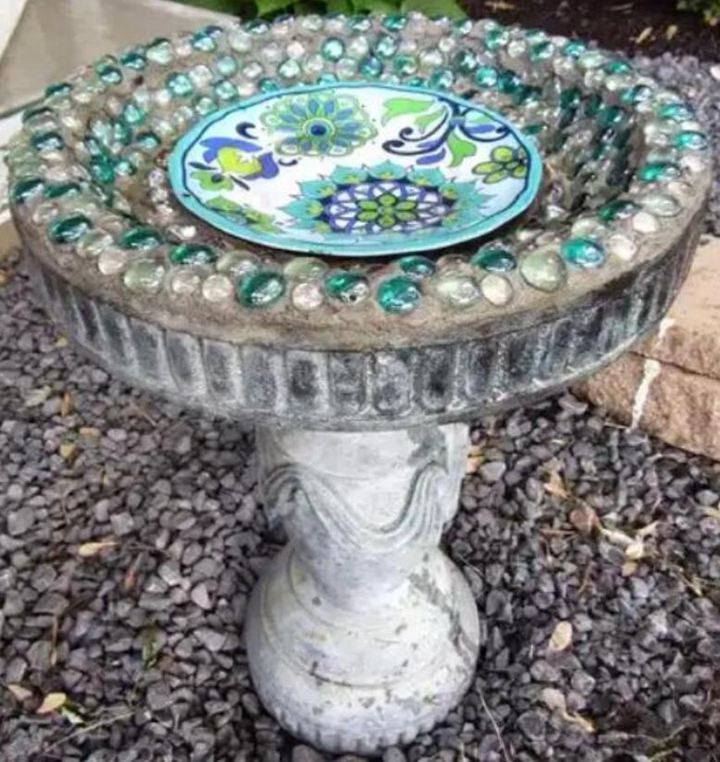 If you have a concrete bird bath that has gotten cracks and chips because of age, there is a way to make it seem brand new. With a coat of concrete and shiny jewels, you can give your bird bath a lovely transformation. Source.
18. The Solid Wood Bird Bath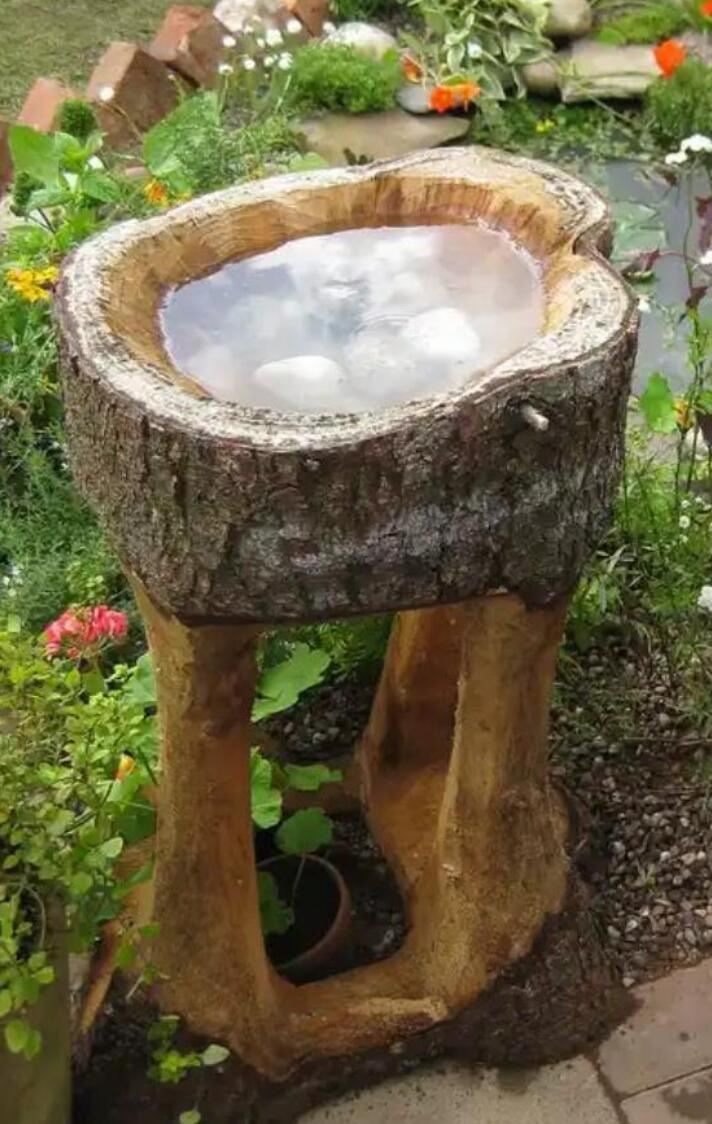 The solid wood bird bath is another design for DIYers. This bath appears to take a while to create, and you might also need excellent wood skills. However, if you have some woodwork skills, you might want to try out creating this bird bath.
19. Candle Plate Bird Bath
The candle plate bird bath looks sleek and modern. However, it is pretty cheap to create. With an ordinary candle plate and some dowels, you can erect this bird bath in your garden. You can get this plate from thrift stores if you don't have one in your kitchen.
20. The Polkadot Terracotta Bird Bath
A polka-dot terracotta bird bath is an adorable design that we recommend. It is also pretty easy to do this bath as you only need terracotta pots and paint. Since everyone can draw circles, you can make this design effortlessly.
21. The Hanging Bird Bath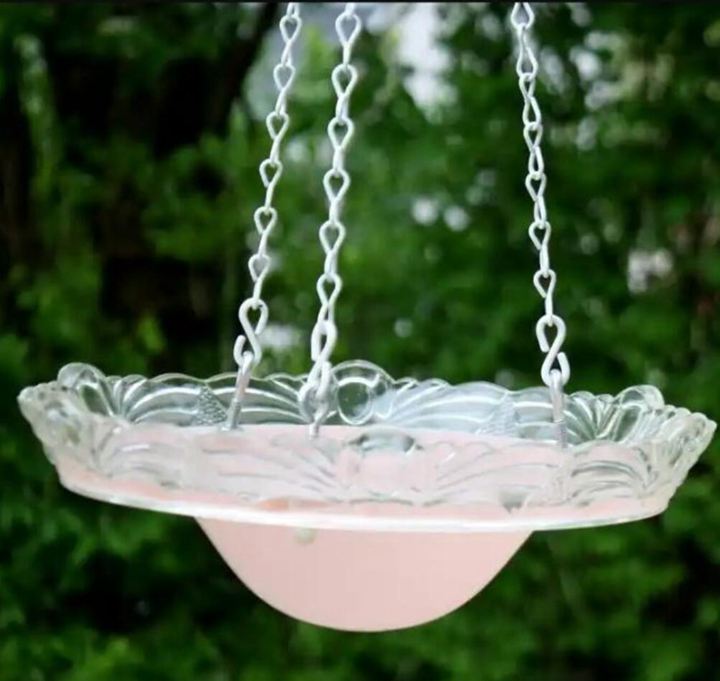 The hanging bird bath is another DIY design that is very easy to do. You can use an old lamp shade and chains for this. To create this bath, hang the old lamp shade on a tree or post with the chains. Then fill up the tub with water.
22. The Lamp Bird Bath
This bird bath is stunning and cheap to create. Fortunately, all the materials that DIYers use for this bath are easy to get as they are available in thrift stores. Furthermore, this project uses a bundt pan instead of the basic round dish that other bird baths use.
23. The Tree Stump Bird Bath
Perhaps you have an old tree stump that you don't want to cut down or grind; there is something you can use it for. Source.
24. The Flower Pot Bird Bath
You can use your flower pot to plant your flowers and simultaneously use it as a bird bath. Follow the source to see all materials and steps involved in creating this bird bath.
25. The Mosaic Bird Bath
The mosaic bird bath is another beautiful bath that DIYers can easily create. It would help if you had a pot and a saucer to do this. Then, paint the pot and do some mosaic designs on the saucer. Source.
26. The Heated Bird Bath
While this bird bath design is not entirely DIY, it is pretty easy to create. The only thing you have to purchase in this project is the heated element. However, you can get the bath stand from thrift stores, or you can get innovative with the creation of this bath. Source.
27. The Pebble Terracotta Bird Bath
Another design from stacks of terracotta pots is the pebble terracotta bird bath. You need a few terracotta pots, a plate, pebbles, and paint to create this bath's design. After you stack the painted pots on each other, you can stick stones around the base of each pot to give the bath a beautiful flair.
28. The Checkered Flower Pot
There are a variety of unique designs from terracotta pots. Markedly, this checkered flower pot is one of them. When you have your terracotta pots, you should paint them in beautiful checkered colors to make the bath unique and attractive in your garden. Source.
29. The Sink Bird Bath
If you have an old sink gathering dust over the years, you can use it to create this beautiful bird bath. Simply attach the sink to a pole to make it firm.
30. Upcycled Two Tier Bird Bath
To create upcycled two-tier bird bath, you need a lamp post, plates, and other cheap glass wares. These glasswares can be gotten from thrift stores.
31. The Super Simple Terracotta Bird Bath
If you need an unusual and inexpensive bird bath, you need terracotta saucers, spray paint, and flat-backed glass marbles. It would be best to spray all the pots and saucers before attaching them.
32. Concrete Leaf Bird Bath
This bird bath design is a unique one. Get a large leaf, play sand, concrete fortifier, contractor's sand, and Portland cement. This leaf will serve as the mold for your bird bath. Dip the plucked leaf into the concrete and allow it to set up. After some time, peel the leaf off and use the caste for the bird bath.
33. The Oil Pan Bird Bath
While this is a do-it-yourself bird bath design, its procedure is more extensive than the others. It would be best if you had a plastic tub, a pump, an oil pan, and PVC pipes to create this bath.
34. The Bright Terracotta Bird Bath
If you want a bird bath that will stand out in your garden, this is the one for you. The Bright terracotta bird bath has various designs and is painted in different attractive colors. Although it's a compilation of terracotta pots and a saucer, its beautiful color combination endears it to humans and birds.
35. Broken CD Bird Bath
If you have damaged CDs lying around, you can gather a few of them for this design. Break these CDs into small pieces and attach them to your planters' saucer. Thus, the bird bath will catch and reflect beautiful sun rays. As a result, it will attract all kinds of birds to your garden.
36. Vintage Candlestick and Metal Bird Bath
You only need a large candlestick and pot lid from a thrift store to create this bird bath. Additionally, you can use a lamp base instead of a vintage candle stick. Then, get spray paint to make the color of your bird bath uniform.
37. Vintage Dishes Used as Bird Bath
Another material you can use for your bird bath is vintage dishes. Therefore, to create this bird bath design, get a bowl and a small candy dish. Then it would help if you had a copper pipe to serve as your bath stand.
38. Turned Over Pot Bird Bath
This bird bath design is straightforward to create. Get a medium terracotta pot and a saucer. Paint these materials the same color to make them more attractive and neat. Then use glue to attach the saucer to the bottom of the terracotta pot.
39. Step Ladder Bird Bath
Another unique bird bath idea is the step ladder bird bath. Get an old ladder with a flat top, a terracotta saucer, and pebbles. Then put the painted or unpainted saucer on the flat surface of the ladder. To give your bath a more natural feel, you can arrange the pebble inside the bath.
40. Pumpkin and Gourd Bird Bath
You don't always have to use your pumpkin for cooking as there are other uses for this fruit. One of the uses is the idea of a bird bath. To make a completely natural bath for your feather friends, you can use pumpkins as the bath basins. Furthermore, you can improvise your gourd as a bird bath basin.
41. Upcycled Metal Dish on a Column
Perhaps you have some beat-up columns, or you suddenly found one in the store; you can use it for this bird bath idea. Additionally, get a big pan to serve as the basin. Then ensure that the head of the column will leave no space when you place the pan on it. You can then paint the column and the pan the same color. Attach these two, and you have your bird bath.
42. Bird Bath Park
Another easy and inexpensive birth bath idea is this bird bath. If you want something fancy for your garden yet don't have the high budget to carry it out, you should consider doing this. You only need a long straight stick and two-branched ones. The branch space will hold the saucers. Thus, your bath can accommodate lots of birds.
43. Bird Bath Water Drip
We'll have you know that birds do not only love stagnant water as they enjoy moving water too. Thus, you can create a bird bath drip in your garden. You can have a full saucer of water at all times for the benefit of the birds if the drip is not running.
44. Plastic Bottle Bird Bath
There are several ways to create moving water bird baths for birds. One of the ways to offer moving water to birds is through a plastic bottle bird bath. Get a plastic bottle and puncture it below and at the top for easy airflow. Then you fill the container with water and hang it over a bird bath.
45. Hummingbird Mister Bird Bath
This beautiful DIY bird bath caught our attention because of its structure. It had two water outlets which were fun for the birds that came to drink and bathe.
46. Steel Bowl Bird Bath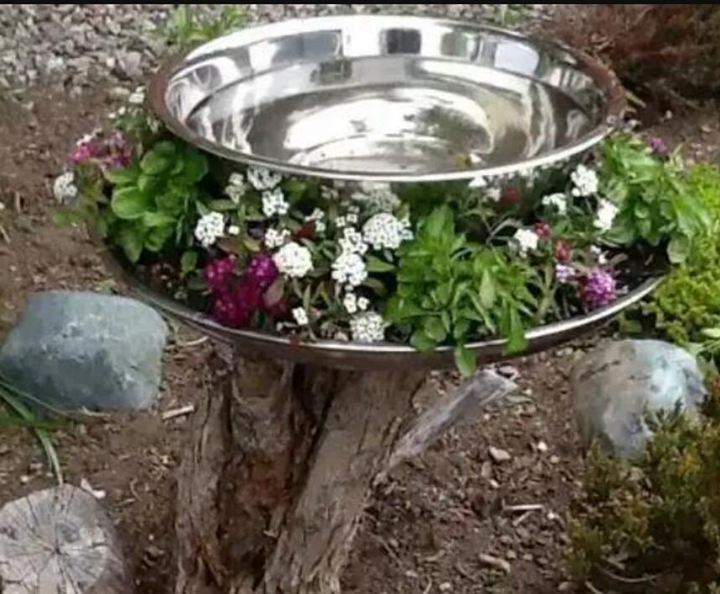 To create this bird bath design, you need a large steel bowl or dish and a smaller steel bowl. You can put flowers on the large dish and then place the small dish in the middle of the dish.
47. DIY Water Fountain and Bird Bath
Have you wondered what to do with the old tree stump in your backyard? You can turn it into something. Simply look for a large basin to serve as your bath and other cheap materials you need to create a fountain and bird bath.
48. Garbage Can Bird Bath
Garbage-can bird bath made us understand that nothing is useless. Ugly and old garbage can beautify your garden if you use it correctly. To create this unique design, you should get a garbage can and use the well-cleaned lid as the bath basin.
49. Succulent Planter Bird Bath
The succulent planter is another beautiful idea for a decent bird bath. Creating a succulent planter bird bath is very easy. You only need an empty bath, succulent soil, and plants. Then you create a beautiful masterpiece for your feather friends. See details here.
50. Solar Fountain Hummingbird Bath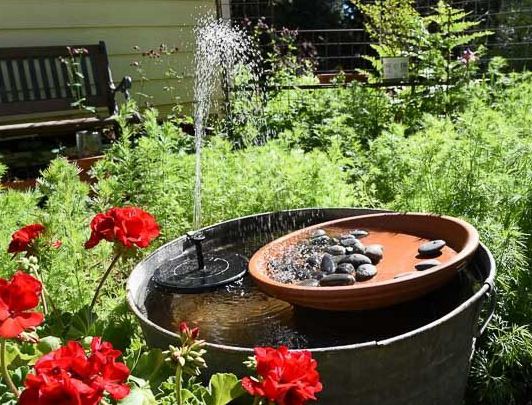 It would be best if you had a deep container, solar fountain, terracotta dish, and ordinary black pot to create this bird bath. Uniquely, this bird bath is specifically for hummingbirds. As a result, if you are a lover of this specie of bird, you can create this bath to attract hummingbirds to your garden.
51. DIY Bath and Stand
To create this DIY stand, you need to get bricks that you can stack on themselves to form a firm stand. Then you can place a clay saucer on the stand and fill it with water. You can also arrange small rocks inside the bath for birds to perch on when they visit.
52. Umbrella Bird Bath
Umbrellabird bath is a labor-intensive one, so you should plan enough time to do this. Take an old umbrella from your store and put it in a bowl full of sand. Pour cement, shredded styrofoam, and sand into the umbrella. Then plaster the top of this item. After following all the procedures in the tutorial, you will have a beautiful umbrella bird bath.
53. Upcycled Lamp Bird Bath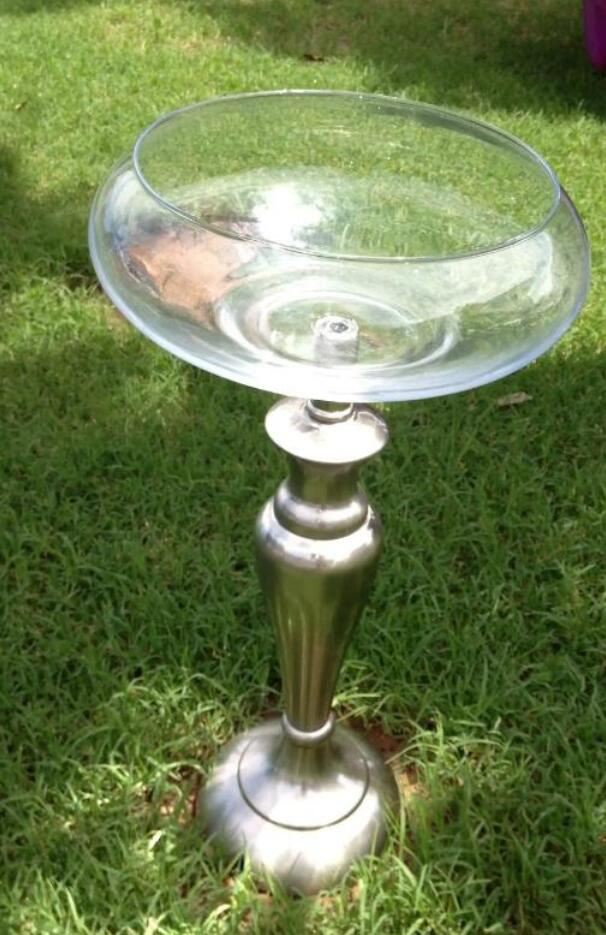 You might have an ugly vintage floor lamp stored in the basement and gathering dust. This bird bath idea might be just for you. When you get this lamp, dismantle it and remove all the wiring. Watch the tutorial to understand how to create the upcycled lamp bird bath.
54. All-natural Bird Bath
This one bird bath requires no money at all to create. Go around your yard to pick up sticks that will stand for your bath. Then look for an old bowl or dish that will work as the basin. Although this bird bath is made from materials you can stumble on in your yard, it is beautiful.
55. Repurposed Glass Dish Bird Bath
Repurposed glass dish bird bath is one of the most accessible bath ideas for your feather friends. Once you get a glass vase as the pedestal, you can look for a dish or bowl to serve as the top. If you want, you can fill the glass vase with burlap. No tutorial source was found.
56. Repurposed Plate and Vase Bird Bath
You can make a gorgeous bird bath with your old vases and plates. These plates help to add dimension and design to your bird bath, and the vases serve as a pedestal where the bird bath rests. Using these kitchen materials for your bird bath helps to make them sound even when they are old. No tutorial is available.
57. Grapevine Wreath Hanging Bird Bath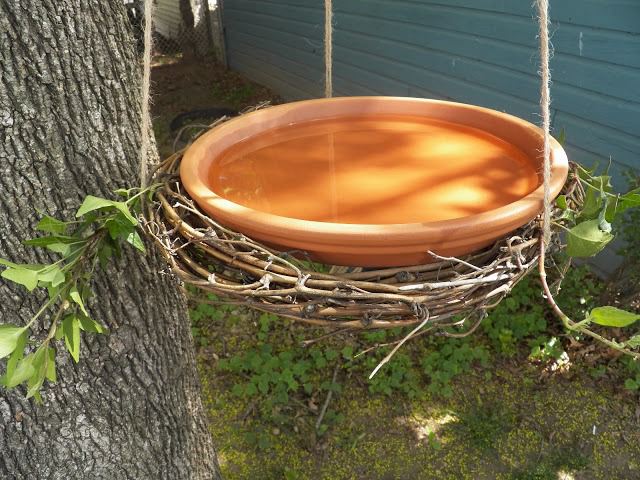 When you want to create this DIY bird bath, you can either buy the grapevine wreath or do it yourself. After you get your wreath, fix any dish that can hold water on it and hang it in your garden. Follow for more tips.
58. Garden Party Bird Bath
As its name implies, the garden party bird bath makes it feel like you are holding a tea party in your garden. This bath design is teacup and saucer attached. You might want to check out this charming birth design. Follow the post to learn more about this beautiful bird bath.
59. Tray Chic Bird Bath
Tray chic bird bath comprises a standard, round serving tray. Then, you can make the tray more beautiful by adding a design cut from vinyl. Finally, attach the tray to a metal stand with construction adhesive. Follow the source to get the details of all the steps involved.
60. Natural Touch Bird Bath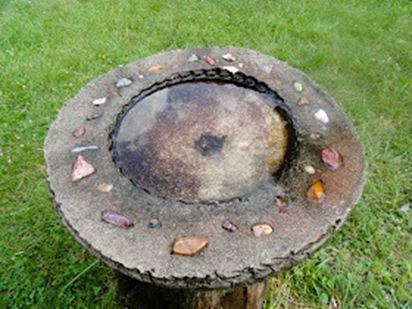 To get the circular form of this bird bath, you can use the lid of a garbage can. See how the designer went about each process when building this bird bath.
61. Mosaic Magic Bird Bath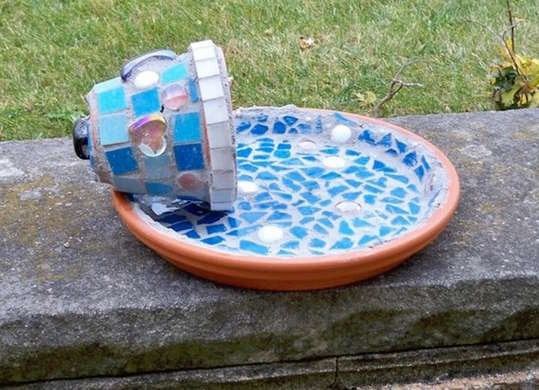 Your bird bath does not have to be dull when you can create a mosaic Magic yourself. Source.
62. Vintage Versatility Bird Bath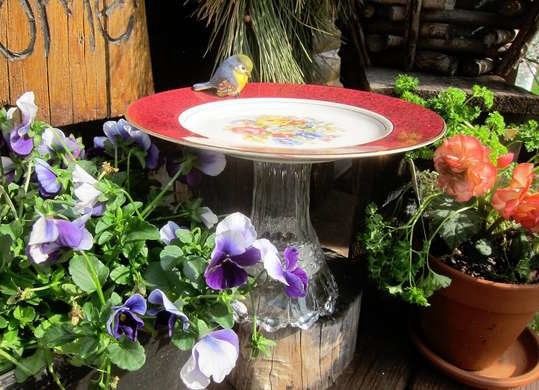 You can use an old vintage lamp and a dessert plate to create this masterpiece. Source.
63. Vintage Pot Bird Bath
Get a big vintage pot and an attractive dish. Then attach them to form this vintage pot bird bath. For more details, visit the source.
64. Fruit Bowl Bird Bath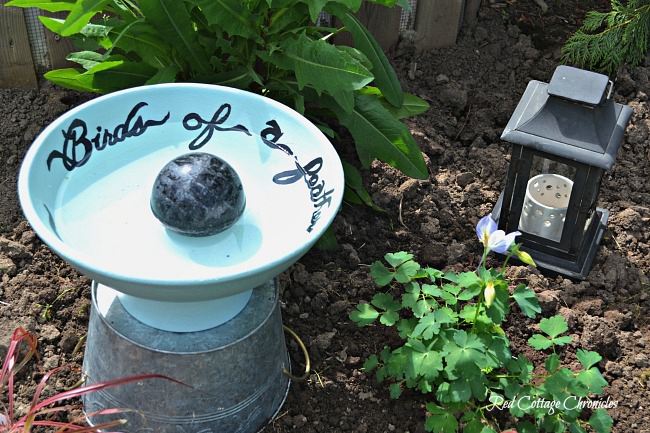 Upcycle a big fruit bowl into your garden's fancy bird bath. This project is so interesting. that kids will be excited to work on it with you too. Follow the post to see more details.
65. Solar Powered Bird Bath
It would help if you had a large garbage can and some gallon buckets to make this solar-powered bird bath. This shows that you don't have to spend a dime on building this bird bath because most of the materials are already at home. Source
Conclusion
Ensure you check the tutorials before you create your desired birth bath to prevent mistakes. Do not forget to share your experience in the comment section, we'll be waiting for your response.