Apart from giving food to birds like corn, seeds, rice, or whatever. It's essential that they have some chills when the temperature hoes really high. One way to do that is by easily building a birdbath just in your backyard where they can always access from time to time.
We listed 24 DIY bird bath ideas that you can make from home, all the ideas are pretty much easy to build and won't require spending much. Are you ready to make a cool bird bath? Let's go!
1. DIY Bird Bath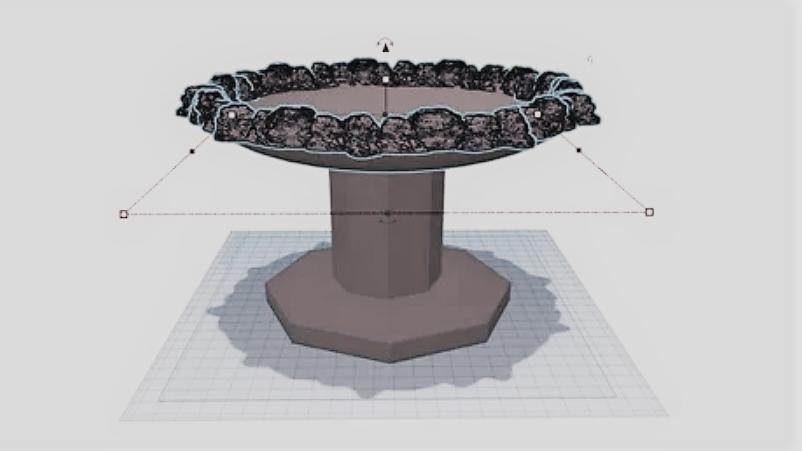 Here's an awesome bird bath idea for the one who loves having birds around the home. To build this project, ensure that you make the base with a decent infill for weight. Then to avoid loose sagging, use supports when building the bowl.
2. DIY Concrete Bird Bath
It's quite a simple project and in this tutorial, you'll learn how to make this birdbath using these supplies; 90mm PVC pipe, 90mm PVC push-on cap, A flexible tube, preferably made of silicone or rubber, A flower pot tray, 6mm Steel rod, Adhesive and Concrete.
3. DIY PVC Bird Bath
You can set up this simple birdbath on your balcony using a PVC stand affixed to the balcony railings. With the available materials such as; 1 ¼" PVC pipe, 1 ¼" PVC threaded plug, 1 ¼" PVC cap, 1 ¼" PVC female adapter, A tray with a flat bottom in the center, Gorilla Clear PrimaGlue 4oz, Painters tape and Spray prime. Measure the desired height and cut your PVC to size. Get to work.
4. DIY Log Bird Bath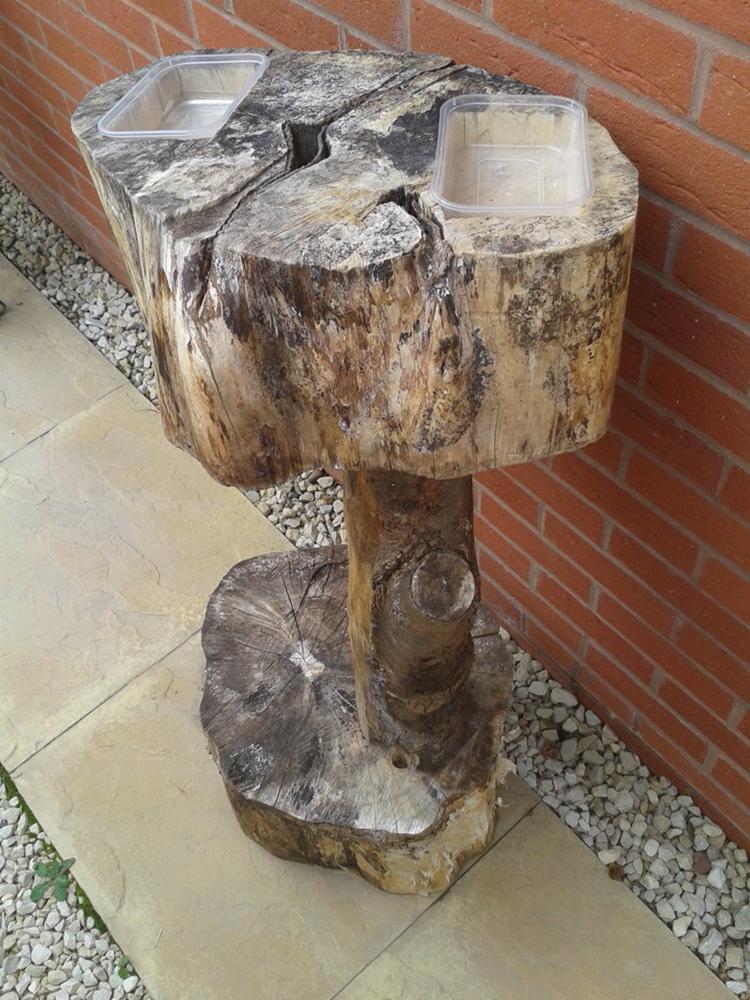 This project was made from solid ash logs and some dowels. If you will attempt this, the creator recommends some proper drill bits to drill the holes. Follow the layout and guidelines and make yours.
5. Easy DIY Bird Bath
Welcome to that one spot you've been looking for. In this video, you'll learn how to make a birdbath from pots and saucers by using materials you may already have or purchase at the store. Paint and decorate in your most favorable way.
6. DIY Bird Bath Fountain
Using about 2 cubic foot sand for molding, 1 water pump about 250 gallons per hour, 40 lbs portland cement and 40 lbs sand, plastic bowls and cups for molding, and your working tools. With these in place, get ready to have your fountain working in no distant time.
7. How To Make A Concrete Bird Bath
Here's a cheap and easy way to bring the birds to your house, with a stylish and functional concrete birdbath. This do-it-yourself bird bath fountain will save you thousands of costs you would have spent on a purchase.
8. DIY Garden Planter And Bird Bath
This fun idea serves to create a double blend of planter and birdbath in one and in this tutorial you'll learn how to make your own using the supply list provided by the creator in this article. For this project, you can make do with; 1 8″ tall terracotta pot for the base, 4 6″ tall pots, 1 4″-5″ tall pot, 62-inch piece of rebar, Spray paint primer, Spray paint in your color choice, Little ceramic bird, DAP Household/Aquatic Adhesive.
9. Recycled Glassware Bird Bath
The top of this bird bath is a clear plate, a small glass bird, three green Thrift Shop vases, and a bottom plate as a base. Just anyone will appreciate this creative style and you'll love it most definitely.
10. DIY Teapot Bird Bath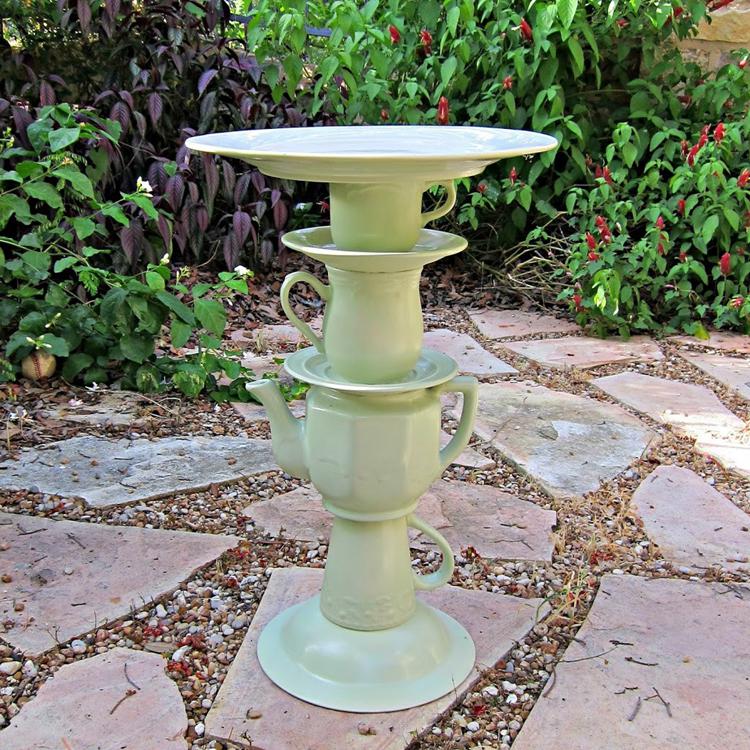 I just love how exquisite and unique this project looks. It is a teapot bird bath made by using thrifted items. It is a combination of teacup, saucers, mugs, and plates. This whimsical piece of garden art is surprisingly easy to make using Bowl, Teapot, Various cups, containers, and saucers, Large plate, Ceramic glue and Spray paint.
11. Homemade Bird Bath DIY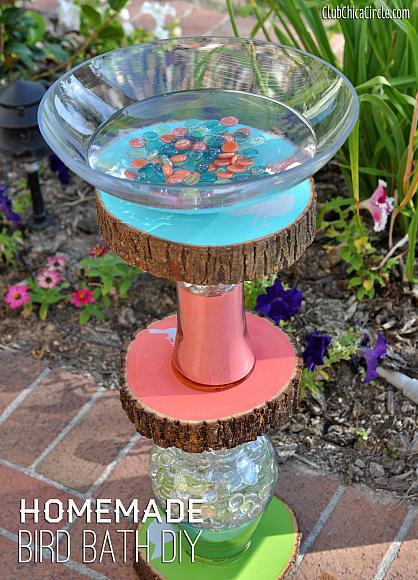 This is a fun way to upcycle your glass vases into something superb and really pretty. In addition to that, paint the center of your wood slices to make them more colorful and outstanding. Follow this guide and you're sure of having this incredible work done. Some of these materials should help; Patio Paint( different colors)Americana Decou-Page (Glue-Sealer-Finish), Americana Feathered Friends Stencil, Glass Vases, Glass bowls, Bass Wood Slices, Paint Brushes, E6000 Glue, Decorative Vase Fillers.
12. DIY Bird Bath
Birdbaths are simple to make and they also create a kind of difference around the environment as they draw the attention of birds to hover around. Right here you can also make your birdbath for your backyard using a watertight bowl, plant stand, and gorilla glue.
13. DIY Bird Bath Made Out Of Boxes
Watch how to make this DIY birdbath using boxes and mortar. If this is going to be your first time using mortar then you don't need to panic, you can rest assured that it's not a big deal because you will still get it right at your first attempt.
14. How To Make A Recirculating Bird Bath
This recirculating bird bath is something you can do yourself in a short while. Using your style of pot and fountain top, you can draw ideas from here towards creating yours in your own unique way.
15. How To Make A Bird Bath
In this video, it is hoped that you see the potential to creating your own bird bath for your yard. Birds also have a hard time in summer and many die due to dehydration. By making this amazing wooden birdbath, you might just be saving these birds daily by providing a drink to stay hydrated.
16. Cute DIY Bird Bath
This project is really basic and easy, it's an inexpensive birdbath that won't even take long to get done. You can make this at home using unused or fairly used inexpensive things such as; Round baking tray 8", Aquarium decor plants, Paints brushes, Empty food can, Acrylic paints, and Some colored stones.
17. Recirculating Bird Bath Fountain DIY
What you need to make this birdbath fountain is a weekend off and the following materials; 16" diameter plastic flower pot with no drainage holes, a submersible pump with a ½" outlet, a 14" plant saucer, a piece of the plastic grid, and a piece of ½" flexible tubing.
18. Natural Bird Bath DIY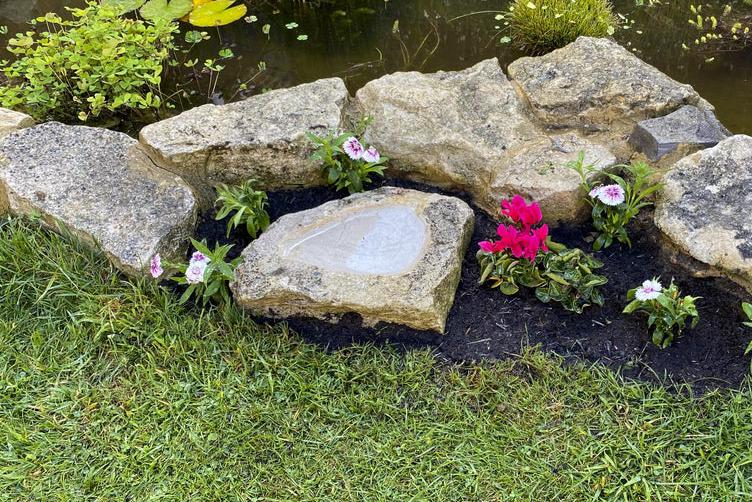 This has a more natural and wildlife setting and for those interested or in love with nature, you can try out this project. Select the rocks you'll use and proceed with the other steps to make this.
19. Solar Powered Hummingbird Bath
Moving to a more modernized kind of bath, here's a solar-powered hummingbird bath and you'd definitely love how this turns out. You can set this up in your backyard and have your birds around.
20. DIY Bird Bath
As summer approaches, they're hotter climate regions and this poses a threat to the avian community. This is why they deserve a cool bath most of the time. Walkthrough this video and see how you can preserve wildlife too.
21. Homemade Cement Bird Bath
You will be doing nature much good and the birds a lot better if you can follow this tutorial closely. By going through this video, you'll learn how to make a homemade cement birdbath. It's a fun and easy DIY and the steps are detailed.
22. DIY Carved Concrete Bird Bath
Just around your garden, you may seem to have birds lurking around and what can you do to help? Just so you know, they're diverse ways but most importantly providing them a basic necessity which is water will do them more good.
23. DIY Thrift Store Bird Bath
Using whatever pretty bowls or glassware you can find at the thrift store, this DIY project won't seem much of a big deal. This is why you have this step-by-step tutorial to lead you towards replicating this.
24. DIY Stacked Stone Bird Bath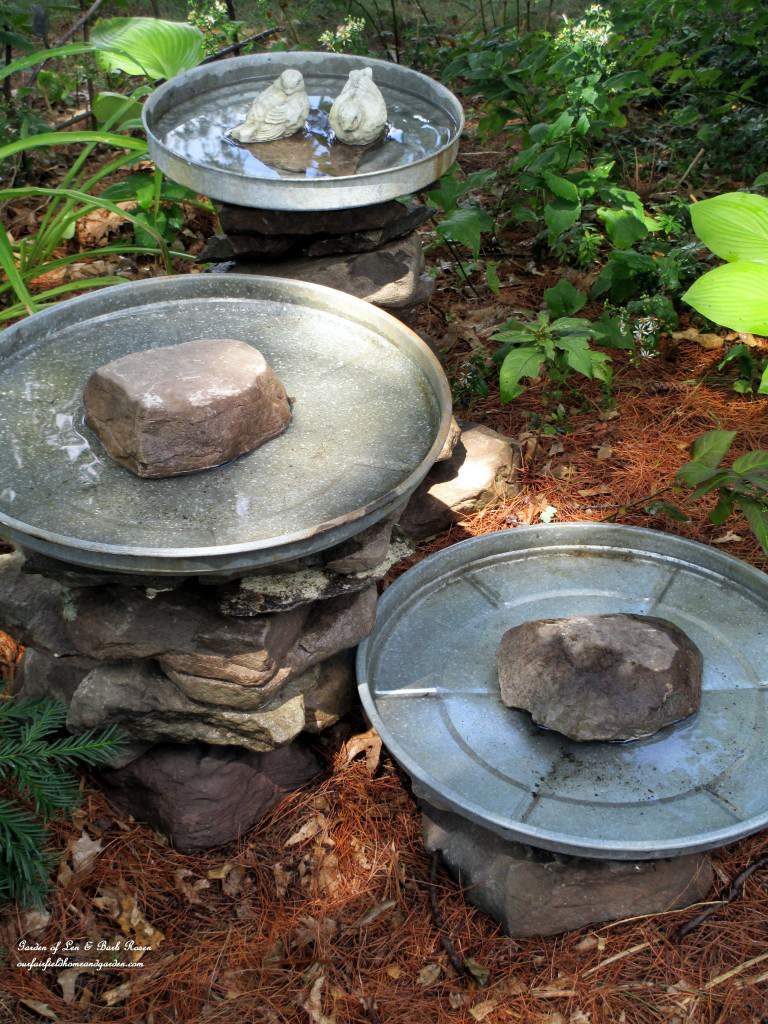 As much as we humans desire a cool or chill bath or probably a time out at the beach during the hot summer, the same goes for these lovely birds. It's important for them to have their water sources too. This project can be made with items you have around and can be repurposed.
Conclusion
Having gone through a larger number of ideas, you can now build yours based on individual preference. Trust me by building one of these, you'll have more visitors than usual. Have fun while building and Enjoy the company!