The plot revolves around a couple who recently died and became ghosts, then they began to hunt their former house, and an obnoxious, devious poltergeist named Betelgeuse, popularly known as Beetlejuice tried to scare away the inhabitants from the house.
In this article, you would find amazingly outstanding DIY Beetlejuice costume projects that would be suitable for Halloween or cosplay.
1. DIY Beetlejuice Babe Makeup
Turn yourself into a sassy Beetlejuice with this Beetlejuice babe Halloween makeup. It looks so scary but of course, it will never be less good for Halloween.
2. DIY Beetlejuice Costume
Don't miss out on this crazy outfit, because it could go a long way for your Halloween party. You'll need a couple of different shades of fabric. There'll be a need for some dirt and mud from your yard to make your face makeover a bit scarier. Your hair which is the main point of call has to be very dirty, avoid washing for a day or two, and then spray with the desired color, most especially green!
3. How to Make Beetlejuice Costume
This DIY Beetlejuice costume tutorial is easy peasy! This fine design will need paint, a pair of pants, a black tie, a white blazer, and masking tape. Paint the exposed fabric and allow to dry. Don't forget your makeup!
4. DIY Beetlejuice Family Costume
Making this costume is not difficult at all. You'll need masks made of paper Mache clay, wire coat hangers, cardboard, and newspapers. Many of the items needed for this are basically household items but the wig can be gotten from a thrift store. the purse was an old book I glued together.
5. DIY Beetlejuice Halloween Costume
With this DIY Beetlejuice costume, you'll stand out at your Halloween party. This is a hands-down DIY costume that can be worn a thousand times without tear. Use a skinny black tie, striped men's button-up, and black boots. For the makeup, black eyeliner can give harsh wrinkles and an exaggerated widow's peak.
6. Halloween Female Beetlejuice DIY
A sexy and sassy Halloween costume. Watch out, peeps! Prepare to scare everyone around you and be the only beetle juice with a sexy flair. Just put together a pair of striped leggings, a white shirt, and a blazer. The green hair is a plus!
7. Beetlejuice Makeup Tutorial
Well, it's your lucky day, because DIY Beetlejuice costumes have got your back in this Halloween season! Once you have the makeup down, you're going to need the costume to complete the look. To get an authentic, fresh from the graveyard look, you'll need to get your suit very dirty. If possible get it stained on some blue-green algae or fake moss. You have to dress to depress!
8. Beetlejuice Costume Guide
With this DIY Beetlejuice makeup tutorial, you can impersonate the BEETLEJUICE ghost himself! You will need a Rubie's men's Beetlejuice wig, white party supplies, a black and white striped leisure blazer, a spiffy men's humbug suit that is black and white, party king women's graveyard ghost costume, micro costumes men's black white vertical striped horror costume blazer pants with a tie, fitted solid point collar dress shirt, snazaroo classic face and body paint, converse chuck Taylor all-star low top canvas.
9. DIY Toddler Beetlejuice Costume
This DIY Beetlejuice costume will make your kids feel like a part of the party. Get a pair of thin shaped striped pants and jackets, color each of the stripes with black paint, and then use moss/ mold paints on the pants, as well as the collar of the dress shirt. For the hair, use green organic face paint. Make sure it's not the type that can easily get smeared and messy!
10. DIY Female Beetlejuice Costume
With this DIY Beetlejuice costume, everything is art! The makeup, use a purple or dark brown eyeshadow to contour your face and to outline the eyes. Make use of that gelatinous green color to paint other sides of the face to give it that disgusting look, then paint the hair green using spray paint.
11. DIY Toddler Beetlejuice Costume
Use the dirtiest material of all if you want to look really scary! Get a plain white pair of pants and paint it black just like a striped jean. You'll need a jacket too, do the same with it till you have all your materials striped. Apply some dirty makeup for your kid and you're good to go!
12. DIY Homemade Beetlejuice Costume
Seize your moment and have fun! Get a white wig, white tank top, and a red tight polka dot shirt. Attach a fake moss to the dress you've made so it'll look more sordid to the eyes. It needs to have that unrefined and unpolished horror look so that it can scare a lot of people since that's the aim.
13. How to Make Beetlejuice Striped Pants
Pull off some shades and look cool! You'll need green spray paint, hot glue because this beetle Halloween costume needs scary makeup to back up your striped outfit. For your striped pants, use masking tape to tape some parts then spray. When it dries, pull out the tape.
14. Cool Beetlejuice Costume Idea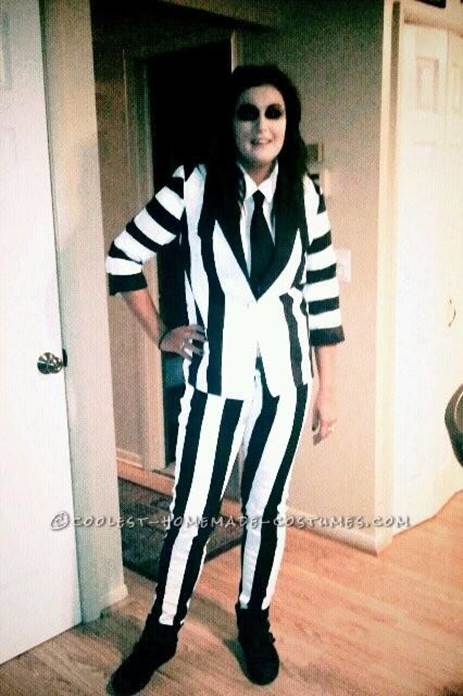 It's a lot cheaper and easier to create. You should be able to get a suit that has no cracking or stiffness, this is so that you won't have any inconveniences with your costume. A white button-up and a tie are very essential in the accomplishment of this Halloween costume.
15. Beetlejuice Homemade Costume
This DIY Beetlejuice costume fits just anybody and everybody! This was created from a lab coat and scrubs sewing pattern even though it was cut to a shorter length. The wig was purchased on eBay. The makeup was applied with a foam sponge.
16. No Sew No Paint Beetlejuice Costume
You can always get a costume that suits your taste without sewing and without painting. Get a black and white striped legging. Get a black blazer that fits perfectly. Use a white ribbon to glue strips to the suit and you can reuse it again.
17. Sexy Beetlejuice Halloween Costume
This is a little bit extra because you are going to look sexy! Start with a cool tone brown shade after using the primer so the makeup can stick. Eye shadow will definitely make a cool tone for you. Make some serious detail around the eyes.
18. Beetlejuice Halloween Makeup Tutorial
Your DIY Beetlejuice costume needs alarming makeup. Apply your white foundation with a brush. Add your concealer to make your under eyes a bit darker. Contour your cheekbones and take it down your chest and neck. You need to look extra scary
19. How To Make A Beetlejuice Costume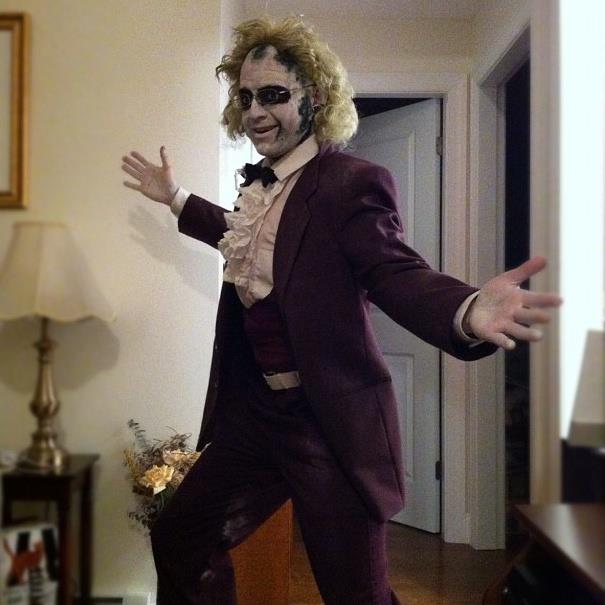 You can always join in on the celebration with your DIY Beetlejuice costume. It is not as difficult as it looks. Get your wig and paint it with white, silver, and green hairspray. Face makeup is essential. You can get women's slacks if you are that determined.
20. DIY Beetlejuice Costume
You can add some embellishments to your costume. It will suit the purpose and it will also make you look different. You will need a red wedding dress, red lace gloves, a nova suit, and a green hair spray. For extra effect, you will need spiders, painted pumpkins, and a doormat.
21. Ultimate Beetlejuice SandWorm Puppet Costume
You can equally use this DIY Beetlejuice costume for a puppet show. You would need to create a house using blue foam. When the house is assembled to the roofing then you fit in the windows, doors, the foundation, and base. The coffin and the shovel, and chimney can also be made to look exactly like an area where someone died. Make a signpost to show that the house is for sale. Make the sandworm puppet and a mask for yourself. The steps are pretty much easy.
22. Beetle Juice Wedding Tuxedo
Cut out lining pieces. Make a bow tie out of black fabric and tie. Gather ruffles, tie off the threads, and trim the thread nails then pin your ruffles to the front of the shirt. Sew a basting stitch down the center and gather. For the makeup, you can make it a little scary by adding very dark colors to your face. Use the green hairspray for perfection.
23. Easy Beetlejuice Makeup Tutorial
This makeup tutorial should not be of any stress. You can either spray your hair green or you get a green wig. Use a foundation and a setting powder. You can use green for your eyebrows. Fill in the brow with a darker shade. Your eyes should stand out darker. Make random patches on your face with a green shadow.