Here's what a lot of people do not know, "Buying an already made bed frame is way too expensive" Have you tried pricing a nice-looking bed frame recently? The prices are way too high. The best solution to this problem would be to make a bed frame yourself.
I know, making a DIY bed frame isn't going to be easy, but imagine how much money you will be saving if you built one! We have listed 25 DIY bed frame projects for you to choose from, make your pick and start building!
1. Easy DIY Bed Platform
This video tutorial started by building the outer frame of the bed with 2×12" pieces cut down into a footboard and headboard. Then, the creator went ahead to sand down the boards and cut one 2×4" piece to length for the side slats. She drills pocket holes on all the edges of the boards and assembles them through these holes. The guide also includes the link to the materials and tools used and a downloadable plan.
2. DIY 5 Minutes Bed Frame
You can make this bed frame in 5 minutes with some framing lumber and pocket screws if you follow the steps outlined in this video guide. The guide includes links to instructable where you can find the tools and more detailed instructions on how to successfully build this bed frame like an expert.
See also: 20 DIY Trundle Bed Ideas
3. DIY Platform Bed With Floating Night Stands
How would you feel walking into your room and setting your eyes on this amazing bed platform? The entirety of the bed was made from 8-inch lumber with two floating beds at each side. It has an amazing on and off switch for the under-mount LED puck light with a 119-inch headboard and long LED strips.
4. DIY Plywood Bed
This plywood requires some basic power tools to build. It is very sturdy and strong. The video started by cutting down a large piece of plywood into 2×8 pieces. The guide also includes the plan for the bed platform in the description box.
5. DIY Bed Frame And Wood Headboard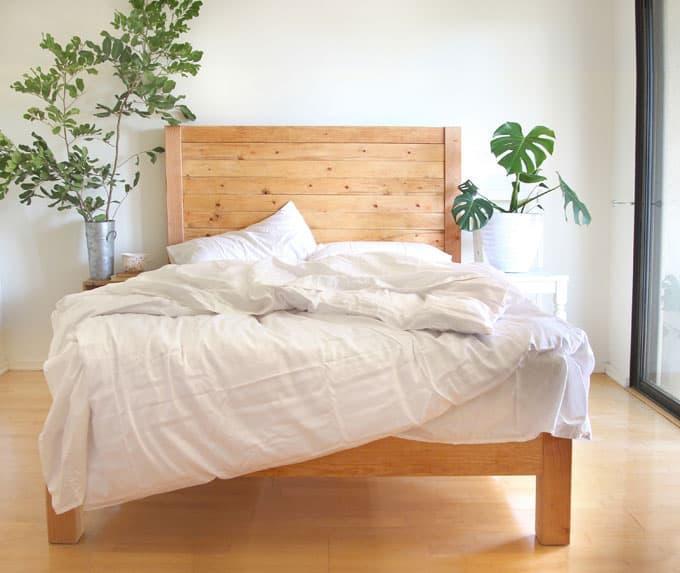 Are you thinking of getting a bed platform and your budget is saying another thing?  This amazing bed platform is here to fulfill your desire. All the details on how to build this bed platform from scratch were explained clearly in this guide.
6. How To Build A Bed Frame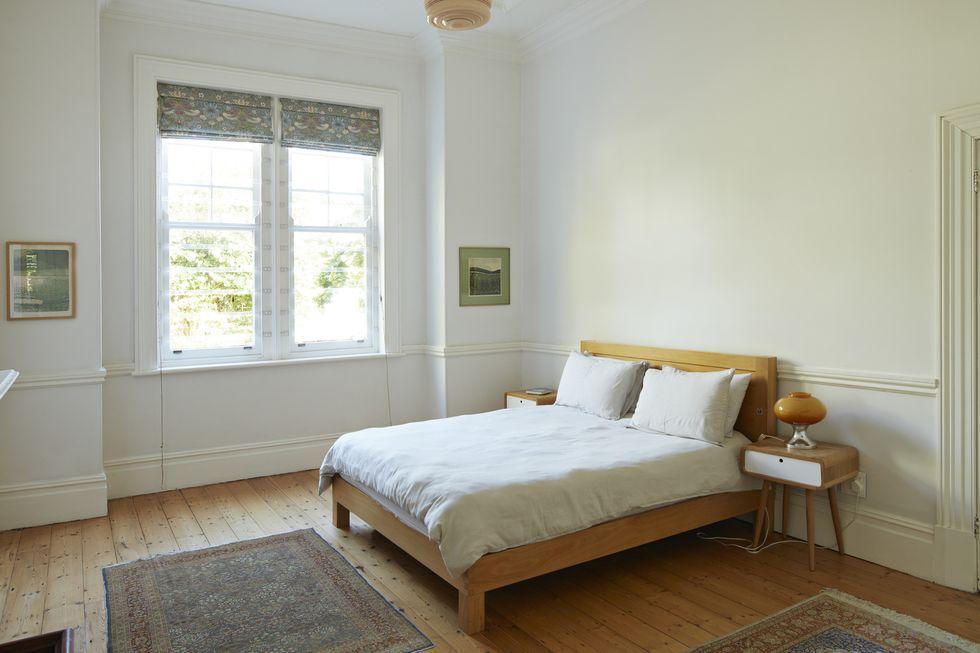 Once you understand the 5 components that make up the bed platform: a headboard, footboard, two side rails, and wooden slats that traverse the rails and support the platform, then, you're good to go.
7. Easy DIY Queen Bed Frame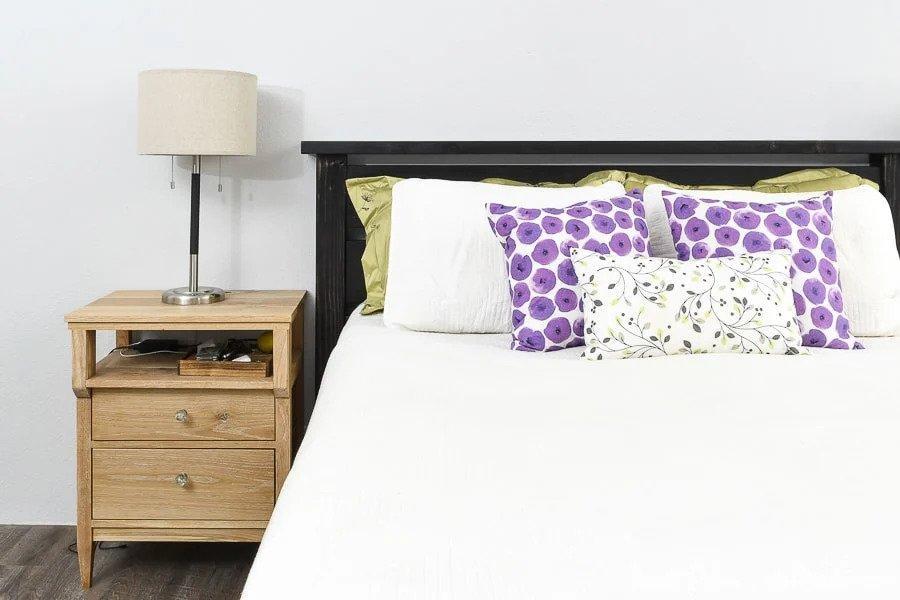 You will be able to make a queen bed frame from scratch with ease just by going through this tutorial. The tutorial comprises the detailed materials and style used in making the bed platform. It is very easy and simple to make for any level of expertise.
8. Modern DIY Bed Frame
This guide started by identifying the materials required for each part of the bed platform. It also includes a printable PDF format of the plan. Click the link below to download.
9. How To Make A Wooden Bed Frame
In this video tutorial, you will learn how to build a wooden bed frame. The first step is to assemble the legs and the side rails on the floor then attach them with brackets. After this, the rail support and the top and bottom were attached.
10. DIY Luxury Bed Frame
The materials needed for this include wood pieces, wood screws, stuffing needles, crystal buttons, decorative strips, furniture legs, steel bed frame skeleton, and spray adhesive. Once you gather all the materials and tools and you follow the instruction in the video carefully, you will be able to make this luxury bed frame from scratch.
11. Simple Metal Bed Frame DIY
With this video, you can make your own metal bed frame. The video tutorial is a well-explained guide that shows every step, material, and tool required to make the frame.
12. DIY Pallet Bed Frame
This video shows how to make large pallets for the bed frame from scratch. The video started by sandwiching some 2×4s together in two. Two of these sandwiched 2×4s were laid down and pieces of 2×4 were screwed on them vertically. After this, more of the sandwiched 2×4s were added under the vertical braces and the structure was three upsides down. Making the sandwiched 2×4 facing up and other braces were attached to this side as well.
See also: 25 DIY Storage Bed Ideas
13. DIY Bed Frame With Pallet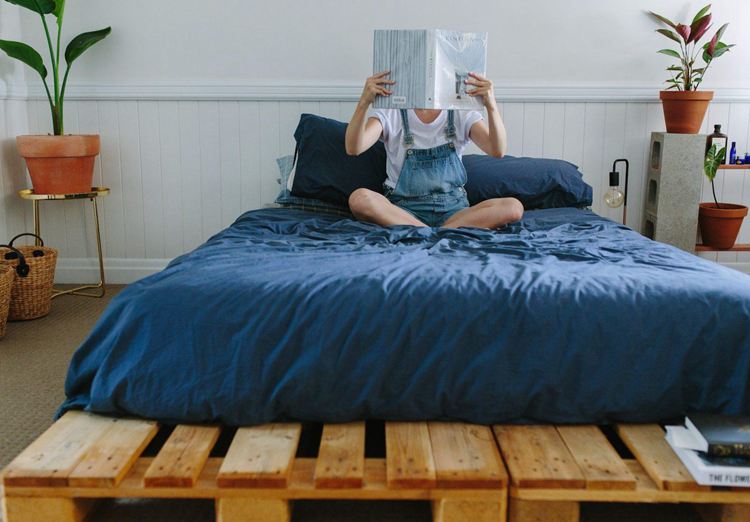 The first thing you need for this pallet bed frame is to get a sturdy pallet from the local hardware store around you. Then assemble the pallets and join them together with screws.
14. DIY Bed Frame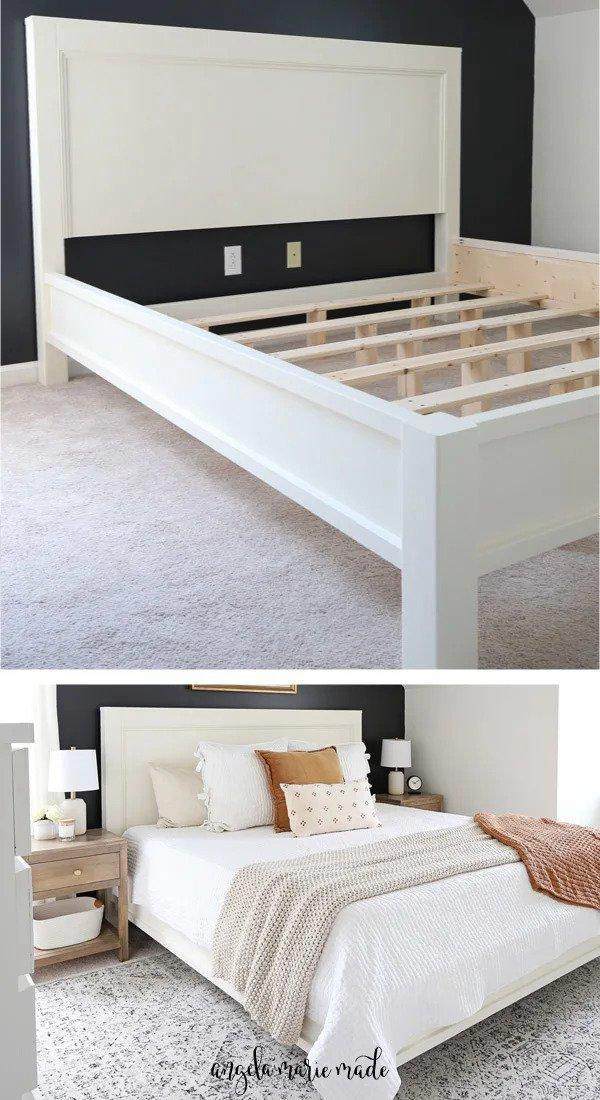 The total cost of this bed frame is $175 including $35 for paint and primer and $140 for lumber. It is very easy to set up once you follow this detailed guide.
15. How To Build A Bed Frame
The materials needed for this bed frame include a circular saw, work gloves, handheld drill, tape measure, caulk gun, sheathing sheet, plywood sheet,  wood screws, and wood glue. Gather the materials listed above and cut the wood to pieces before you start creating the bed frame.
16. DIY Simple Bed Frame Tutorial
To make this, you will need wood, wood screws, Kreg jig, drill, clamps, and tape measure. This guide makes use of sketch-ups and real-life photos to make you understand each step.
17. How To Build A Floating Bed Frame
The first step in making this floating bed frame is to choose a nice three 2×6 pieces for the base. Then, 18 holes were drilled on the pieces and assembled into the base of the frame. The other parts were assembled as well and the frame was ready.
18. Metal And Wood Bed Frame DIY
This bed frame was made with a combination of wood and metal. The whole bed frame assembly was made from metal then the wood was sandwiched into parts like the headboards and footboards.
See also: 24 DIY Twin Bed Frame Ideas
19. How To Make A Simple Bed From Pallets
This video tutorial is about a simple bed frame made from pallets. The creator stated by getting as many pellets as he wanted, then prepares the space where the bed frame will be and places three pallets. He said the pallets and placed another layer of pallets on it, repeated the process in the first one, and added the third layer. Each of the layers was secured to each other with screws. The video includes links to some basic tools used.
20. How To Build A Murphy Bed
If you need to free up space in your room, this is the best bed frame video for you. The video started by analyzing the cost of making a Murphy bed with a list of materials needed. Then, the creator dove right into the making process. The first step is to cut the plywood into pieces and assemble the frame struts. The frame struts were L-shaped plywood strips, then the struts were joined together to form a square with the remaining strut in the middle as the middle braces.
21. DIY Bed Frame
Do you know another method to get a plan or design of your own is to study an existing design or plan? Through this, you will derive your plan. Here, this method was adopted and it gives a reasonable and beautiful bed frame.
22. DIY Metal Bed Frame
Creating a design frame design on a computer before building the actual frame is the trending method of drawing templates for projects now. In this guide, you will learn how to use fission 369 to make a design from the computer.
23. DIY Collapsible Bed Frame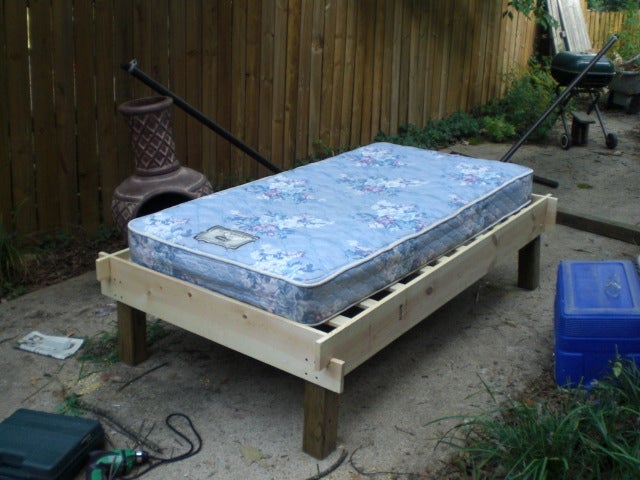 To make this collapsible bed frame, you will need boards, strips of wood, premium furring strips, fence post, wood screws, bolts, bandsaw, drill, hammer, flat screwdriver, tape measure, and wench. After gathering the materials, you can start making the frame for the bed, attach the inner support. Then, cut and prepare the legs, attach them to the frame and you're good to go.
24. DIY Bed Frame For Less Than $30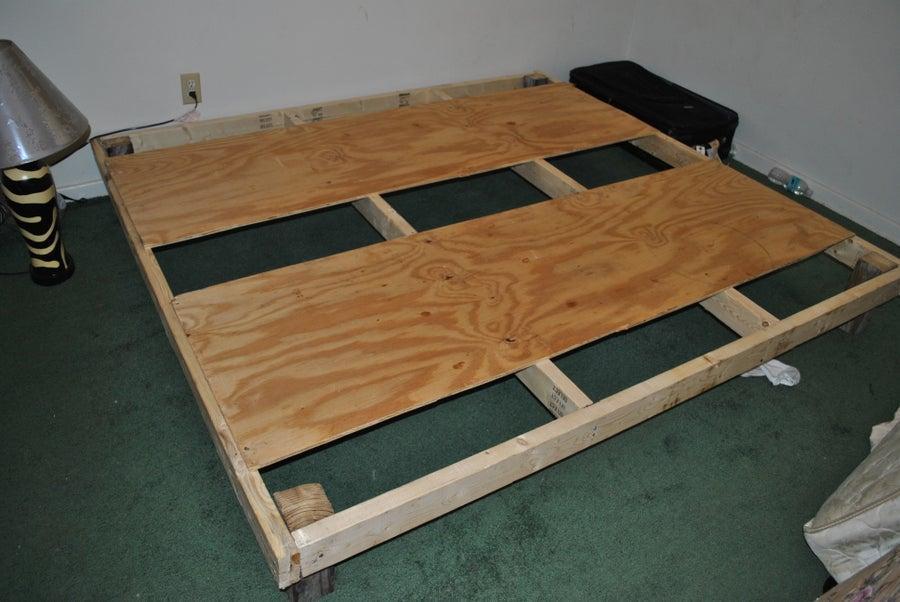 With less than $30 and a good understanding of this DIY bed frame guide. The guide started by listing the material and tools required for the seat cover. Then, the creator we talked about how to cut the wood and assemble the frame. This guide is basic and easy to follow. Do well to click on the link below if you love the design of the bed frame.
25. DIY Farmhouse Bed Frame
In this video, the creator started by cutting the wood into pieces. Then, he went on to assemble the parts of the bed platform. Some of the tools used include a miter saw, clamps, Kreg pocket hole jig, and drill.
Conclusion
Finding the right bed frame design isn't always an easy task. If you are having issues choosing alone, you can ask a friend what he or she thinks about these DIY bed frames. I'm sure your friends would give you a nice suggestion. Thanks for stopping by!