You spend ⅓ of your life in bed, so why not get the most out of it by using the power of the internet to create your own frame? Here are over 50 DIY plans and designs that you can work off of to create your own bed frame.
Is It Hard to Build Your Own Bed Frame?
Building a bed frame may seem like a daunting task, but it's actually quite simple. All you need is a few basic tools and some sturdy lumber. The most important part of the process is to take your time and measure twice before cutting once. With a little patience, anyone can build a beautiful bed frame that will last for years.
The best part is that you can customize the size and style to fit your needs, and you'll save money by avoiding the high cost of store-bought frames. So if you're looking for a weekend project, building a bed frame is the perfect way to get started.
How Can I Make an Inexpensive Bed Frame?
Bed frames can be expensive, especially if you need a special size or style. However, there are a few ways to save money on a bed frame.
One option is to look for a used frame at a yard sale or flea market.
Another option is to use recycled materials. Pallets, for instance, can often be found for free or at a reduced cost from construction sites or warehouses. Once cleaned and sanded, they can be stacked to create a sturdy base for a mattress. Another option is to build a bed frame from scratch using basic lumber.
Three Option way to make an inexpensive bed frame is to repurpose an old piece of furniture. For example, an old dresser or desk can be converted into a stylish bed frame with a little bit of work. Simply remove the legs from the piece of furniture and attach them to the headboard. Then, add a mattress and bedding, and you're all set!
If you don't have any old furniture to repurpose, another option is to build a bed frame from scratch using basic lumber. This option is more time-consuming and requires more tools and materials, but it can be done on a budget if you plan carefully.
Whichever route you choose, an inexpensive bed frame is definitely possible with a little bit.
5 Tips For Buliding a Beautiful DIY Bed Frame
If you're planning on building your own bed frame, there are a few things you should do first. First, measure your mattress to make sure you build a frame that's the right size. You'll also need to consider the type of wood you want to use and whether you want to include storage space. Once you've got all of your materials, it's time to start building. Here are five tips to help you build the perfect bed frame:
1. Start by building the sides of the frame. Cut your lumber to size and then use screws or nails to assemble the frame.
2. Next, add cross supports to the frame. This will help to keep the frame sturdy and prevent it from sagging in the middle.
3. Once the sides and cross supports are in place, it's time to add the headboard and footboard. Cut your lumber to size and then attach it to the frame using screws or nails.
4. If you're including storage space in your frame, now is the time to add it. Cut openings in the side rails and then add shelves or drawers.
5. Finally, finish the frame by adding a mattress and bedding. Your bed is now complete!
We've rounded up 58+ DIY beds and frames that are so cool, you'll flip over them. Seriously, click through and see for yourself.
58+ Awesome DIY Bed Frames You Can Totally Make
1. Rustic Modern 2x6 Platform Bed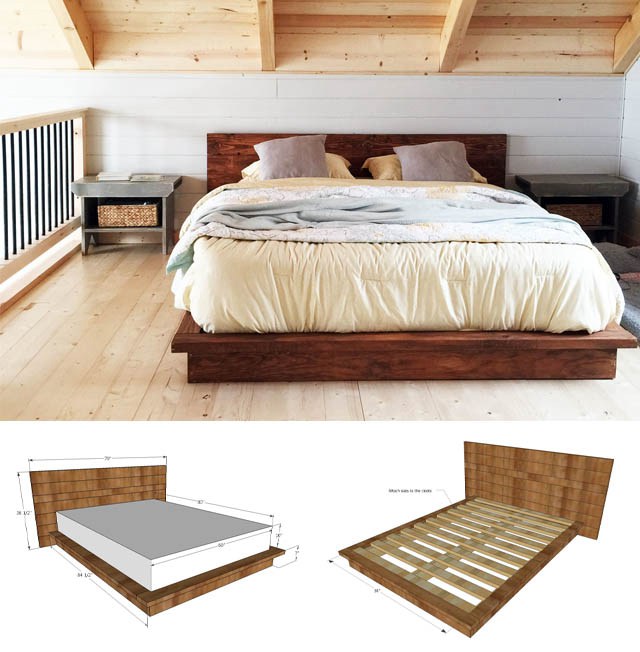 This bed frame project is sure to turn heads with its rustic modern style, but it also has that luxurious feeling you want in your home. With simple materials like 2x4s and 6 inch planks of wood for the headboard or footboard (depending on which one looks better), this DIY can be completed by anyone who's willing put forth some time into building themselves something new!
2. Build Your Own King Slat Bed For $150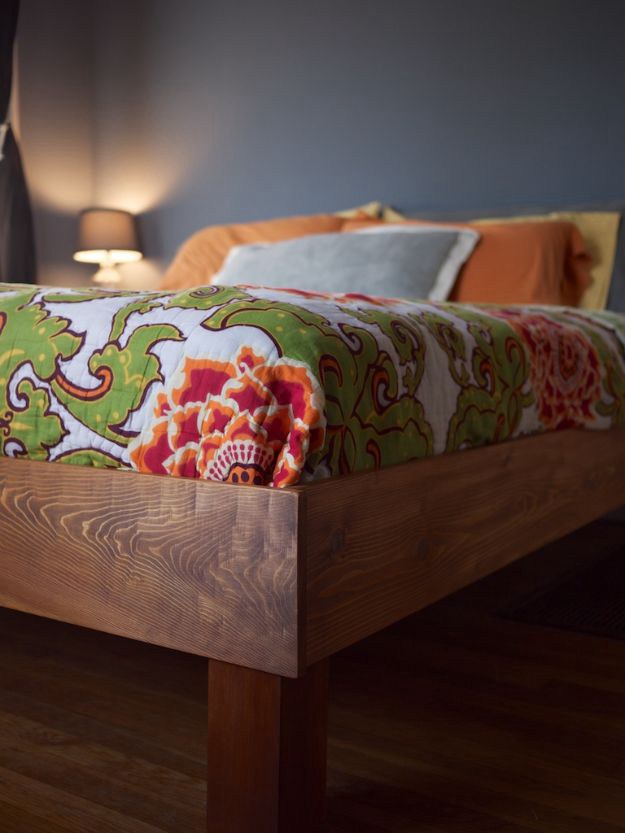 Looks like you have been looking for a new king bed frame, but couldn't find anything affordable? Well look no further because this $150 DIY slat bed is just what your bedroom needs. Made from readily available materials and easily constructed by anyone with some woodworking skills - not even requiring an expensive tools list! A step-bystep tutorial makes sure that making these ideas happen will be quick too so get started on decorating today already before someone else does first 😉
3. Clean Modern Bed Frame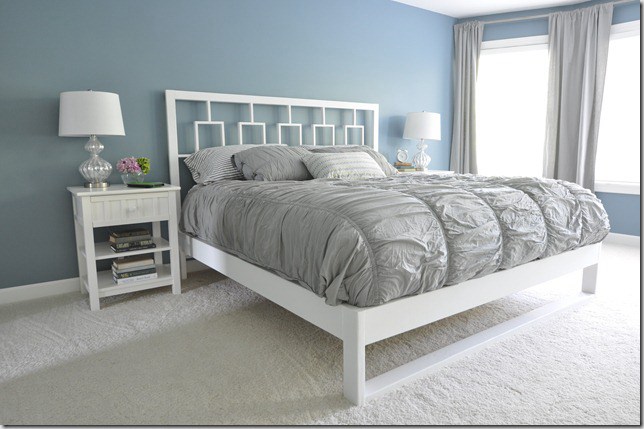 This cool DIY bed frame tutorial comes with cut lists for King, Queen and Twin sized mattresses. The designs are modern in style making them perfect to create an airy bedroom that will inspire you every day!
4. King Farmhouse Bed Frame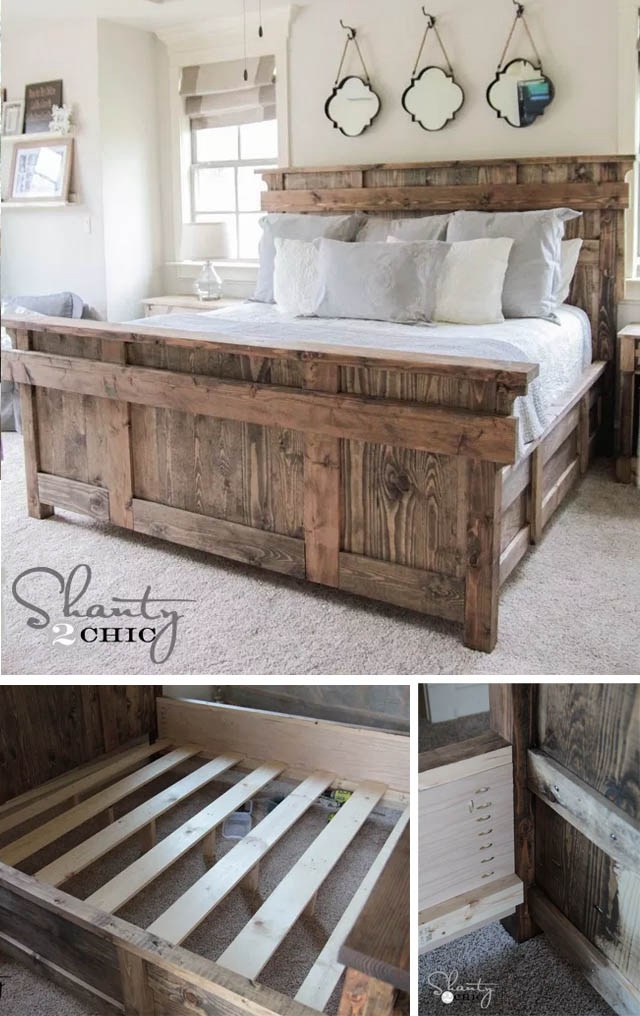 Making your own bed is not always easy—especially if you have to do it all on the cheap. The good news? You can make one for less than $400!
This tutorial from Shanty 2 Chic  will walk you through this entire build here. Step by step, it will show you how to create this project from start to finish, with 42 photos along the way.
You can find the free plans for this project at the bottom of this post. Just download and print them out, and you'll be ready to get started!
5. DIY Reclaimed Wood Platform Bed Frame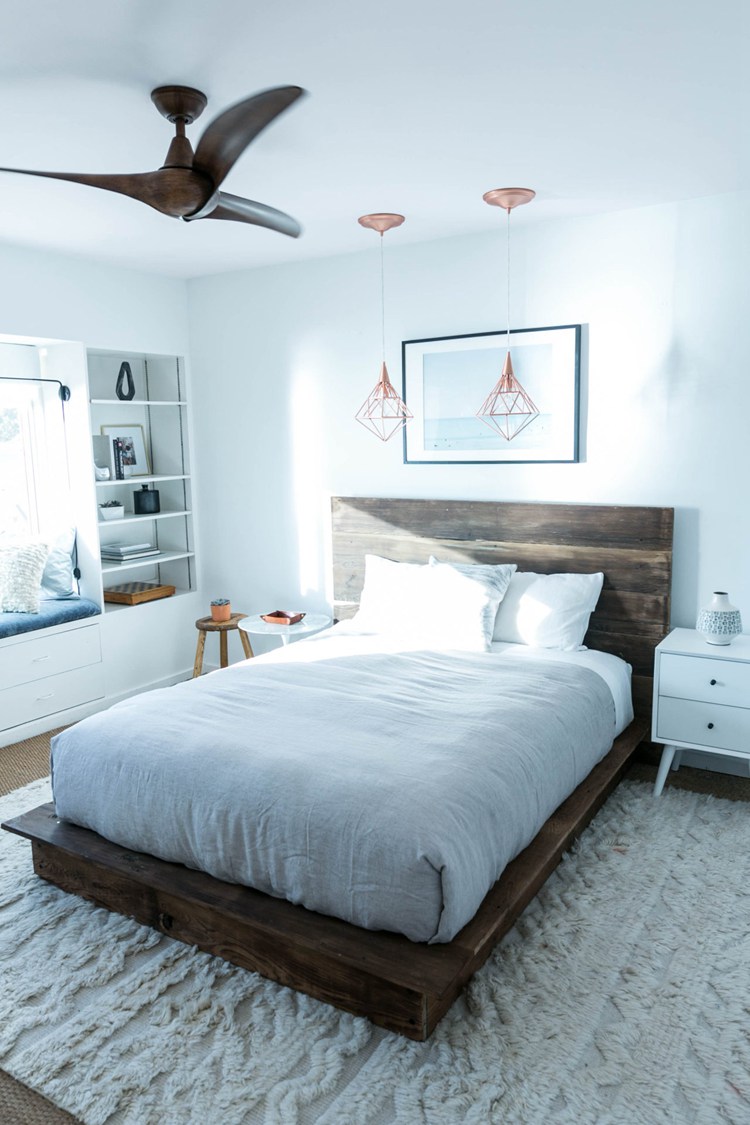 Introducing the most rustic of bed frames, this queen platform. The frame is built with reclaimed wood giving it that slightly aged look which would be perfect in any style or bedroom!  Mrkate.com
6. Simple Modern Bed Frame
This bed frame is a simple design that uses hairpin legs to give it an interesting modern vibe. There's also instructions on how you can make this headboard if interested, so be sure check them out! This build would work for beginners with some experience who want something basic but still cute and stylish in their bedroom or guest room. Abeautifulmess.com
7. Diy Modern Platform Bed
Give your bedroom a breath of fresh air with this modern bed frame. The hairpin legs are the perfect detail, and that walnut stain on top adds just enough character to make it interesting!
8. Nat Andrews Bed Frame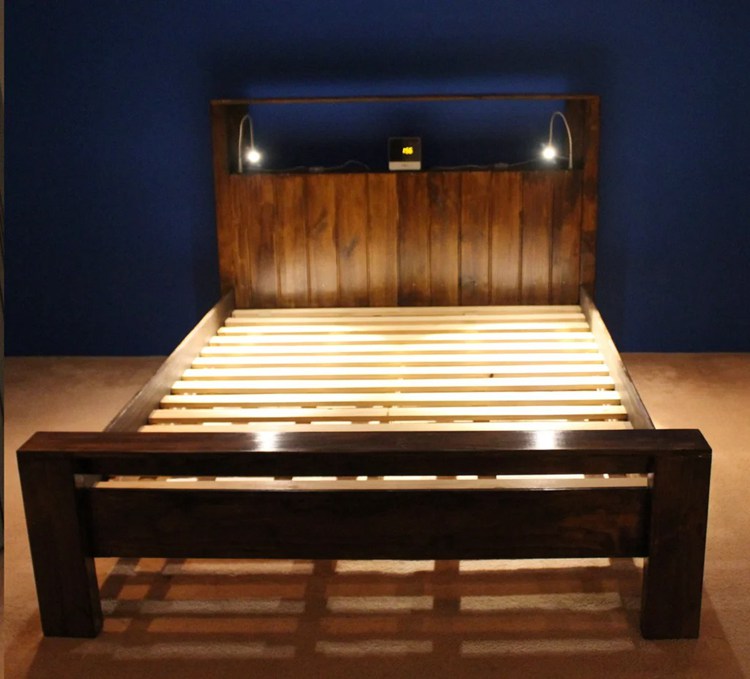 Nat Andrews's simple DIY bed frame is not only high quality, but also features integrated lighting. This makes it a very cool project that any homeowner would love to have in their home!
9. DIY Queen Size Bed Frame
The DIY instructions for making a queen size unit with an elegant tongue and groove headboard are simple enough even if you're not too familiar. With these steps, it will be easy to get started on your own project!
10. DIY Rustic Bed Frame
The instructions for this project are detailed enough to guide you through every step of the way. The design ideas that come with it will make your home more beautiful and rustic than ever before! Thinkingcloset
11. DIY Upholstered Bed Frame
The popularity of upholstery in bedrooms is undeniable. A coronary heart-shaped bed with ultra soft fabric to cushion your head and shoulders, it's no surprise that these luxurious pieces are preferred by countless designers for their own spaces-- they're suitable across different types or rooms (and lifestyles) while also adding appeal not just at first glance but after years down the line too! Viewalongtheway
12. DIY Low Bed Frame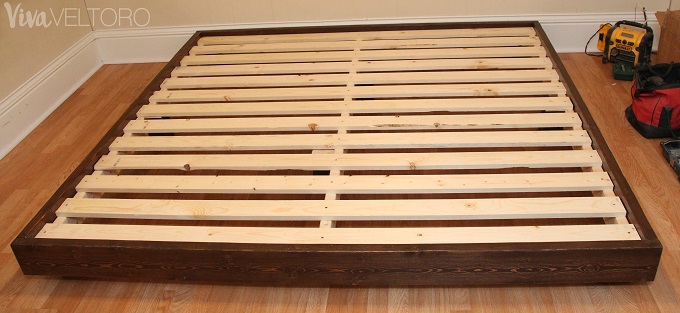 This frame is a perfect DIY project for anyone. It only costs about $150 in materials and tools, so you don't have to be an experienced woodworker either! Read our guide on how to build it here  — Vivaveltoro
13. Floating Bed With Integral Lighting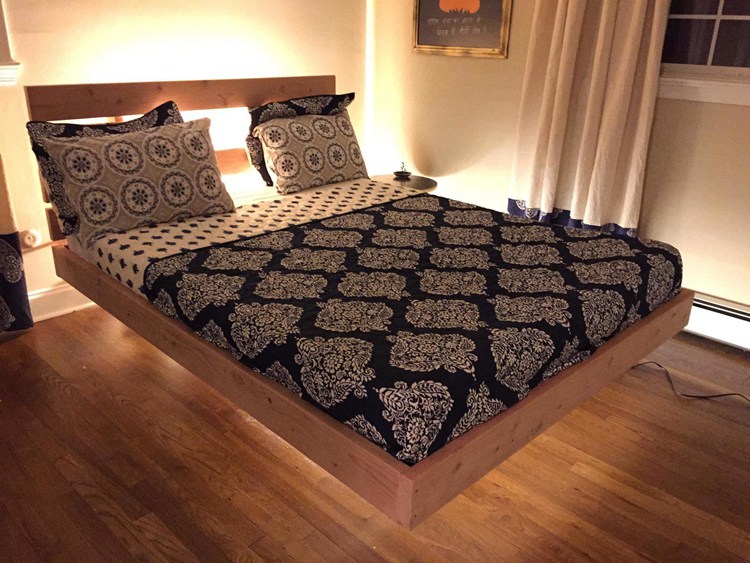 It's not magic! But this floating bed with integral lighting would make a truly magical centerpiece as it seems to hover effortlessly above the floor. Built from California redwood, this DIY bed uses standard cuts of wood that can be cut using only an electric saw or basic hand tools like jigsaw and drillbit- perfect for beginners looking into making their own furniture pieces at home without having too much trouble getting started on projects like these because we're going step by step so you don't lose interest halfway through building yours once again only after investing all kinds time. Lifebuzz
14. Toddler House Bed
The perfect starter bed for your child who's grown-up enough to move into a "big" bedroom, this DIY frame can be customized with paint or other materials that match the décor in their room. At night it becomes an easy playhouse where they'll have fun exploring all of its nooks and crannies!  Jenwoodhouse
15. Wooden Bed
The best thing you can do for the environment is to recycle your old wood and build a bed! Your new one will be made from recycled materials, so not only does it give back but also helps keep our planet green. Theaccentpiece
16. DIY SIMPLE BED FRAME
As if your bedroom wasn't already cool enough, now you can make it even moreso with this amazing DIY- diagram for building a custom reclaimed wood platform bed. Abeautifulmess
17. Minimalist bed frame diy ideas
You know what's always in style? Minimalism. And when it comes to bedrooms, there are few trends as extreme or signature–and trendy for now! –as floating beds and platform frames; but if you're looking for something more bohemian-style then I suggest building your own box spring mattress support out of wood (or reclaimed). These modern designs can be super easy with just some DIY skills that everyone has access too: all pieces must fit together perfectly so don't forget about measurements while buying supplies at Home Depot. Themerrythought
18. Diy Pottery Barn Farmhouse Bed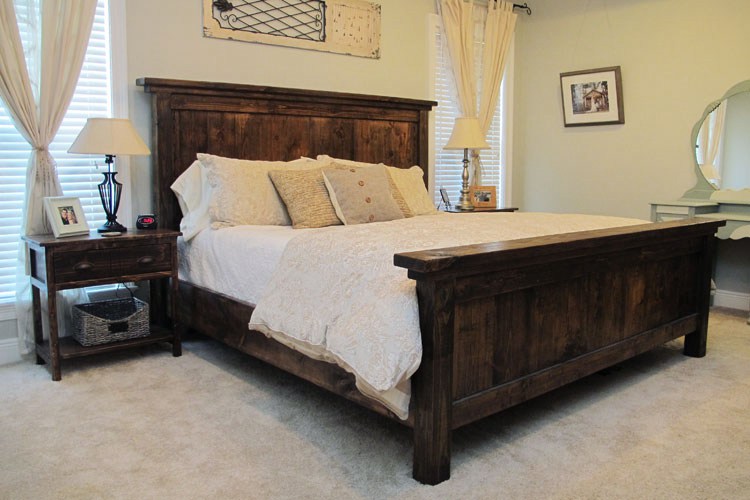 Incorporating the farmhouse style into your bedroom can be tricky, but this tutorial will show you how. With just some paint and old furniture from around the house (or even yard), give yourself that rustic look without having to spend too much money! Diystinctlymade
19.  DIY Reclaimed Wood Platform Bed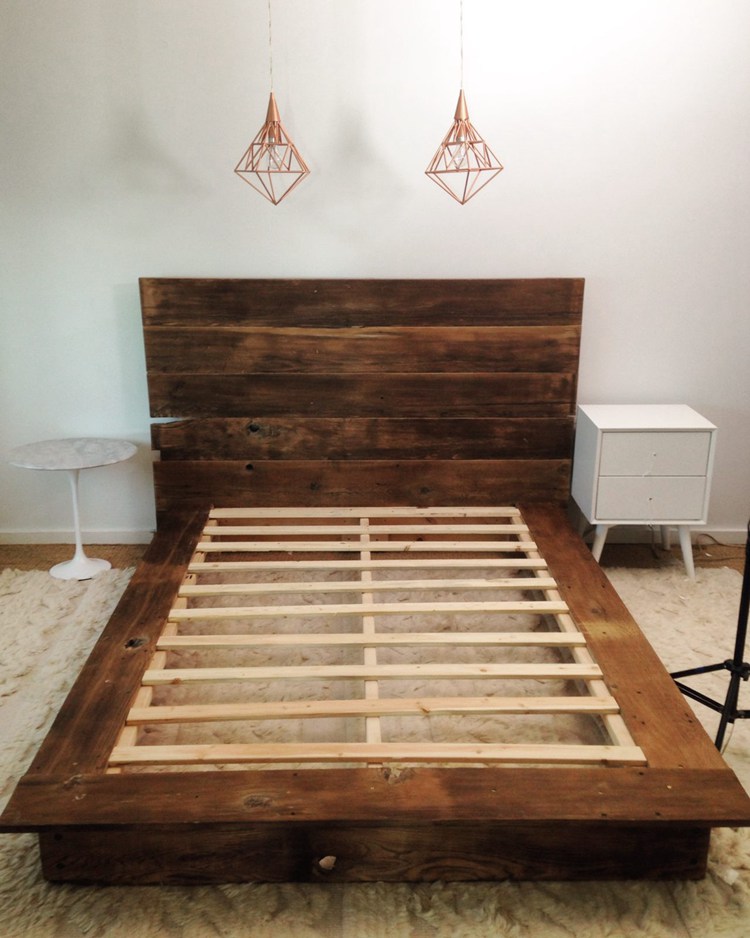 DIY Platform Bed: Make your own awesome room décor with this wood-built, DIY platform bed. I made one earlier in the year and think it might be my favorite piece of furniture! Mrkate
20. Wooden Platform Bed Made of 3 Big Pallets
The platform bed is made up of three big pallets. It can be used as an extra sleeping space, especially if you have more than one person living in the house!
21. DIY Lighted Pallet Bed Frame
This lighted pallet bed frame is sure to impress at a first glance. You can upcycle the bigger pieces of wood and put them together evenly on one side for this sturdy wooden platform, then tie it with some strong hardware so that when you're done decorating your room in different ways each day--whether its matchy-match or cool vintage tones!--you'll have something beautiful waiting just below ground level!
22. Expedit Storage Bed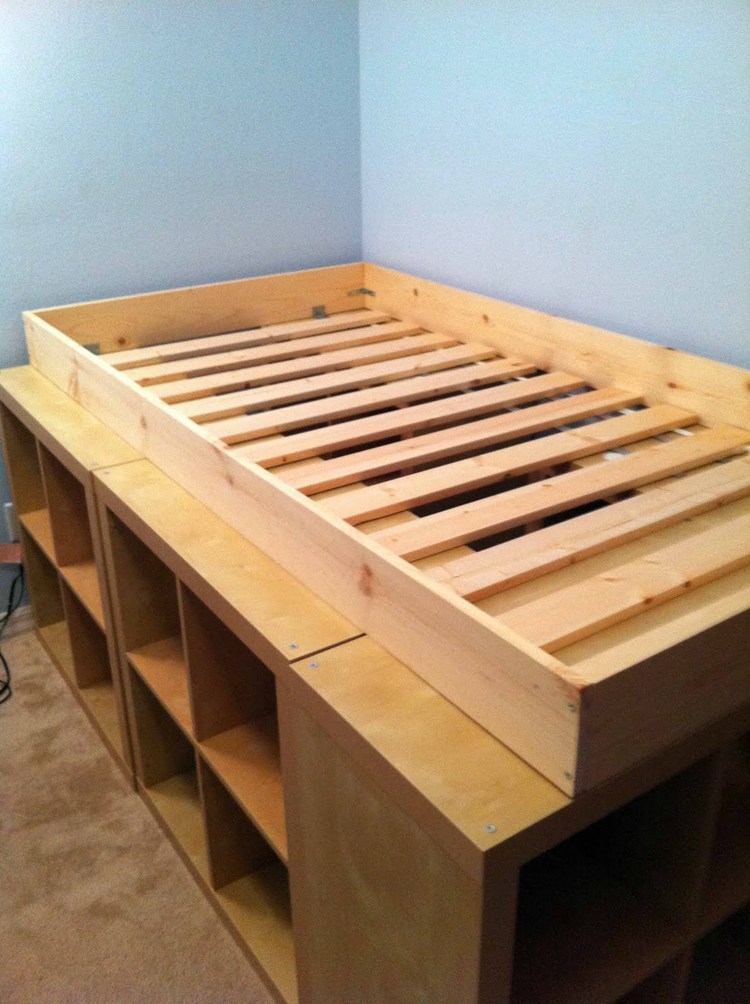 There are a few ways to make your own storage beds. One of them is by using IKEA Expedit shelving units and convert it into an easy-to use, DIY assistant for all sorts or morphs! Ikeahackers
23. Fillman Storage Bed with Drawers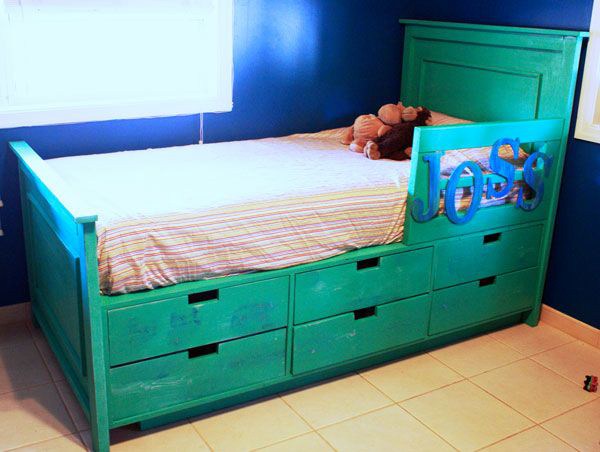 Home decor is one of the most popular hobbies in America, and with good reason. The look can be absolutely stunning when done correctly! One way for you to get started on your own DIY project would involve using storage beds as a focal point within any room that they are placed; something which will not only provide extra space but also make it seem less cluttered because everyone loves seeing those empty spots where items used commonly sit (like books or clothes). ana-white
24. DIY Floating Bed Frame With LED Lighting Plans
What's the point of a bedroom without an elegant bed? The central pillar around which everything seems to revolve, this piece is often times overlooked. But don't let its simplicity fool you - there are some really cool options out their for making your own floating beds! Makey
25. How to Build a Floating Platform Bed
The tutorial is easy to follow and will help you build your own queen sized bed with lumber. The materials needed are listed on the page, as well as step-bystep instructions for building this sturdy frame that can support up toward 700 pounds! Youtube
26.
Beam Bed Frame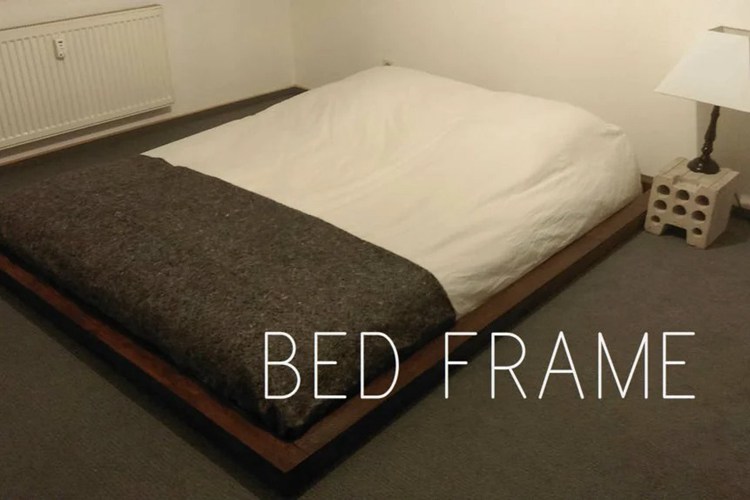 Building your own bed frame is both simple and affordable. All you need are 4 beams, sawing skills (or power tools), L shape brackets for securing mattress size 160x200 cm., sanding paper/pallets to rough up the wood surface if necessary - 8 flathead screws will be required at CM3 lengths throughout assembly process . Instructables
27. Diy Box Bed
Box-beds are perfect for any room in your house. They're a great way to maximize limited space and provide extra storage, all while looking good! This type of bed comes with four identical boxes that can be used as mattress platforms (60" x 80"), plywood panels cut from ¼ inch thick wood pieces depending on how many you need - enough durability so it lasts through years worth storms without warping or cracking. Instructables
28. Diy Pipe Frame
Simplified Building is your one-stop shop for the ins and outs of building this pipe frame bed. It's industrial in style, perfect for urban apartments!
29.  DIY Platform Bed & Salvaged Door Headboard
Check out this super stylish DIY from Averie Lane which includes a tutorial on creating both bed frame and headboard made of old salvaged doors!
30. From Box Spring to Platform
This reupholstered, upcycled platform bed is the ultimate in crafty DIY projects. If you have an old box spring mattress to get rid of or just want something that looks good but doesn't cost much money then this project will be perfect for your needs! craftyc0rn3r
31. Platform Bed With Drawers
I'm a hoarder and the Storage issue has been bothering me for some time now.
Luckily, this awesome platform bed with its large pull out drawers will solve all of my problems!
All I have to do is pack it full shoes or anything else that takes up space in order to keep things organized at home; which makes life much more easier than before when there was only one small cabinet left among other stuff everywhere around us (not enough!). Instructables
32. DIY Platform Bed (In Just 3 Steps!)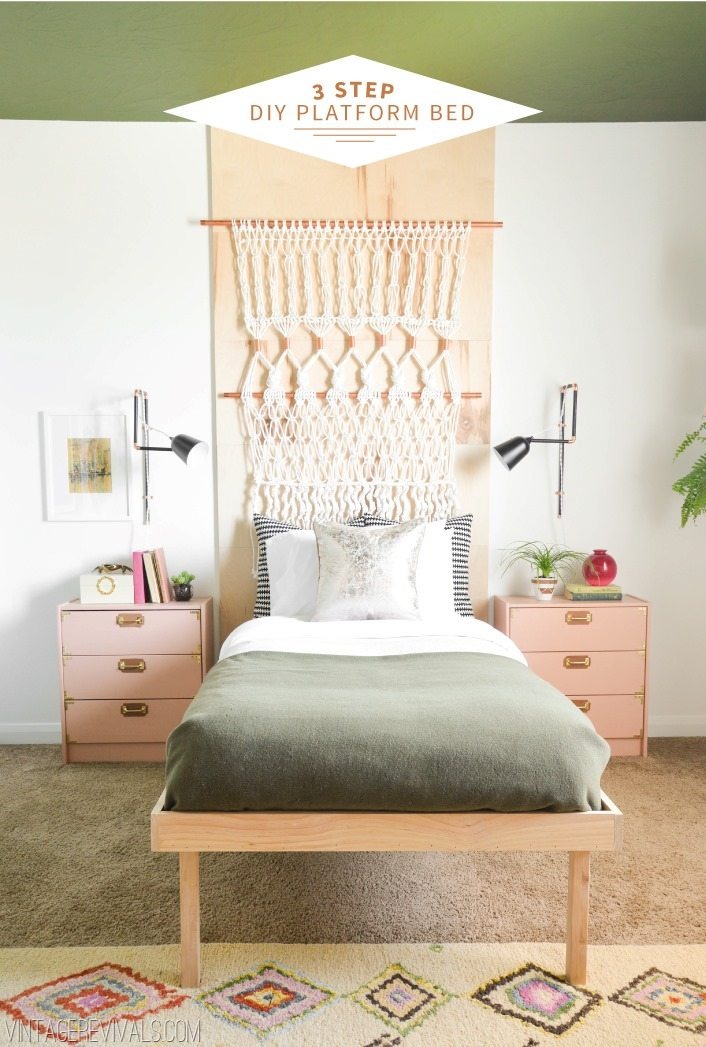 Well, when I was designing Macie's bedroom (and let's be real here: any room), one of the nagging problems that always comes up is how to make a bed. Box springs are just not my favorite thing in the world and so after some thought, it became clear - DIY platform beds! Vintagerevivals
33. DIY King Farmhouse Bed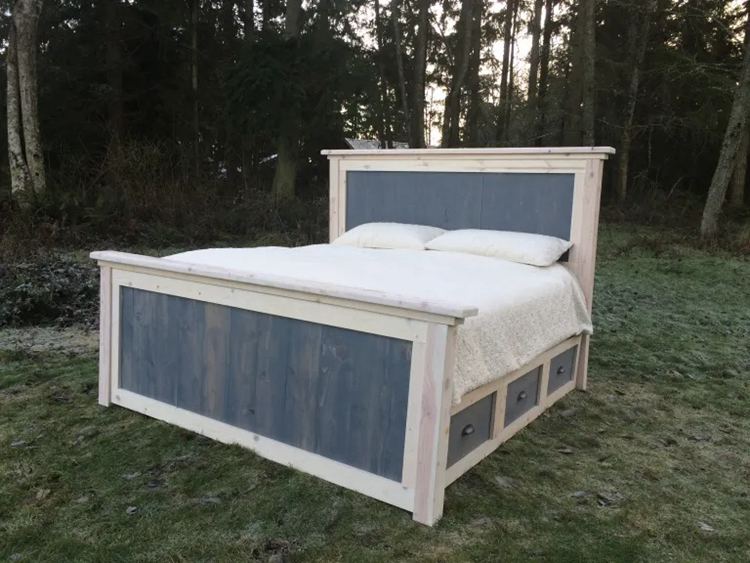 Here's a free king-sized platform bed that has an appealing farmhouse style to it. This plan can be used as is or altered depending on your needs, so don't worry about not having any experience! A cut list and diagrams are also provided for reference purposes. Reconstructionlife
34. LuxO's EZ King Bed Frame
This frame is unique and adds a great pop of color to your bedroom if you choose the bright paint job on top.
It's easy for beginners with no experience in construction or design projects because it comes complete with step by steps, tons of photos (and even PDF blueprints!), as well as all materials needed! Instructables
35. Easy DIY Bed Platform
This video tutorial started by building the outer frame of the bed with 2×12" pieces cut down into a footboard and headboard. Then, the creator went ahead to sand down the boards and cut one 2×4" piece to length for the side slats. She drills pocket holes on all the edges of the boards and assembles them through these holes. The guide also includes the link to the materials and tools used and a downloadable plan.
36. DIY 5 Minutes Bed Frame
You can make this bed frame in 5 minutes with some framing lumber and pocket screws if you follow the steps outlined in this video guide. The guide includes links to instructable where you can find the tools and more detailed instructions on how to successfully build this bed frame like an expert.
See also: 20 DIY Trundle Bed Ideas
37. DIY Platform Bed With Floating Night Stands
How would you feel walking into your room and setting your eyes on this amazing bed platform? The entirety of the bed was made from 8-inch lumber with two floating beds at each side. It has an amazing on and off switch for the under-mount LED puck light with a 119-inch headboard and long LED strips.
38. DIY Plywood Bed
This plywood requires some basic power tools to build. It is very sturdy and strong. The video started by cutting down a large piece of plywood into 2×8 pieces. The guide also includes the plan for the bed platform in the description box.
39. DIY Bed Frame And Wood Headboard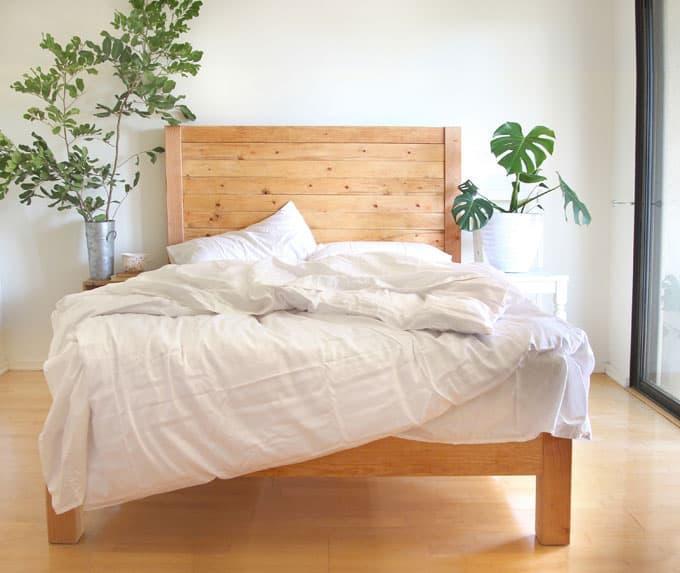 Are you thinking of getting a bed platform and your budget is saying another thing?  This amazing bed platform is here to fulfill your desire. All the details on how to build this bed platform from scratch were explained clearly in this guide.
40. How To Build A Bed Frame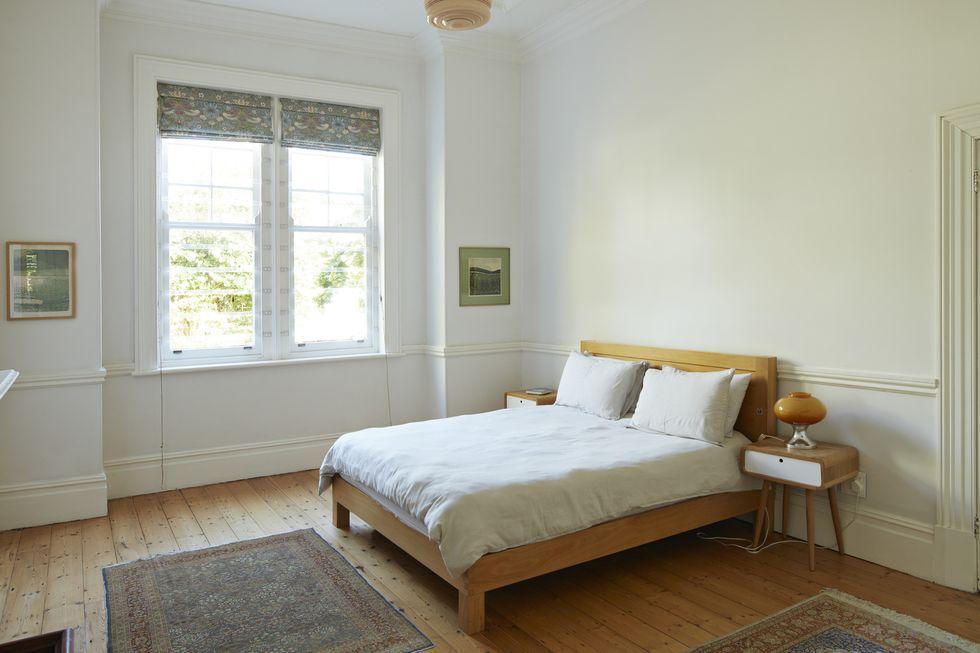 Once you understand the 5 components that make up the bed platform: a headboard, footboard, two side rails, and wooden slats that traverse the rails and support the platform, then, you're good to go.
41. Easy DIY Queen Bed Frame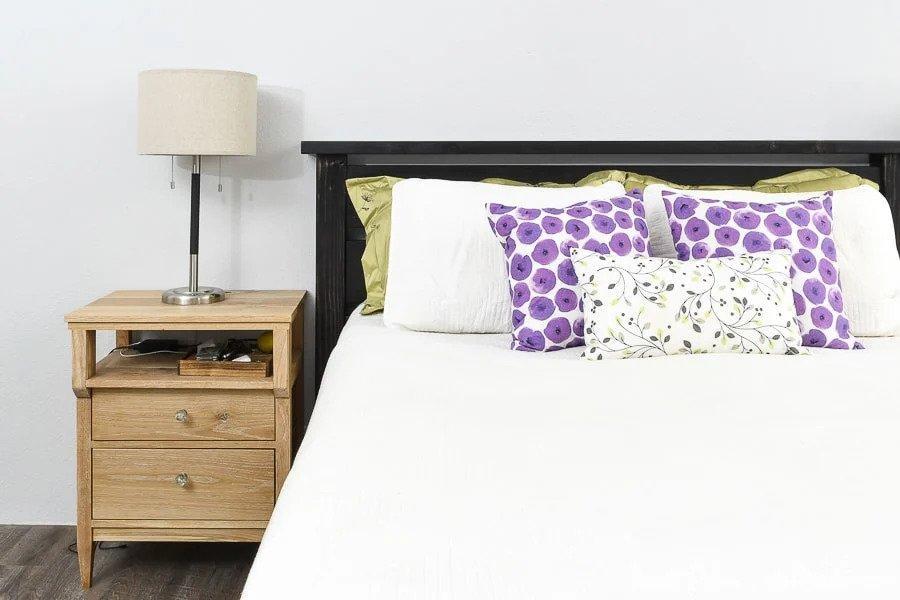 You will be able to make a queen bed frame from scratch with ease just by going through this tutorial. The tutorial comprises the detailed materials and style used in making the bed platform. It is very easy and simple to make for any level of expertise.
42. Modern DIY Bed Frame
This guide started by identifying the materials required for each part of the bed platform. It also includes a printable PDF format of the plan. Click the link below to download.
43. How To Make A Wooden Bed Frame
In this video tutorial, you will learn how to build a wooden bed frame. The first step is to assemble the legs and the side rails on the floor then attach them with brackets. After this, the rail support and the top and bottom were attached.
44. DIY Luxury Bed Frame
The materials needed for this include wood pieces, wood screws, stuffing needles, crystal buttons, decorative strips, furniture legs, steel bed frame skeleton, and spray adhesive. Once you gather all the materials and tools and you follow the instruction in the video carefully, you will be able to make this luxury bed frame from scratch.
45. DIY Pallet Bed Frame
This video shows how to make large pallets for the bed frame from scratch. The video started by sandwiching some 2×4s together in two. Two of these sandwiched 2×4s were laid down and pieces of 2×4 were screwed on them vertically. After this, more of the sandwiched 2×4s were added under the vertical braces and the structure was three upsides down. Making the sandwiched 2×4 facing up and other braces were attached to this side as well.
See also: 25 DIY Storage Bed Ideas
46. DIY Bed Frame With Pallet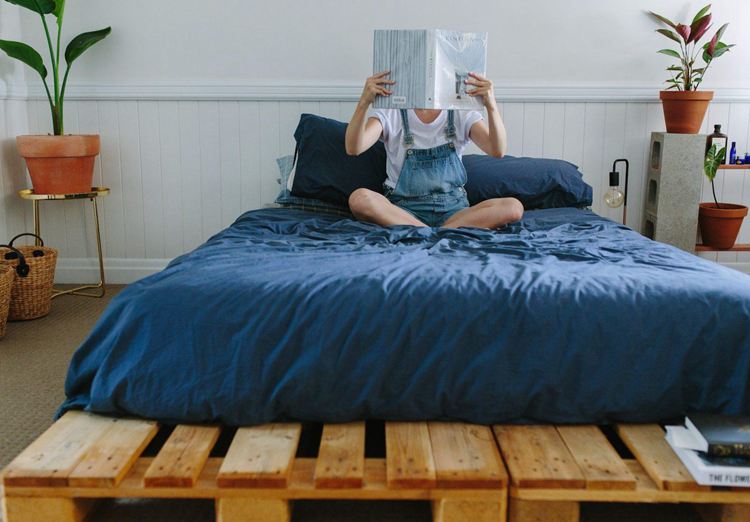 The first thing you need for this pallet bed frame is to get a sturdy pallet from the local hardware store around you. Then assemble the pallets and join them together with screws.
47. DIY Bed Frame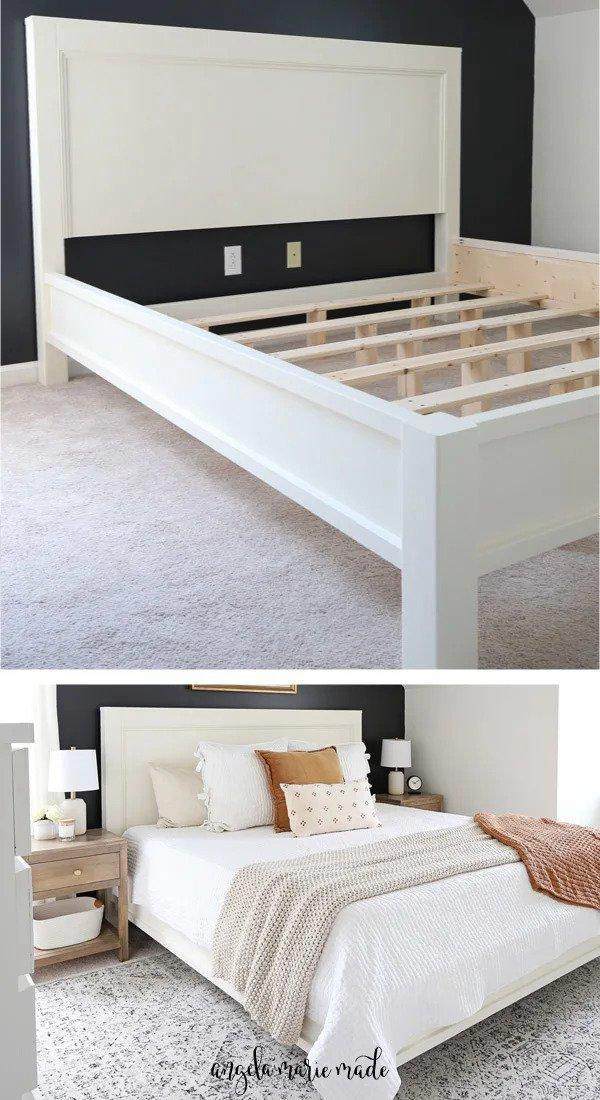 The total cost of this bed frame is $175 including $35 for paint and primer and $140 for lumber. It is very easy to set up once you follow this detailed guide.
48. How To Build A Bed Frame
The materials needed for this bed frame include a circular saw, work gloves, handheld drill, tape measure, caulk gun, sheathing sheet, plywood sheet,  wood screws, and wood glue. Gather the materials listed above and cut the wood to pieces before you start creating the bed frame.
49. DIY Simple Bed Frame Tutorial
To make this, you will need wood, wood screws, Kreg jig, drill, clamps, and tape measure. This guide makes use of sketch-ups and real-life photos to make you understand each step.
50. How To Build A Floating Bed Frame
The first step in making this floating bed frame is to choose a nice three 2×6 pieces for the base. Then, 18 holes were drilled on the pieces and assembled into the base of the frame. The other parts were assembled as well and the frame was ready.
51. Metal And Wood Bed Frame DIY
This bed frame was made with a combination of wood and metal. The whole bed frame assembly was made from metal then the wood was sandwiched into parts like the headboards and footboards.
See also: 24 DIY Twin Bed Frame Ideas
52. How To Make A Simple Bed From Pallets
This video tutorial is about a simple bed frame made from pallets. The creator stated by getting as many pellets as he wanted, then prepares the space where the bed frame will be and places three pallets. He said the pallets and placed another layer of pallets on it, repeated the process in the first one, and added the third layer. Each of the layers was secured to each other with screws. The video includes links to some basic tools used.
53. How To Build A Murphy Bed
If you need to free up space in your room, this is the best bed frame video for you. The video started by analyzing the cost of making a Murphy bed with a list of materials needed. Then, the creator dove right into the making process. The first step is to cut the plywood into pieces and assemble the frame struts. The frame struts were L-shaped plywood strips, then the struts were joined together to form a square with the remaining strut in the middle as the middle braces.
54. DIY Bed Frame
Do you know another method to get a plan or design of your own is to study an existing design or plan? Through this, you will derive your plan. Here, this method was adopted and it gives a reasonable and beautiful bed frame.
55. DIY Metal Bed Frame
Creating a design frame design on a computer before building the actual frame is the trending method of drawing templates for projects now. In this guide, you will learn how to use fission 369 to make a design from the computer.
56. DIY Collapsible Bed Frame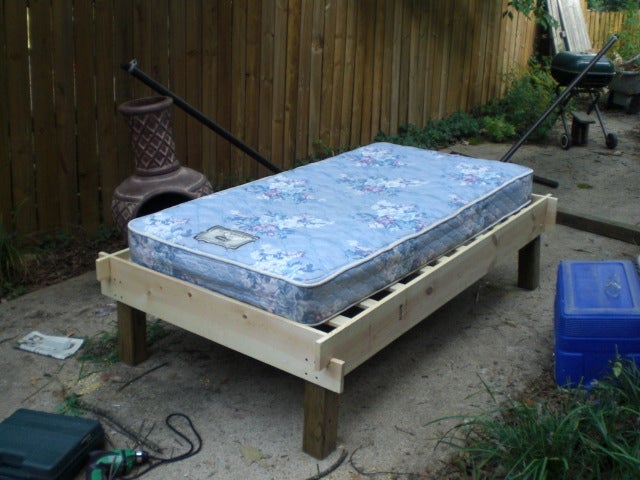 To make this collapsible bed frame, you will need boards, strips of wood, premium furring strips, fence post, wood screws, bolts, bandsaw, drill, hammer, flat screwdriver, tape measure, and wench. After gathering the materials, you can start making the frame for the bed, attach the inner support. Then, cut and prepare the legs, attach them to the frame and you're good to go.
57. DIY Bed Frame For Less Than $30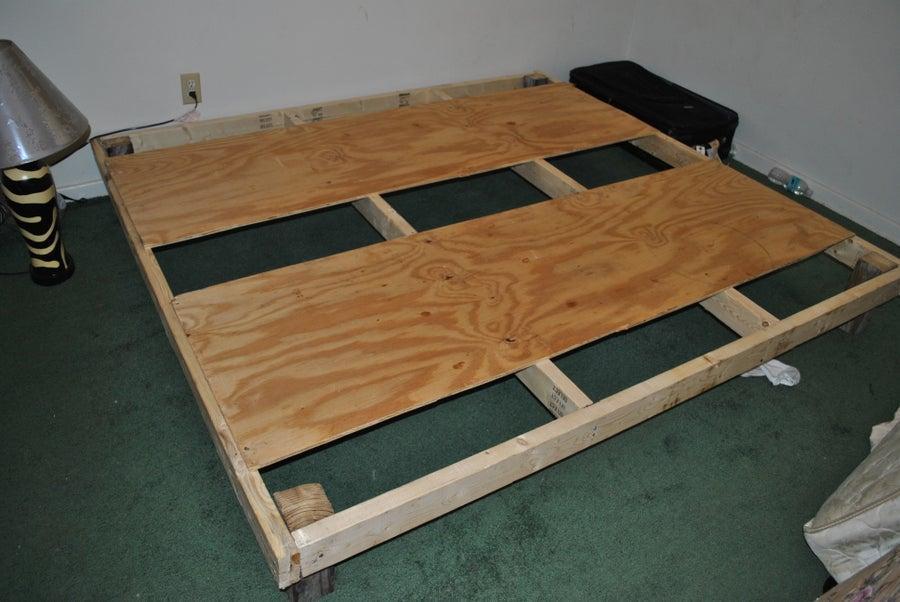 With less than $30 and a good understanding of this DIY bed frame guide. The guide started by listing the material and tools required for the seat cover. Then, the creator we talked about how to cut the wood and assemble the frame. This guide is basic and easy to follow. Do well to click on the link below if you love the design of the bed frame.
58. DIY Farmhouse Bed Frame
In this video, the creator started by cutting the wood into pieces. Then, he went on to assemble the parts of the bed platform. Some of the tools used include a miter saw, clamps, Kreg pocket hole jig, and drill.
Conclusion
Finding the right bed frame design isn't always an easy task. If you are having issues choosing alone, you can ask a friend what he or she thinks about these DIY bed frames. I'm sure your friends would give you a nice suggestion. Thanks for stopping by!