Aquarium light is an important addition to an aquarium, it makes your aquarium tank come to life and illuminate the color of the tank, making the color of the fish to be more clearly seen and vivid. We have included 20 DIY Aquarium Light ideas that you can make.
Most times, an aquarium light is for aesthetic purposes and can easily be made with a few easy-going materials and tools. That is why this guide will teach you how to make an aquarium light with ease and by yourself at the comfort of your home to your taste.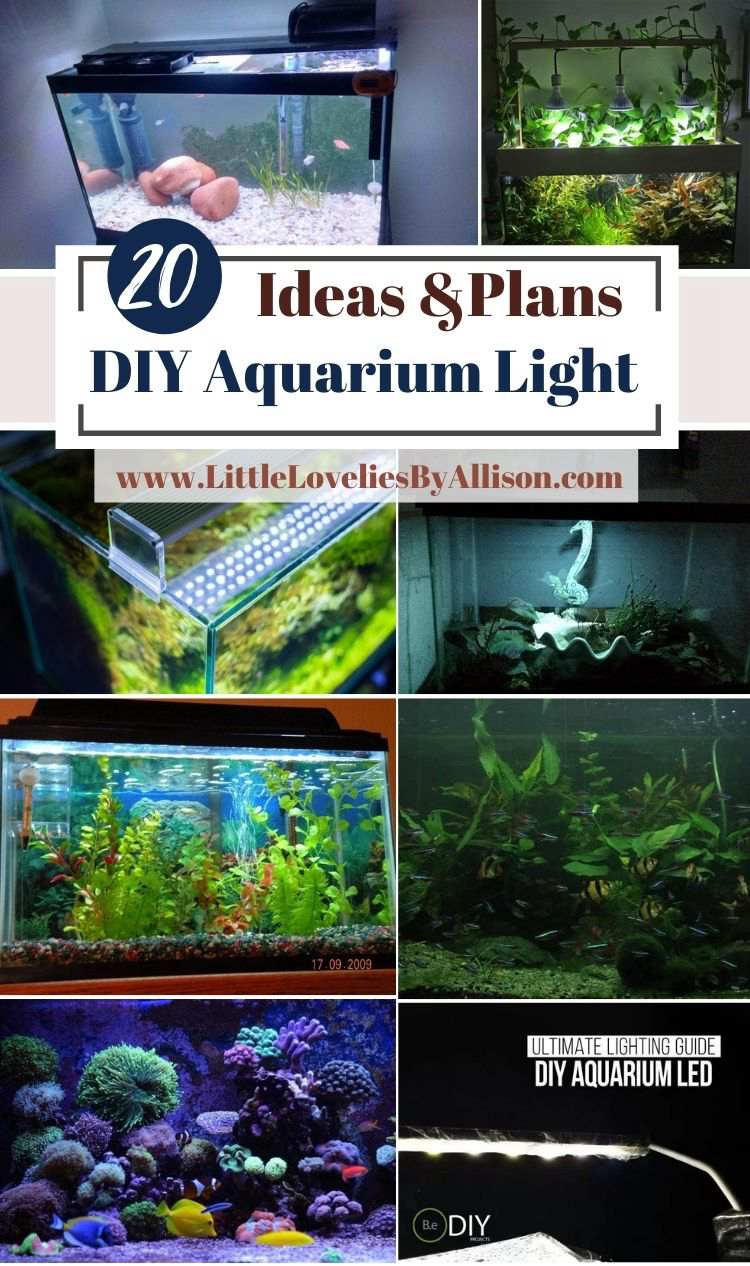 1. DIY LED Aquarium Lighting
For this process, you need an aluminum rod, U-profile, acrylic soap, acrylic glue, sticky tape measuring tools, spirit or alcohol, drill bits, a hand saw, a drill, and most importantly, some LED lights. You can't make an aquarium light without some good LED light stripes. The making process is rather easy and simple to follow.
2. DIY Aquarium Lighting With RGB LED Strips
With this guide, you get to make an aquarium light with RGB LED stripes. This project is cheap and super easy. The creator started with coupling the LED stipes to ensure that it was lighting perfectly before assembling.
See also: 10 DIY Aquarium Background Ideas
3. DIY Cheap LED Aquarium Light
Here is another amazing video guide on how to make LED aquarium light that is super affordable. If you are not keen on sending a lot on an aquarium light for your fish tank, then this method should help you spend less. The light is waterproof, it's 300 in quantity, and is 16 feet in length.
4. Planted Aquarium LED Light DIY
In this video tutorial guide, the creator is going to show you how to build an aquarium with good LED light that is both cheap and easy to set up, and also capable of growing plants in your aquarium, which might be something you are looking out for.
5. LED Aquarium Light DIY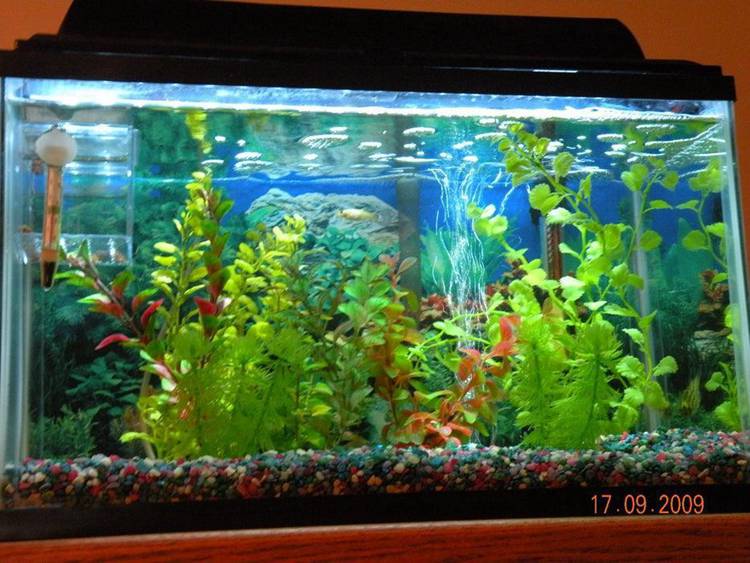 This LED light is totally for aesthetic purposes, it illuminates your aquarium, and makes it easy to see inside the tank and locate all the properties. The aquarium light consists of sheets of plexiglass that have holes drilled into the glass to enable the LEDs to face downwards. It's a simple setup that can be done by anyone.
6. Aquarium LED Lighting DIY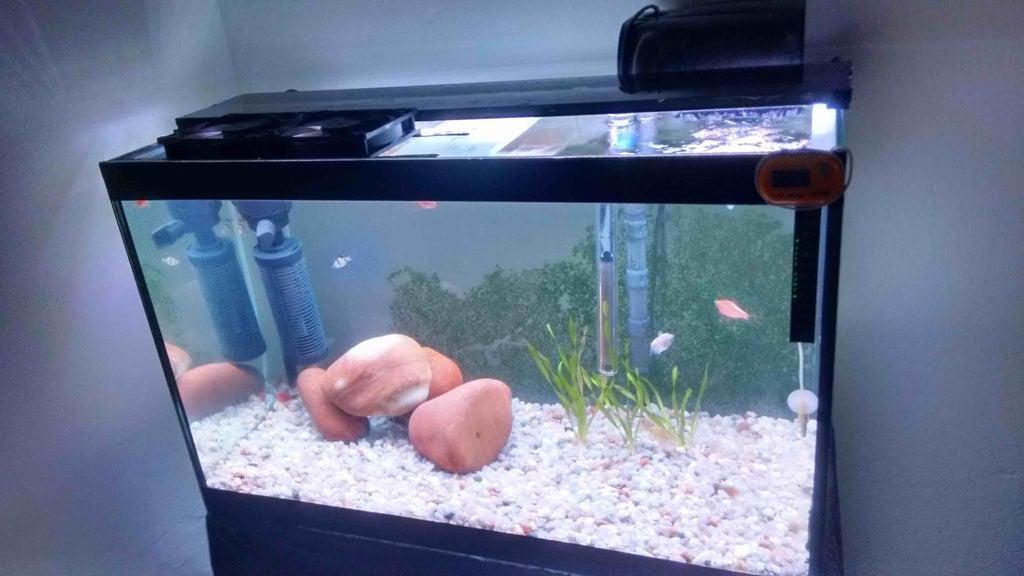 The light that was used in this video guide by the creator is so bright that it can illuminate a room, but this is an aquarium of 120 liters and the creator used a 72W light power, as opposed to 100W that is expected. You'll need 5m of LED steps RGB 5050, 1 RGB controller, and 5A, 12V power supply.
7. How To Make LED Aquarium Lights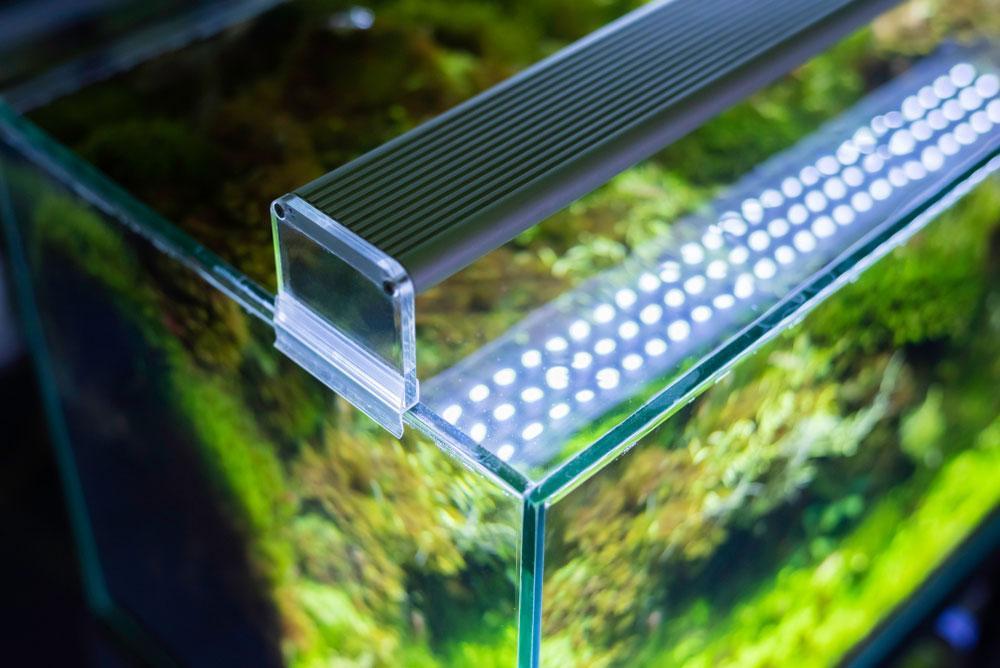 The creator of this guide used a lot of materials and tools to make this LED aquarium light look the way it is. This should be one of the best aquarium light ideas on my list. The creator got things like Adafruit's Neopixel LED dots strand, extension wire ribbon cable, and a few other supplies.
See also: 16 DIY Aquarium Stand Plans
8. Do It Yourself LED Aquarium Lights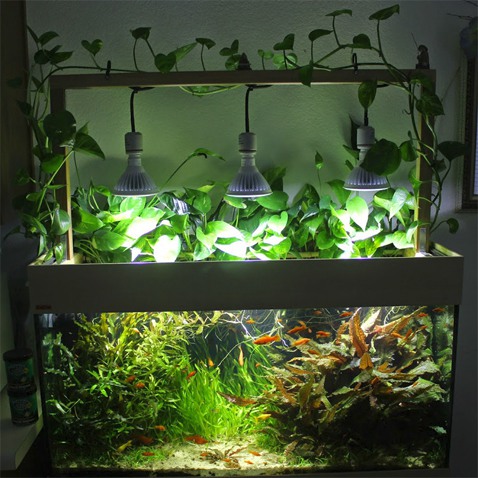 This is a guide that can be done by even a beginner. Instead of a normal LED waterproof light that might be embedded in the tank, this one is hanging up from a frame that is attached to the tank. It's still a LED light but a Bayco work light that will reach out and illuminate more areas in the tank.
9. DIY Aquarium LED Light
Here is another aquarium LED light that is super easy to build. The only hindrance is getting the right materials for the job. Once you have the right materials, you have nothing to worry about. The steps are easy and the creator made a simple, timely video giving details of how he made the LED light from scratch.
10. $7 Aquarium LED Light
If you decide to make an aquarium LED light on a budget, this video tutorial guide will help you bring your aquarium to life with just $7. It's super cheap and seamlessly easy to make. It was also made in a pendant style, giving it an elegant look, and making it aesthetically pleasing.
11. DIY Aquarium Light
You might not understand all that was said in this video tutorial guide, but if you follow the technique and the processes that the creator used to make this light, it will definitely work for you. Most of the materials he used don't need any introduction if you're into lightning, but for a beginner, you should try another video so that you don't get confused along the way.
12. Cheap DIY Aquarium Light
This is an amazing plant grow aquarium light that is cheap and effortless to set up. The creator used 2 lanes of 10000K, 3 lanes of 6500K, and 1 strip grow light, it's efficient and durable. This is a light that will last for a long time and still keep your plants and other properties in the aquarium in good condition. It's also good for a large aquarium.
13. DIY Aquarium LED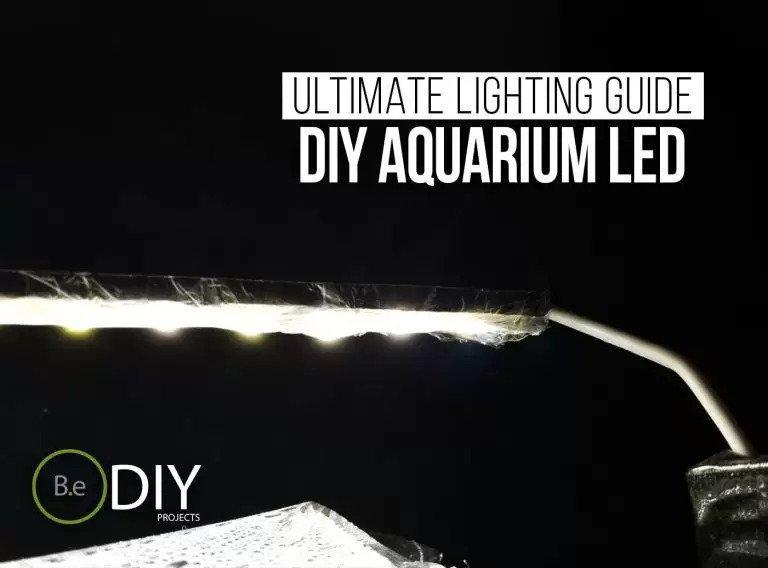 The LED light used in this guide by the creator was meant for a planted aquarium. It's efficient and quite inexpensive. It's easy to set up, you just need a LED strip kit, cardboard, black duct tape, adhesive liquid, saran wrap, and a few other items.
14. DIY Aquarium LED Light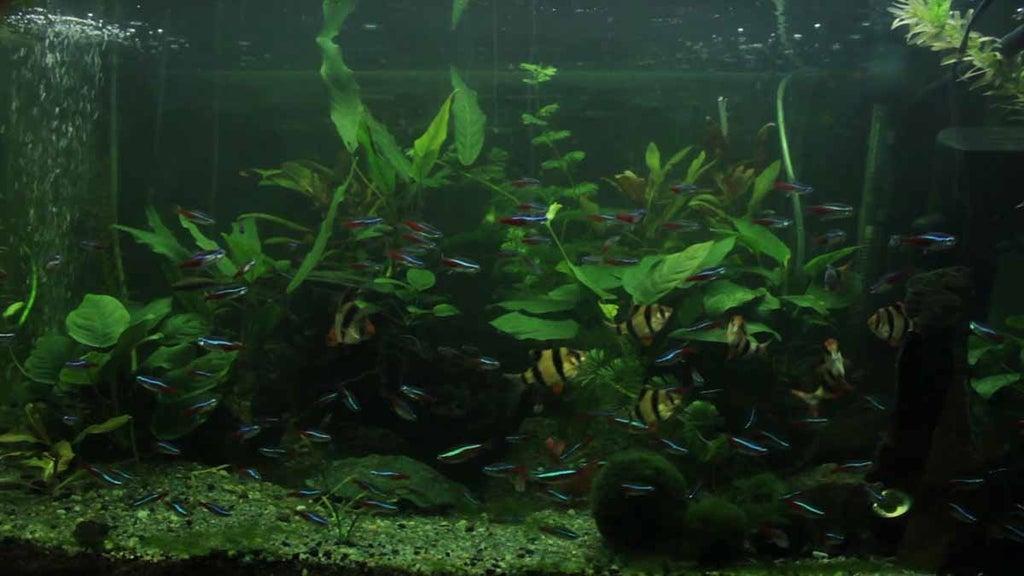 The first step to making this aquarium LED light is cutting the UPVC window as the body of the LED light. The creator cut it, then square it up, used Bondo, and aluminum tape, and a few other materials and tools at his disposal. The making process was not easy but worth it in the end.
15. DIY Simple Aquarium Light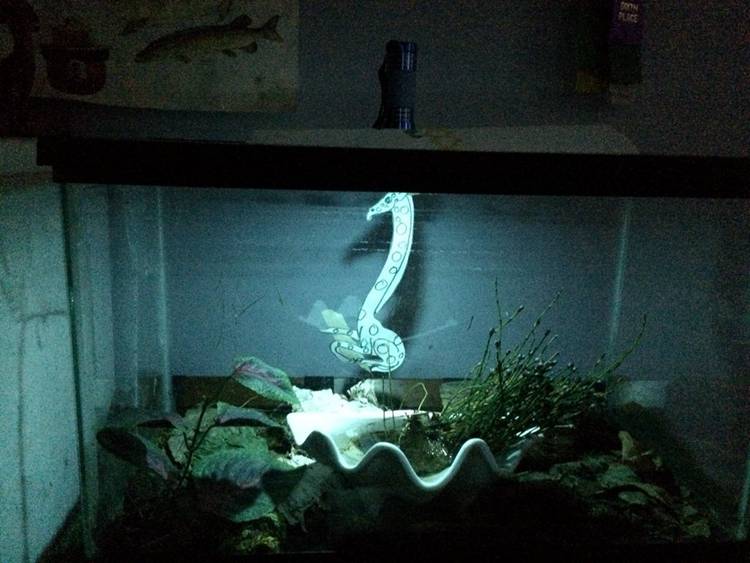 This is as simple and easy as it gets. First, you'll need a flashlight that doesn't have a battery and must be plugged in to be able to work, paper towels, and markers. The flashlight you'll be using should be super bright, just as you see in the image above.
16. DIY Reef Light Kit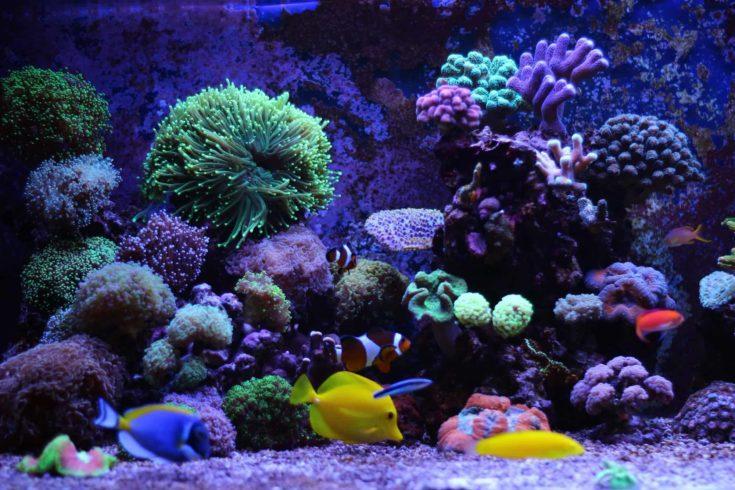 His is a big-time reef light that you'll be using. The process alone will be too tasking for someone with no prior lightning skills. A beginner will struggle with this project, but an expert will be done in minutes. There are over 18 steps and they all give a detailed explanation of how to go about each step. Overall, the making process is quite simple but far from being effortless.
17. DIY Underwater Aquarium Light
This is an aquarium light that is not waterproof but yet can be submerged in water for more effective and efficient illumination. The LED light will be put inside a test tube that can carry the size of the LED strip, then a USB cable connected to the light terminal and seals with a glue gun so that water doesn't penetrate. You can repeat that process for several other lights and make as many underwater aquarium lights with ease.
18. DIY Aquarium Lights
For this video guide, you'll use a metal furring to lay your LED lights, you'll also need some LED light strips and modules. The setup is easy and the light is efficient enough to light up your aquarium.
19. How To Make Aquarium Light
This video guide teaches you how to make an aquarium light from scratch, it is important to have an aquarium light for your aquarium, how about you give this guide a try. It's simple and cheap to build. First, the creator started by dismantling a LED light bulb and taking out the LED light board that the bulb. He then used that to make his aquarium light.
20. $13 DIY Aquarium Lights
Here is an aquarium light that you can make for just $13, which is quite cheap and it's also easy to build. You just need a 12V led panel kit and power adapters, and you're good to go. The video description has a link where you can get all these things at a cheaper rate hence the initial price.
Conclusion
That's all for today on DIY aquarium light, as you can see and read, it's quite easy to make an aquarium light at home instead of buying one at an online store that might not last as long as the one you could make with ease. I'm sure this DIY has given you ideas that you can use to make an aquarium light that works and that's efficient enough to not only illuminate your aquarium but grow your plants. Thanks for stopping by.