If you want to take your fish tank to the next level, consider creating a DIY Aquarium cave. It's a fun (and easy) project that will turn heads around the neighborhood. DIY aquarium caves are a fun and easy pet accessory that look cool while giving your fish a place to hide.
I remember my very first fish tank. It was a small tank with fake plants and gravel on the bottom, purchased at Walmart for around $20. I remember excitedly placing the fish in the water and watching them swim around, seemingly gliding through the air, before eventually swimming up towards the surface to explore the top of the rocks.
If you are an aquarium lover, check out all the beautiful aquarium cave projects below and I'm sure you would find one that would be suitable for your fish.
1. CD Spindle Aquarium Cave
An aquarium cave gives your fish a space to hide and play! You can make an aquarium cave with virtually everything except it is toxic to the fish, or they can eat it up quickly. All you need for this aquarium cave is a CD spindle, aquarium stones, hot glue gun, drill, and aerator. The aerator ensures proper ventilation in the cave and can be installed through the bottom of the cd, which will later become the top of the cave, as shown in this guide. instructables
2. How To Make A Pebble Cave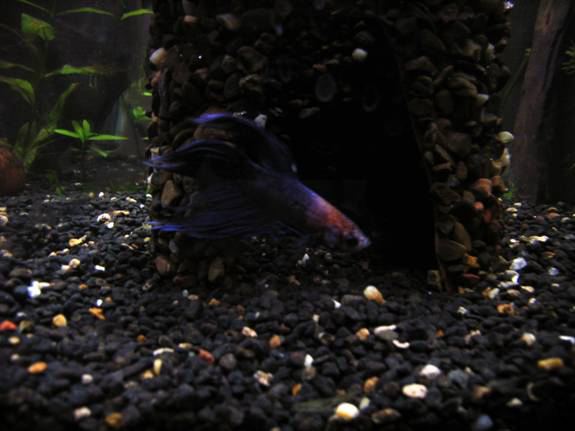 Here is how to turn your plant pot into an aquarium cave! You need to cut holes (small ones on the bottom of the and big ones on the side) on the pot. Then, cover the inside and outside of the pot with silicone sealant to glue the substrate.  After gluing the substrate, rinse the aquarium cave in water for hours to ensure all the toxins have been washed away. aquaticcommunity
3. DIY Aquarium Cave
Do you need an aquarium cave for your fish? Here is a cheap and straightforward plan for you! You don't need any expert skills to build it. Just with a knife and sand, you're good to go. Get a cylindrical container and cut it into two vertically. Cut a small entry at the bottom of each piece. Then take it to your aquarium and place them face down. Bow cover them with saves, and your cave is ready.
4. Underground Cave Fish Tank
With dragon stone, hair grass mat, silicone, and super glue, you can make this underground cave! It is superb. Get a chisel to disassemble the rock, then use super glue and silicone (safe for fish) to reassemble the pieces to have a spacious cave. Get the tank you want to use and place the stone cave. Cut hoke on the grass mate and place it over the cave.
5. DIY Cichlid Stone Cave
This cichlid stone cave is fantastic and classy! It is made from the same stone used for terracotta pots; you know how incredible those pots are? The cichlid stone is used primarily for chimney flue, but we want it for an aquarium cave! All you need to do is get the rocks and place them inside your aquarium.
6. How To Make Polymer Clay Cave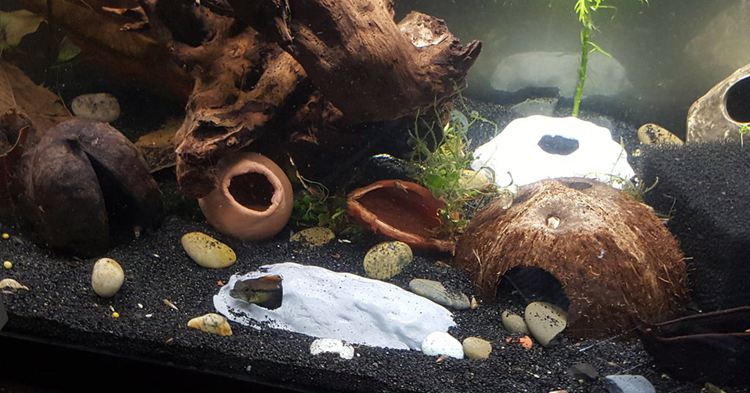 One most important thing about DIY is to understand the process or procedure used in making what you want to make! Once you know, you can make anything like a pro! All you need is polymer clay for the craft, a rolling pin to spread the clay, a tin foil to cover it, and an oven to bake it. instructables
7. Cave Tank Build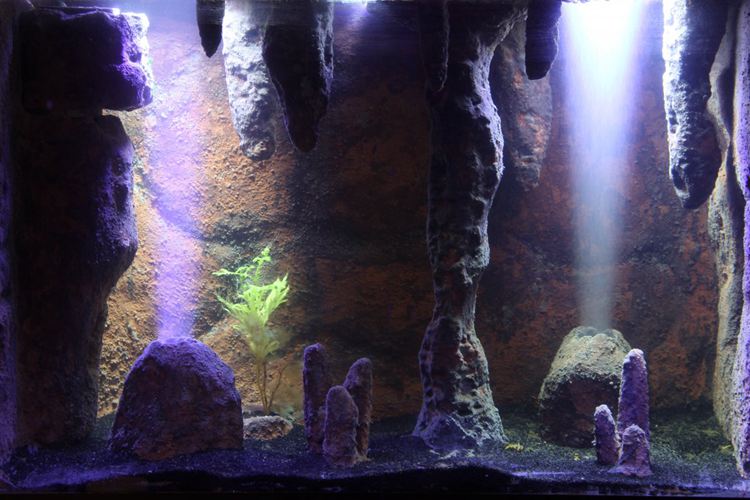 Here is a great design that will show you how to make an aquarium cave with a water tank and foam. The water tank needed depends on what you want (you can choose from 20 gallons upward, but it must not be too big). Then, get the foam and start carving each piece the way you want. Carve the foam board that will cover three sides of the tank and the bottom. reef2reef
8. How To Make A DIY Aquarium Cave
Here is a simple plan that will show you how to make an aquarium cave yourself with little or no cost! All you need is Krylon fusion in black and one can of all-in-one, a can of pond and stone, cooking spray, balloon, and a plastic tray. Follow this link to learn more about the plan.
9. Lava Rock Aquarium Cave DIY
What do you think about this lava rock aquarium cave? Amazing right! Get a bag of lava rock from home depot, a sheet of mesh, clear silicone sealant, and a hammer. To start, cut a small circle from the craft mesh and glue some lava rock around its edge. Thus will be the foundation upon which the cave we built.
10. How To Make Aquarium Cave In 5 Minutes
The materials required for this aquarium cave include colored stone, plastic bottom, silicone sealant with a caulking gun, knife/scissors, and a small tray. Cut the bottles to two and make an entry hole each of themselves. Place all pieces face down and glue the colored stone on them.
11. DIY Coconut Cave For Aquarium
All you need for this coconut aquarium cave include coconuts, drill, sharp drill bit, significant drill bit, and glass cup. Please take one of the coconuts and drill a small hole in it with the sharp drill bit. Then, drain all the water into a cup.
After that, prepare a large hole at the same Spot to remove the edibles, then boil it in water. Another method is to locate the eyes of the coconut and trace the partition line. Now, hit the coconut on a rock and break it. Each piece of the coconut can become a cave.
12. DIY Aquarium Cave Decoration With Scrap Material
Have you seen scrap materials at home? Do you want to make an aquarium cave? Well, you can use those scrap materials to build a cave as long as they are not toxic materials that can harm the fish. Make the actual cave from a cardboard box, dry coral, and artificial leaves for decoration.
13. How To Make Artificial Stone Cliff
All you need for this artificial stone cliff for the aquarium include lava rocks, fine sand, cigarette filters, super glue, and natural moss. The superglue is used to attach all the other materials except the sand to the lava rocks. It is effortless and straightforward.
14. DIY Cichlid Cave For Aquarium
You will need three essential tools to complete this cichlid aquarium cave. The tools are a drill, drill bits, and pliers. And the only materials you need are a terracotta pot and water. The water ensures that the pot does not break off as you're drilling holes on it.
15. Cheap Aquarium Cave DIY
This is one of the most straightforward and cheapest DIY aquarium caves you can see out there! It is made from a small food bowl and a lava rock. Drill a hole on one side of the bowl and cut off the little extension at the bottom to allow the lava rock to sit correctly on it. With this, you're done with the aquarium cave.
16. DIY Slate Cave For Aquarium
DIY skate cave will cut costs for you as you can easily find slate around your house or in the garage. Gather as many slates as you can get (even the tiny pieces). Crush some of the slates into powder. The rest of the slate, gather them and use them to build a cave with GE 1 silicone sealant as the aid. This silicone sealant is advisable because it is safe for your fish.
17. Quick And Easy Fish Aquarium Cave
In this guide, the instructor explains the different methods and designs of aquarium caves and what makes each. There is a coconut shell cave made from coconut, a cichlid cave made from terracotta pots, and a flat cave made from terracotta.
18. Making A Simple Cave Aquarium
You can make a fantastic aquarium cave with Christmas moss and lava rocks! Assemble the lava rocks into a closed cave. Now, fill one side of the tank you want to use for the aquarium with sand and place the cave. Cut some pieces of moss grass and stick it to the cave with super glue. After this, cover the other sides of the tank with sand and add all other features to it.
19. PVC Aquarium Cave DIY
Here is how to turn a PVC pipe into an aquarium cave! Get three different lengths of PVC pipes (6.7", 5.5", 4"). Now, use an angle grinder to make notches along the length of each PVC pipe. After the notches, use sandpaper to smoothen everything. Then, get brown and black acrylic paint. Paint the black on the PVC as the first coat; after it's dried, paint the brown as the second coat.
Conclusion
An aquarium cave gives your fish a space to hide and play! You can make an aquarium cave with virtually everything except if it is toxic to the fish, or they can eat it up quickly.
Why should you DIY an aquarium cave? It can be for many reasons, but the most important thing is that you want to take good care of your fish. However, these guides are here to help you achieve your goals, and they are straightforward to follow, and most of them cost less than $50.