Are you looking for the best way to make an alcohol stove? If yes, one of these 25 methods of making a DIY alcohol stove should interest you. Each method has its specific materials and plan that makes it stand out.
You don't need so many materials and the few you will be needing are cheap and available. Check out the methods below and start making your stove!
1. DIY Alcohol Stove Burner
The first alcohol stove I will be talking about is made from a mason jar with a metallic cover, broomstick, 99% alcohol, lantern rig, copper tube, and silicone. The burner was made by twisting 7inch copper tubes around the broomstick to coil the middle of the copper tube. Then, drill two holes on the cap of the mason jar, making the distance between the holes equal the distance between the coiled tube.
2. DIY Alcohol Stove
Sometimes you won't be satisfied with something unless you make it yourself. An alcohol stove is among those things. Though there are many methods out there, the little difference you will add is what makes it exceptional. Try out this alcohol stove made out of two empty cans. To make it easier, you can build your cutting measure tool.
3. DIY Can Stove With Alcohol
Here is another amazing alcohol stove made from cans. Other things you need to bring light to your room are a single edge razor blade, glue tape, thumbtack, book, ruler, Sharpie, and hammer. Once you get all these materials, the work has been simplified. The next thing you need to do is to assemble the parts.
4. How To Make An Alcohol Stove
This alcohol stove is made from two types of cans. The tip was made from an aluminum soft drink can while the bottom was made from a soup can. The soup can is suitable for the bottom because of the diameter, strength, and ridges by its sides.
5. DIY Alcohol Stove
This DIY alcohol stove is made from three soft drink cans. To mark around the cans, you can improvise for a tape measure by placing your Sharpie marker on a piece of wood ( or any other raised, even, and flat surface). With this set-up, you can easily make a neat and straight mark around the can.
6. How To Make Soda Can Stove
Remember I said above that each alcohol stove has a specific material that makes it stand out. For this particular stove, it is the soda can. The process of making this is very simple. All you need to do is to cut the soda cans to pieces as described in this video, assemble the parts and start the fire.
7. How To Make A Simple Alcohol Stove
The reason for using aluminum cans is because it is very easy to cut with a cutter. Just a dent through the can and the parts are off. The process is very simple, very similar to the other can stove above but with a little difference. There is no need for foil tape.
8. How To Make An Alcohol Stove
For all can stoves, measurement is very important because the diameter and size of the parts are very crucial. If the measurement is not correct, the stove may not work functionally.
9. DIY Alcohol Stove
This step by step instructions on how to make an aluminum can stove. The aluminum can is very exceptional because it is cheap, easy to cut, and the weight is very light which means it can be carried around. Cut the cans into parts, assemble them and fill them with high percentage alcohol.
10. How To Make A Soda Can Stove
Here is another soda can stove. The process of making this is very simple. Unlike other can stoves with an open-top, this particular stove has a coveted top but with a small hole in the middle of the top for the flame.
11. Alcohol Stove DIY
This portable can stove is made with just 8  simple steps. Aside from the steps,  in this guide, you will also learn the perfect materials (particularly alcohol) to use for the stove.
12. Making A Soda Can Alcohol Stove
Do you know how much an ultralight gear costs? Very expensive right! The more reason you need to learn how to make an ultralight stove by yourself. Here is a good example and the guide has done justice to the process and materials. All you need to do is to gather materials and get to work.
13. How To Make A Simple Alcohol Stove
This inexpensive stove is highly exceptional! You need two cans for this particular stove, though not soda or soft drink cans this time. Any small food can will do. The two cans must not be the same size and shape. One of them must be round and small while the other is cylindrical.
14. Cheap Alcohol Stove DIY
Okay! This is creative, very creative. It is made from vaseline tin and fire rope. It is among the cheapest alcohol stoves out there. One thing is, the cheap cost doesn't affect its effectiveness. It is very functional.
15. How To Make An Alcohol Stove
To get a more personalized stove, it is better to clean the can, not particularly all the can but the area you need. After cleaning, cut the can to part and assemble the stove.
16. DIY Alcohol Stove
The materials needed for this alcohol stove include scissors, a tape measure, two soda cans, sandpaper, marker, push pin, pliers, and gloves (optional). Once you have all these materials, the remaining steps are simple.
17. Homemade Alcohol Stove
This homemade alcohol is very cheap (cost about $0.5), weighs 1 ounce, burns silently, and is complete within 10 minutes. Click the link below to learn more about the process.
18. DIY POP Can Alcohol Stove
It is the ring formed by the flame that makes the stove stand out. It is made from a POP can. When making the stove assembly it is advisable to use heat-proof metal glue.
19. DIY Alcohol Stove And Stand
Do you want to know how to make a stove stand? If yes, then this is for you. This guide explains two distinct projects, the stove stand and the stove itself. Check out the steps below.
20. Aluminum Bottle Alcohol Stove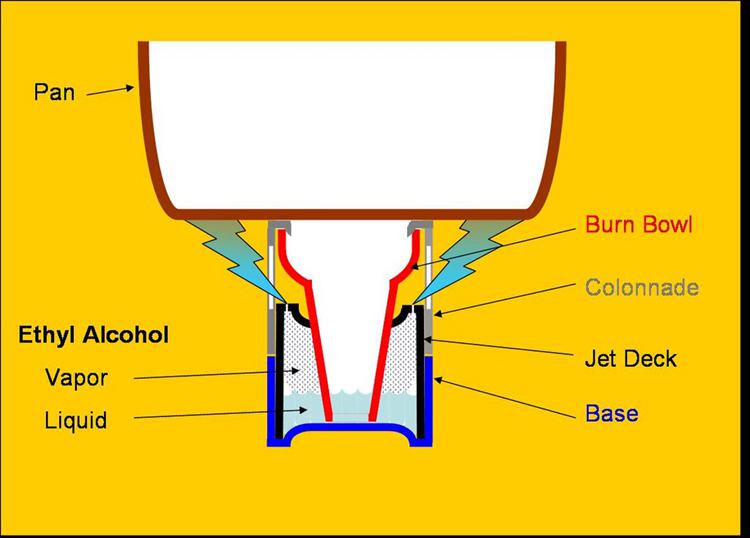 This alcohol stove appears in a grand style. It is made from an aluminum bottle, jet deck (for the base), PVC pipe, and high percentage alcohol. Start by cutting the bottle, first cut the top at the point just before the full diameter of the bottle.
21. DIY Copper Tube Alcohol Stove
You just need to do it yourself! Let's see how this copper tube alcohol stove comes to life; First, gather the materials including copper tubes, screws, lighter, cutter, and so on. Then, make two cuts from the copper tube ( different sizes).
22. Aluminum Bottle Alcohol Stove DIY
Here is another aluminum bottle stove. Though aluminum bottle stove is not a new thing, it has been in existence for so long but here we sprinkle some modifications. Check out the process by watching the video tutorial above.
23. How To Make An AXE Can Alcohol Stove
Axe can stove! Your empty Axe body spray can come in handy for this project. It is beautiful, lightweight, and burns to full bloom rapidly. It also comes with a built-in priming tray.
24. DIY Simple Alcohol Stove
To put this together, cut off the bottoms of two of the cans (make sure the diameter is even). Stretch the edge of one which will be the bottom of the stove. After this, put cotton wool in the bottom and assemble the other piece on it.
Conclusion
Everything that has a beginning has an end and so, we have come to the end of this article on 25 DIY alcohol stove ideas. Thanks for reading up till this point. Feel free to use the comments section below if you have a contribution or question regarding this article.