1. Striped Connections!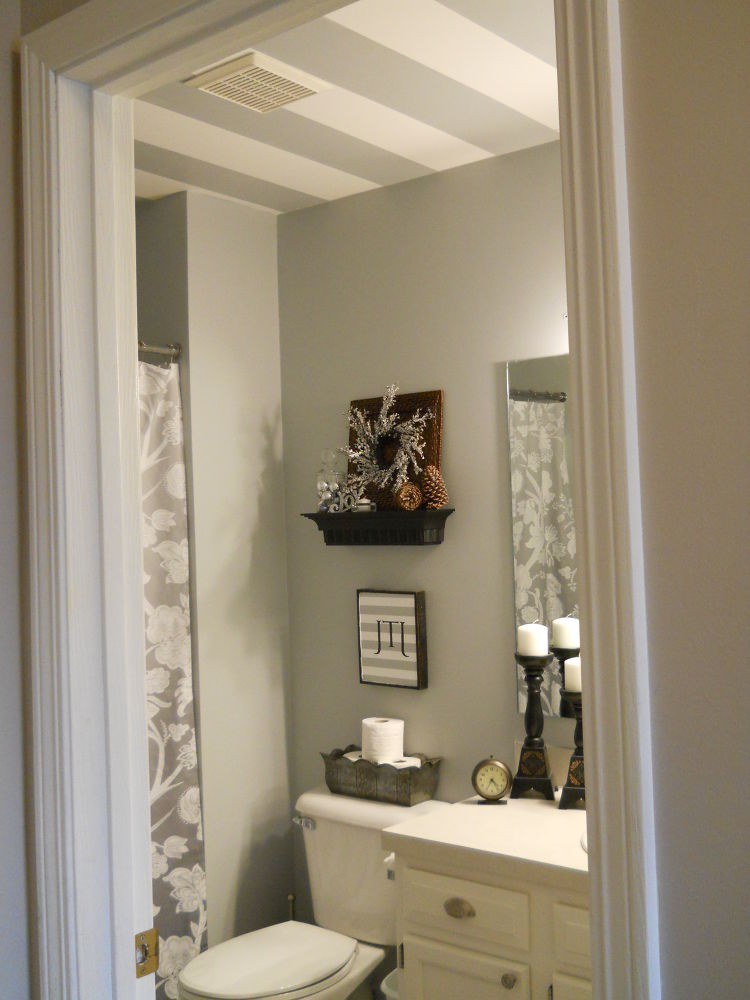 Not many people get their bathroom ceiling painted. But it is a great way to make your bathroom look twice as more unique than regular bathrooms. These grey and pale stripes on the ceiling are beautifully complementing the serene aura of this grey themed bathroom. It also adds more dimension to it!
2. Bewitched Midnight Sky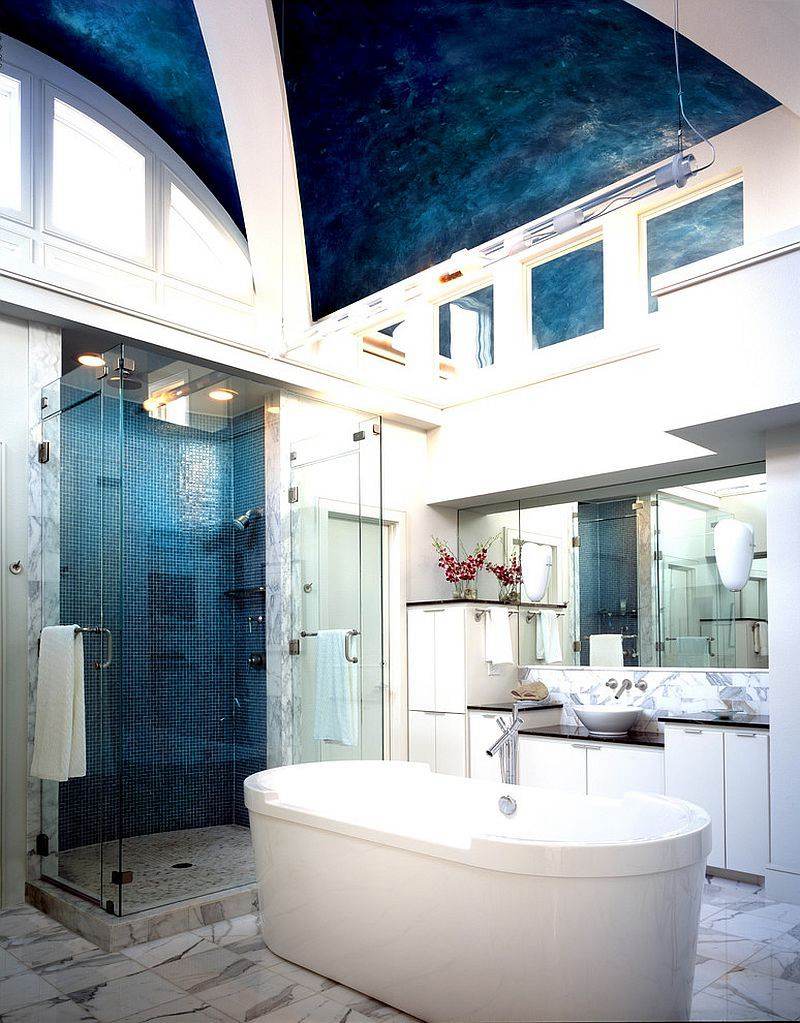 An aquatic-themed ceiling is surely a crowd-pleaser! The alluring color scheme and the interesting textures have taken this bathroom a class apart with regards to style and grace. Natural light flooding in through the windows is brightening the blue hues. A hot bathing session is all you will be needing to unwind yourself after a long day at work!
3. Grand Excellence
What more could you ask for in a bathroom with such a scenic view? A scenic ceiling, of course! This geometric grey and & white striped ceiling is in perfect harmony with the ongoing graceful and pearlescent theme of this bathroom. It makes the bathroom look more appealing whilst highlight the subtle hues of the luxurious marble! The chandelier further adds to the grand scheme and the two-tier table makes bathroom essentials more accessible.
4. Rustic With A Hint Of Contemporary
Wooden panels are a great way to impart rustic flavors in a modern bathroom. They are best accompanied by either cool or warm-toned spotlights, which highlight the luster of the faux wood. The wooden flooring will sandwich the bathroom into wholesome vibes. Lengthwise windows enhance the earthiness of a bathroom and also make it look brighter and well-lit.
5. The Lumineers
LED lights are a show stopper and what could be more appealing than a bathroom framed with LED lights on the floor and ceiling? They give an instant futuristic look and also enhance the grooviness of the bathroom. It will leave all your visitors stunned!
6. Faux Fantasies
Faux fantasies are a growing trend and to incorporate it in the form on faux ceilings will make your bathroom look absolutely ravishing! This ceiling is further enhanced by the addition of a ballroom chandelier to boost more royal vibes. The mirror is also backed up by hidden LED lights that add a unique glow to this royal bathroom.
7. The Medieval Touch
Ancient styles have now blended in with the modern architectural practices that we use today. This is very well demonstrated by this grand bathroom. The wooden bathtub is greeted by a roman design wallpaper and enhance by the addition of a gothic style chandelier. It truly mimics past designing practices that are still loved by many!
8. Take Me Back To Hawaii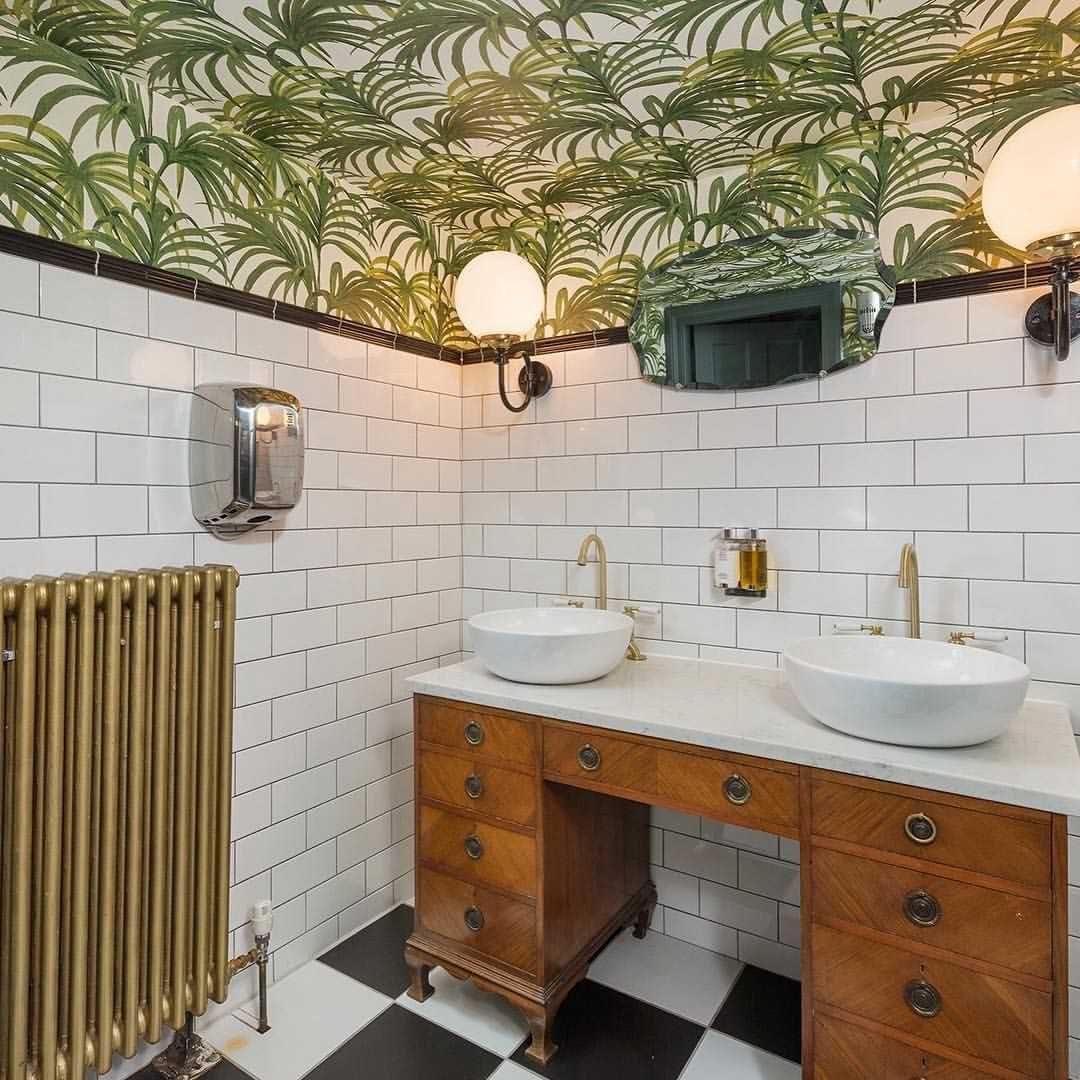 You can never really go wrong with tropical vibes. This ceiling reminds us of the Havana in all its glory. The lush long leaves of the palm trees and the earthiness that accompanies it! It will instantly uplift the mood of anyone who gets to use this bathroom. The use of bulky spherical lights adds a subtle glow to the environment of this tropical-themed bathroom.
9. Curves And Arches
Curved ceilings with serrated patterns are also great for subtle and serene bathroom environments. They are perfect candidates to accommodate small and light chandelier fixtures that may play a role at amping up the royalty of the bathroom area.
10.  The Hybrid Duo
A clever way to demarcate your washing area from your bathing area is by the use of transitioning and playing with the textures. This bathroom employs the use of high-quality faux wood in the bathing space, which not only adds dimension and shape but also enhances the uniqueness of it! Black framed windows are another wonderful addition.
11. In The Limelight
One of the best types of bathroom equipment includes spotlights. They shed the perfect amount of light, which is neither too overwhelming nor too bright. Plus, they can make your ceiling look thrice as good with minimal effort, just like this bathroom. If you wish to enhance it further then you can always go for stylish bathroom hardware, like circular sink bowls and glossy vanities.
12. The Black Lilly
Slanted ceilings are impressive and impactful on their own, but unique lighting equipment and accessories can enhance your ceiling even more. The use of this distinctively designed modern flower chandelier in such a bold color makes this bathroom stand out in a unique way. The grey hues in this bathroom complement the ongoing cool-toned contemporary theme.
13. Cross Borders
A customized crafted ceiling is best topped up with spotlights. It is a match made in heaven and can impress anyone. Beige colored ceilings amplify the warmth and coziness of a bathroom.
14. Open To Sky
Open to sky ceilings are a great way of getting a view of the great blue sky and it also radiates a lot of natural light, which is soothing to the mind and soul. It can make your showers a blissful experience.
15. Night At The Disco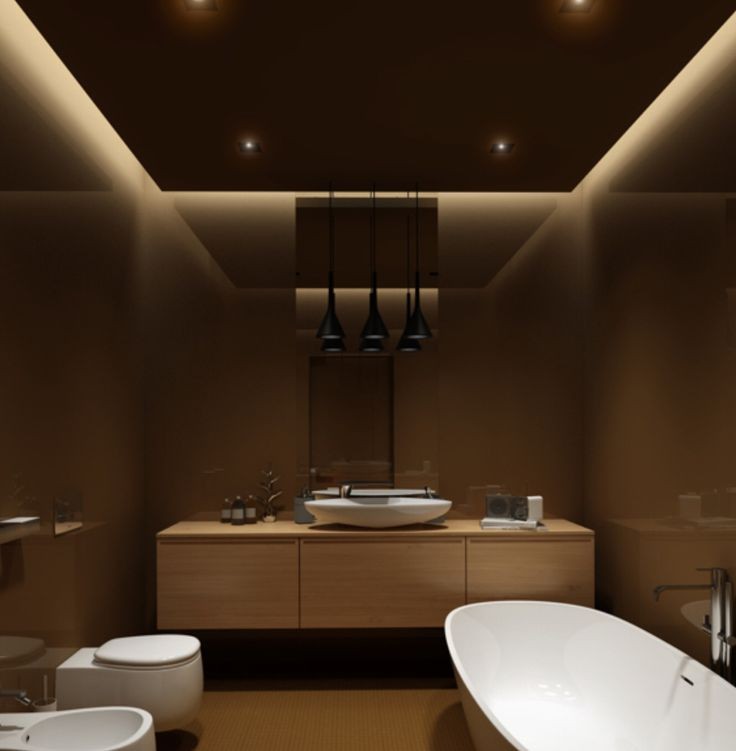 Not everyone can nail the art of a dim light arrangement. It is really tricky and often ends up with a gloomy-looking bathroom. But if done right, this is the glorious outcome! An epitome of bold luxury and soothing vibes. Sometimes the light can become too overwhelming and a dim lighting scheme can calm your nerves.
16. Star Gazing!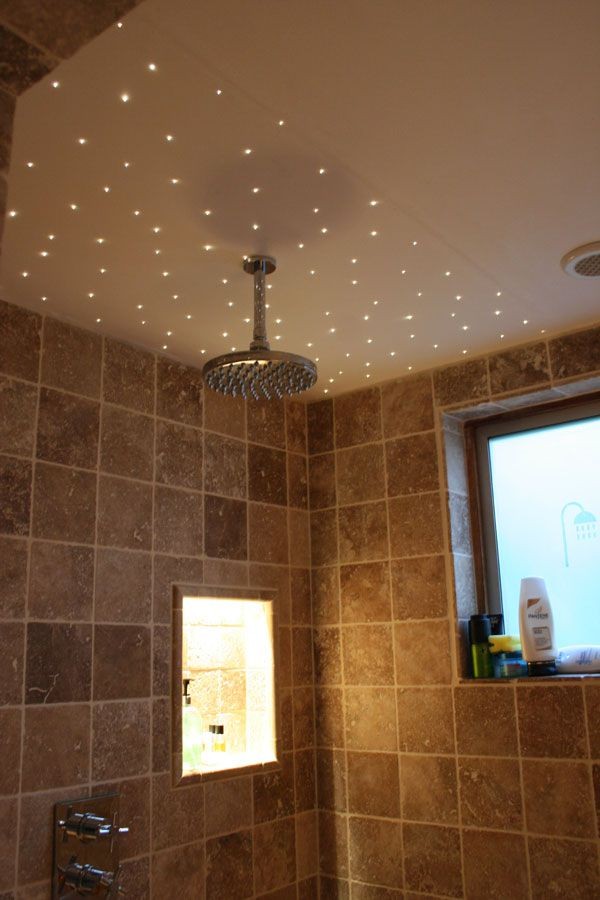 For those of you who love galaxy and cosmic vibes, then this ceiling idea is especially for you! Dotted lights in the shower area can make your daily morning and night routines a very serene and relaxing experience. Take your time to unwind under the sterling silver of these star lights!
17. The Exotic Grim
Dark color schemes attract many people. For such purposes, a dark-themed ceiling can be painted and backed up by either a faux ceiling or rim of subtle LED lights. The LED lights should neither be too dim nor too bright. The perfect balance of hue and chroma will impart an exotically grim vibe.
18. Sterling Silver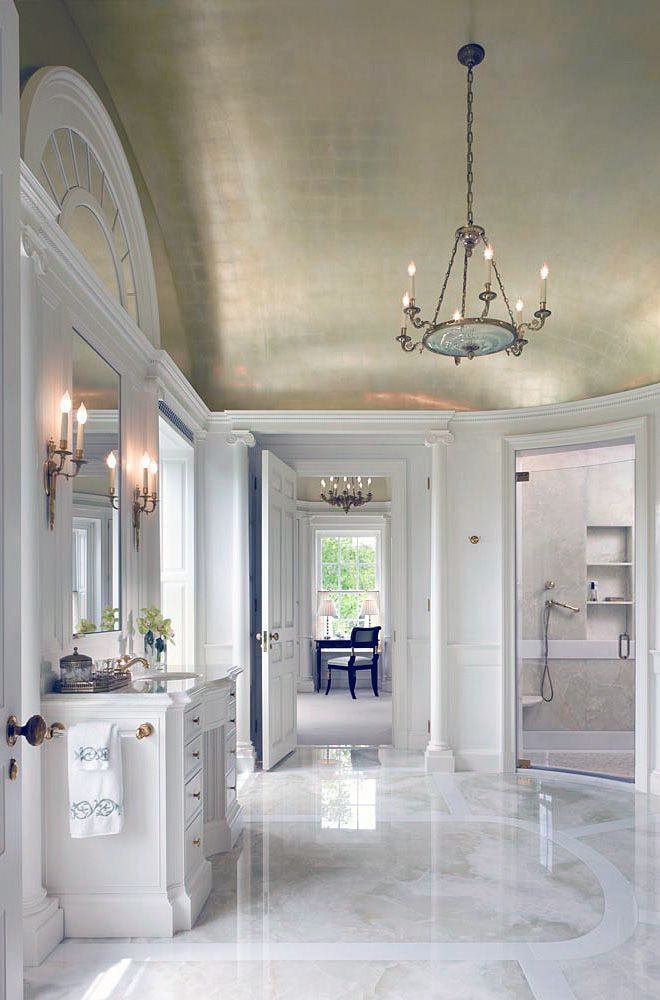 Dome-shaped ceilings with a foiled silver pattern are reminiscent of elegant Turkish architecture. They relay serene and calming vibes and generate a lot of positive energy. A candle chandelier would become a perfect couple with such a design!
19. Bare Necessities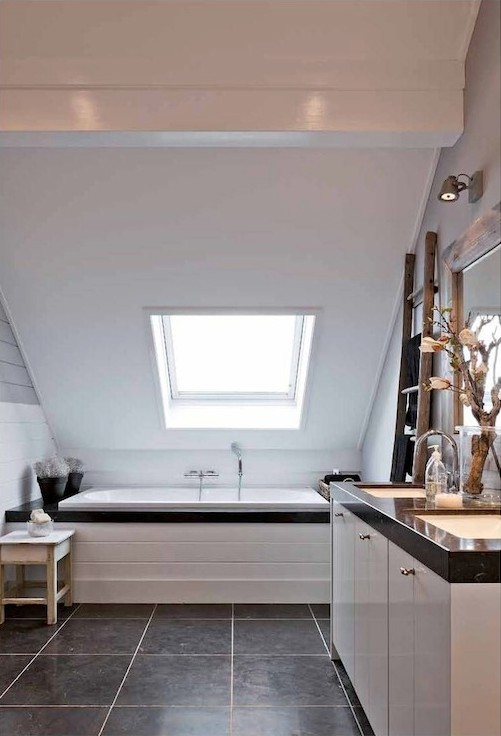 Whenever you find or construct a house with a slanted bathroom ceiling, make sure to introduce your bathtub right under it. It will make your bathing experience very close to nature and its soothing light. Dim and yellow-toned lighting will neutralize the blues and create the perfect saturation balance. You can also add faux plants for a more exotic touch.
20. Glowing Swirls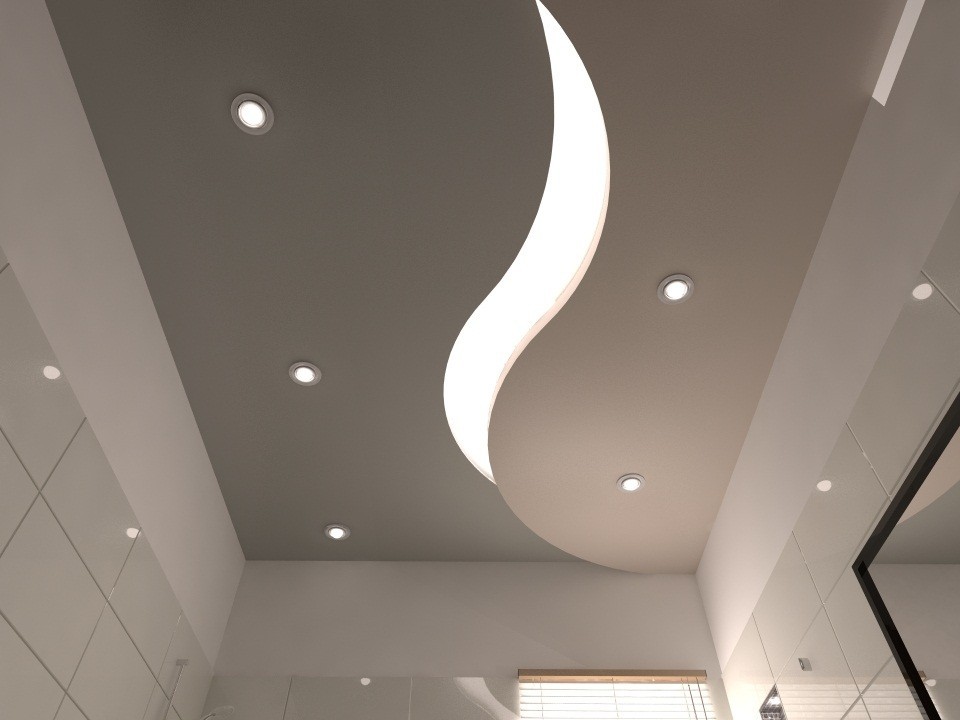 Design your ceiling in intricate patterns and shapes so that you can fill it with your favorite LED lights. Crafted ceilings are always so alluring and breathtakingly gorgeous!
21. Jazzy Jacuzzi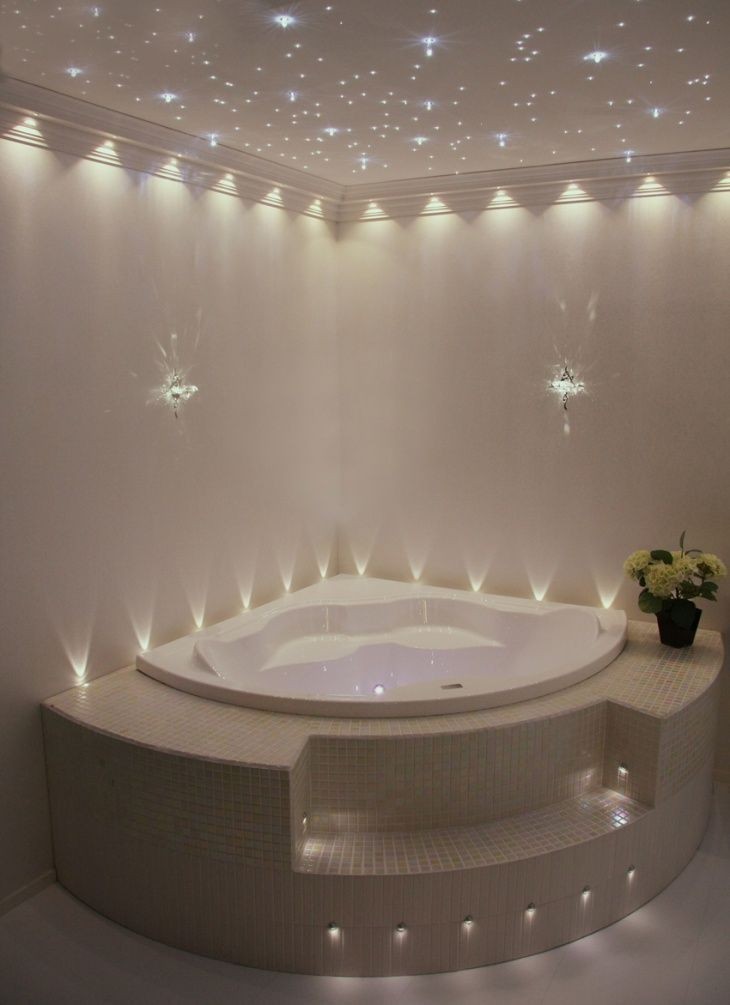 Jacuzzi lights give off an unparalleled groovy vibe. These lights make the jacuzzi look like a fountain of youth while the ceiling seems to have a bewitching effect with all those sparkly stars! These lights are easily available online and can be introduced into your very own bathroom tubs!
22. Hanging Pendants
Pendant lights are loved by many around the globe and not many people know that they are not just for use in living or dining rooms, but in bathrooms as well! They give a splendidly grand look. This flute glass pendant light will brighten up your bathroom with its timid flame and gorgeous design!
23. Graceful Greens
Hanging plant pots are a great idea for some natural therapy sessions. Plants keep you connected with nature and are also great for oxygenating your environment. A suspending plant series will not only look great but make your mood fresh and earthy!
24. Descending Into Light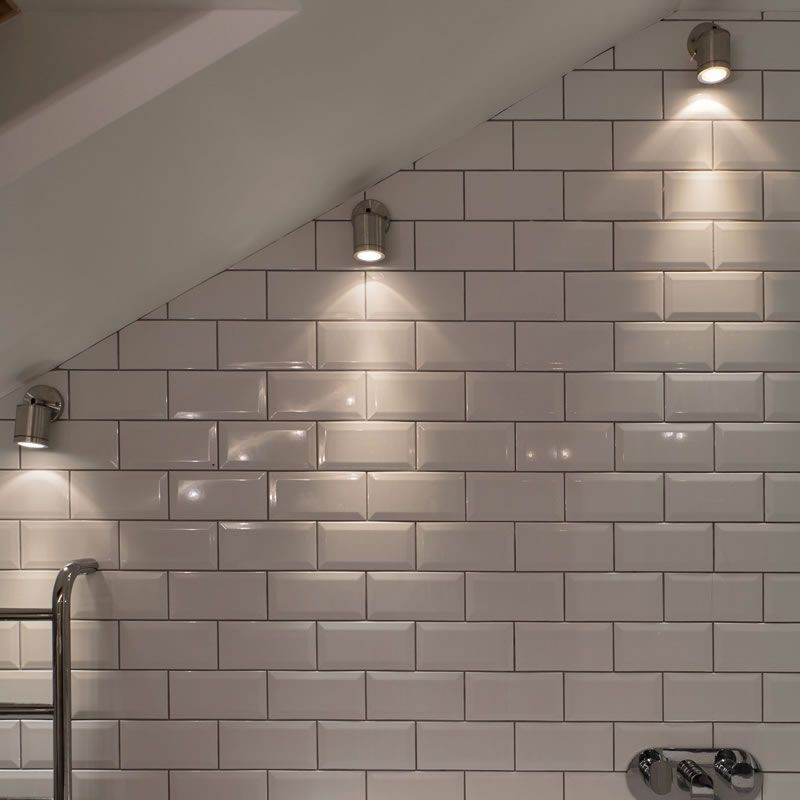 A graduating sequence of spotlights will look great! It can even be lined up against the borders of your ceilings and then descent down towards the vanity or the bathtub. They look stylish and also do the job of shedding off necessary amounts of radiance. This is an excellent idea for those with slanted ceilings!
25. Cotton Candy Skies
Sky lovers like to remain attached to wispy clouds and aquatic blues at all times. Painting a sky on the ceiling or using wallpapers is a great way to make your ceiling look fabulous and unique. Anyone visiting your washroom will love the idea and will get inspired to recreate a similar look!
26. Obliviate The Past
Gyproc ceilings are an emerging trend and for a good reason too! They are so amazing and stunning. The blue LED core bordered by the grey panels with studded spotlights makes this bathroom look like something out of a movie! It subtly enhances the reflectiveness of the marble wall-tiles as well!
27. Cedarwood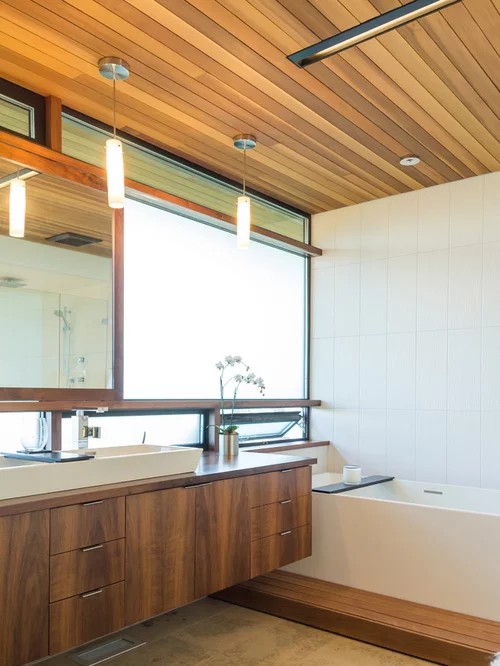 Cedarwood panels are good alternatives to a simple drywall ceiling. They give more dimension to the structure of the bathroom and can also look better once studded with appropriate lighting, which in this case are the long cylindrical pendant lights in warm colors.
28. Grunge Vibes
Instead of using pendant lights on the ceilings, you could just attach your favorite lights directly from above! Not many people employ the use of this idea but it is very unique and can make your bathroom look distinctively groovy!