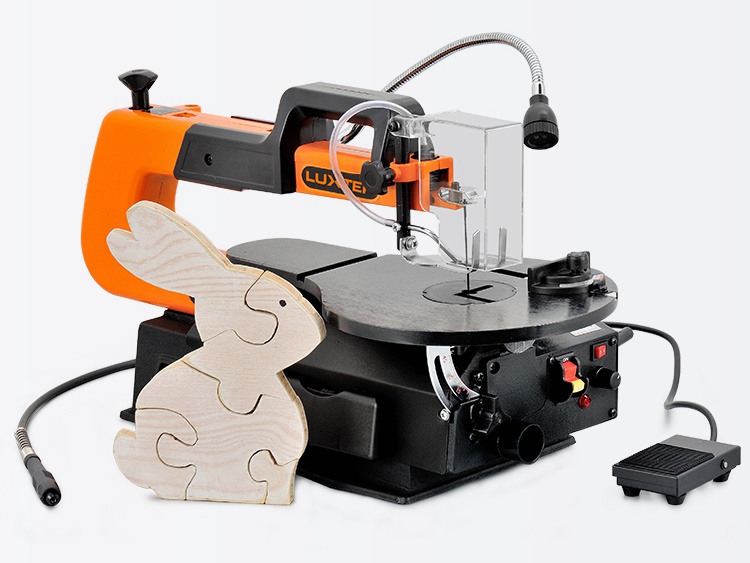 Have you been feeling overwhelmed with the vast catalogue of scroll saws on the market, not sure where to start from, or which one to go for? Deciding on the best scroll saw to buy doesn't have to be such a big deal. As carpenters, construction workers, DIYers and hobbyists, a scroll saw is one of the most indispensable tools you would need.
To help out with this confusion, we created this guide to direct you and give you a list of the best scroll saws on the market and how you can purchase anyone you choose.
A quick glance of Scroll Saw
The Best Scroll Saw on the Market of 2020
1. WEN 3921 16-inch Two-Direction Variable Speed Scroll Saw (
Our Top Recommended

)
This is one of the best scroll saws with a unique design that allows you to fit your blades in two different directions to enable you to rip to your satisfaction.
This saw is designed to allow you to cut up your materials any way you wish, especially when you want to cut intricate and artful designs out of your material. You can use it to cut in the normal, standard direction as well as in a 90 degrees direction.
Another feature that you might like is the thumb-screw blade adapter that allows you to change blades without any tools. Its 9/16" strokes are especially useful in helping you cut through hardwoods that are even as thick as 2".
At a speed of 550 -1600 strokes per minute, your cutting experience can become so much easier. By simply twisting the 'knob,' you can cut up multiple pieces of wood in record time.
If you were worried about vibration noise, the cast iron-base of the saw helps to drown out the loud vibration so that you can cut and still be able to hear what's going on in your surroundings.
In line with this feature, is the unique hold-down foot clamp that helps you keep your work in place to avoid imprecise cuts. It also features a dust blower that helps to make your work area tidy so you can see your project clearly as you work.
However, the saw has one minute flaw which you may wish to take note of. Seeing as it allows for both pinned and pinless, the blade holder is a little difficult to access, which makes it difficult to work with pinless blades. Nonetheless, this scroll saw works well for any projects you may have, minor or major.
Pros
It has a Dual direction cutting feature.
It has Anti-vibration technology.
Cons
The blade holder is difficult to access.
---
2. 16" Variable Speed Scroll Saw by HF Tools (
Best for the Money

)
This versatile scroll saw is one that's useful for making different types of cuts, both tricky curves and other kinds of designs. If you have many pieces of carving to do this scroll saw is an excellent fit for you.
It was able to make the list of best scroll saws because of its built-in air pump feature that cleans debris and sawdust out of your workspace while you work. If you're worried about repeatedly cleaning your work table, with this saw, you no longer have to bother about that.
You might also find it quite helpful in making accurate bevel cuts with its tilting table. Its cast-iron table also makes vibration noise a thing of the past, as it reduces quaking drastically.
Additionally, its extra accessories, which include two blade adapters, a blade and some hex keys help to make your sawing experience stress-free. Despite all these cool accessories, it is essential to note that you might have some difficulty changing the blades of the saw. The mechanism is quite tricky, and you may need expert help.
Pros
Built-in air pump and dust blower feature.
Tilting table for Bevel cuts.
Cons
Changing blades is a bit difficult.
---
3. Delta Power Tools 40-694 20" Variable Speed Scroll Saw
This saw might be an excellent choice for you if you work in heavy-duty construction. It is an electronically powered saw, suited for tough jobs around your construction site.
Adequately designed with fast cutting technology, this scroll saw gives you 400 – 1750 SPM to help you cut as many materials as possible. If you feel that the saw is going too fast or too slow for you, it has an electronic variable speed dial that gives you the ultimate control. You can adjust the speed to suit your taste.
Yet again, this saw proves how flexible it is by allowing you to lift or lock the arm in a raised position while changing blades. For large and heavy-duty cutting, this saw comes in handy because it has a large 20" x 2-⅛" capacity and a wide 24" x 16" table for your larger sized projects.
Its stroke length is ¾" long, just great for you to make long and clean cuts. Although this saw has so many unique properties, one flaw is quite distinct. The saw does not come with a stand nor LED light. These are very useful for ensuring the accuracy of cuts.
Pros
It has an Electronic Variable Speed switch.
It is built for heavy-duty construction.
Cons
It has no stand.
It has no LED light.
---
4. Shop-Fox W1713 16-inch Variable Speed Scroll Saw
The Shop-Fox Scroll Saw is one rugged tool you might want to check out because it also gives you a good amount of features to help with your cutting needs.
With a 16" maximum cutting width and 2" cutting thickness, you get a more extensive range of materials that you can cut with this saw. You can also cut at a 0-45 degree angle using its table tilt mechanism. This is a simple way of cutting by using the table lock knob and tilt scale to adjust the table for horizontal angle cuts.
The W1713 saw also allows you to use a pin-end blade or the standard plain one. With its dust port feature, you can easily clean your working surroundings so you can see what you are cutting properly, and maintain a debris-free workshop.
Additional features include a speed control that gives you complete control of speed, a cast iron table and an adjustable hold-down shoe that keeps your work in place and a gooseneck work light for illumination as you make cuts.
The one major shortcoming you may find as you use this saw is difficulty in mounting it. With no user manual or template, it may take a while to figure out, but otherwise, once you set up, you can enjoy your saw maximally.
Pros
Unique dust port feature to keep your working environment clean.
It has a table tilt mechanism for easier cutting access.
Cons
Difficult to set up, no user manual or template.
---
5. ShopSeries RK7315 16" Scroll Saw
If you're one who works with a lot of intricate cuts, curves and joints, you may want to consider this saw. It is ideal for working through different woodworking jobs at a fast rate.
Using its 16" throat depth, 2-½" cutting inches, and ⅘" SPM, you can make fast, clean and accurate cuts. When you couple these with its 0-45 degrees bevel, you will also be able to make specialized cuts for intricate designs.
For an optimum cutting experience, you would find that this saw comes with two 5" Tungsten carbide blades that can cut as deep as 2" at a 90 degrees angle. It also has an onboard that makes sure you never lose your blades.
As you work using the 1.2 AMP powered motor, there is a built-in dust blower that helps you keep a clean work area so that you can see what you are cutting and avoid making any errors.
Unfortunately, there might be one turn off you need to know about before you choose to get this saw. It vibrates a tad bit too much, and you may find that annoying. However, if you can overlook that, or choose to get an earmuff, you would be just fine.
Pros
It Works well for intricate and sophisticated designs.
It comes with Tungsten blades.
---
6. DEWALT D788 1.3 Amp 20" Variable Speed Scroll Saw
If you're big on anti-vibration features, this saw might be a good choice for you. Its anti-vibration feature is built to give you a noise-free cutting experience.
With a double-parallel link arm design, this scroll saw is one of the best scroll saws that has effectively tackled vibration during cutting. It drastically reduces vibration and noise to give you an accurate cut as you use it.
You don't have to worry about learning how to use this saw because it is configured to be user-friendly. You can learn the ins and outs in a very short period. The buttons and controls are easy to use so that you can get to cutting almost immediately.
This saw will give you a more accurate cut for when you're cutting intricate designs like jigsaw puzzles or trim pieces; it has a unique arm design that pivots from the back to the front of the saw. This way, the saw only has to move a shorter distance to give you a smoother operation.
With the on-off switch, speed control and blade-tensioning buttons mounted in front of the saw, you have all that you need within easy reach so that you can cut more flexibly. The cutting speed of the saw is another cool feature, ranging from 400 strokes to 1,750 SPM.
This is an electric-powered saw, so you do not need batteries. However, the one downside to this saw is that it has no LED lights to assist with making precise cuts.
Pros
Easy to operate and user friendly.
Anti-noise and vibration technology.
---
7. 18" Variable Speed Scroll Saw with Stand
This heavy-duty scroll saw comes with an electrically powered ball bearing induction motor. At 1.6 Amp, you have enough power to do many fast and stress-free projects.
It runs at a speed of 500 to 1500 strokes per minute, and cuts as deep as 2-¼" at 90 degrees or 1-¼ at 45 degrees. This ensures that your cuts are spot on, and done up to 2 times faster than usual. You can cut various materials, including plastic, soft and hardwoods, as well as aluminum.
Speaking of depths, the throat depth of this saw is a stellar 18" with a large, stable die-cast aluminum table where you can get your work done. You can also tilt this table to cut at a 45 degrees right or 15 degrees left angle. All so that you can make perfect cuts.
All the control knobs for this saw are fitted at the front end and top part of your saw for easy access; the speed adjustment, LED light and dust blower ON/OFF switches. A unique feature this saw offers is its sturdy steel stand that gives you proper stable operation height to ease the strain on your body while you cut.
Even though this saw makes the list of best scroll saws on the market, it is not without its downside. You might find that your bevel scale is not entirely accurate, and you may need to get a more precise angle reader to help with that.
Pros
Front-end knobs for easy access to controls.
Sturdy steel stands for stable operation.
Cons
The bevel scale is not very accurate.
It may be difficult to change blades.
---
8. Excalibur 16" Tilting Head Scroll Saw
The Excalibur saw has one major thing in mind with its unique design, and this is to protect you and give you absolute safety. You can find this standing out in its different features and mechanisms.
One key and new feature that this saw gives you is its upper and lower blade guard assembly that helps to prevent you from accidentally touching the blade while in use. You also have the Switch Protection button that keeps you from mistakenly starting up the machine.
With its unique head tilting and blade tilting setup, you can cut at a 30-degree left angle and a 45-degree right angle. This way, your cuts are more precise and accurate, and you have better control of how you want the saw to cut.
In terms of working table space and throat capacity, it is quite large. Its throat capacity is 16" while the table surface is 12" x 18½". Large enough for you to do wider jobs. Fascinating and innovative features, but you must note that the clamp feature that helps you to hold your project in place is not very solid, it shakes sometimes.
Pros
Protective features against accidental use.
Ample table space for large projects.
Cons
Its clamping feature is not as good as it claims.
---
9. Jet 727200K Scroll Saw with Stand
Using some of the best technological and innovative tools, Jet designed this 22" scroll saw to stand out among the rest and give you a user-inclined experience.
From its blade changing process, you would know that this saw was built in your best interest. It has an integrated blade storage feature with a slot that helps you preload blades and a built-in wrench for changing the blades. This storage feature fits in on the right or left side of the machine, as you wish.
It also has an exclusive upper mechanism that helps you to clamp and tension the blade in one go. The removable lower blade holder also snaps securely and firmly into place for your protection.
Using its 22" deep throat capacity, you can make extremely accurate and detailed cuts, and with its large 12-⅞" x 23" cast iron table, you can carry out bigger projects on a stable working surface. This feature also helps to limit vibration levels as you work.
Additional features you can look out for if you decide to purchase this saw are its dust port beneath the table to help you collect dust, a dust blower to keep your work surface clean, a manual footswitch and a stand (although it is sold separately).
This saw checks almost all the boxes, except for one little drawback – It weighs 115 pounds! That's quite heavy for a saw, and seeing as the stand is often sold separately, might be a bit of a challenge finding somewhere to set it up. You could either buy the stand with it or use a good, solid work table.
Pros
22" deep throat capacity.
Integrated blade storage feature.
---
Buying Guide
Just like other saws in your workshop, a scroll saw is great as a cutting tool, but what makes it stand out is the ability it has to make intricate and detailed cuts which other saws cannot do. The best scroll saw should be able to cater for both small and large projects.
How to Choose the Best Scroll Saw
There are three major types of scroll saws you may need to choose from. They are the Rigid Arm Scroll Saw; the Parallel Arm Scroll saw or the Parallel Link scroll Saw and the C-Arm Link Scroll Saw. They all have their pros and cons but by using this guide, you should be able to make the right choice.
Key Features to Look Out For
Key Features to Look Out For
The Size of the Scroll SawThe size and dimensions of the scroll saw matters. Short scroll saws are quieter and vibrate less. However, what your primary concern should be with is how thick your scroll saw blade can cut and how deep the throat length is.Always look out for the maximum thickness of the scroll saw and see if it is suitable enough to get your job done. The throat depth also determines the size of work you can get done, so take note of this.
The Speed of the SawScroll saws come with different speed capacities. The strokes per minute of scroll saws vary by model. This speed is what tells you how fast you will cut and at what rate you will get your projects done eventually. Some saws have variable speed features. This allows you to control the speed of the saw to suit the type of material you are cutting into.
The vibration technologyAs scroll saws vary, so also do the different technologies that are used in the saws. Anti-vibration technologies in scroll saws may vary, while some may not have at all. Look out for saws that have quality anti-vibration technology and shortlist them to make your search easier.

Additional Features and MechanismsScroll saws may have some or all of these other features: Clamping system, unpinned or pinless blades, table tilt or blade tilt mechanism, LED lights, stands, dust blower or port, etc. Whichever saw you're looking at should have any of these features you deem necessary for your work.
What's your Budget?
With all this information at your disposal, you are rightly equipped to choose for yourself. However, one little hitch you may have might be your budget. How much have you planned to spend on getting a scroll saw? Whatever it is, it would be vital for you to have an idea about what you need before you proceed.
Usually, good scroll saws cost as low as $50, but if you want to go for the best scroll saw, then you should be ready to spend about $400 or more.
Conclusion – The Best Scroll Saw, Our Choice
Having examined the ins and outs, and pros and cons of all the saws on the list, we can agree that they all have great features. However, there is one that surpasses them all, and that is the DEWALT D788 1.3 Amp 20" Variable Speed Scroll Saw.
Its features are simply outstanding, and it gives you little difficulty when you use it. Asides its missing LED light feature, this saw caters for all of your ripping needs. It is flexible and user-friendly. It also cuts fast within a range of 400 – 1750 SPM.
For the price, it will serve you well and give you a long usage span with minimal issues. If you're looking to get the best scroll saw, this saw is a great choice.
*We are a participant in the Amazon Services LLC Associates Program, an affiliate advertising program designed to provide a means for sites to earn advertising fees by linking to Amazon.com.