We all are aware of the fact that when we walk into a kitchen, the last thing we'll notice will be the range hood. How about we make it the first one? Apart from its use for the proper ventilation when we are cooking, it also could be a decorative element in our space.
Many of us are concerned about owning a stylish and functional kitchen at the same time and pay attention to each of the parts which consist it. When it comes to hoods, here is a list of some of the best ones, which cover every size and taste!
33 Best Kitchen Hood Ideas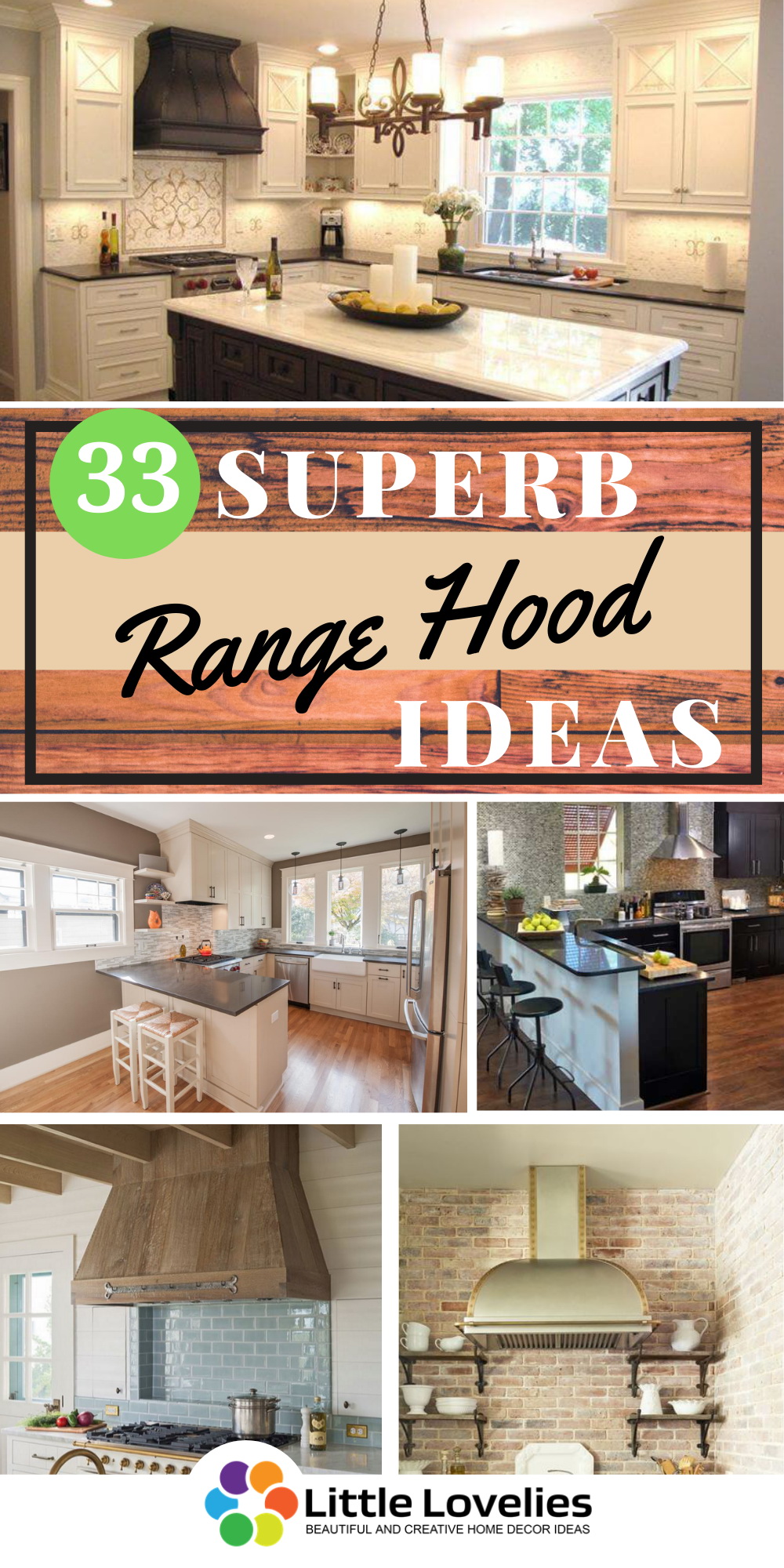 1. Stripes Do The Trick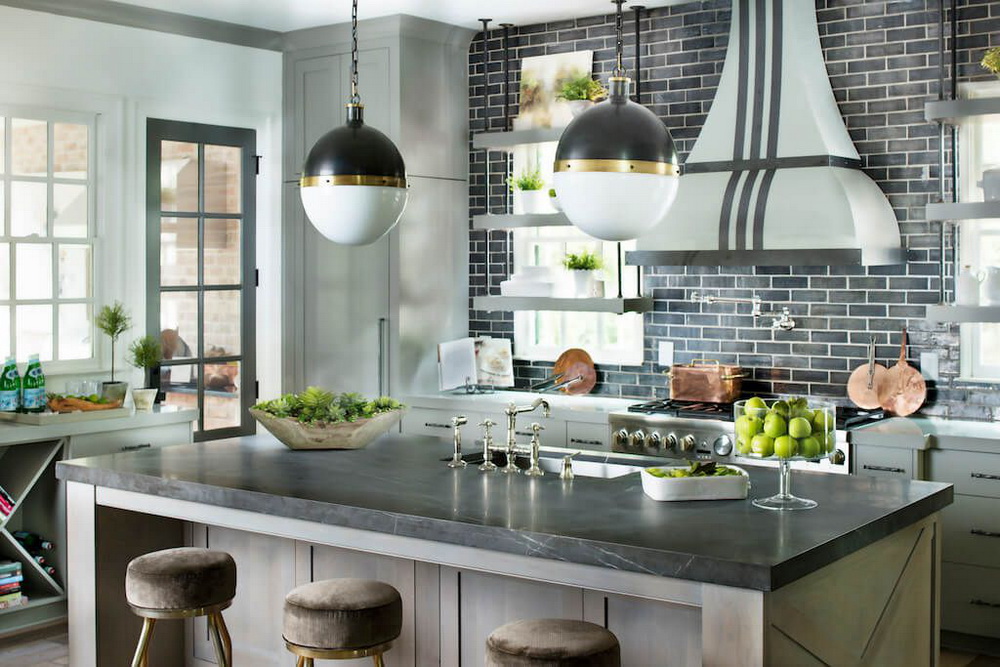 This wonderful big range hood in white colour with grey stripes is everything you need for a modern and retro style at the same time. The grey tiles on the wall and the white shelves on the right and left side of the hood, produce a contemporary image.
2. The Timeless Combination Of Colours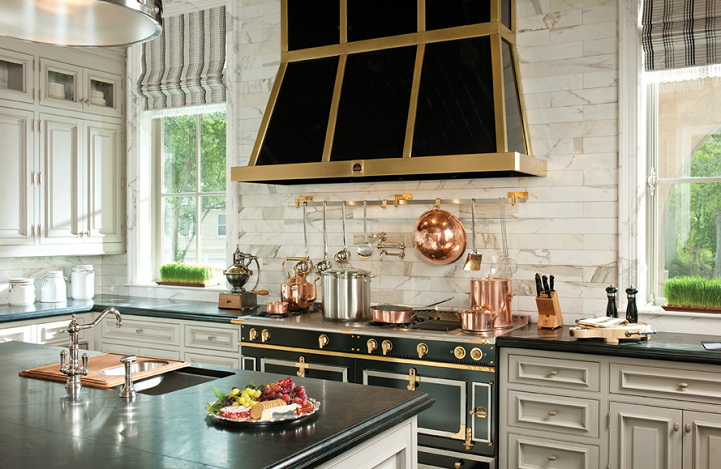 The first minute you walk into this kitchen, which is at its most part white coloured, guess what will catch your eye. A huge black and gold range hood matched with a cooker of the same colours and the unforgettable contrast with the walls!
3. Don't Underestimate Traditional
For you who prefer a more rustic style, you can take the advice from this book and install a French range hood. It fits beautifully with the light brown wooden cabinets, and the drawing with the wheats in a vase brings your imagination to a cottage near the nature.
4. One With The Wall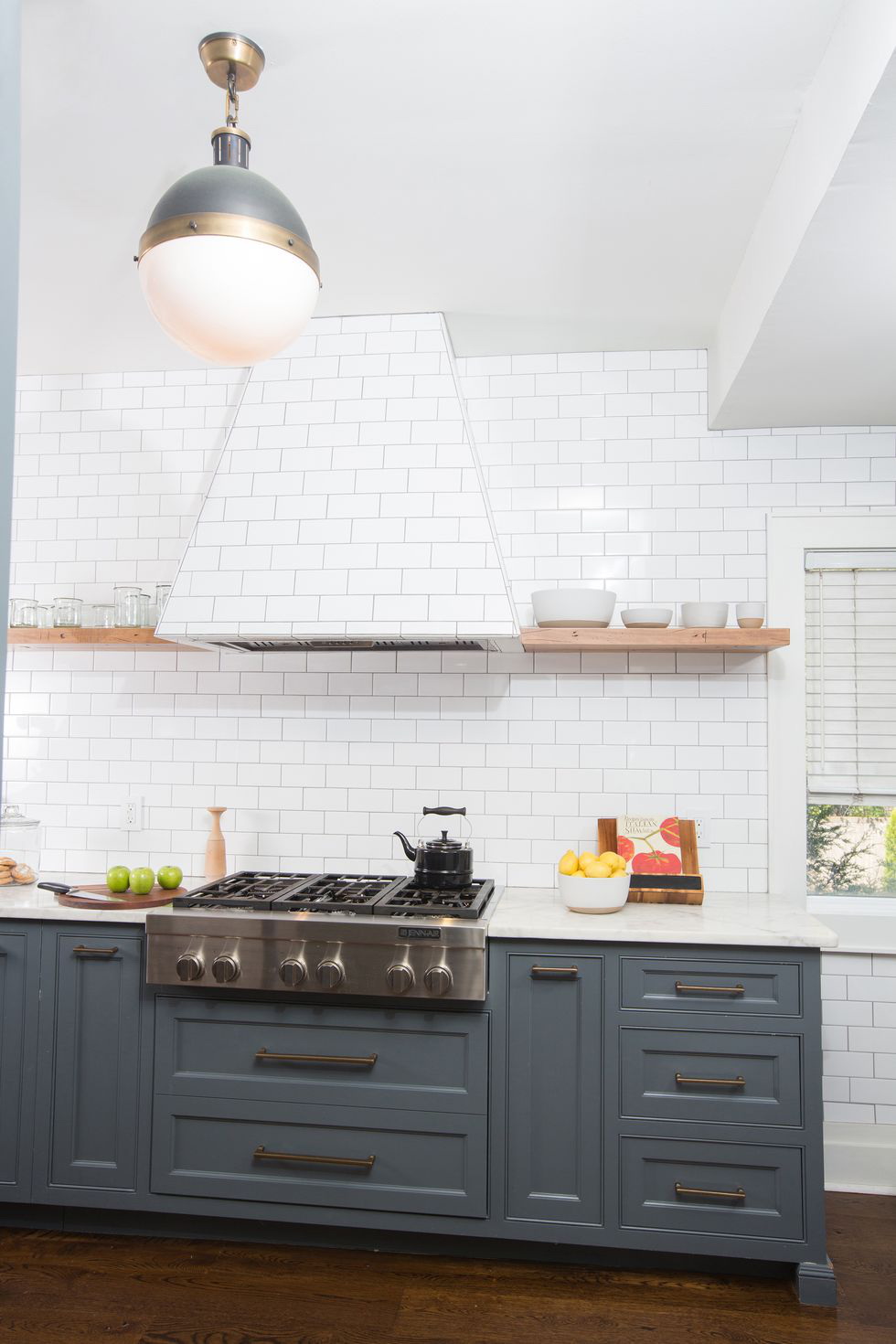 Simple but unique idea are the right words to describe this hood. It has the same white tiles on, like the wall behind it, and its limits are clearly visible with the help of the wooden shelves on the left and right side.
5. Enhance The Brightness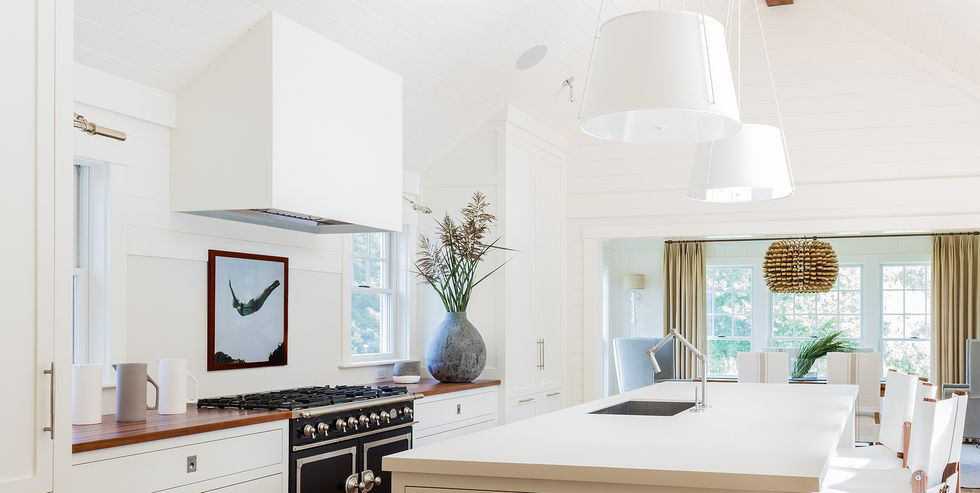 Follow the modern approach and install an unusual shape of range hood on the ceiling. In a sense, this rectangular white range hood offers a minimalistic breeze in the decor of the kitchen, allowing enough space underneath it to hang a picture or a painting.
6. Party Time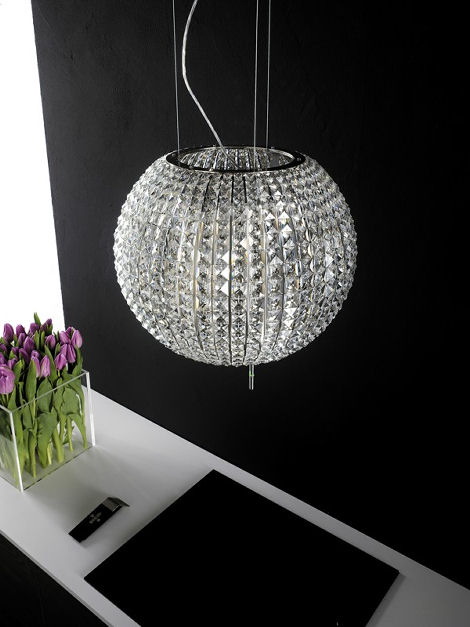 I can bet that you 've never seen a hood like this before! This amazing suspended hood with polished steel parts and pieces of glass resembles something between a light fixture and a disco ball! Contemporary style check!
7. Classic With A Twist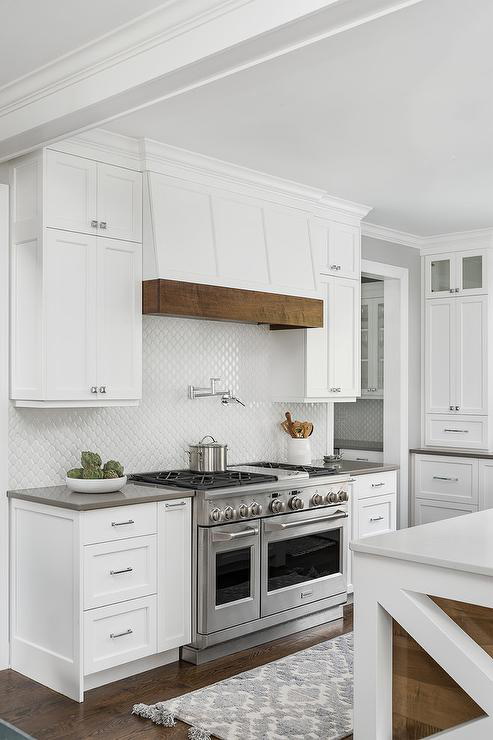 Although a clean decoration in a white kitchen might be tempting, why not add a little something more to it? These unique details can be added on a white range hood with just a wooden finish and arabique type tiles on the back wall!
8. Two in one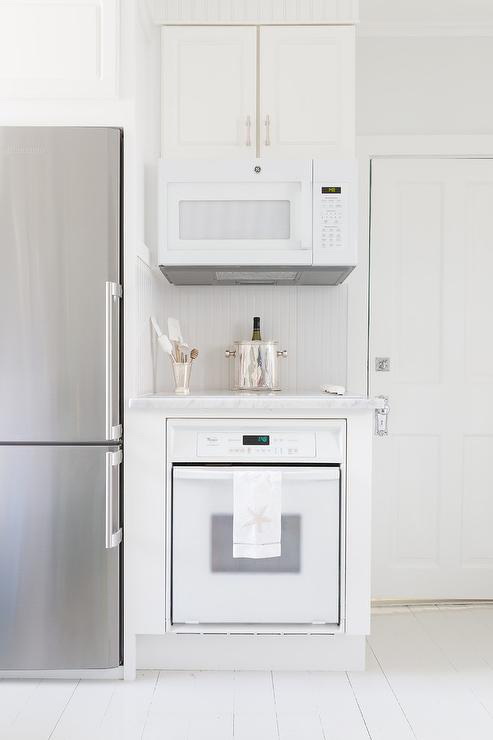 This truly clever installation is perfect for small sized kitchens. A hood which is a microwave at the same time could save some space and it's a way to keep the appliances closer to you while you are cooking.
9. White Wood Never Fails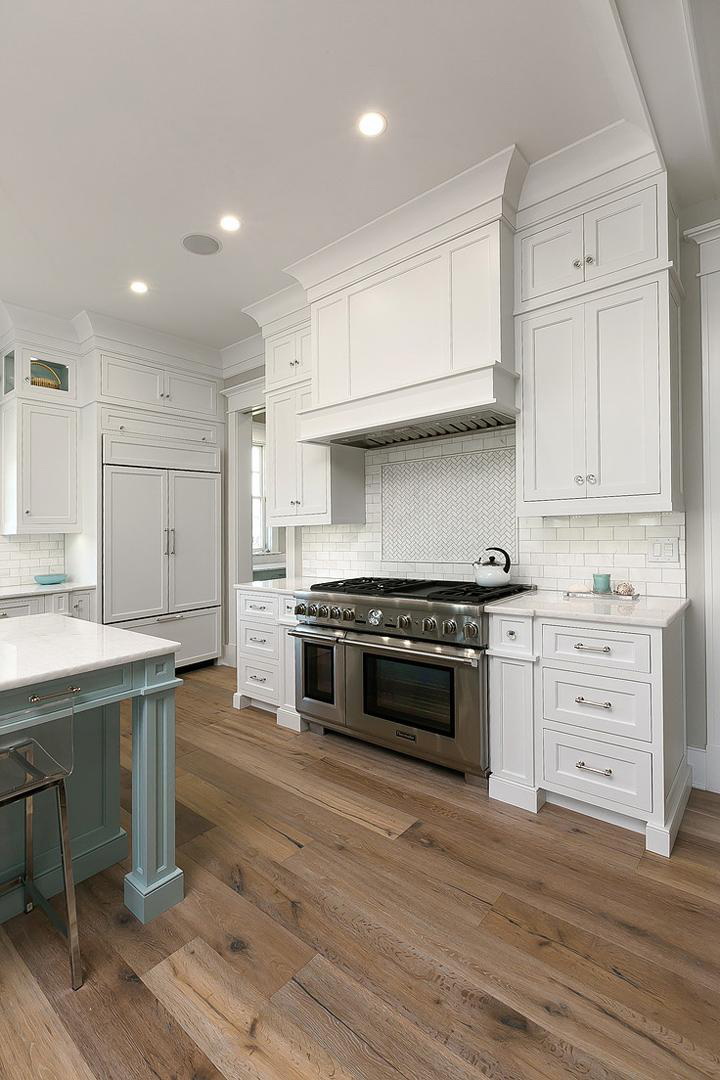 A large white wooden range hood is what you need when you have a cooker of respectable size and a roomy kitchen. It's classic, it's stylish and the decorative panel with the tiles beneath it completes the picture!
10. A Smart Shopper Buys Copper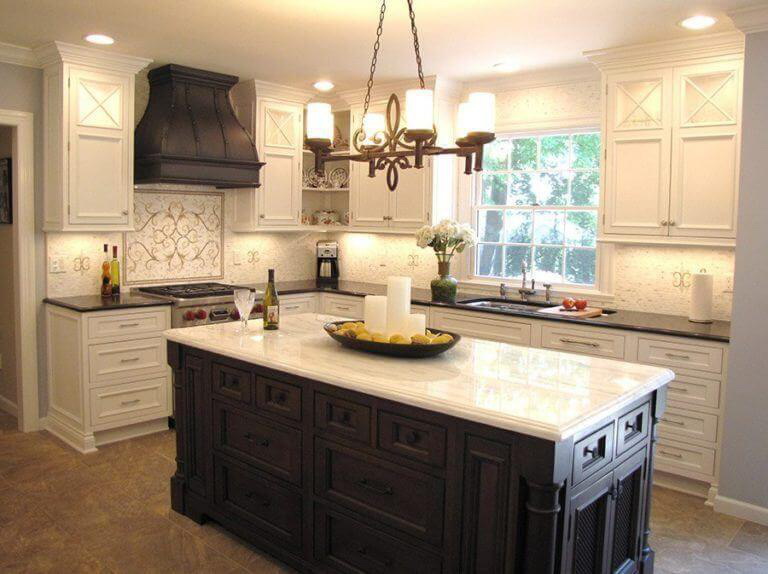 Invite the industrial style in your kitchen and make your range hood a separate entity by using a different but qualitative material. This copper range hood is totally an eye-catcher and fits perfectly between the two white cabinets!
11. Not Old, Just Retro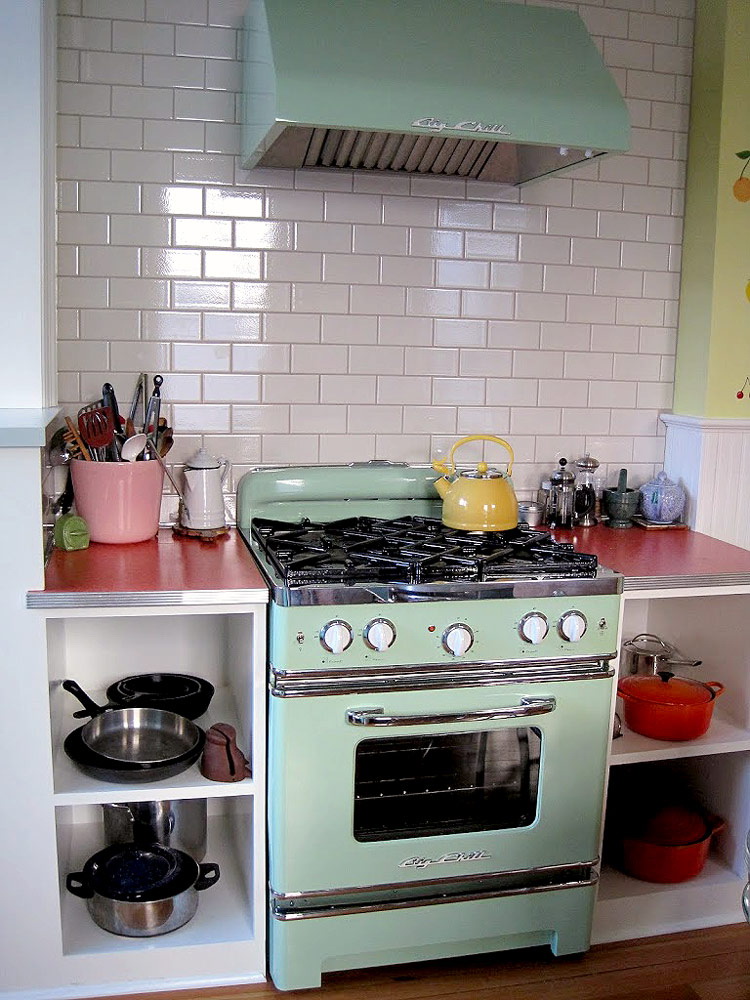 Go back in time with this extraordinary retro kitchen hood, which of course goes together with the cooker. A brilliant light green addition to your kitchen if you seek for vintage details to make things more interesting.
12. All You Need Is Less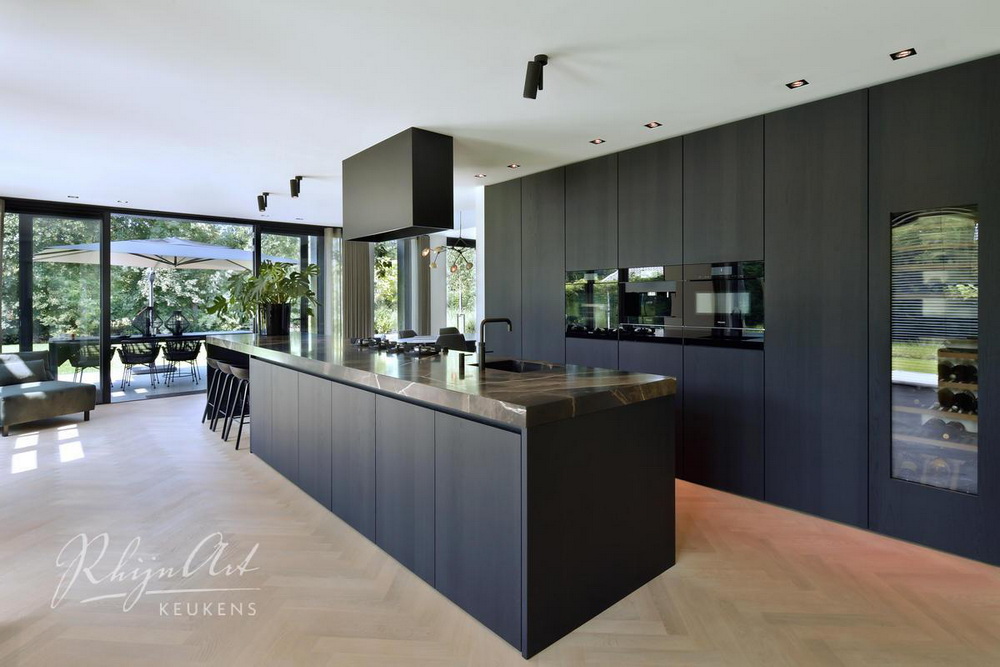 The total black kitchen with the wooden floor is the clue which introduces you to the minimalistic decorative style. A black simple hood in rectangular shape attached to the ceiling is exactly what you need to enhance the style, but also to impress.
13. Go Orient and Do It Yourself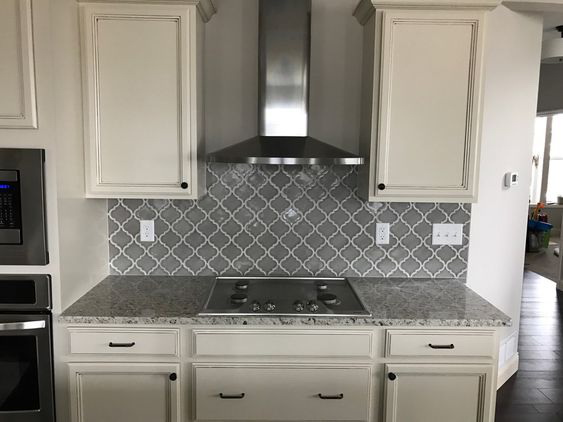 If your budget is not limitless and you need a nice solution to improve the look of your kitchen's hood area, here what you need to do. Have a simple metallic range hood, buy an arabique backlash, install it to the wall right underneath it and make it work!!
14. The Treasure Chest Of Cooking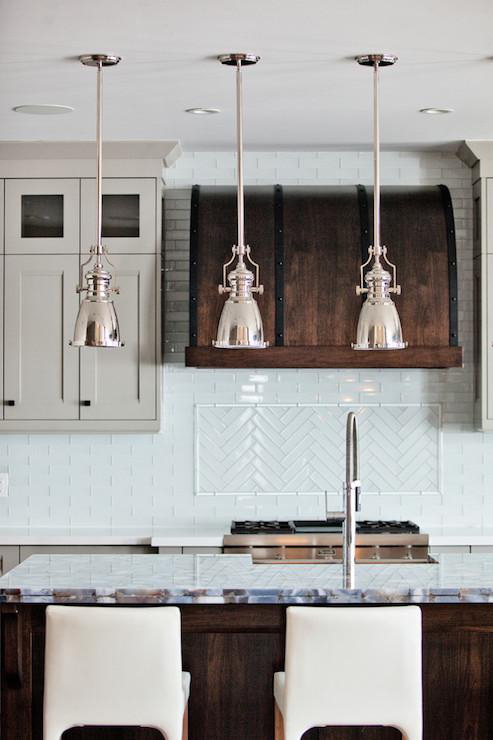 The shape of this range hood might resemble a chest, but it is actually made from a walnut wood barrel. I have to say that the result is unbelievably beautiful and the idea itself is at the least innovative.
15. Don't Fear The Grey Days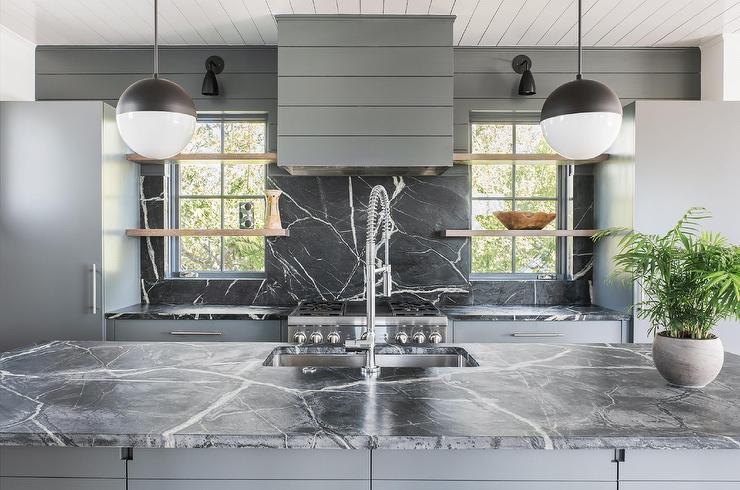 If elegance is what you want to achieve, then try this grey shiplap rectangular range hood. It follows a modern style and it is combined very well with the black marble cooktop and wall.
16. Go Vintage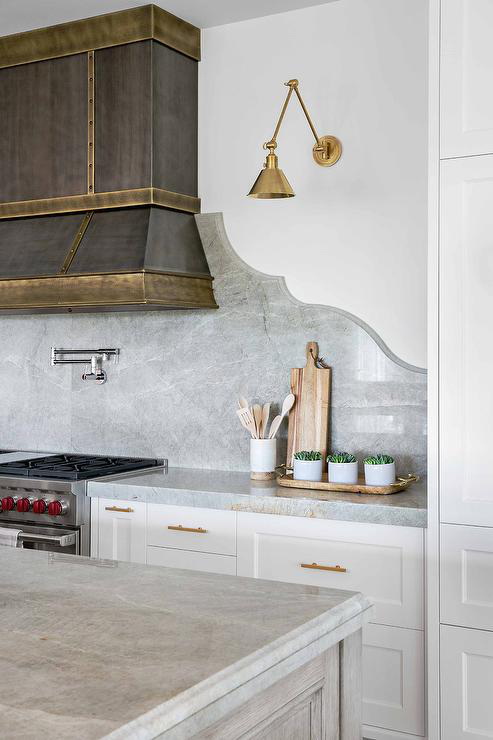 This metallic black and gold range hood will be a gorgeous addition to your kitchen. From stylistic perspective, the grey marble backlash and the golden lamp next to the hood create a one-of-a-kind style between vintage and industrial.
17. Good Wood-Good Hood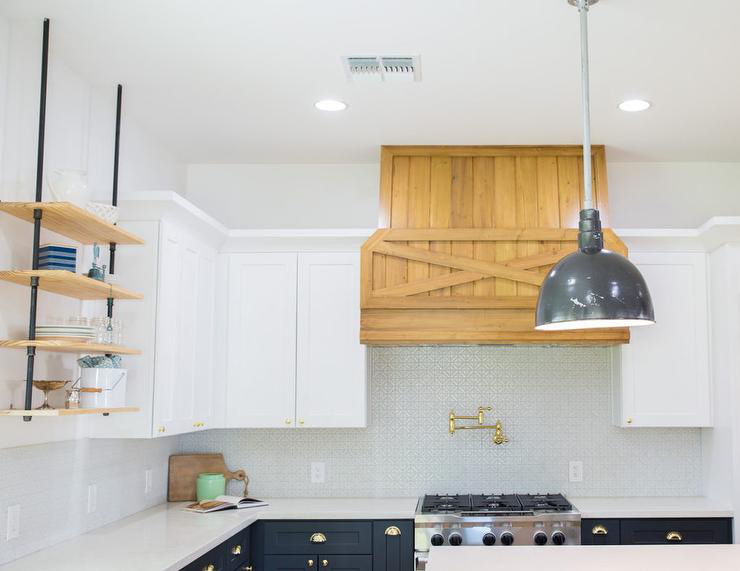 An interesting tone is added to a small kitchen if you choose a wooden range hood. It is combined in a interesting way with the navy blue cabinets, the brass details and a decorative white backlash!
18. Mosaic On The Wall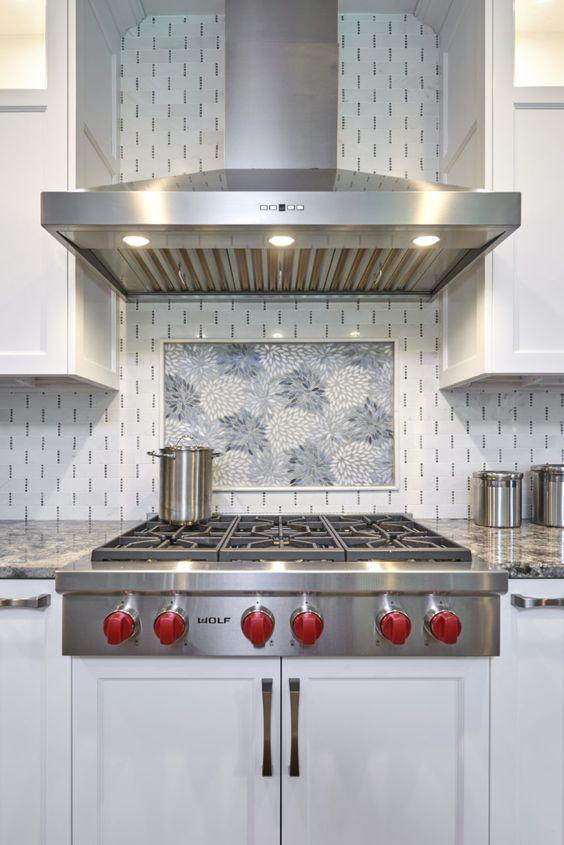 When you own a simple metallic range hood, there are always ways to make it stand out. Fill the back wall with tiles and incorporate a unique mosaic panel in smooth to the eye colours. It add a rustic singularity which you will not encounter often in kitchens.
19. Creativity Level 100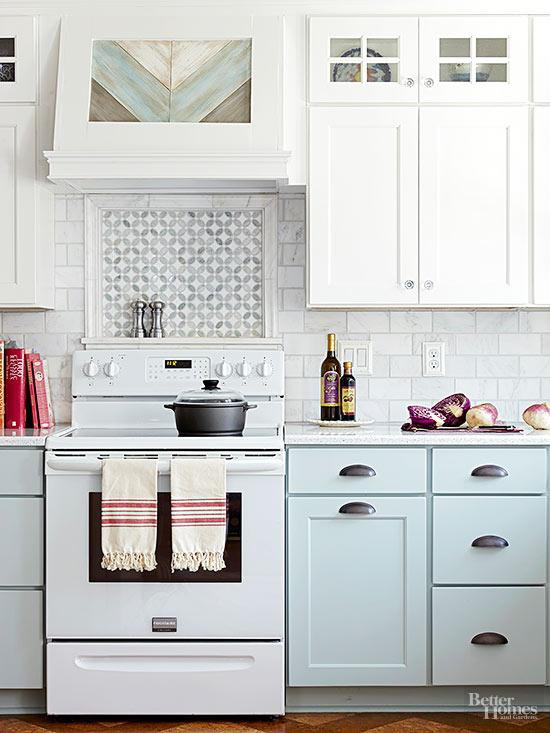 If you are good in creating stuff, then this DIY project is perfect for you. Construct a wooden range hood with a light painted panel with colour that match the rest of the kitchen. Don't forget to add a decorative element on the wall under the hood!!
20. Old Enough To Become A Classic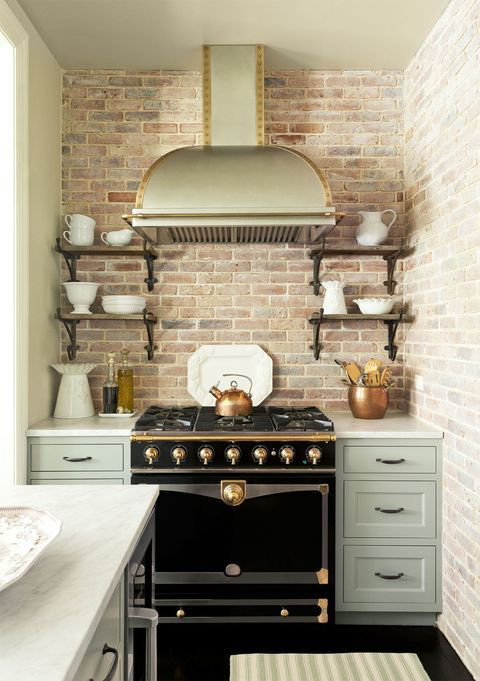 When we use the term "antique" on decoration, that's what we are talking about! This amazing range hood with the golden stripes on the edges, the "old type" shelves and the wall with the bricks is definitely a magnificent choice for someone who appreciates the oldies.
21. Mighty Oak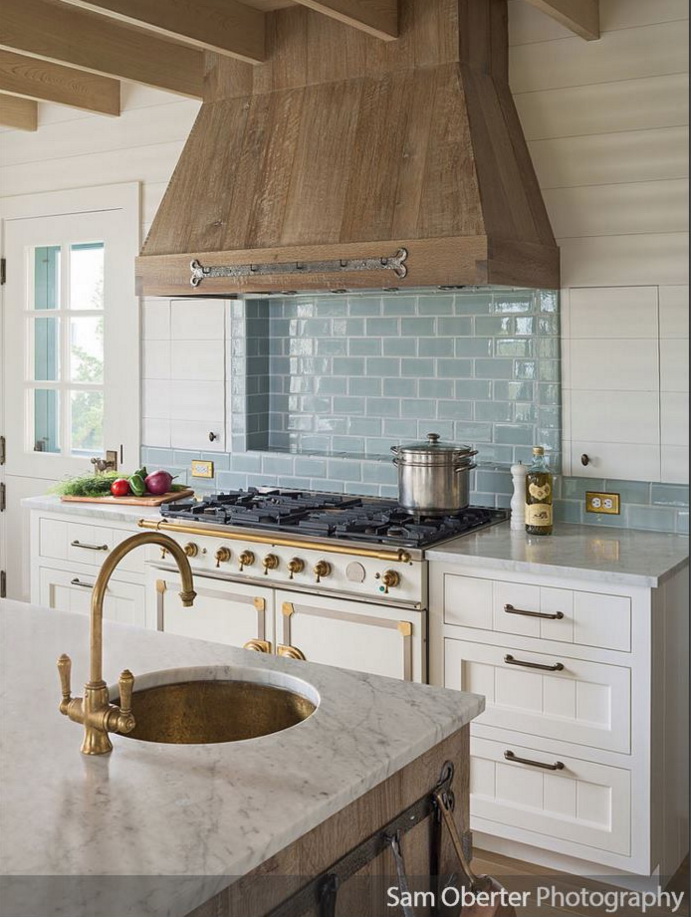 At some point, it all comes down to rustic. An excellent choice for a wood lover is this cottage style range hood. The combination with the light blue tiles, creates a whole new image infusing the contemporary element as well.
22. Brace Yourselves, Metal Is Here!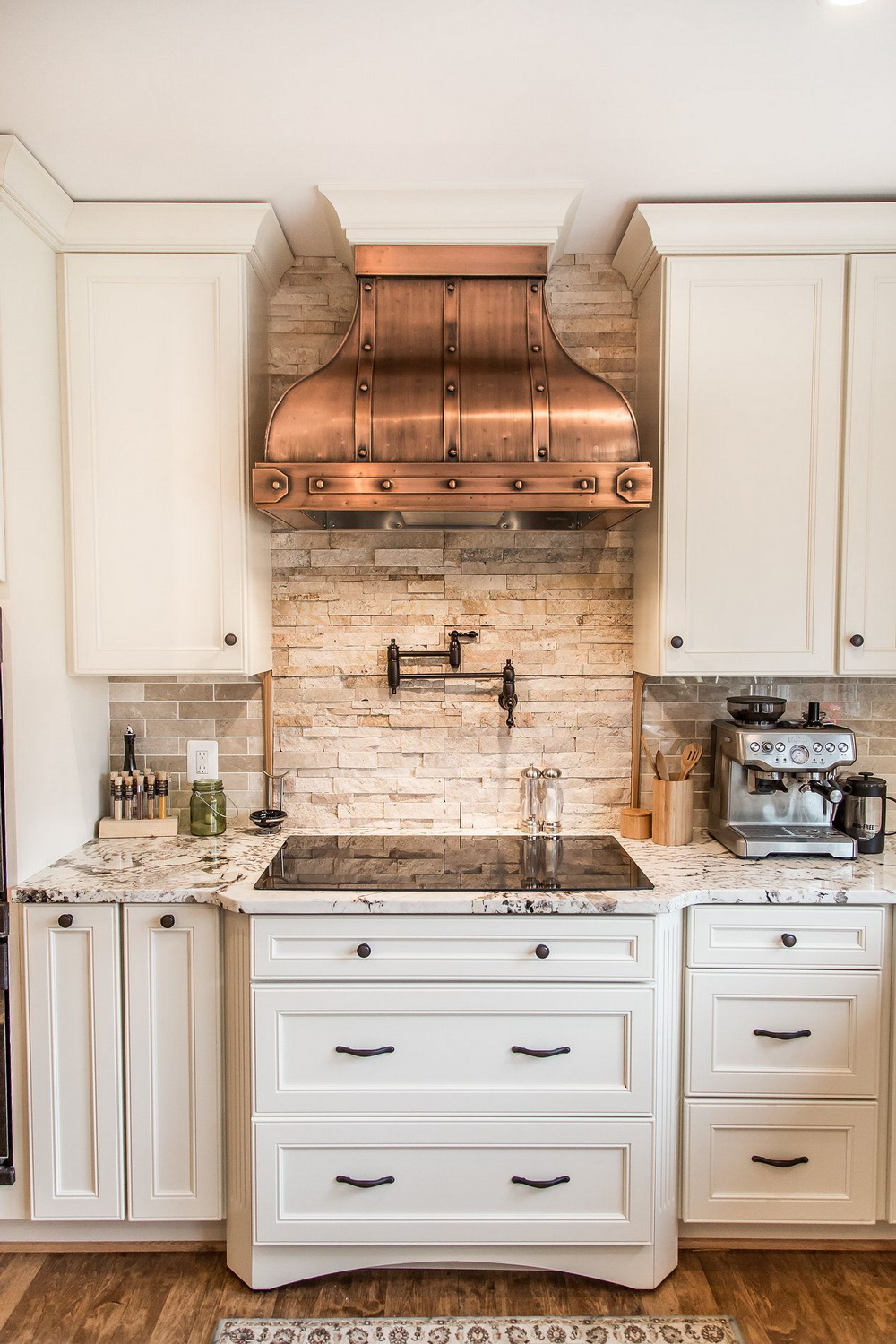 Industrial design people, the time for you has come! A copper range hood with patina finish together with other details to enhance this decorative style, is a marvellous addition to consider for your kitchen!
23. Stay Bold, Stay Gold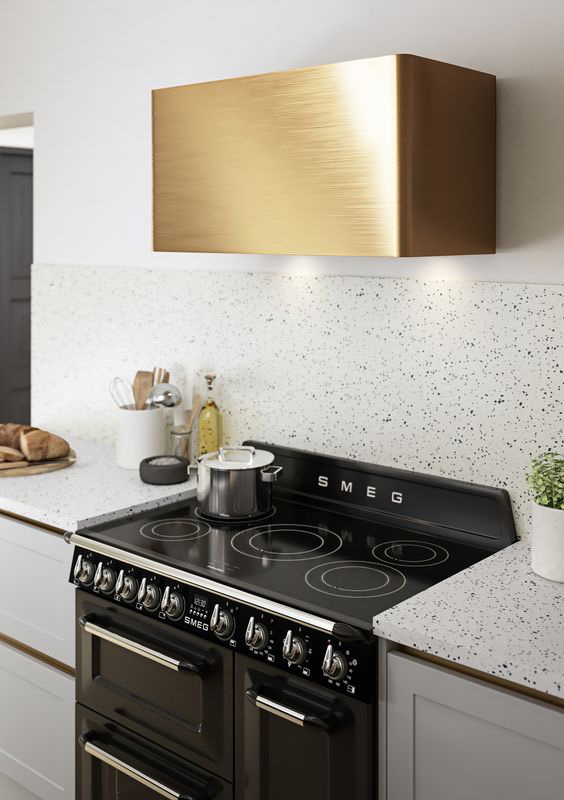 If you desire to own something that really makes an impression, this gold range hood it perfect for you. Simple, Shiny, functional and somehow minimal designed, I can picture it either on a white wall like this example, or even on a black one for additional contrast.
24. Black Is Always In Fashion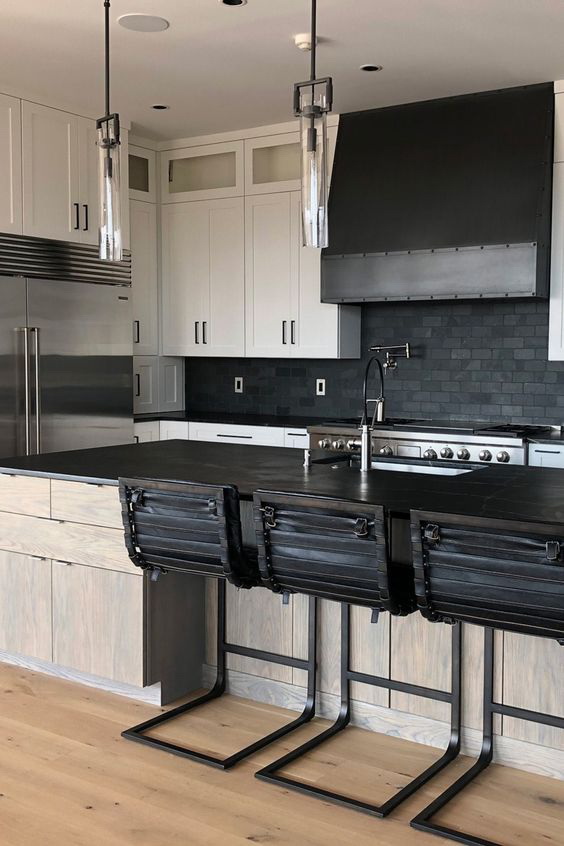 If this image doesn't scream "modern", then what does? For you who desire a black colour decoration, the copper range hood together with the wall of black tiles and other black details in the room is an excellent choice.
25. Make An Artistic Impression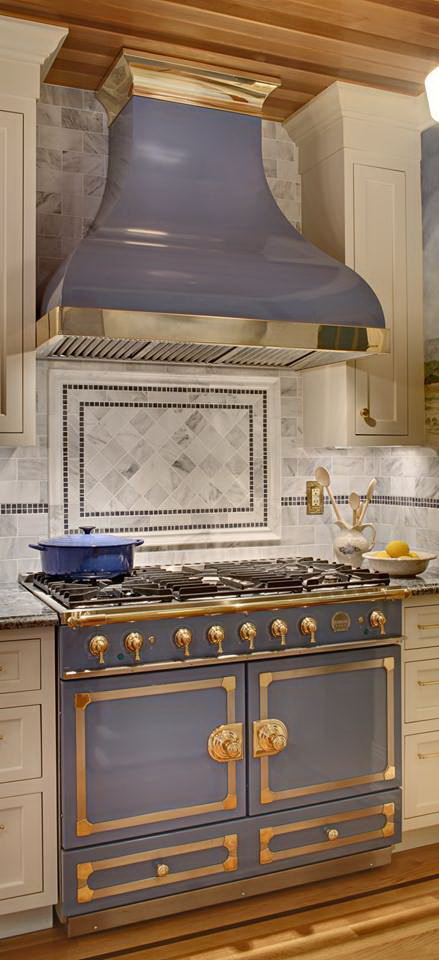 If you wish to achieve a look for your kitchen that will really stand out, install this baroque range hood in any colour you desire. It also comes with a brass finish which acquires it with the glow, which an intense style like this demands.
26. Back In Time Once More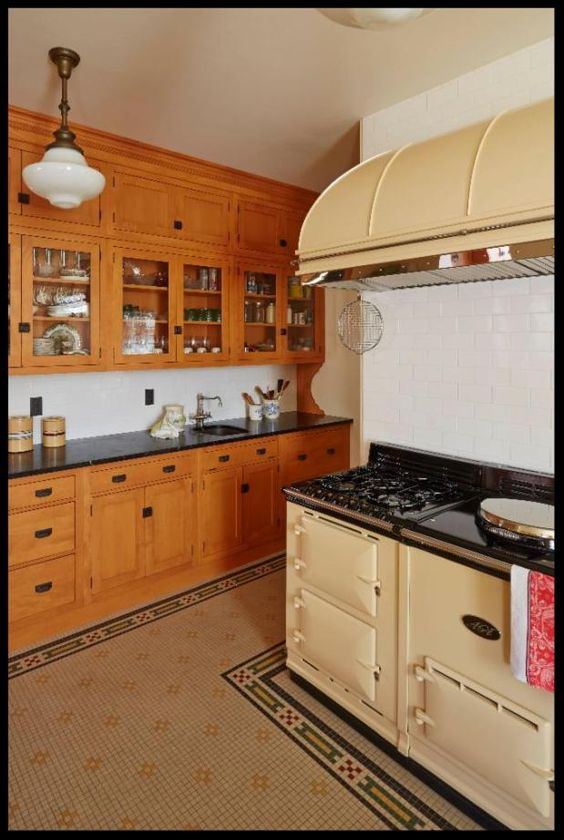 This is another retro range hood, but this time it is bigger and in beige colour. This neutral paint is important, because it gives you the potential to combine it with many different colours on the other elements of the kitchen.
27. Hang It In the Middle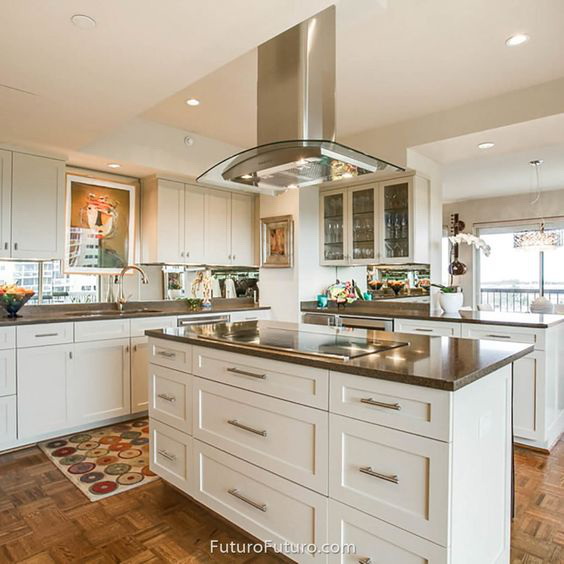 What happens when your kitchen is roomy and the cooker is in the middle of it? Maybe all you need is a subtle solution by using a steel range hood which is effective, sturdy, provides a sleek atmosphere and you attach it to the roof.
28. Use Everywhere The Same Colour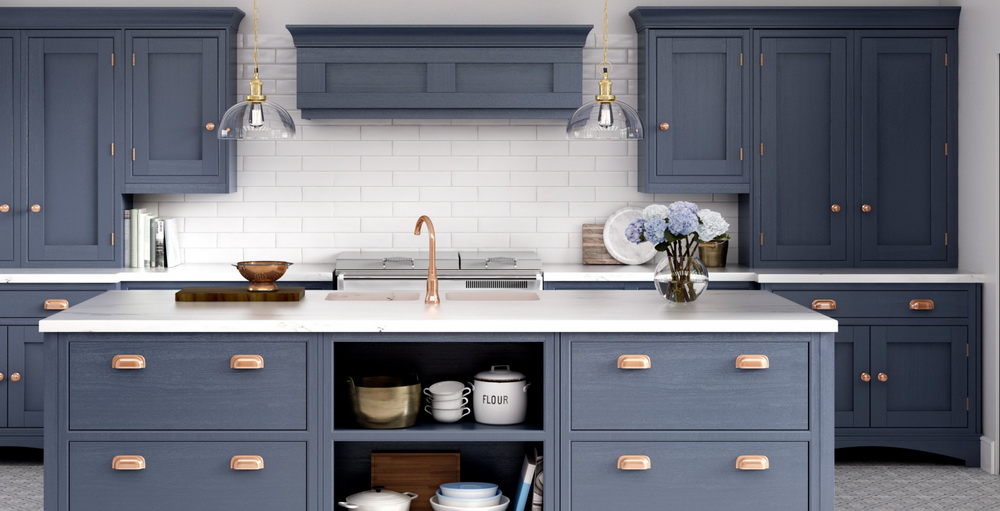 I have to say, navy blue is one of my favorite colours for any room of the house. In this case, everything in this kitchen is in this colour, including the range hood. They even use the classic but beautiful combination with the white walls.
29. Classy Time!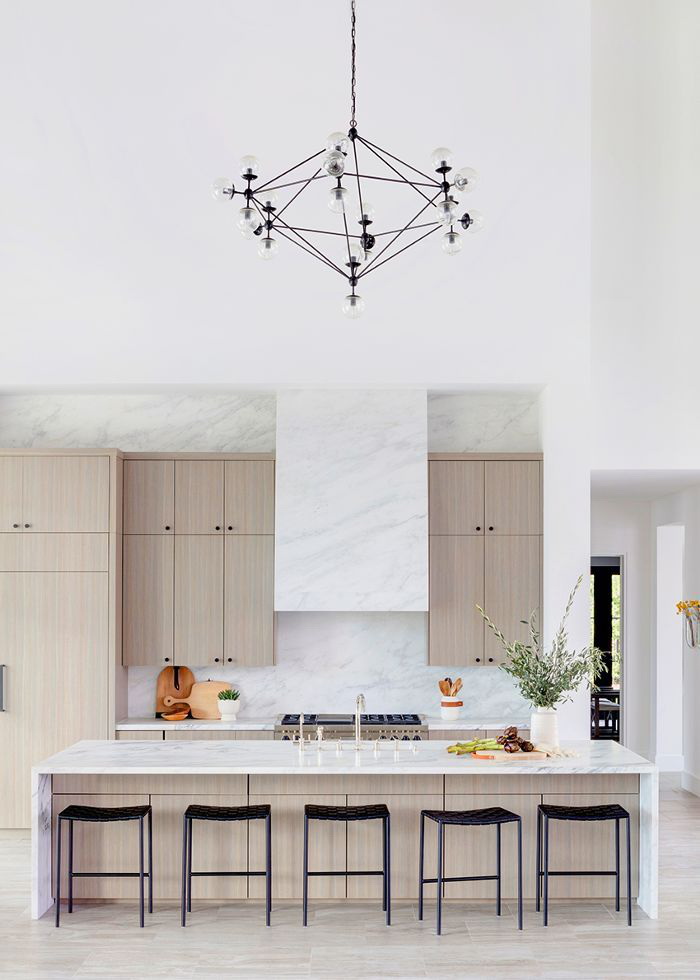 One of the materials which add a high-class image to a kitchen is definitely marble. In this case, we have white marble on the walls, on the island and on this amazing long range hood which is hard to distinguish. That goes on my top 5 list of hoods!
30. Elegant Wood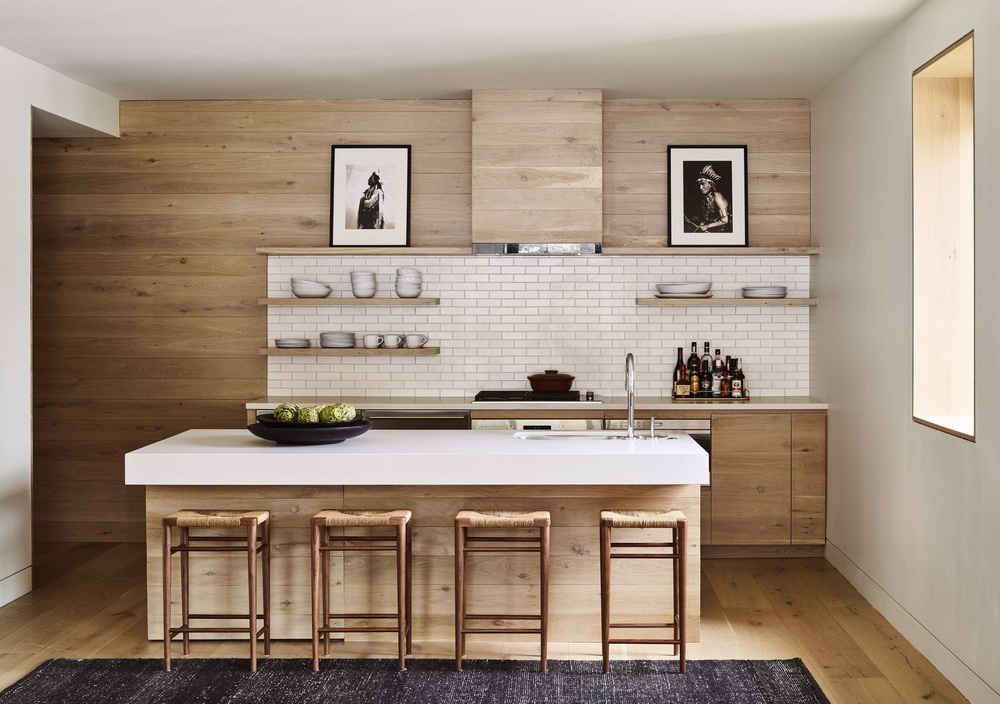 A bright kitchen with smooth wooden walls with planks. In order to not disrupt this relaxing view, add your range hood as a continuance to the wall, made also from light brown wood and a metallic trim as a small detail.
31. Tubes aren't only used for Water Plants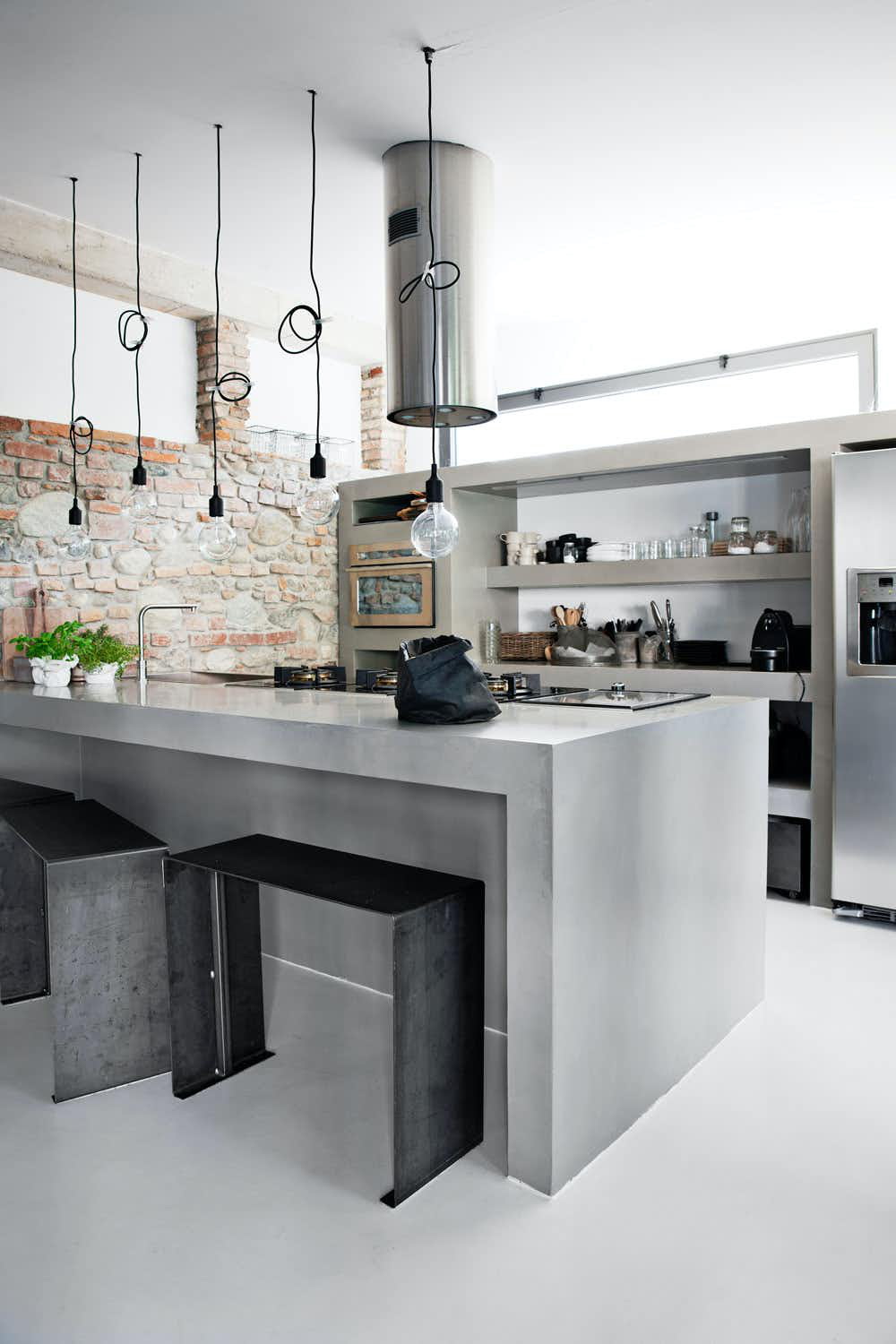 Innovative? Yes. Modern? Yes. Unusual? Yes!! Welcome to modern industrial world with a great idea. This tube shaped metallic hood is the element you need to cause the "wow" factor in your kitchen!
32. Geometry Is Important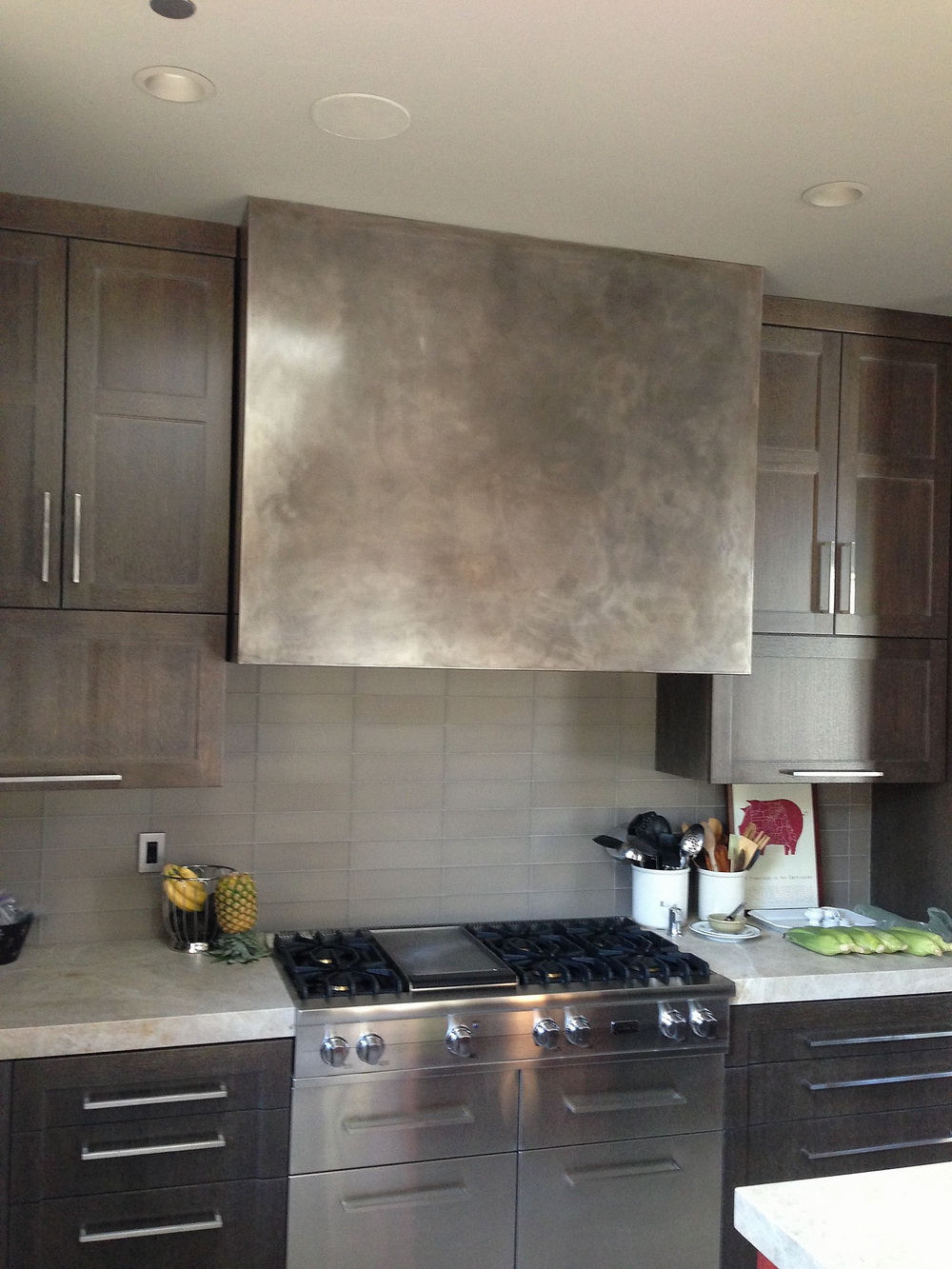 Another modern addition in this list is a rectangular stainless range hood for anyone who wants to step away from the common hoods. A very good solution for any contemporary style kitchen if what you search is simplicity but uniqueness at the same time.
33. Time Is Of Essence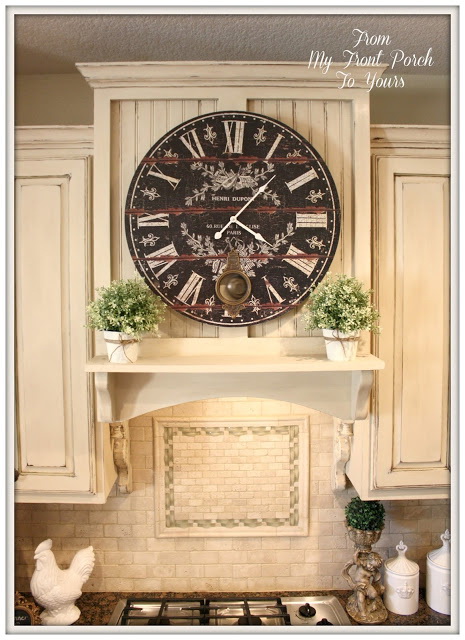 This lovely wooden range hood is a great choice for any rustic style kitchen. We should add some points here for the fact that you can do it yourself, and the clock, because who doesn't need one when they are cooking??
Conclusion
On the bottom line, choosing a range hood always has to do with the other elements of a kitchen. Nevertheless, there is a wide variety of styles, materials and sizes from which you can go for. It all comes down to your own taste and you must always remember that you might need something functional, but you always want it to be stylistic.