These kids' bathroom ideas will make everyone want to take a piece of inspiration from you!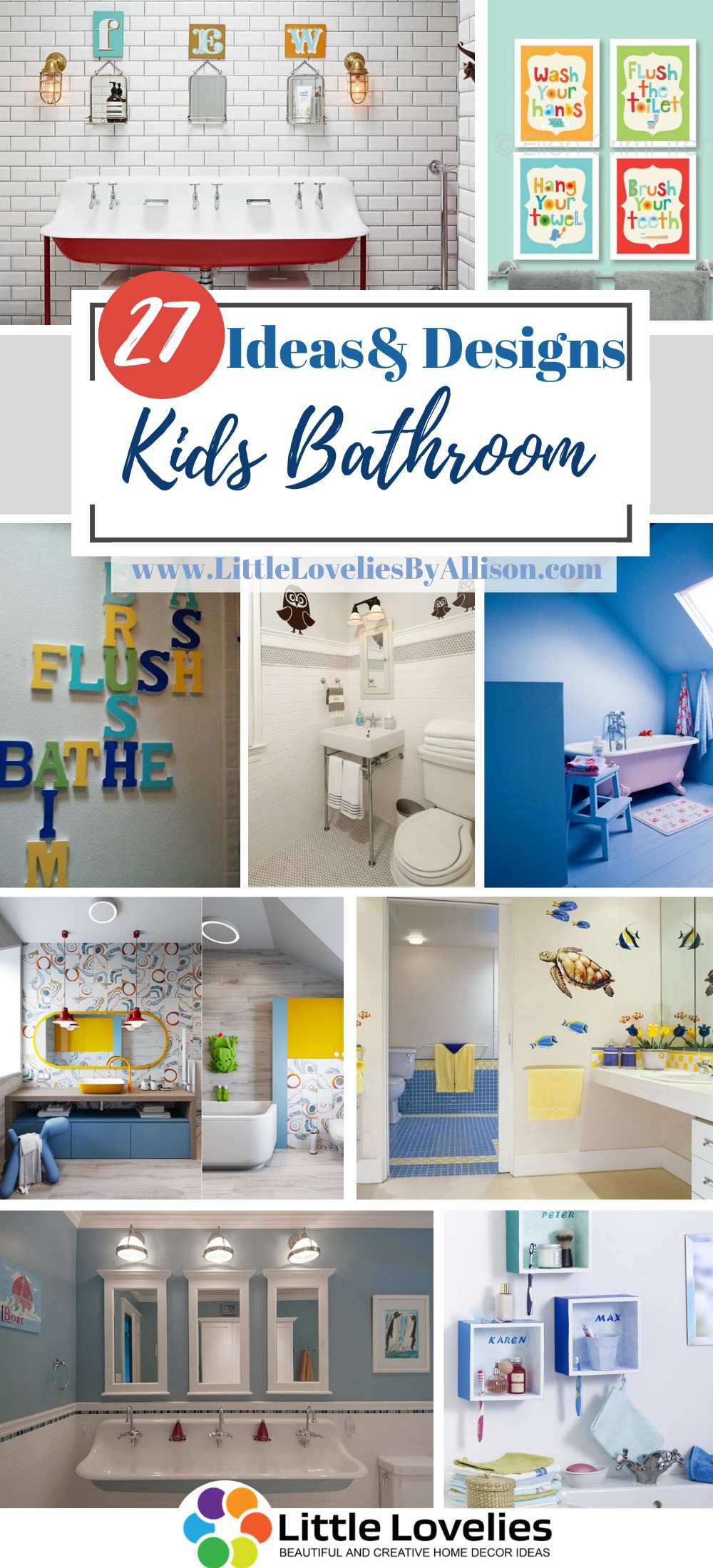 The Idea Behind Designing A Good Kids Bathroom
Kids are very bubbly and fun, which is the ultimate inspiration for you to design your kid's bathroom accordingly!
A fun color scheme along with an interplay of interesting accessories does the trick.
Stay tuned as we introduce you to some exciting kids' bathroom ideas that everyone in your family will dote on!
1. Holographic Rainbows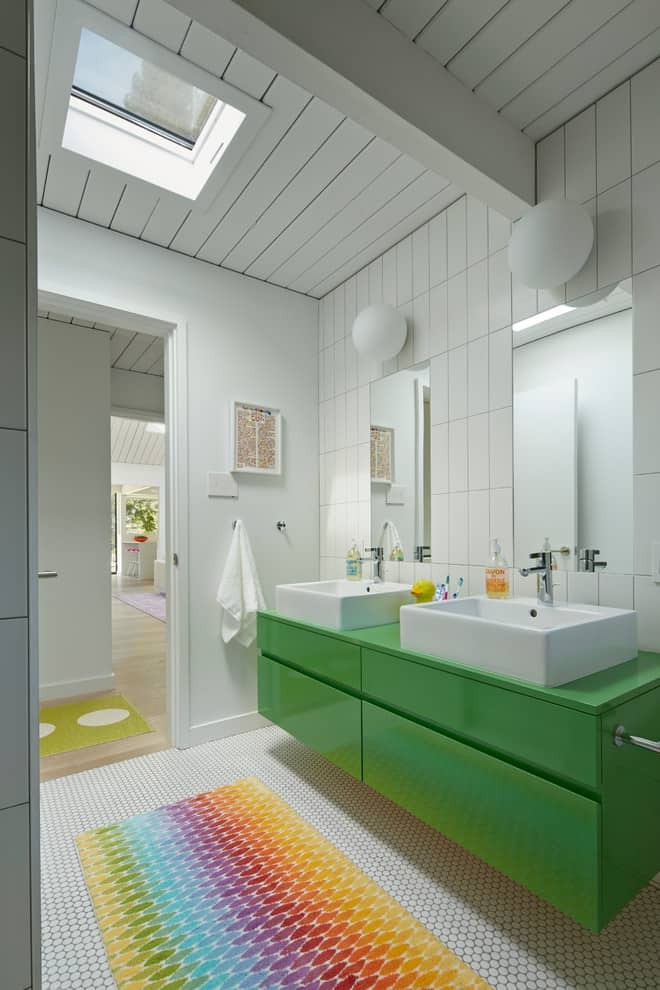 A great way to impart a fun element to your kids' bathroom is to add a bit of holographic and rainbow accessories, like the floor mat shown in this bathroom! The idea of using a glossy chameleon green vanity is also wonderful to give a vibrant pop of color!
2. We Love Lilac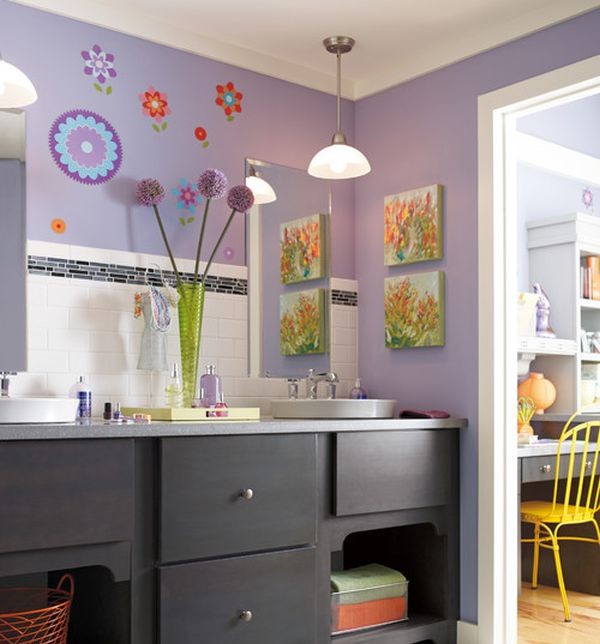 Everyone does! This is a great way to amp up the colorful component for a kid's bathroom area. You can further enhance it by sticking cute stickers and mood-uplifting floral frames. And let us not forget the vases and bright yellow chairs, in case your little one likes to see him/herself in the mirror while brushing the teeth!
3. Dazzling Lights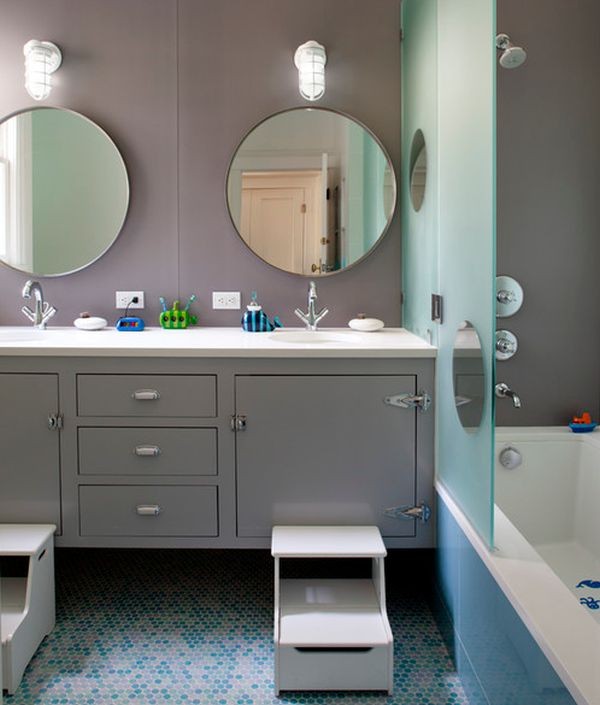 For those who share a bedroom, a double-stack vanity with two separate washing areas is a great way to uplift the vibe of your kid's bathroom! Accompanied by a circular mirror and a pair of shiny sparkling lights, so that every morning can be as bright as their future!
4. One Two Buckle My Shoe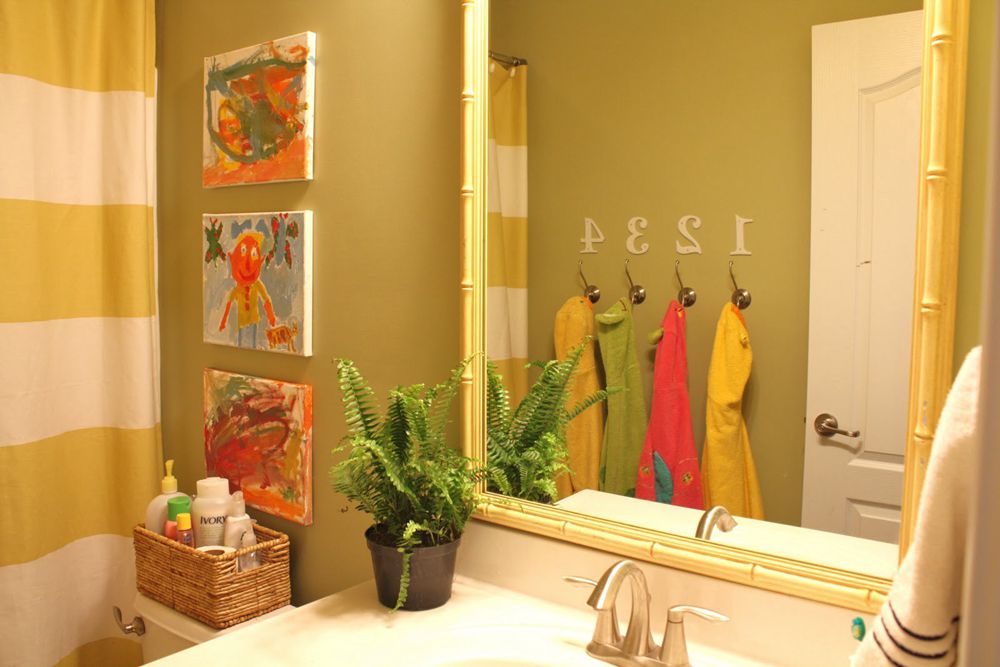 Hang your child's art projects and canvas paintings in the bathroom to remind them of their inner artist daily! This will also give a more customized look to your bathroom. A coat hanging stand is a must for winters and placing numbers on top of each hook will help them learn number sequence!
5. The Benchmark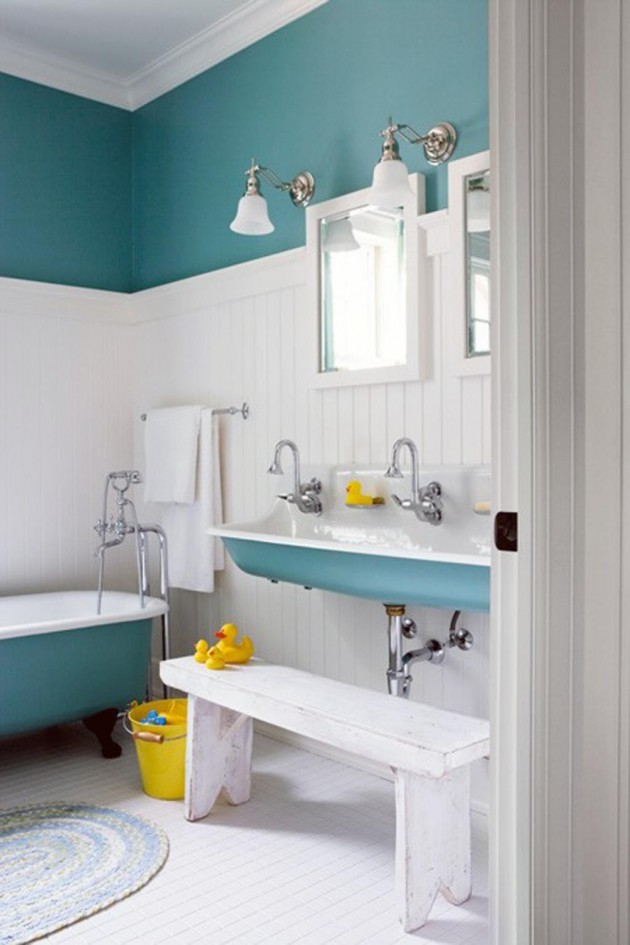 Instead of going for traditional stools, placing a bench in your kid's bathroom is a really great idea! Rubber duckies and ocean blue paint are great additions to impart a cool and beachy vibe!
6. You Are My Sunshine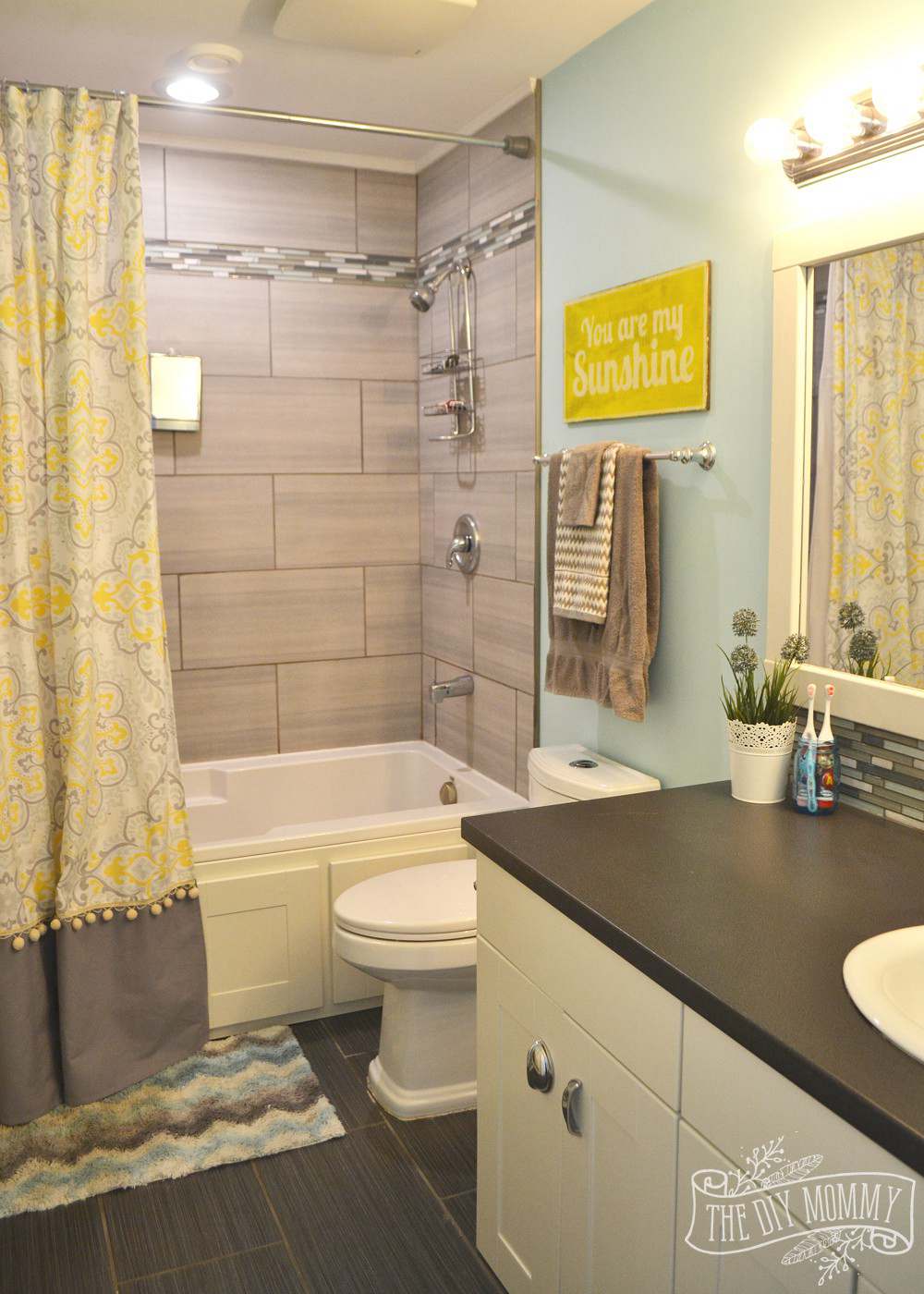 Hanging frames with comforting and loving messages are a great way to show love towards your precious one. Floral abstract curtains and warm-toned lighting can further enhance the features of a bathroom for your child.
7. My Little One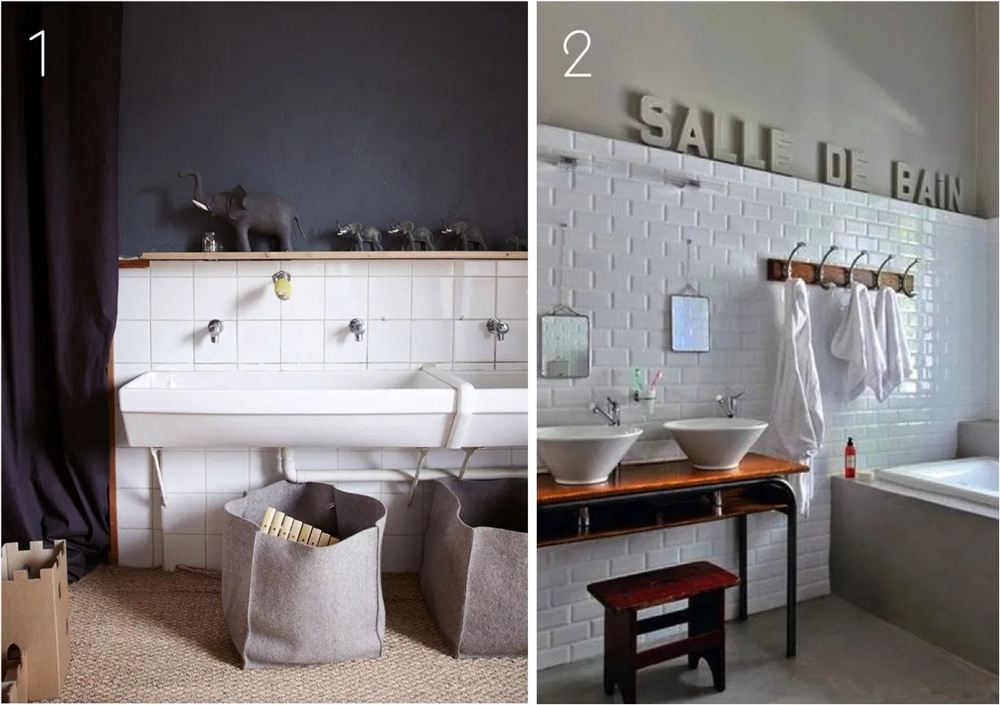 Low-set vanities for your little ones will aid towards accessibility in performing daily morning rituals, especially brushing the teeth. Add a couple of customized letters or animal statues to make it look like a bathroom dedicated to your child!
8. The Winner's Den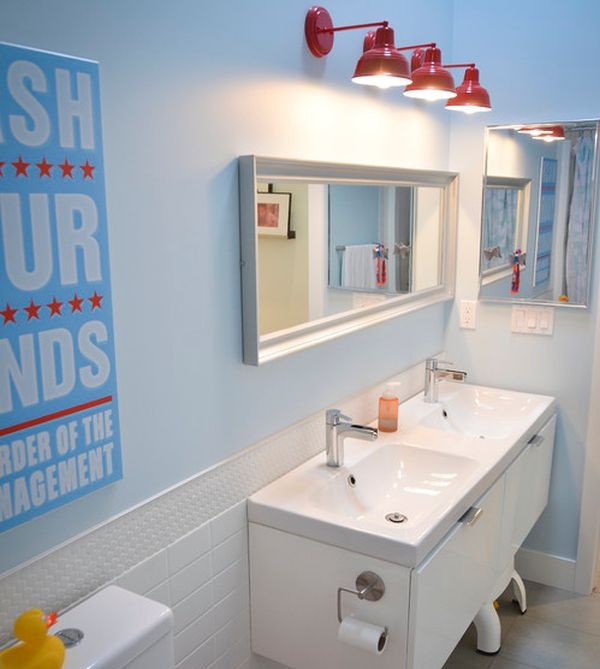 A traditional white bathroom with red lights is a great way to give your bathroom a victorious and motivational look! To add more to the motivational component, a mood-pumping and inspiring quotation frame can remind your daily one of his or her goals on a daily basis!
9. Zig Zag!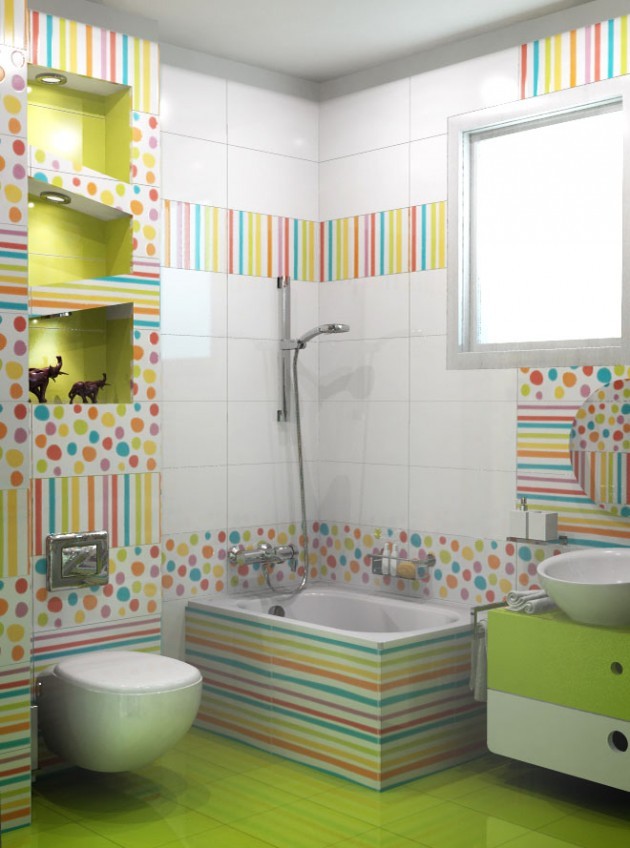 For those of you on a budget, instead of going for expensive items and bathroom hardware, simply invest in a bundle of colorful tiles that can give a truly bubbly look to the bathroom! This one has zig-zag shelves with polka-dots and stripes in multiple fun colors!
10. A Monkey Business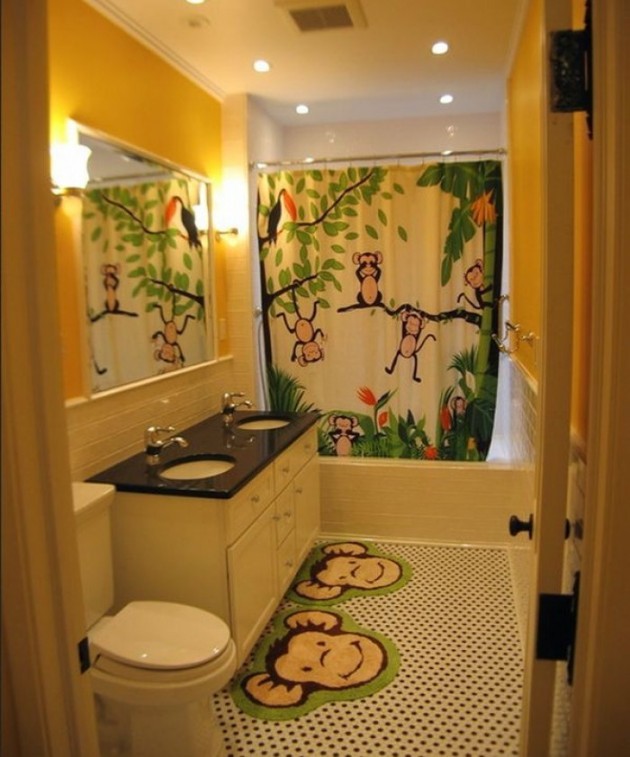 For those little ones that are full of shenanigans and bags of tricks up their sleeves, a monkey themed bathroom would look great! And all it takes are a couple of monkey floor mats and printed curtains. To give it the ultimate Banana-colored vibe, reach out for some yellow paint and bright yellow lights!
11. Under The Sea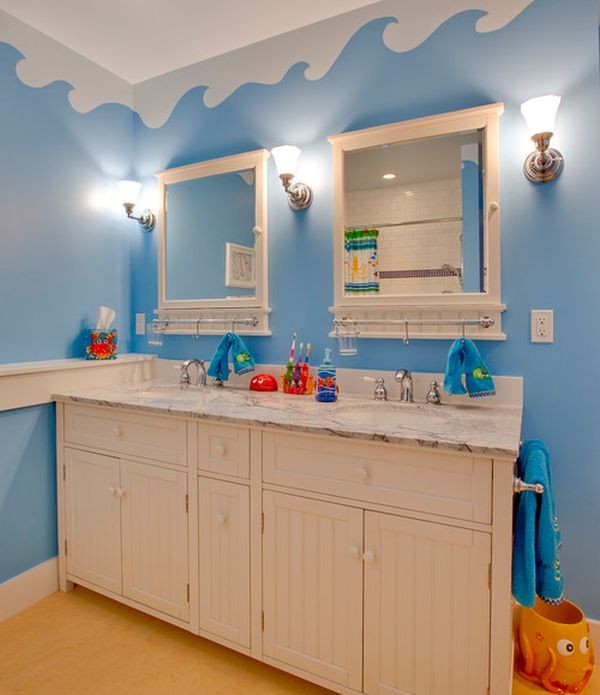 Baby blue paint and an artistic hand to create some splashes and waves on the wall can give an aquatic look to your child's bathroom. Light colors always uplift the mood, and therefore white vanity mirrors and cabinets are best suited for this purpose. Let us not forget the white light hangings that resemble street lamps!
12. Hop Hop!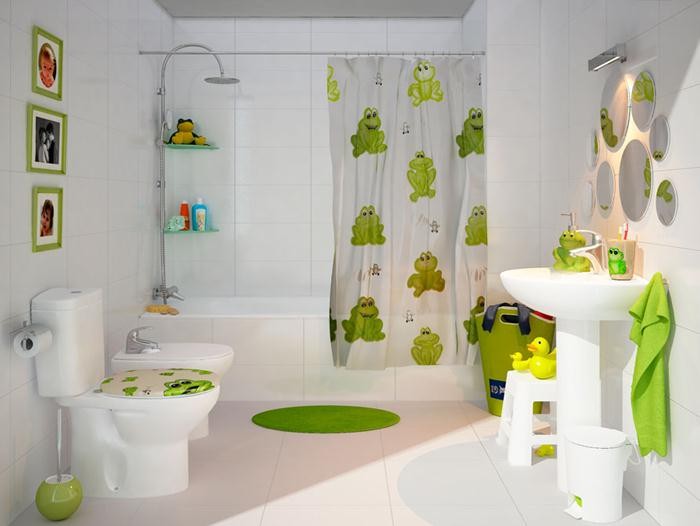 A green and white bathroom color scheme is a perfect foundation to build a frog-themed bathroom for your kids. Multiple circular mirrors give it a very unique and interesting look while the frog-themed curtains and floor mat make an excellent influence of the entire vibe of this fun bathroom!
13. The Classical Ocean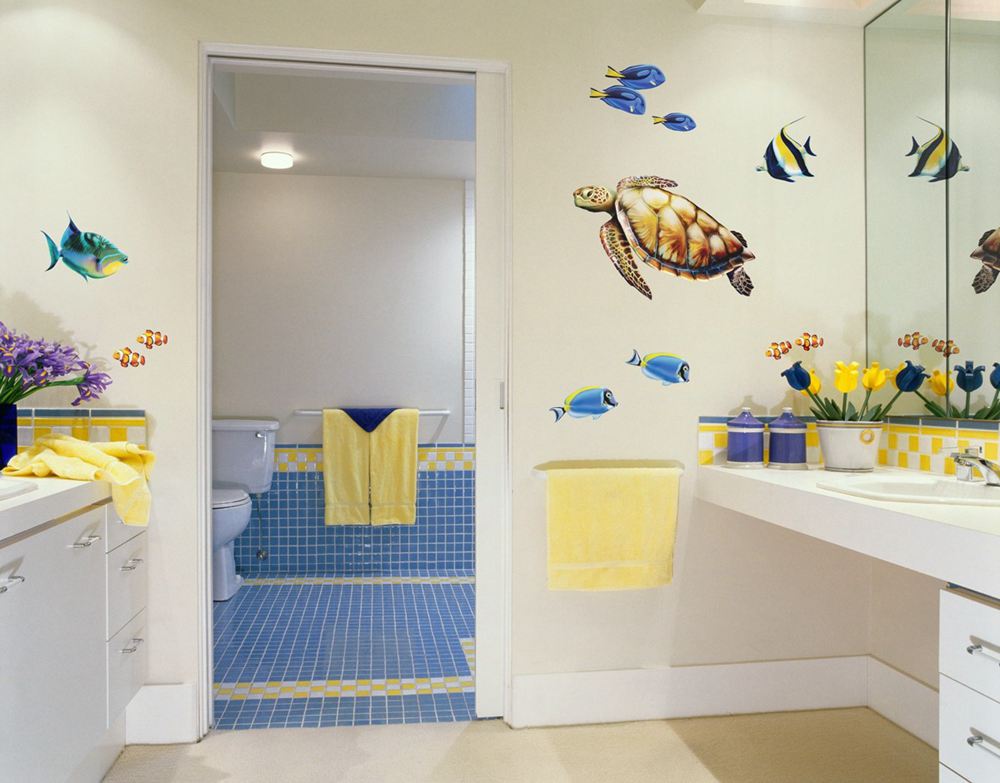 White and blue bathrooms are a classic example of a kid's bathroom. But you can make it more interesting by separating the shower and washing area from one another. Pasting a few ocean life stickers will make the theme look more authentic and fun! Also, notice the use of faux tulip flowers in the vase, they surely add a vibrant pop of color!
14. Pink For My Princess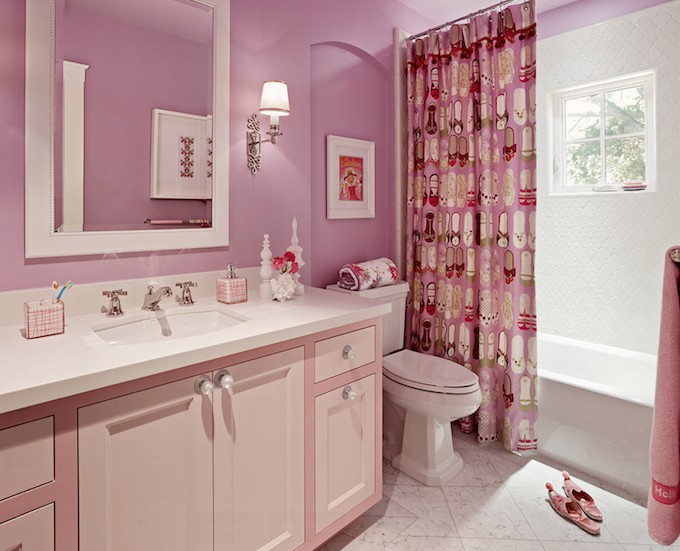 Baby pink paint can make a huge difference to give a bathroom a feministic touch for your baby girl. White or peach vanities and mirror frames can make it look more like a dollhouse! And adding some bunny rabbit pink curtains will surely delight your baby princess!
15. The Square Trio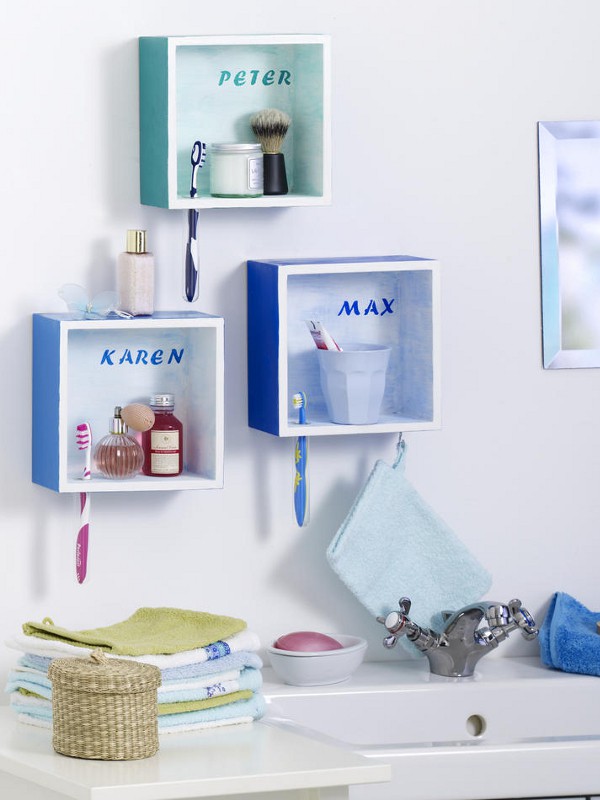 Traditional shelves can look very boring sometimes. But these square-shaped floating shelves will add a lot of fun elements to your child's bathroom! And putting name tags will make the experience customized and unique. You can then display your favorite toothbrush set or shampoos with style!  Woven hay baskets are a great accessory for a kids' bathroom, they give off earthy vibes!
16. Three Little Musketeers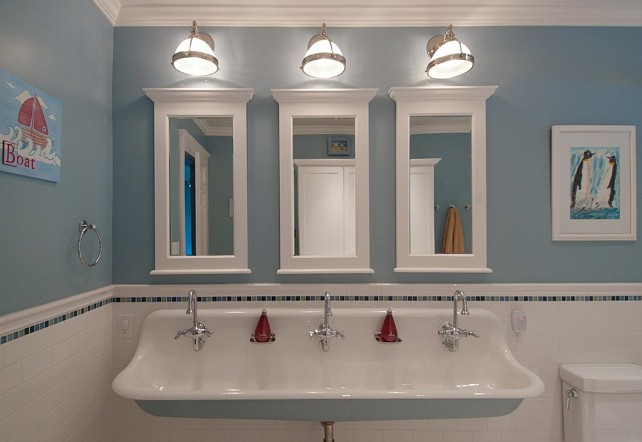 Combined sinks are so cute! If your little ones share the bathroom, then a great investment could be made on a washbasin for three. You can add stools for them to climb up! Three separate mirrors will demarcate one washing basin from another. In the end, couple it up with your favorite paint and set of frames to seal the deal!
17. Tiny Toons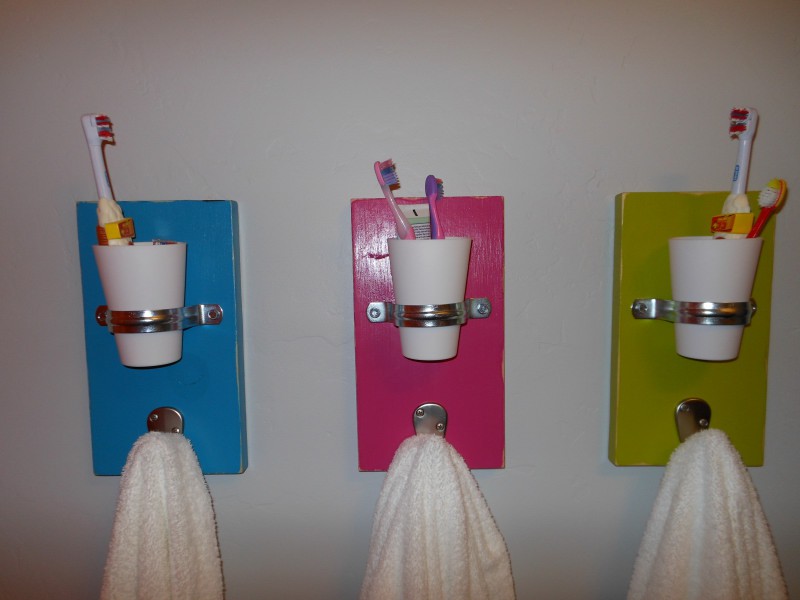 It is the little accessories that can make a lot of difference. Color-coded toothbrush stands or mugs are a great way to make your children's bathroom convenient for them. And it also makes it look trendy and groovy! A hook to accompany each stand can be used for hanging towels or raincoats!
18. Whale Obsession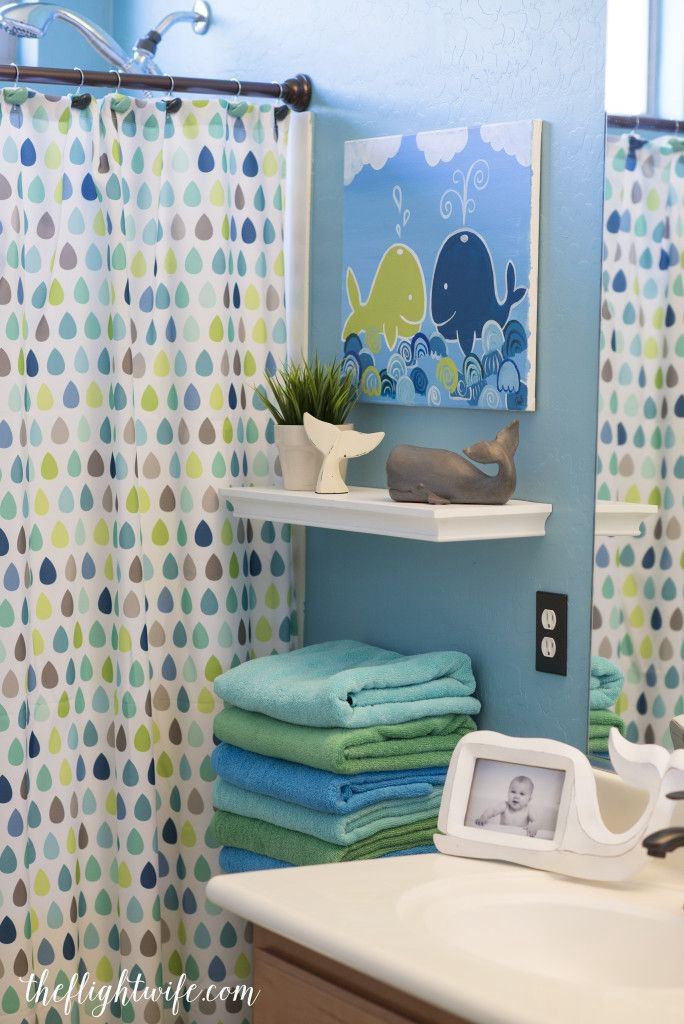 A lot of kids are obsessed with aquatic animals, especially whales. So what could be better than a whale themed bathroom? Picture frames with whales on them are a great asset to such a bathroom. On the floating shelves, you can stack some aquatic statues or action figures besides the towels and bathroom essentials. Blue curtains to blend with the theme are a must!
19. Doll House!
A dressing area in combination with the washing area is a great way to save space and make a bathroom more convenient! Lime green paint and intricate frames can make give your child's bathroom a dollhouse vibe!
20. Cute But Chic