We are back with another theme-inspired lifestyle article about 33 Italian kitchen ideas that will make your inner artist awoke!
Italian kitchens have been an inspiration for many designers and style-fanatics alike.
That is because Italian kitchens are so breathtakingly gorgeous. Their intricate designs coupled with delicate finishing touches are what converts a boring old space into a kitchen that speaks for itself!
The following Italian kitchen ideas will make you want to do your kitchen all over again!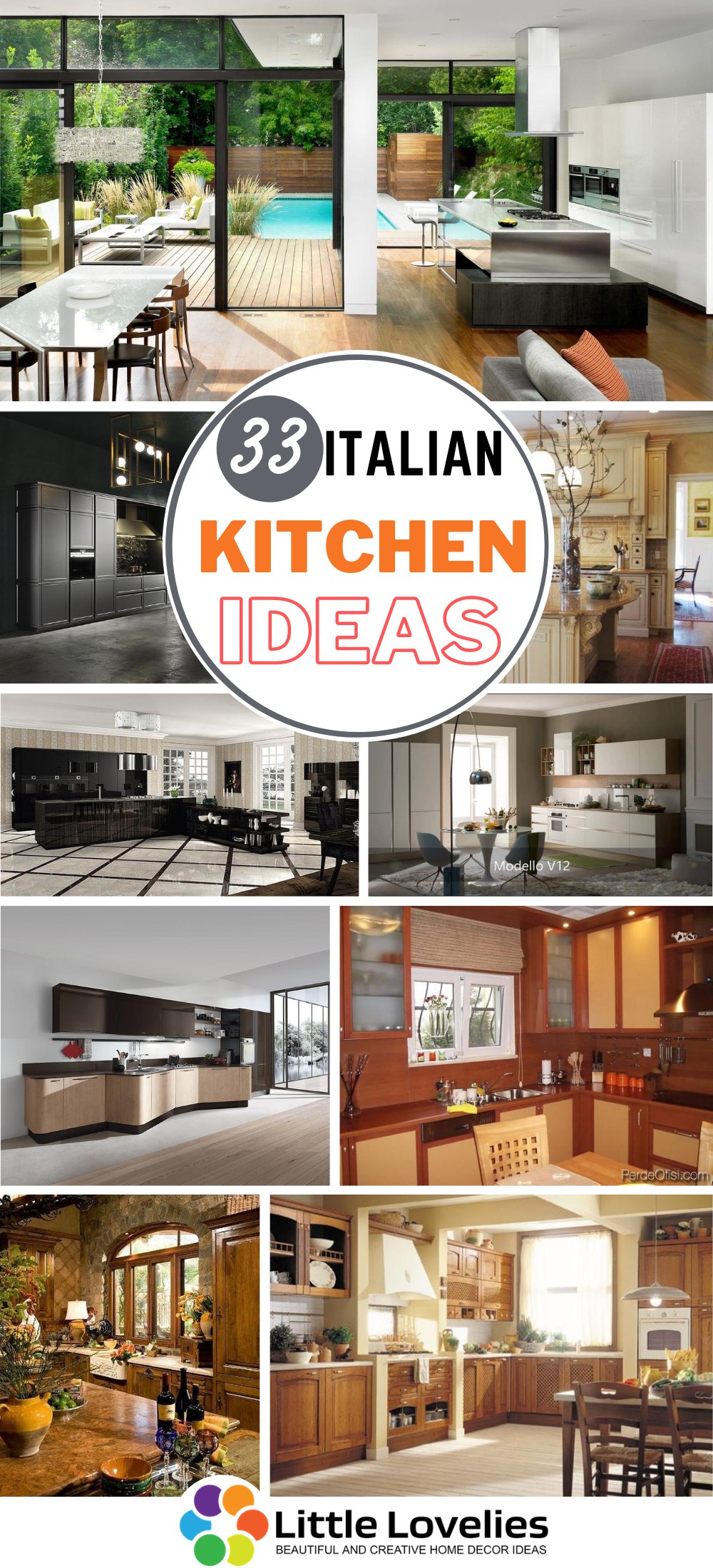 1. The Italian Renaissance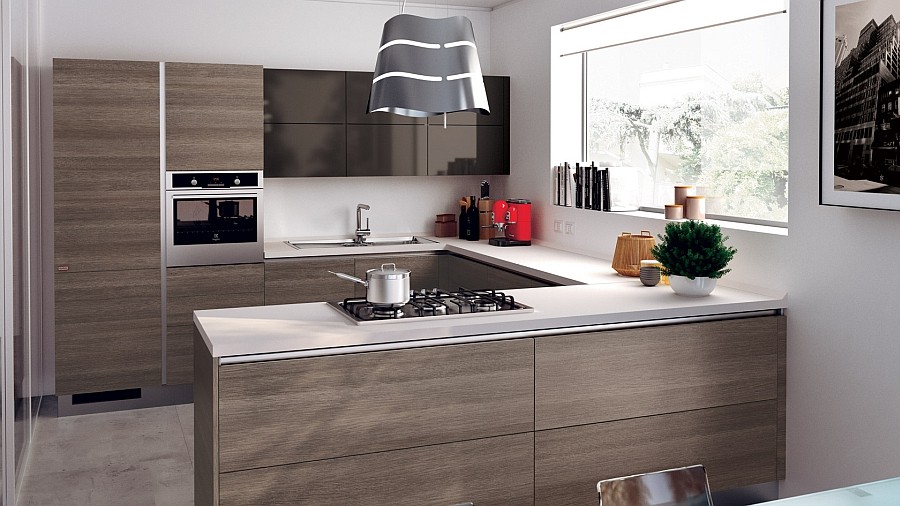 Modernization is all but inevitable, and at times very exciting! This symmetrical kitchen is dusted with charms of exquisite elegance, thanks to the wavy hanging light! There is nothing more satisfying than a geometrical kitchen imparted with stylish illuminance. Make a statement by grabbing your hanging kitchen light today!
2. Battle Of The Monochromes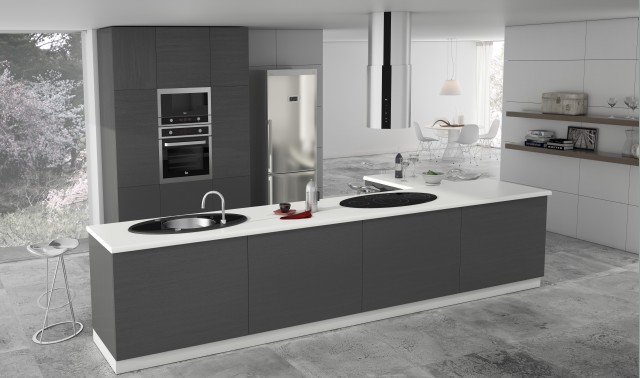 A kitchen that is not only aesthetically pleasing but soothing to the eyes! This clever interplay between these bold monochromes is what sets this kitchen a league apart. What gives it a futuristic touch is an island-top hood. The cylindrical geometry contrasts with the rest of the theme ever so effortlessly!
3. A Splash Of Boho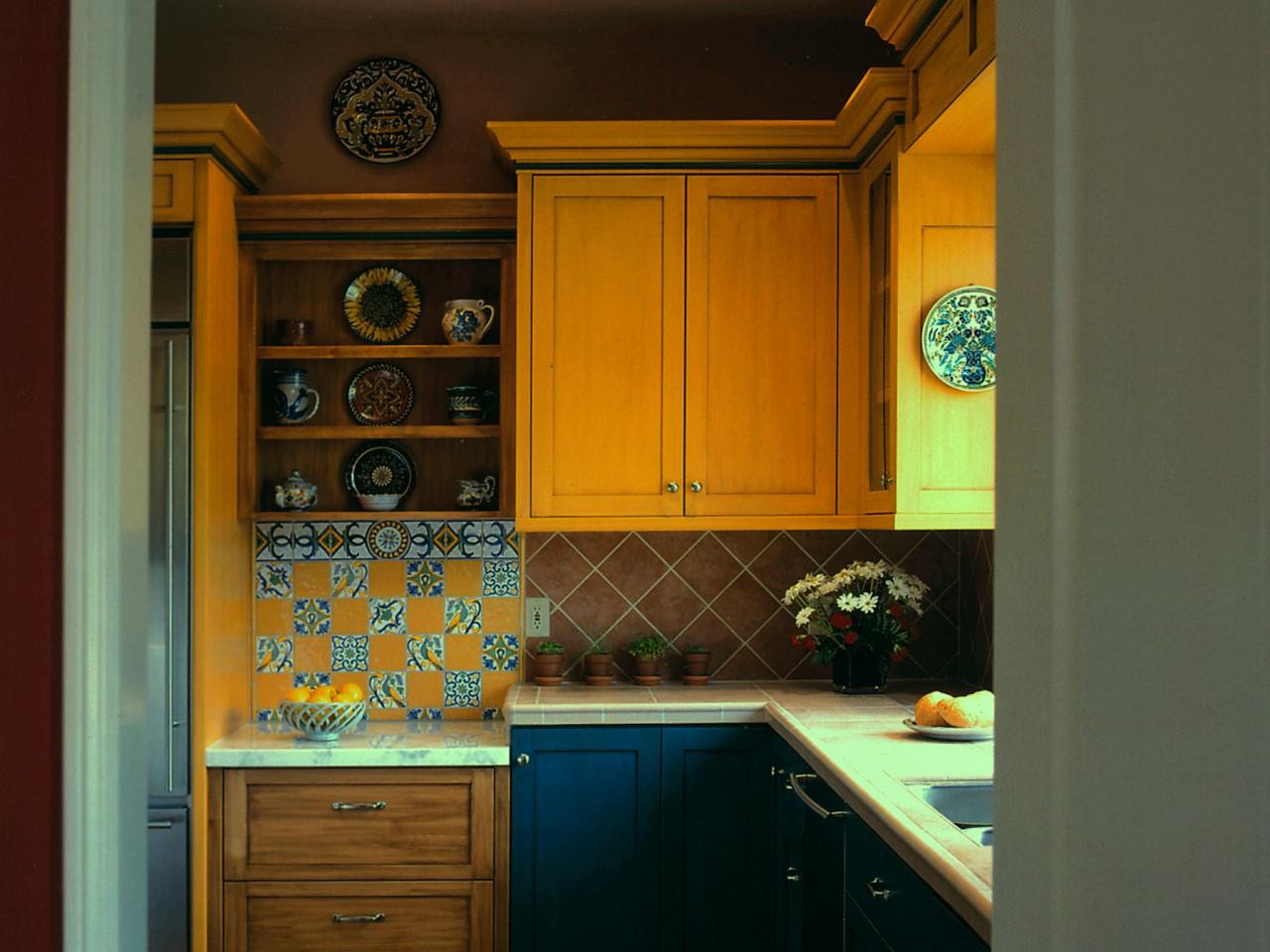 An exciting medley of colors in this uniquely fashioned Italian kitchen brings it to life! These boho-style kitchen tiles give this kitchen a vibrant vibe. Kitchen tiles can convert boring old kitchens into areas of interest and joy! Check out our diverse range of kitchen tiles for your kitchen.
4. Creamy Marbles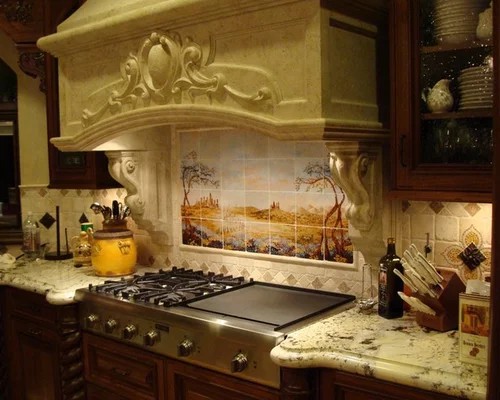 Flattening the pizza dough onto a marble countertop is surely an Italian trend. This abstract pattern marble will remind you of creamy and decadent dairy affairs. Give your kitchen a delectable touch with these marble countertops!
5. Tea For Two, Please!
A pair of well-cushioned chairs beside the kitchen island can make your breezy evenings memorable! Just grab a nice comfy seat on one of these tall-legged chairs while chatting about this blessing called life!
6. Medieval Royalties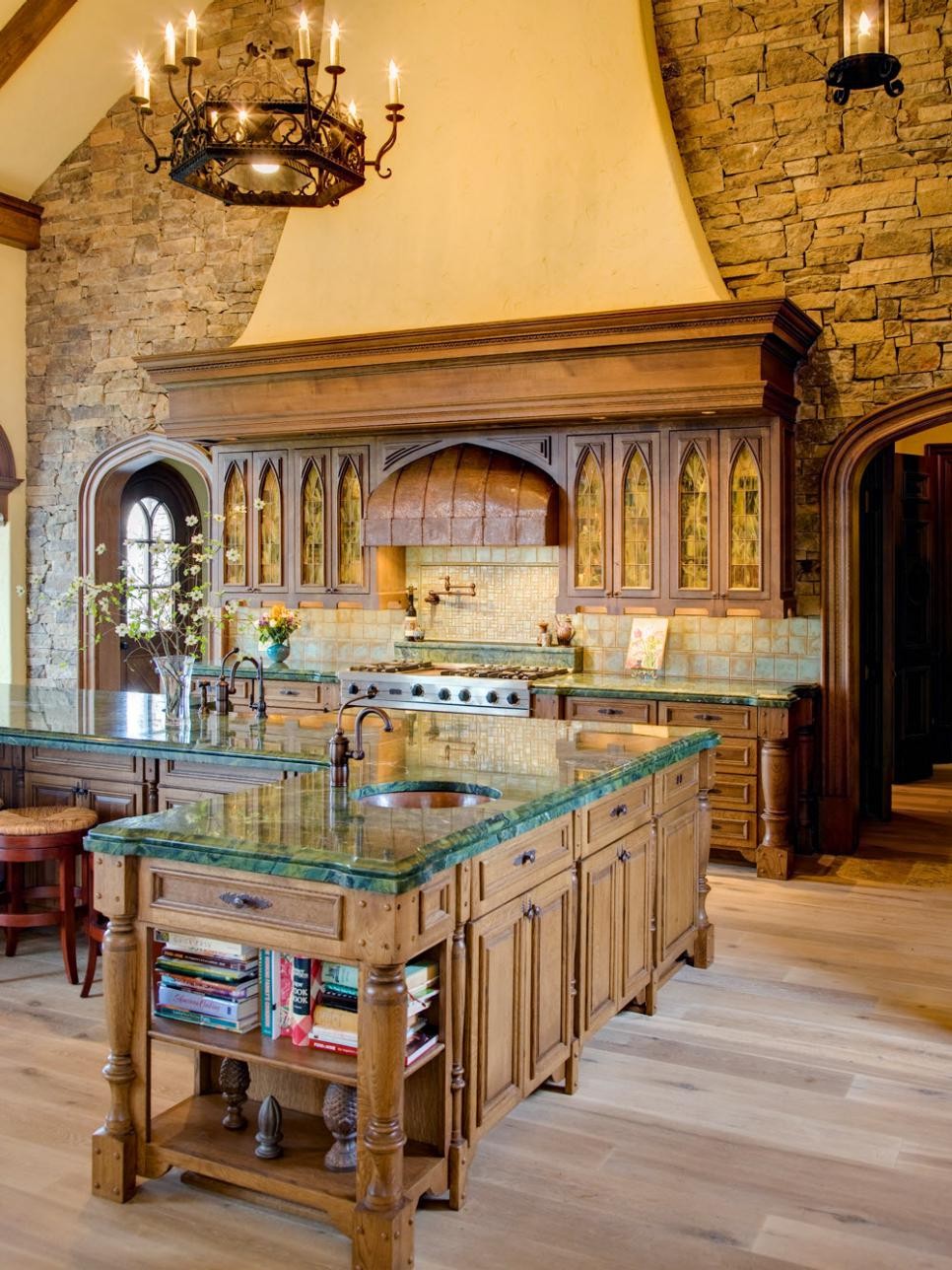 The best way to give your kitchen that extra touch of luxury is to insert a chandelier atop! The entire kitchen is enchanted with endless splendor. This elegant chandelier is studded with candle lights that make this kitchen all about royalty!
7. Breakfast With Tiffany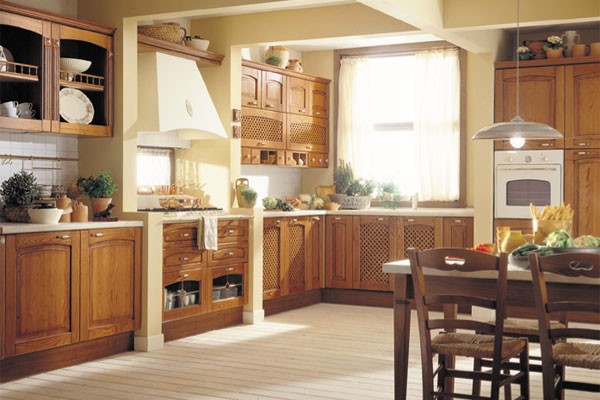 This dining table inside the kitchen space gives it a flavor of home! The contemporary styled oak-wood dining table will be sure to remind you of all those special Sunday morning breakfasts with your loved ones! Make sure to check out a large plethora of dining tables for your kitchen!
8. Shine Bright Like A Diamond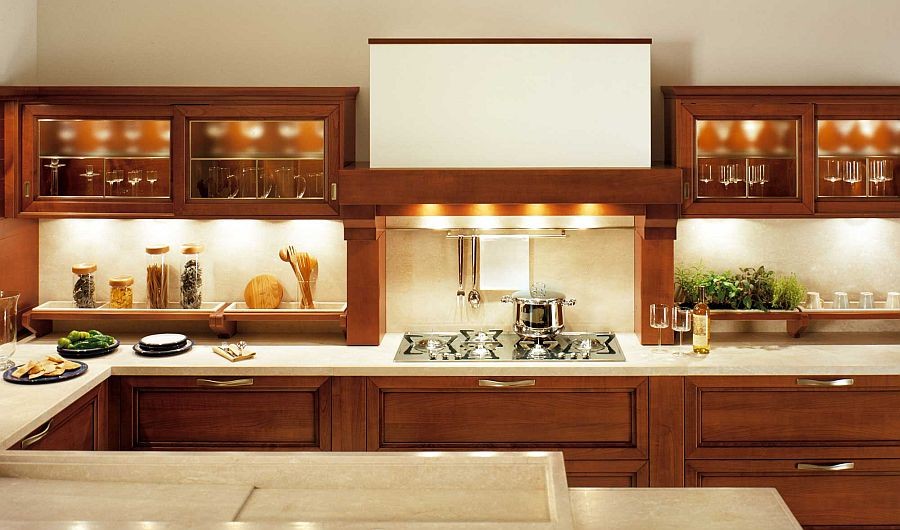 Stovetop lighting not only makes your cooking experience easier but also gives the overall aura of the kitchen a well-lit elegance. They simply illuminate the entire kitchen, but without overwhelming the brightness. Stovetop lightings like this one can set your Italian kitchen apart from the rest!
9. Crystals & Crockery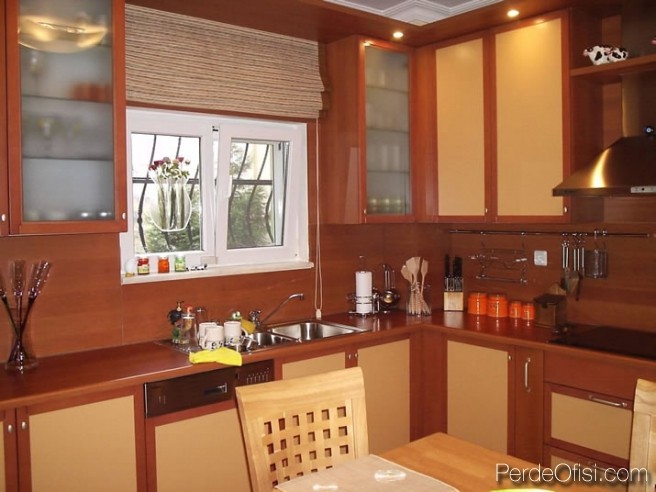 Kitchen utensils are cooking essentials! An exciting collection of transparent or colorful crockery items can equip your kitchen with all the bare necessities! So whether it is a set of jars or a pack of wooden spoons, your kitchen will wholeheartedly welcome them all! Check out our exciting range of crockery today!
10. The Odd One out!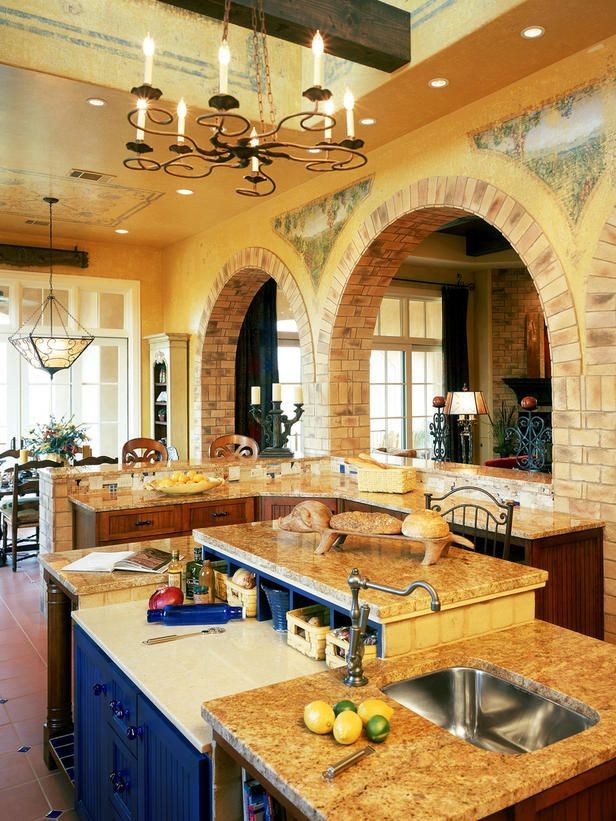 A blue cabinet amidst a beige themed Italian kitchen sounds odd but looks just as classy! This soft blue cabinet gives this modern Italian kitchen a vibrant pop of color! Everybody loves a unique personality, why not give your kitchen a chance? Check out our cabinet range today!
11. A Class Apart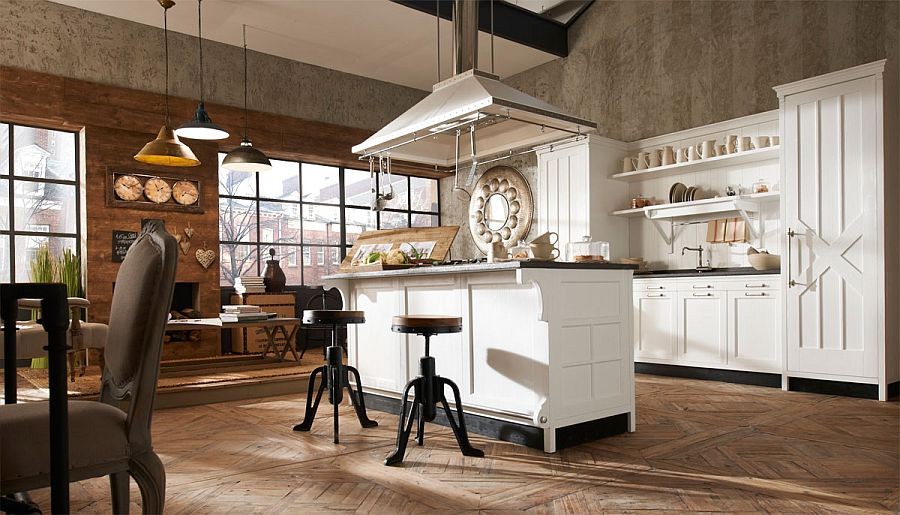 This breathtaking modern contemporary kitchen is equipped with the most stylish chocolate brown bar tools besides the creamy white kitchen island. Make your kitchen stand out with our unique collection of bar stools.
12. Artisan Glory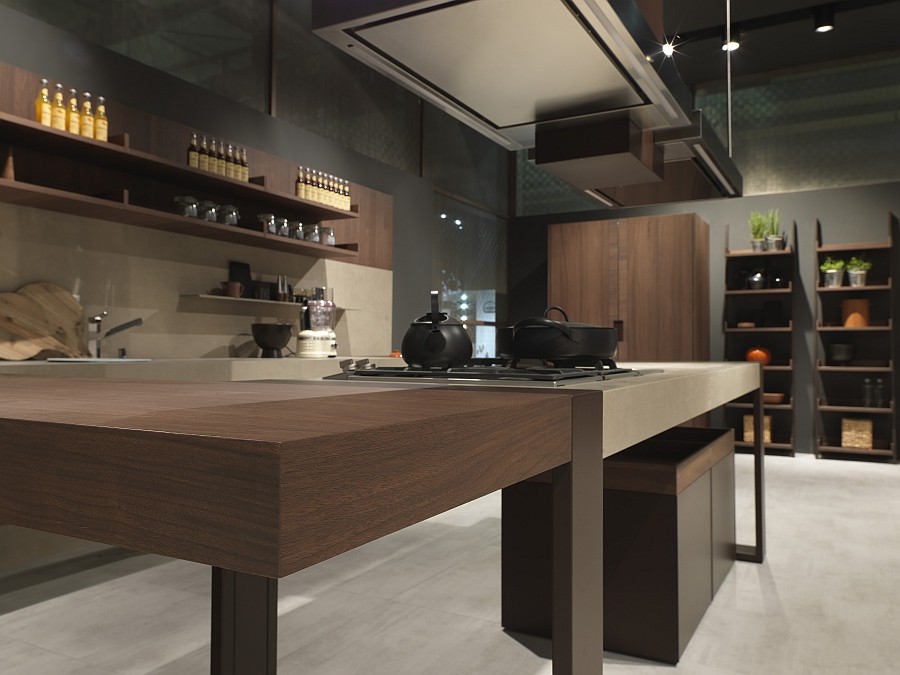 This deliciously chocolate brown themed futuristic Italian kitchen is extremely well contrasted with the selection of matte black pots and pans. Who knew a contrasting partnership could impart such luster and impact? Get your statement pots and pans today!
13. Bare Minimum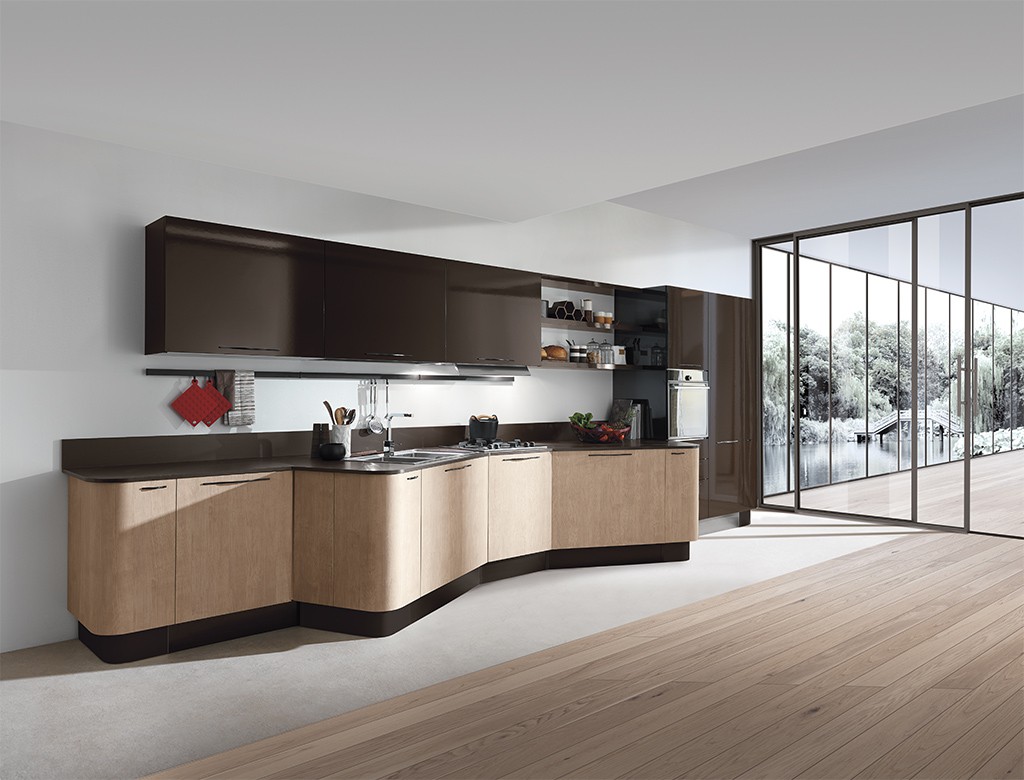 Less is more! This spacious kitchen has a lot to offer, aeration being the obvious element. The glossy upper cabinets not only save a lot of space but also give the kitchen a groovy personality of its own!
14. Voluptuous Curves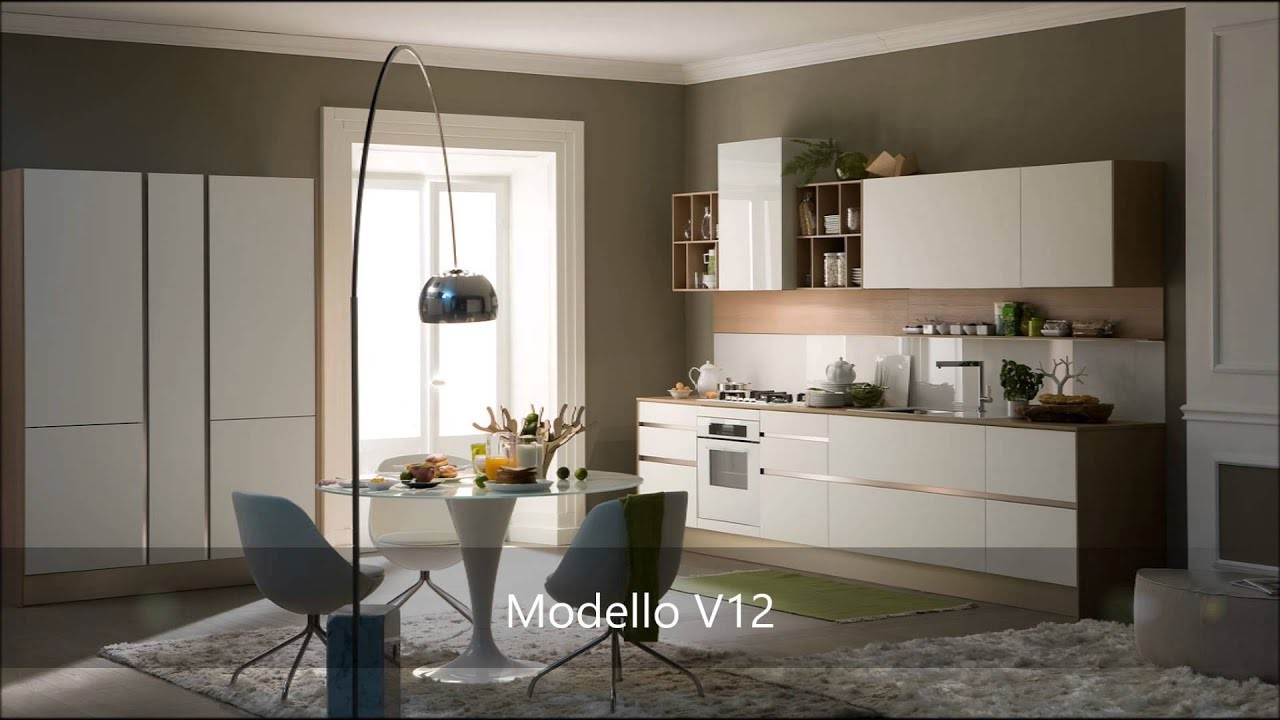 That 180-degree curve in this lamp is about to set all your affairs straight! Simply grab one of these chic kitchen lamps and experience the joy of dining with sheer illuminance.
15. Barnhouse Or Farmhouse?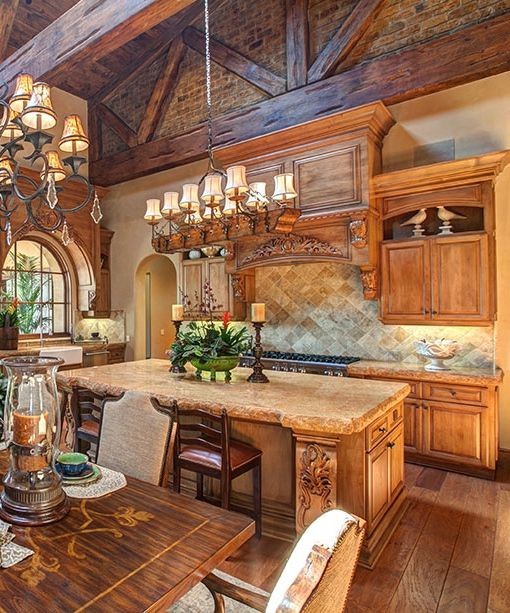 Everyone loves the flavor of rustic vibes to their kitchens. If you want to add that extra rustic touch to your kitchen as well, then try getting a hang of these Barnhouse style kitchen cabinets in warm and textured tones!
16. Elegant Grunge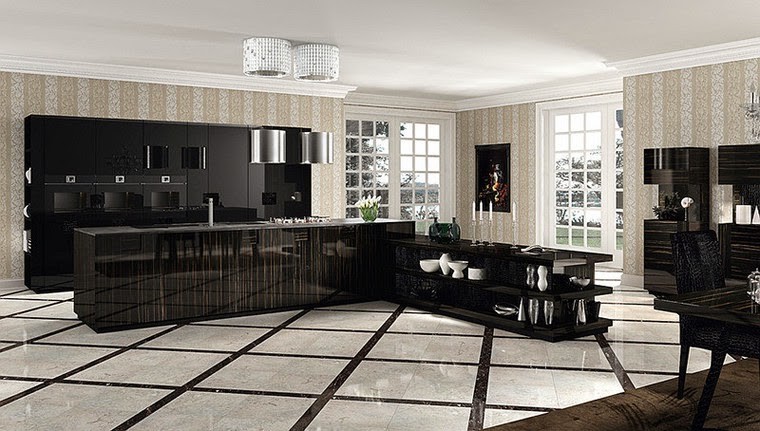 What makes this aerated and stunning kitchen so unique is the selection of those groovy disco hanging lights. While the kitchen stands for elegance, the lights give it a kick of punk! Grab your fashionable set of lights today!
17. Flintstones!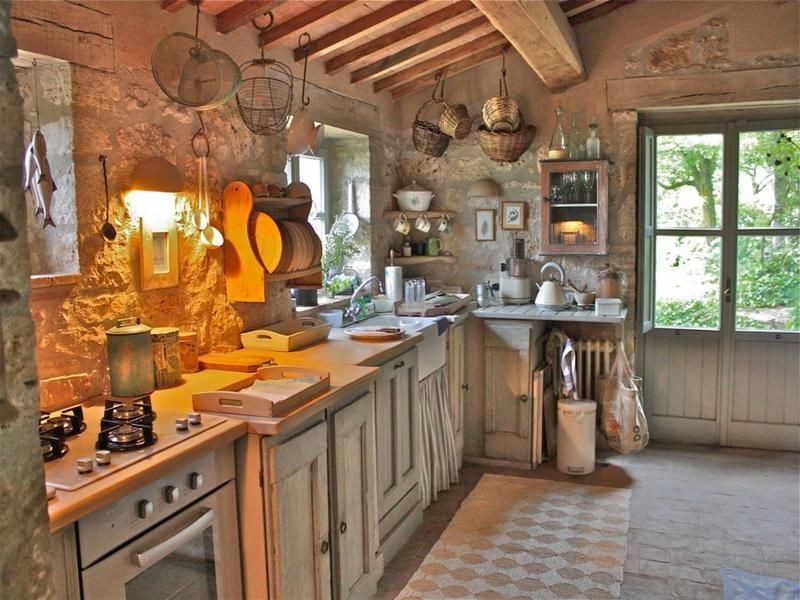 This extremely cute kitchen will remind you of all the episodes of Flintstones! But let us not make it all hard and rocky, adding a simple rug to contrast with the kitchen will give your feet the love they deserve! Grab your plush fabric rugs today!
18. Aesthetic Geometries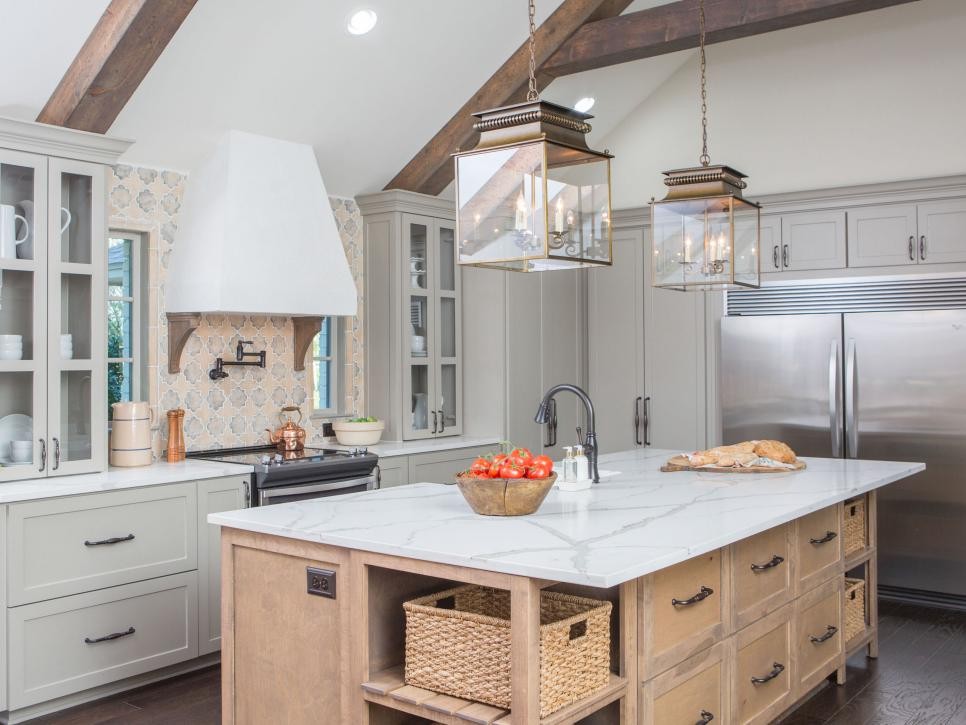 These intricate cubical chandeliers are the first find. Their uniqueness and bespoke elegance will take your Italian kitchen to the next level. The contrasting brass panels give it more dimension and definition. Grab your geometrical chandeliers today!
19. Fruity Delights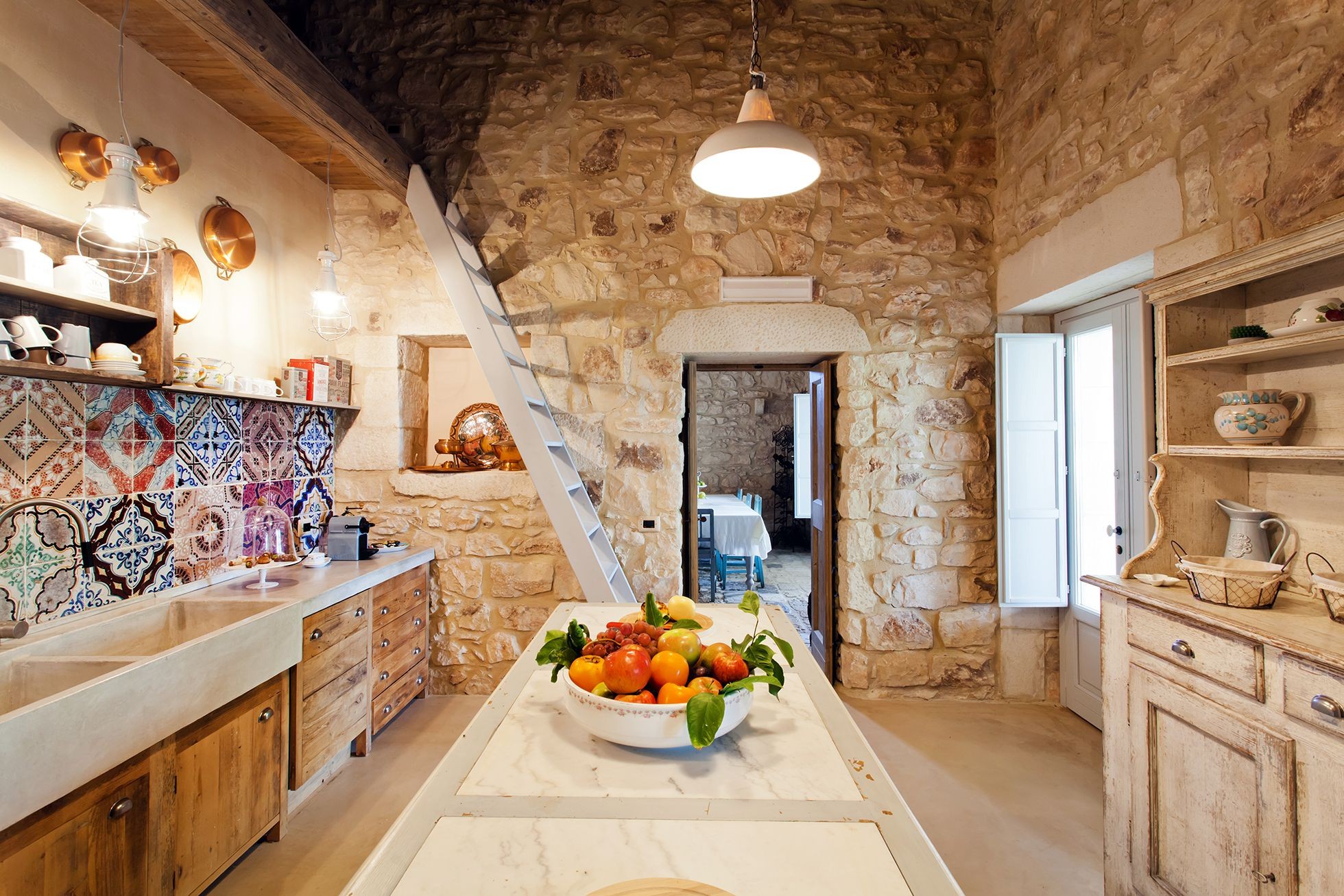 This hybrid Italian and hobo style kitchen will surely give you some creative ideas! And while you are at it, do consider placing bowls or baskets to showcase your favorite fruits! Shop our trendy range of bowls today!
20. The Frosted Glass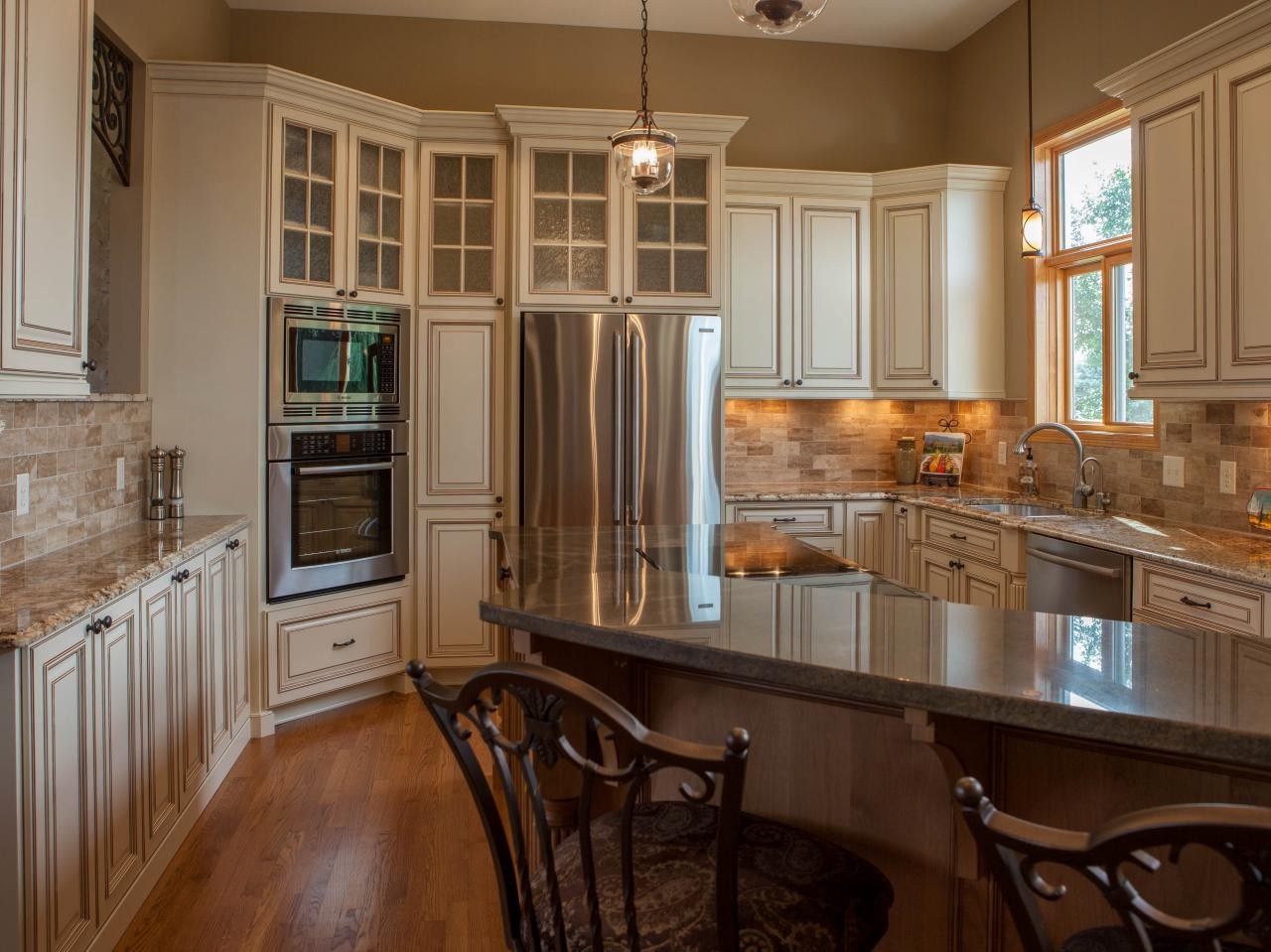 Adding a couple of frosted glass french-style cabinets will give your kitchen an evergreen glow. If you are looking for some cabinets that speak French, then look no further!
21. Time To Get Artsy!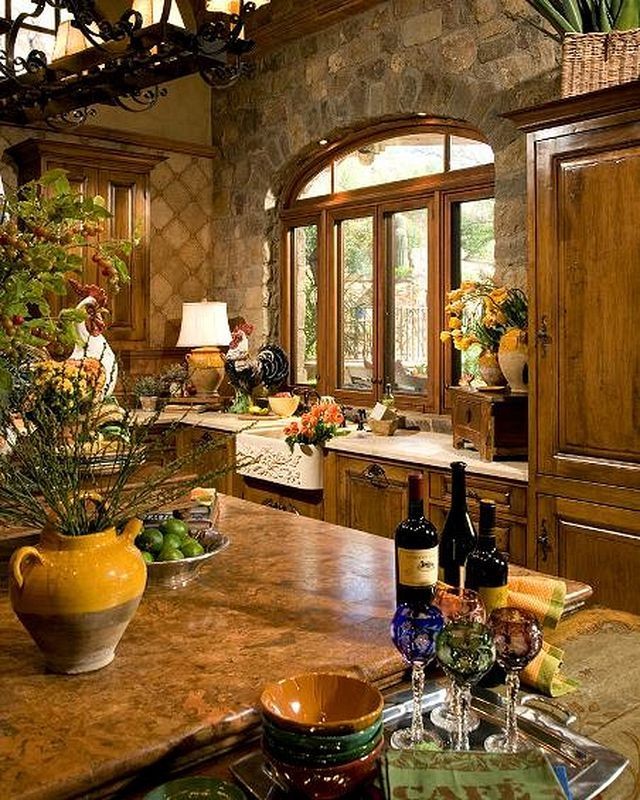 This gorgeous Italian kitchen is given an artistic touch by introducing fresh plants into a nicely painted mustard pot! If you want to unleash your creativity and stud your kitchen with artistic pieces, then make sure to grab some vibrant colored paint to help you!
22. Faux Beauty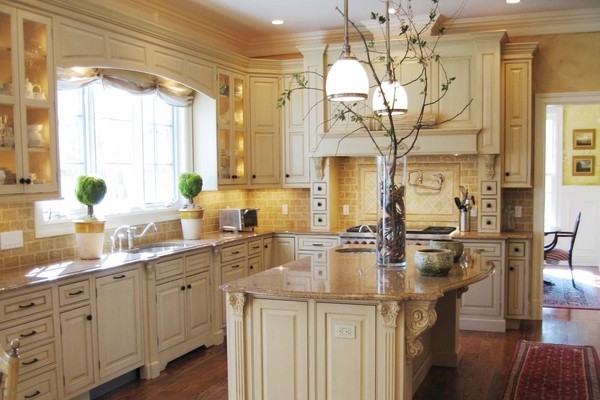 Placing a variety of faux plants or stems is always a good idea! They will surely give your kitchen that extra dose of charm. Shop our range of gorgeous faux plants!
23. More Color, Less Worry!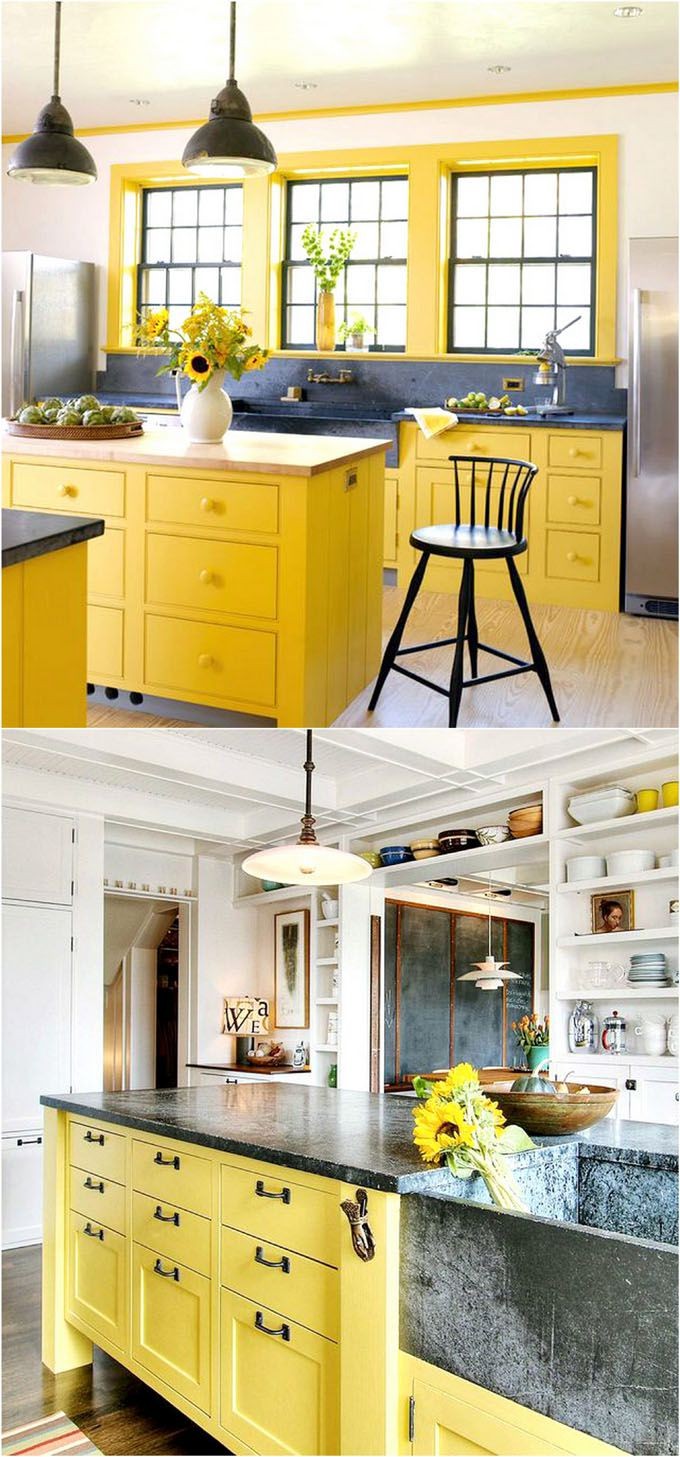 So what if you can not afford that extra expensive kitchen furniture you wanted? Just grab some spray paint and spray your worries away! Choosing to add unique and eye-catching pops of color will make your kitchen more lively, just like this one!
24. Shiny Frenzies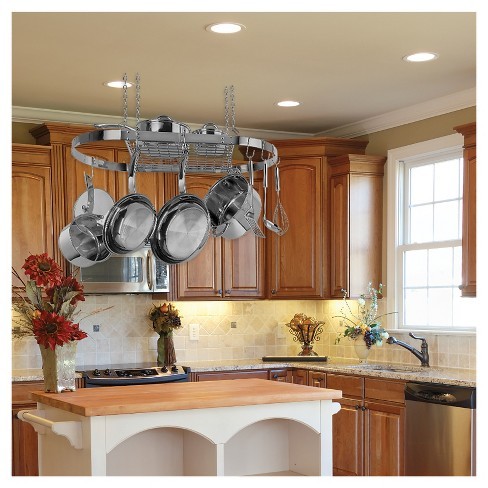 This simplistic kitchen has set its affairs straight, thanks to that handy pot rack. Having a pot rack attached to the ceiling can make your cooking routines so easy and delightful! Showcase those shiny beauties with style!
25. Vintage Glamour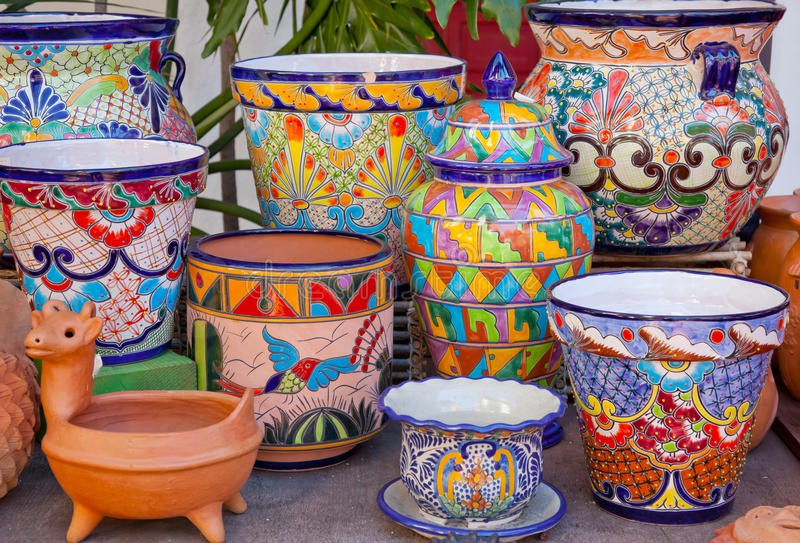 A popping collection of jars and storage items can make your kitchen look extra cute. And let us not underestimate how useful these jars are when it comes to storing your aged pickle or almond biscottis!
26. Floral Enchanteur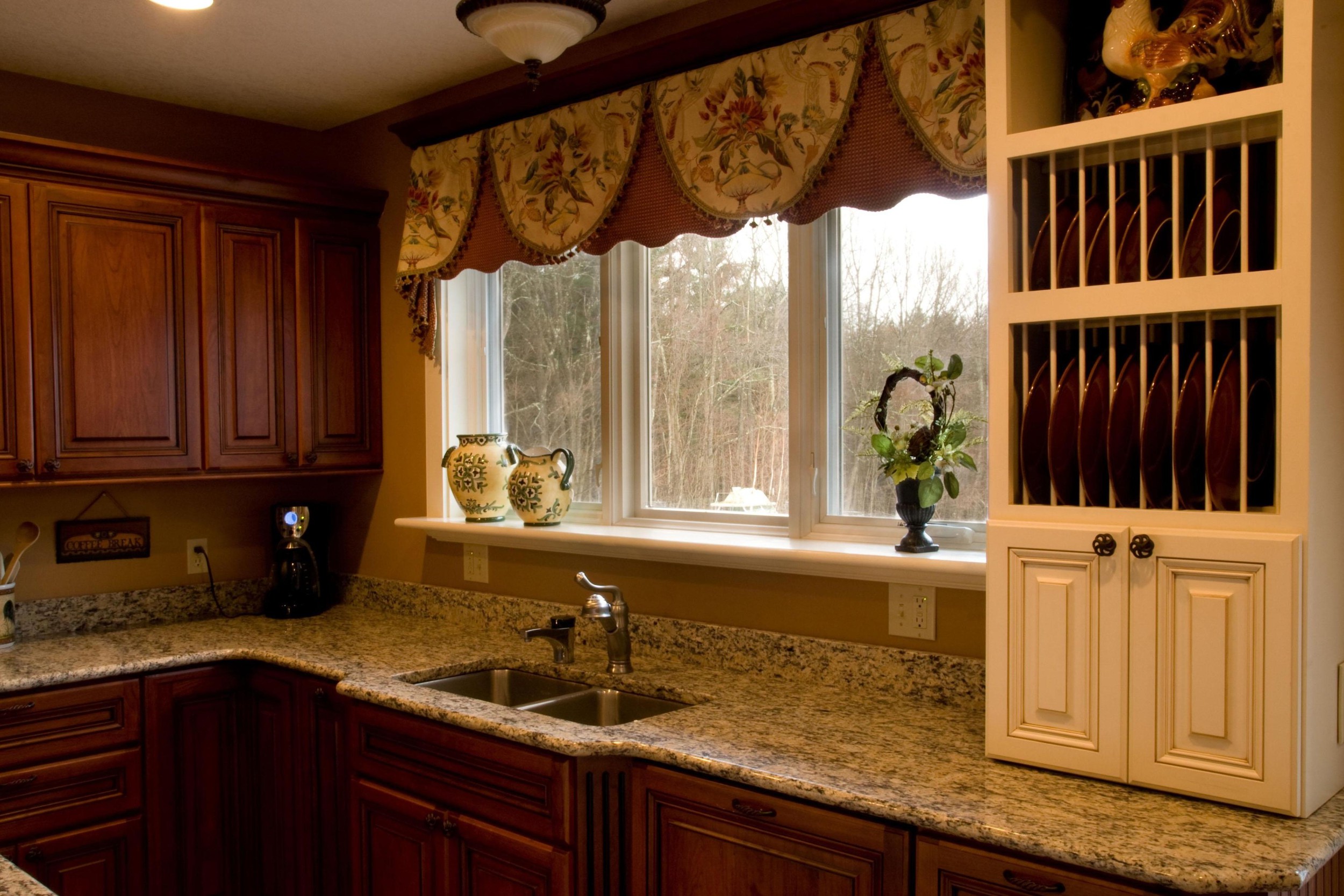 These gorgeous vintage style curtains will make all your floral fantasies alive! Floral inspired curtains can give your kitchen a romantic touch and make your kitchen look whole and fulfilling!
27. Back To The Future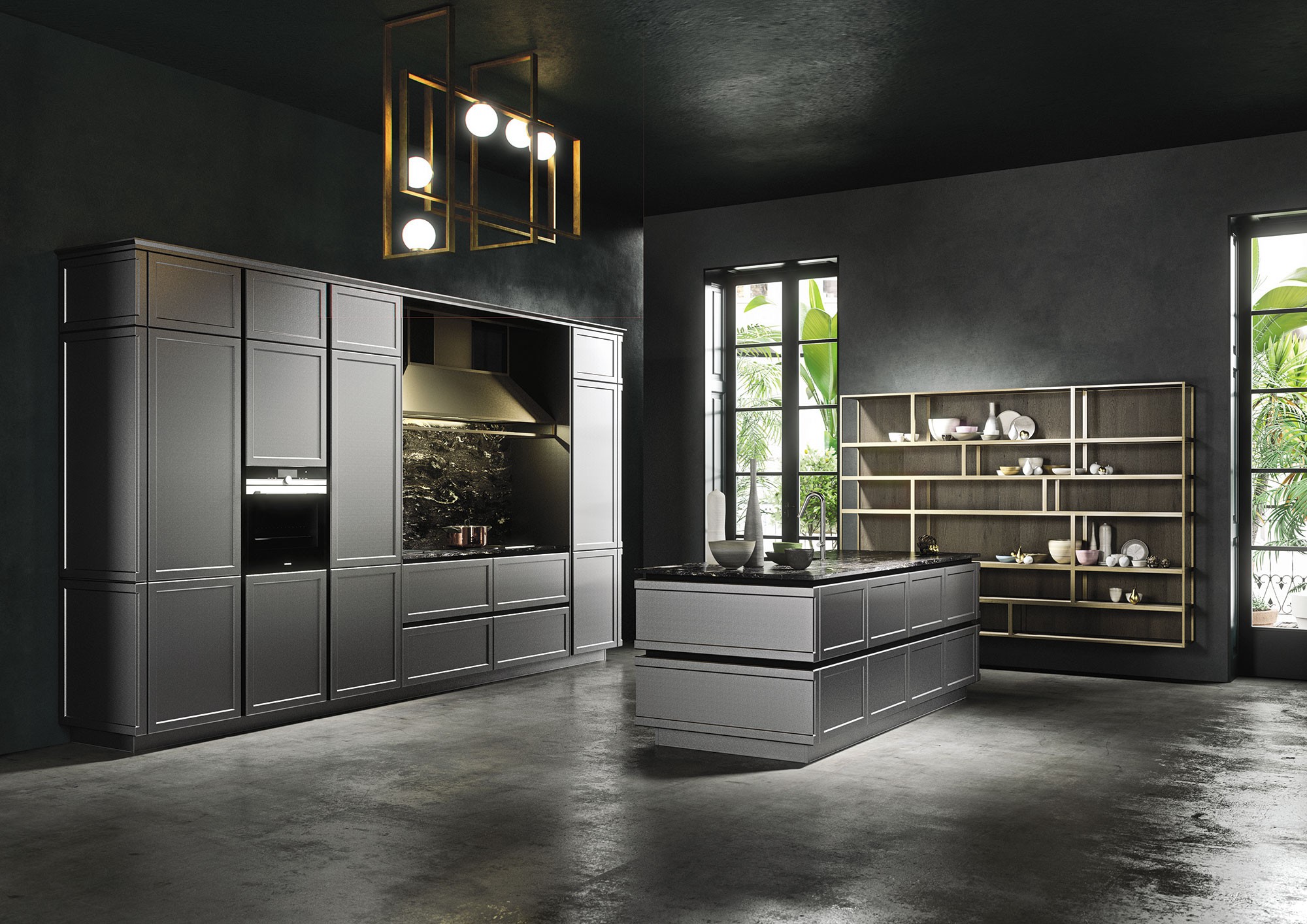 This modern contemporary style kitchen has accented metallic vibes to it, sure to leave anybody stunned! The graceful element has got to be the balanced interplay between these complex colors. Make sure to select the right paint for your kitchen!
28. Meaningful Hangings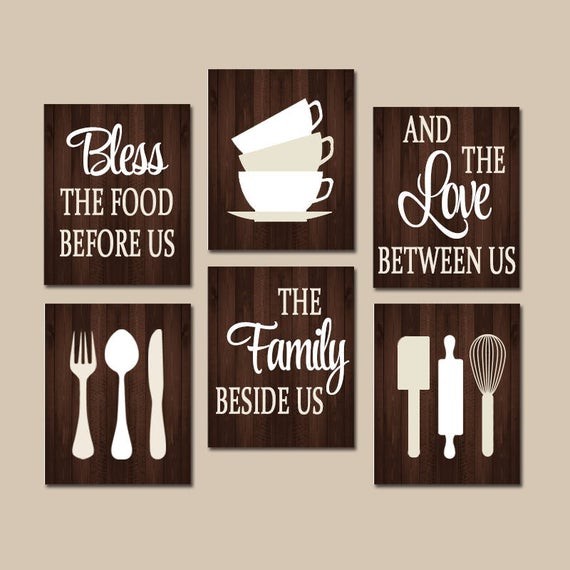 Grabbing a set of statement hanging frames for your kitchen can give it the personality that would mirror you! Not only do they add a personal element to your kitchen, but also give it a voice of its own!
29. Bespoke Metallics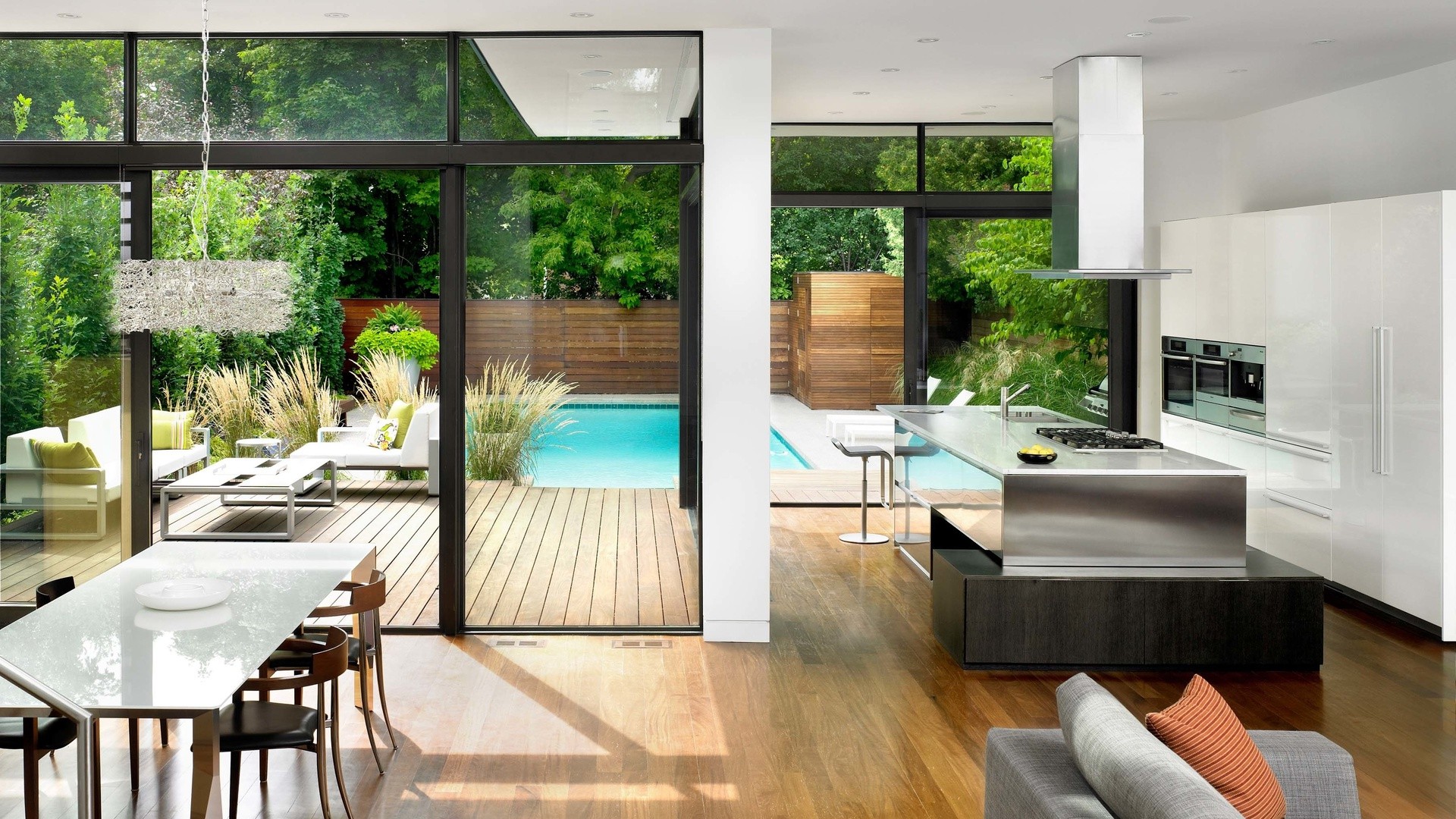 Island-top kitchen hoods are the easiest way to make your kitchen look extra modern and professional. This gobstopper modern Italian kitchen is given significant definition, thanks to that modern island-top hood!
30. The Walls Can Talk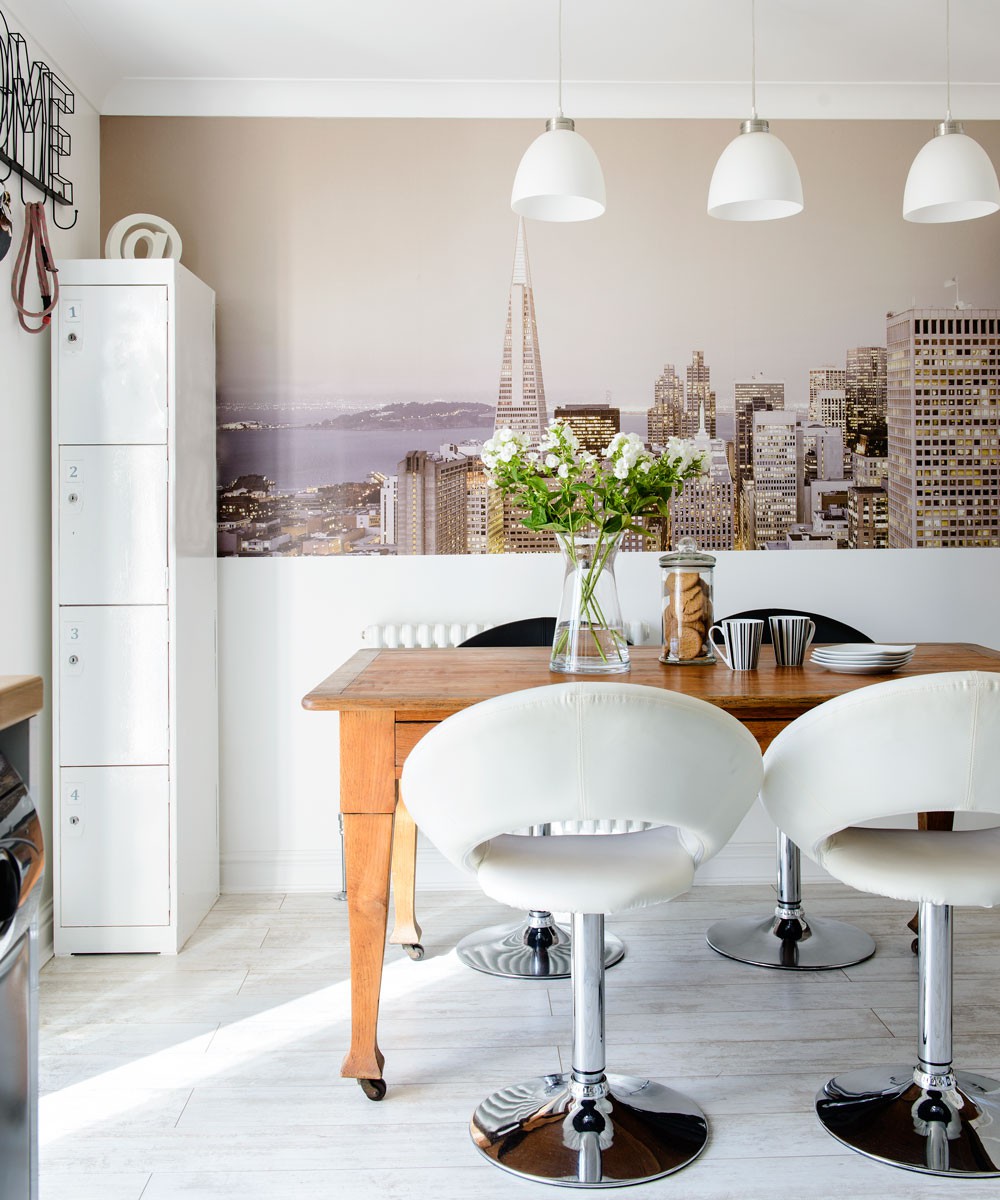 And we can hear them! This well-lit gorgeous kitchen a style statement on its own and that wallpaper just gives it a more modernized homey vibe! Make sure you check out our exciting collection of wallpapers with intricate patterns and designs!
31. Wipe It Down!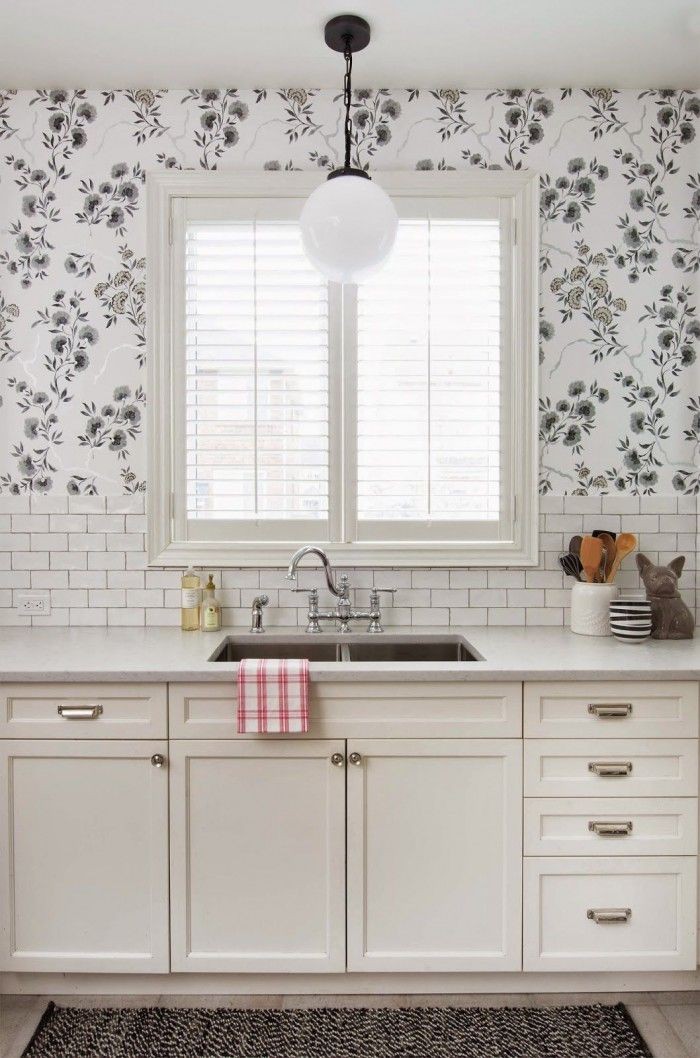 A kitchen can go pretty messy with all those spills and splatter. And for that, you should always stock up a couple of kitchen towels to wipe your worries away! Check out our range of efficient kitchen towels, with loads of designs to choose from!
32. Glitz & Glamour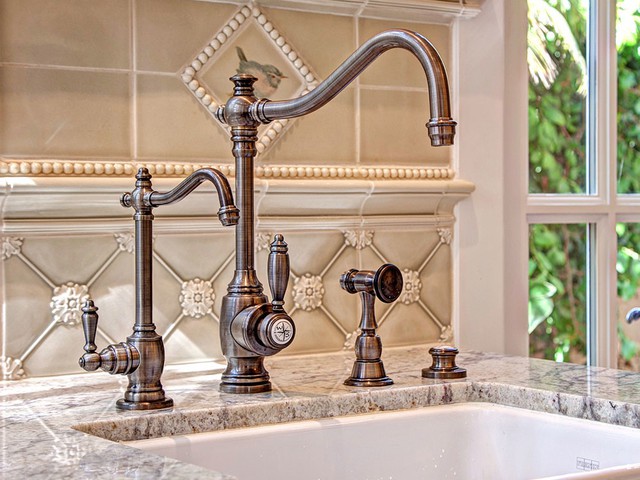 Faucets are a kitchen essential, but grabbing a few fancy ones will not do you harm! Fancy faucets can bring a kitchen to life. This vintage style faucet with intricate brass textures will give your kitchen a whole new look! Grab your fancy faucets today!
33. The Pub Style!
These exquisite pub-style bar stools can give your kitchen personality and style. The enticing glossy texture in combination with faux leather padded seating is sure to make your evening snack time a moment of leisure!