Before you consider designing a bathroom for your boys, make sure to check out this hardy collection of boys' bathroom ideas!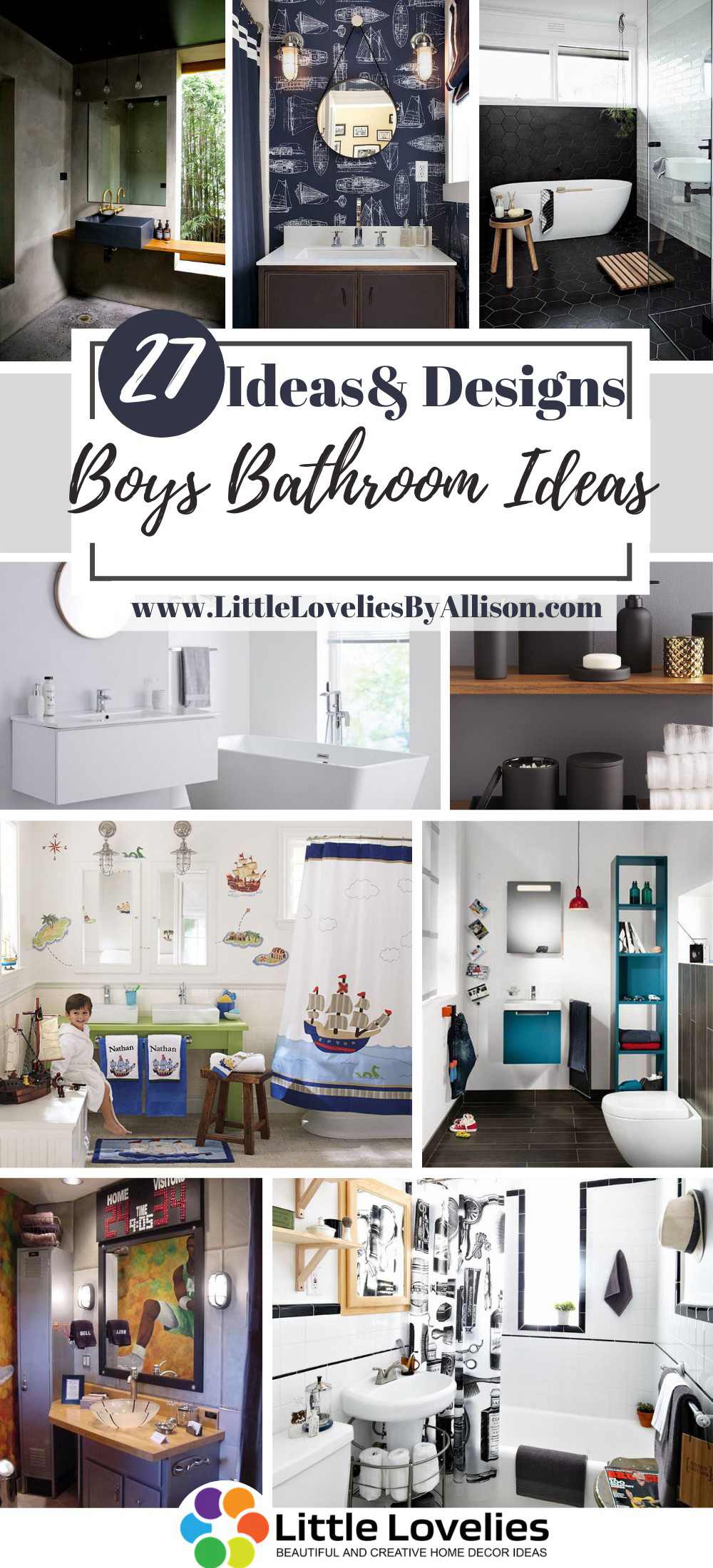 1. Men In Capes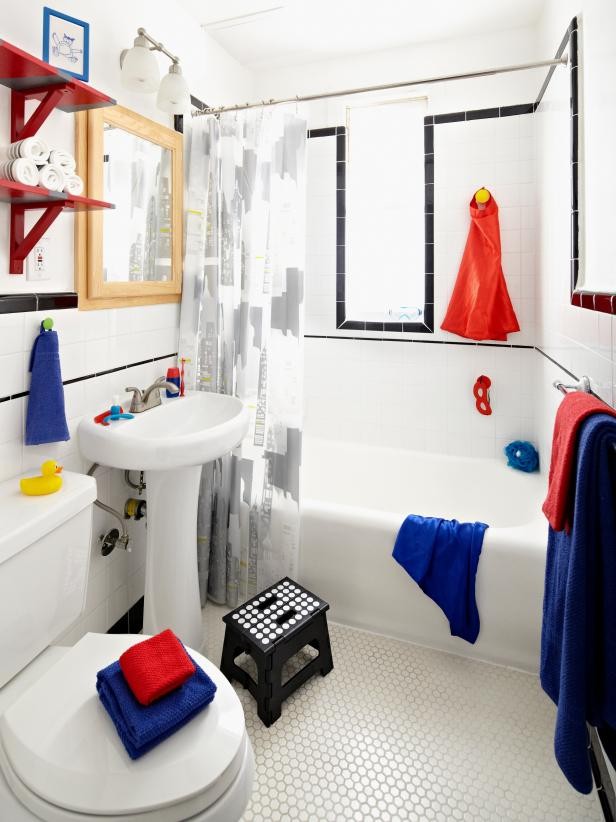 Sometimes it is all about playing with the right colors to execute a certain theme. This interplay of red and blue colors tints this bathroom with vibrance! The glossy red floating shelves depci victory whereas the blue lines are here for glory!
2. Prized Jersey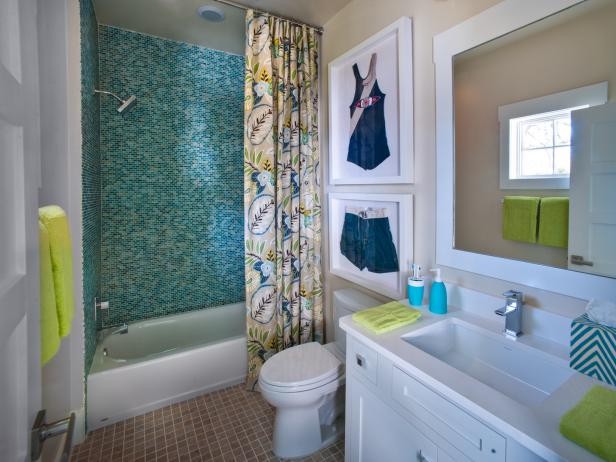 Framing your favorite jersey suit into the confinement of a photo frame sends out some really aesthetic vibes. Boys love their sports and what other better way can there be to credit them apart from showcasing their possessions? Blue tiles further enhance the boy theme whereas the white bathroom hardware adds to a sheen glimmer!
3. Ultramarine Blue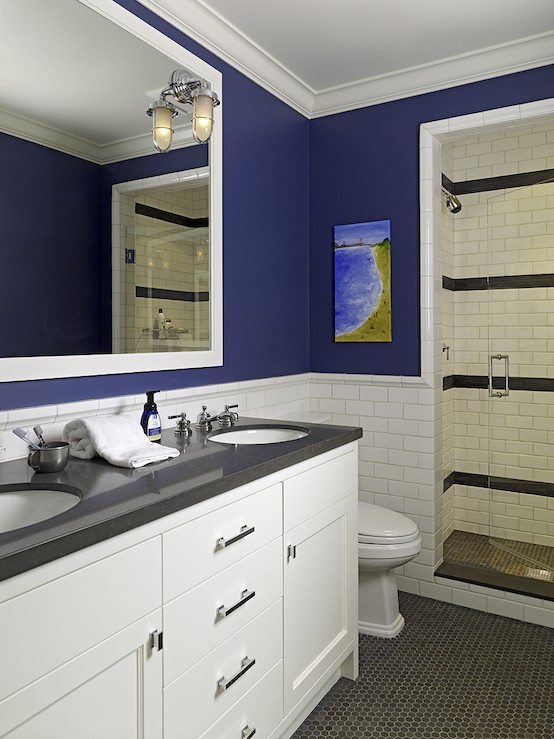 This gorgeous shade of blue takes this bathroom into the canopy of radiance! The idea of incorporating an exotic frame to complement is great whereas the use of a classic grid light adds a bit to the authenticity of the style! The glossy grey vanity neutralizes the excessive cool-tones and brings the aura into a perfect color balance!
4. Popeye, The Sailor Man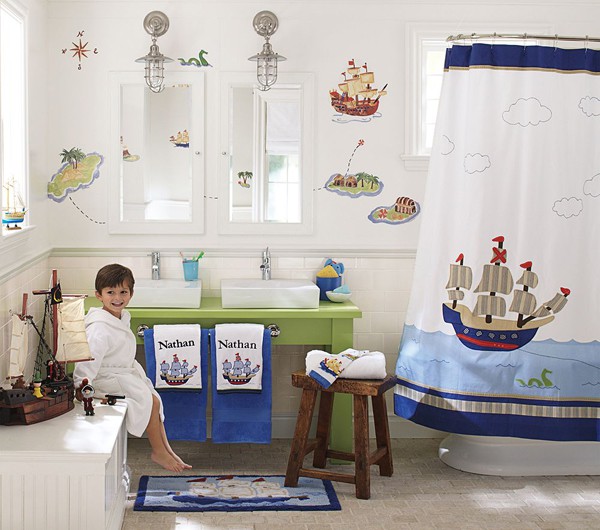 This is a great idea for your little boys who are obsessed with boats, water, and Popeye! The themed curtains and wallpaper stickers look fun and trending. The rustic wooden stool and the small low-set cabinet adds to the completeness of this bathroom for boys! Blue towels with name tags enhance the customized look!
See also: DIY Toilet Paper
5. Low Chroma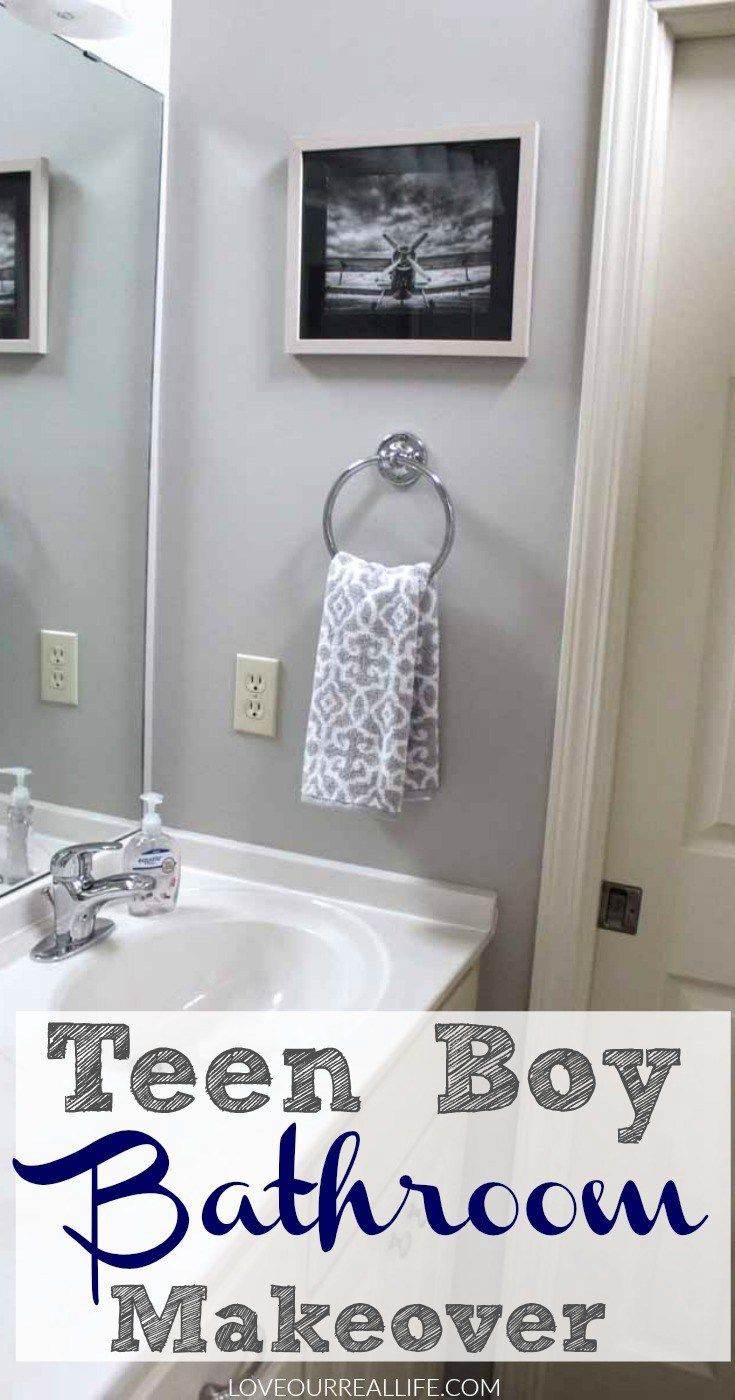 It often happens that teen boys start preferring subtle monochromatic greys instead of vibrant pops of color. If that is the case, then you can simply re-paint your walls with a suitable shade of monochromes and if you wish to add a bit more to the decor, then a set of black or grey frames will go perfectly with the theme!
6. DC Or Marvel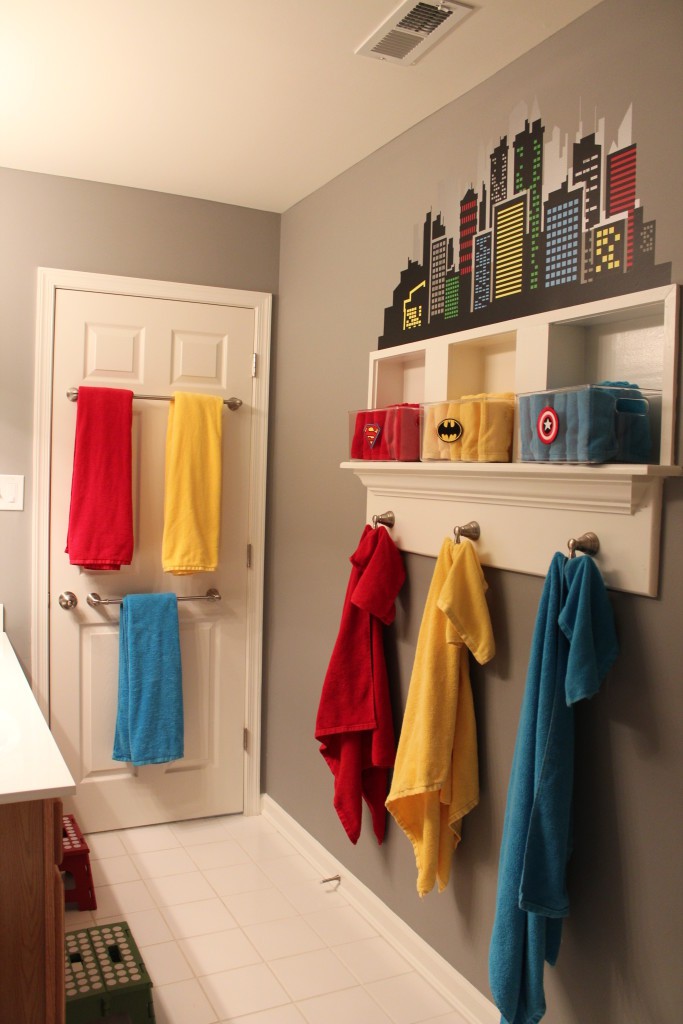 All those Batman and Superman fanatics are welcome to recreate this theme. It is very budget-friendly because all you need are a couple of color-coordinated items such as towels, storage containers, and a couple of wall stickers!
See also: Bathroom Door Ideas
7. Street Style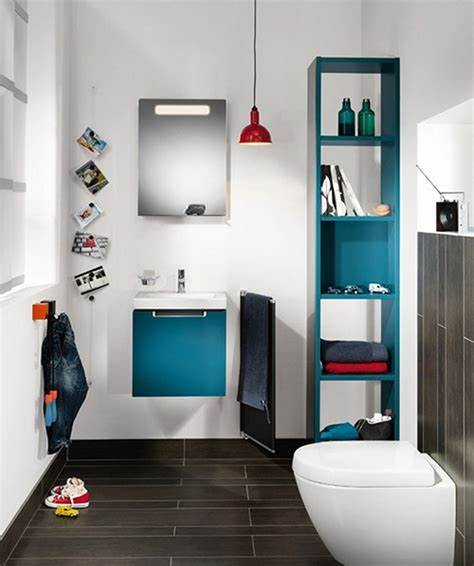 This bathroom contains all the components which are needed for a perfect boy's bathroom. Everything from the cherry red hanging light to the blue reflective vanity is ever so harmonious. The use of a small set of frames and shelves is great to make it a dressing room cum bathroom. The toilet above floor level adds a slightly luxurious touch to the vibe of this bathroom for boys.
8. Grand Carnival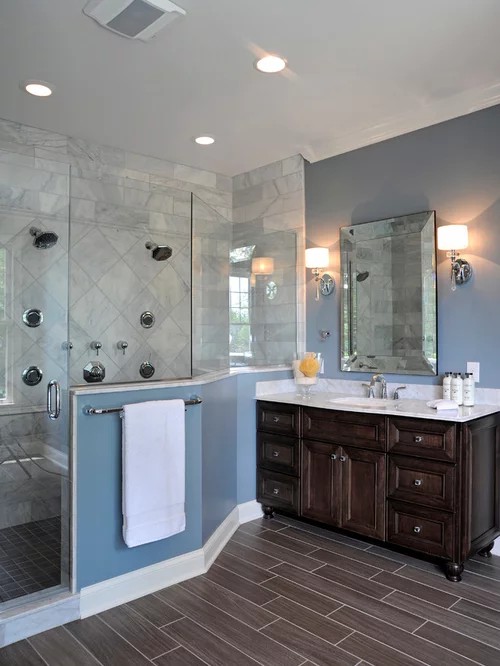 Some guys just like it simple but with a touch of luxurious elegance. The bathing area barricaded by clear transparent glass does the job of imparting a lavish touch whereas the dark wood cabinet adds a tinge of rusticity. The use of wood panel vinyl flooring is a great idea because it is very easy to clean and gives a neat look to the bathroom. The spotlights on the ceiling add to the radiance!
See also: 28 Beach Bathroom Ideas 
9. Rock And Roll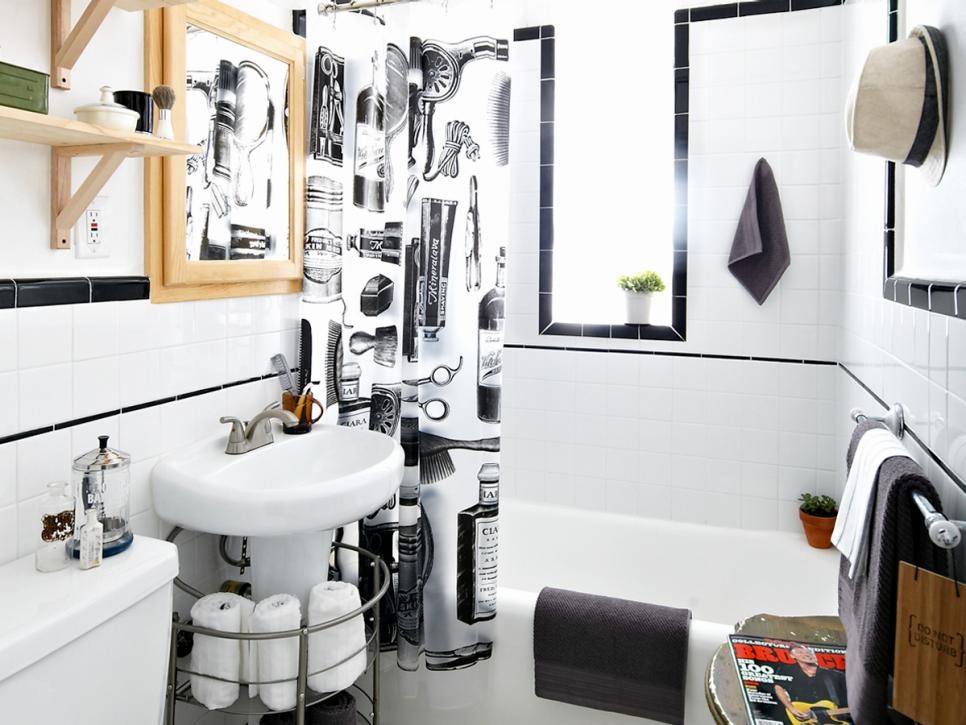 A punk-themed bathroom but with a graceful vibe! Now that is a combination very hard to pull. This black and white theme is reinforced by the use of frames and curtains that help exhibit a fun look. A small trolley below the sink is a great way to set up your bathroom essentials!
10. Statement Signs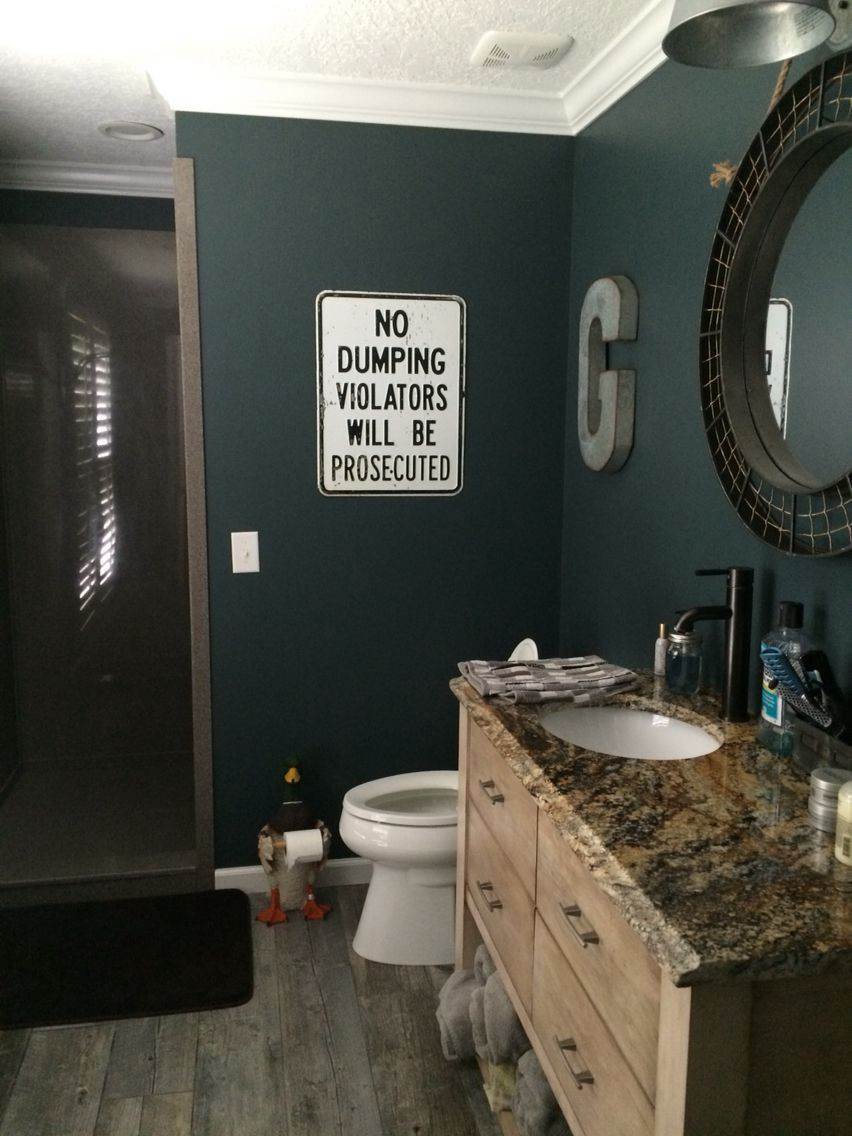 A cool-toned color scheme with some really impactful statement signs can contribute towards a plain but good bathroom for boys. The dim lighting and calm hues are liked by many boys alike. The circular mirror adds a fancy touch to the bathroom and also makes it look groovy!
11. Exuberant Splendor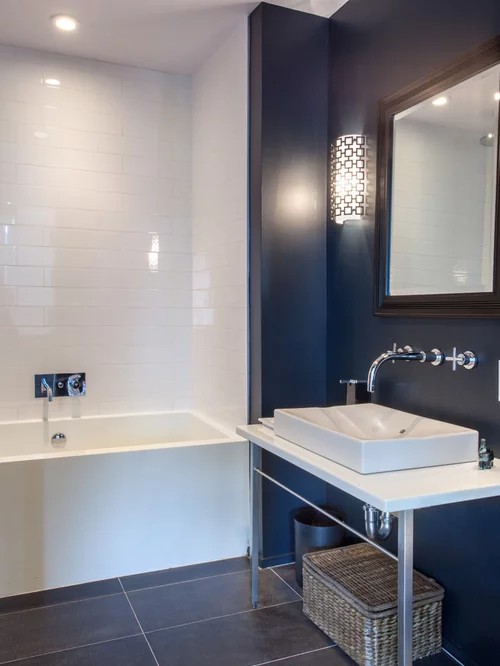 Picking out some fancy faucets and sinks can literally take your bathroom to another level. A semi-matte blue paint finish can further enhance the grand vibe whereas warm-toned lighting will neutralize the blues so that they do not become so overwhelming.
12. Ride With Me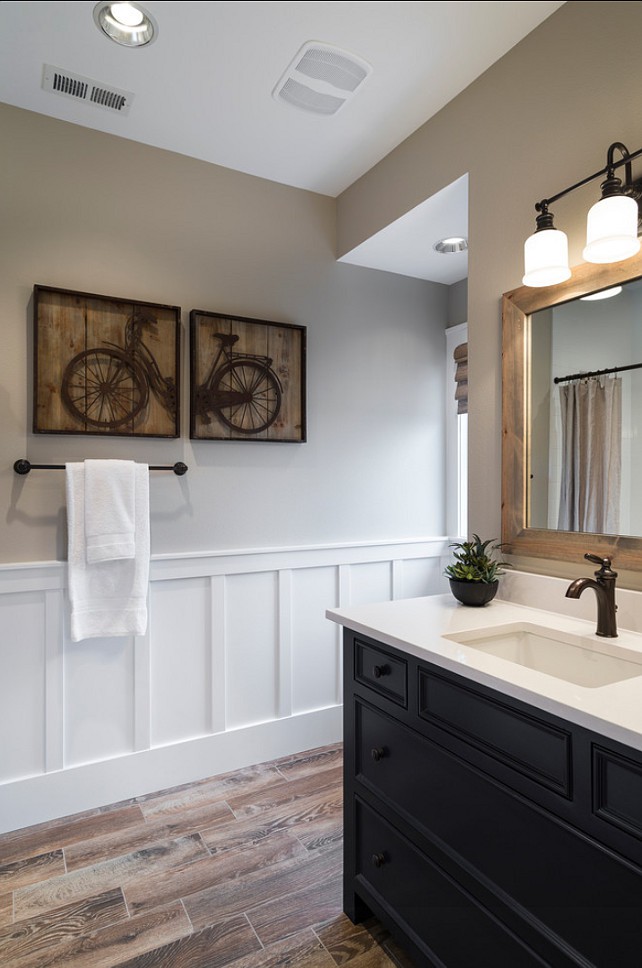 Pure black vanity cabinets are loved by almost everyone. Make sure to add some yellow lights to make the environment brighter. Adding some frames with and towel rack stands with rustic vibes can add more dimension to the bathroom!
13. The New Trend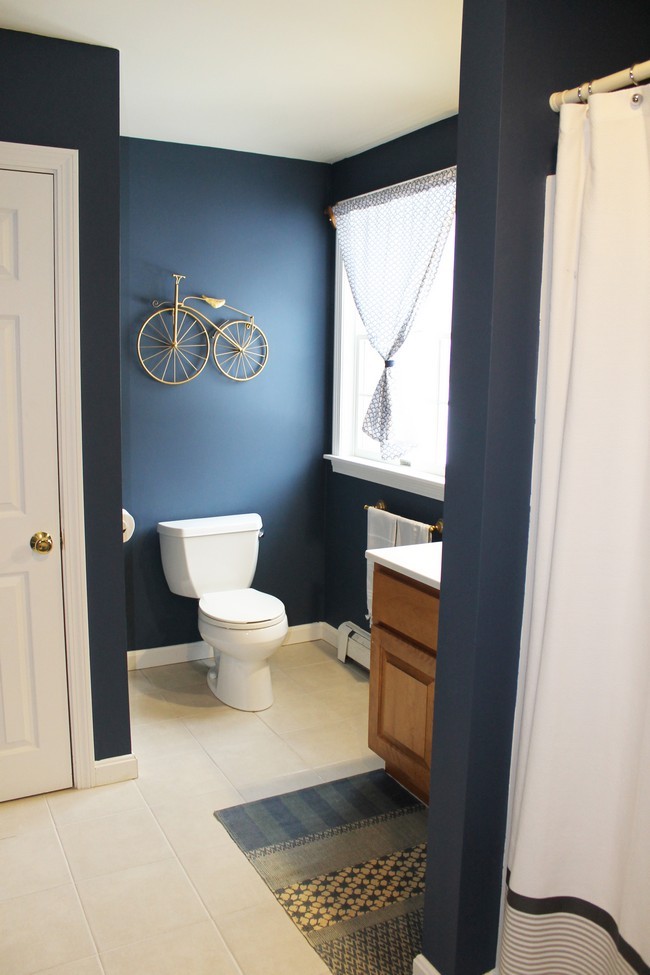 The first thing that will catch your eye in this bathroom is the golden sprayed bike figure. A lot of people like hanging such items in their living rooms as well because they are very stylish. The cobalt blue color reinforces the groovy theme. The choice of the rug is very much compliant with the blue theme of this bathroom!
14. Vivacious Red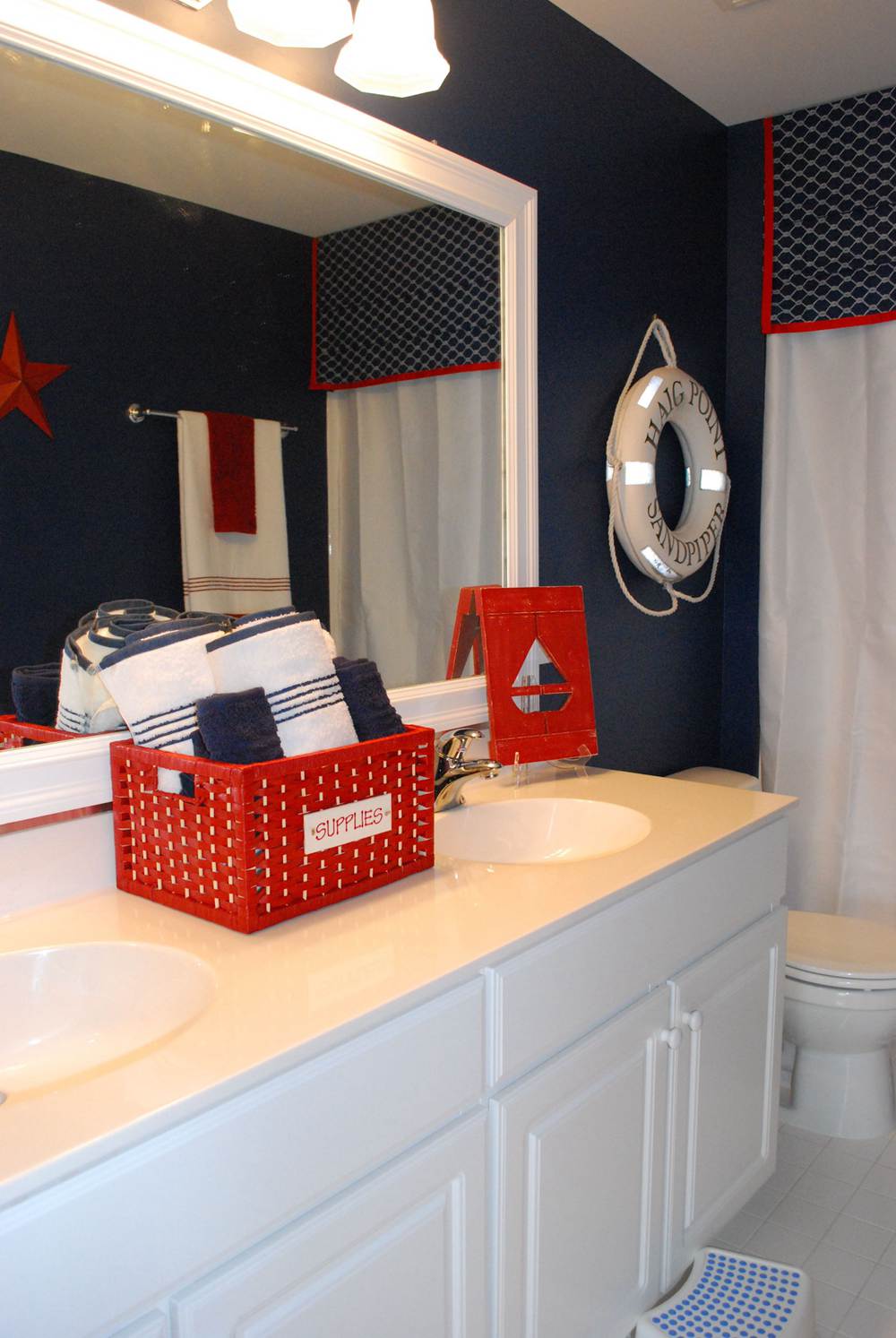 Another sailor themed bathroom with a double sink vanity! The red basket adds a pop of color and is a good way to showcase your bathroom essentials or supplies. The clean and sparkly white vanity and mirror gives a necessary highlight to the color scheme!
15. Aye Aye Captain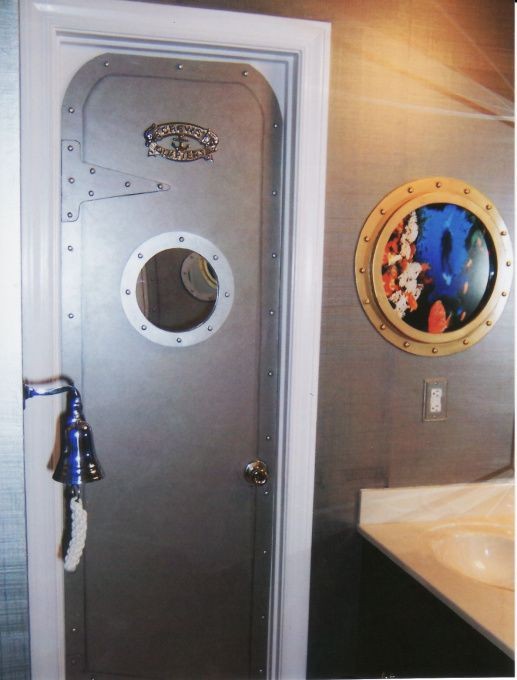 Doors can make a huge difference so make sure you select one that is compliant with your chosen theme. This one is another sailor themed item which looks ever so cute and fun!
16. Pop Of Neon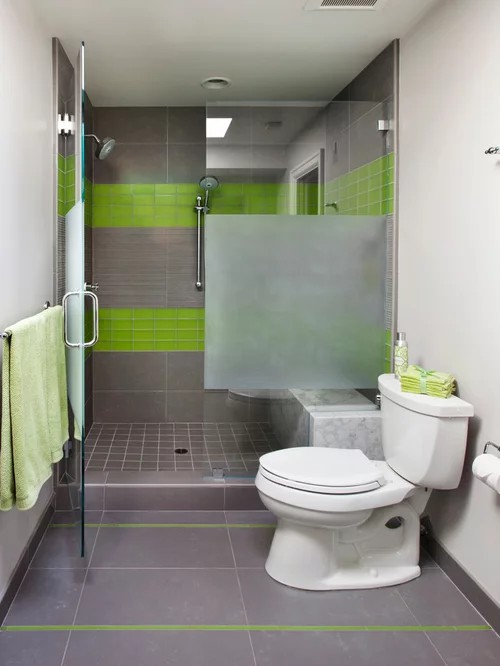 Grey and neon greens go well together. You can easily incorporate them with the use of tiles or wallpapers like it is shown in this bathroom. Notice how the floor and wall tiles are both complementing one another! The glass shower doors are frosted mid-way which is a clever idea!
17. Calm And Balm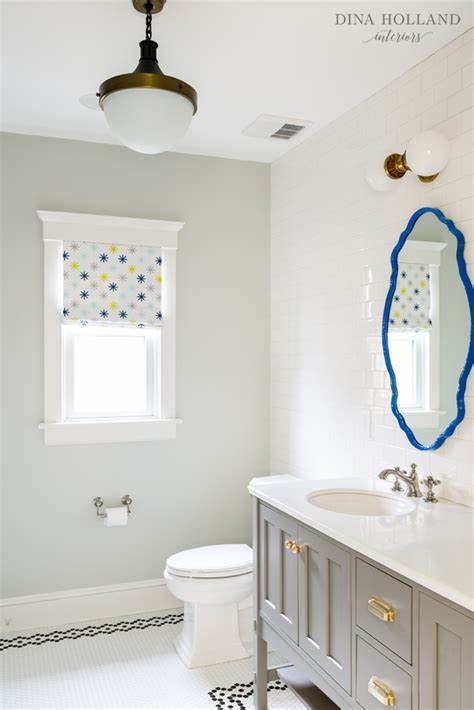 The blue-rimmed mirror has an influential effect on the entire aura of this bathroom. This bathroom has just the right amount of radiance. The white bathroom hardware makes it look glowing and neat! The floor tiles have an attractive bordering which adds more beauty to this bathroom! You can look for similar ones to these!
18. Dunk It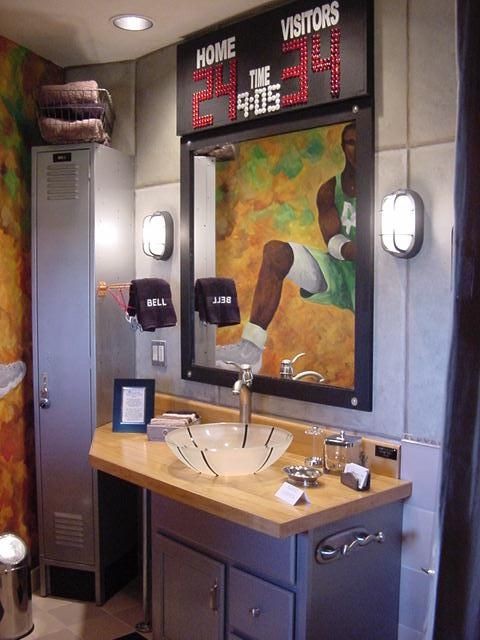 This is the coolest way to insert a wall clock into the bathroom! The mirror is reflecting a picture that every football fanatic would love! Even the locker is the same one you would see in the dressing rooms designed for athletes!
19. Crashing Waves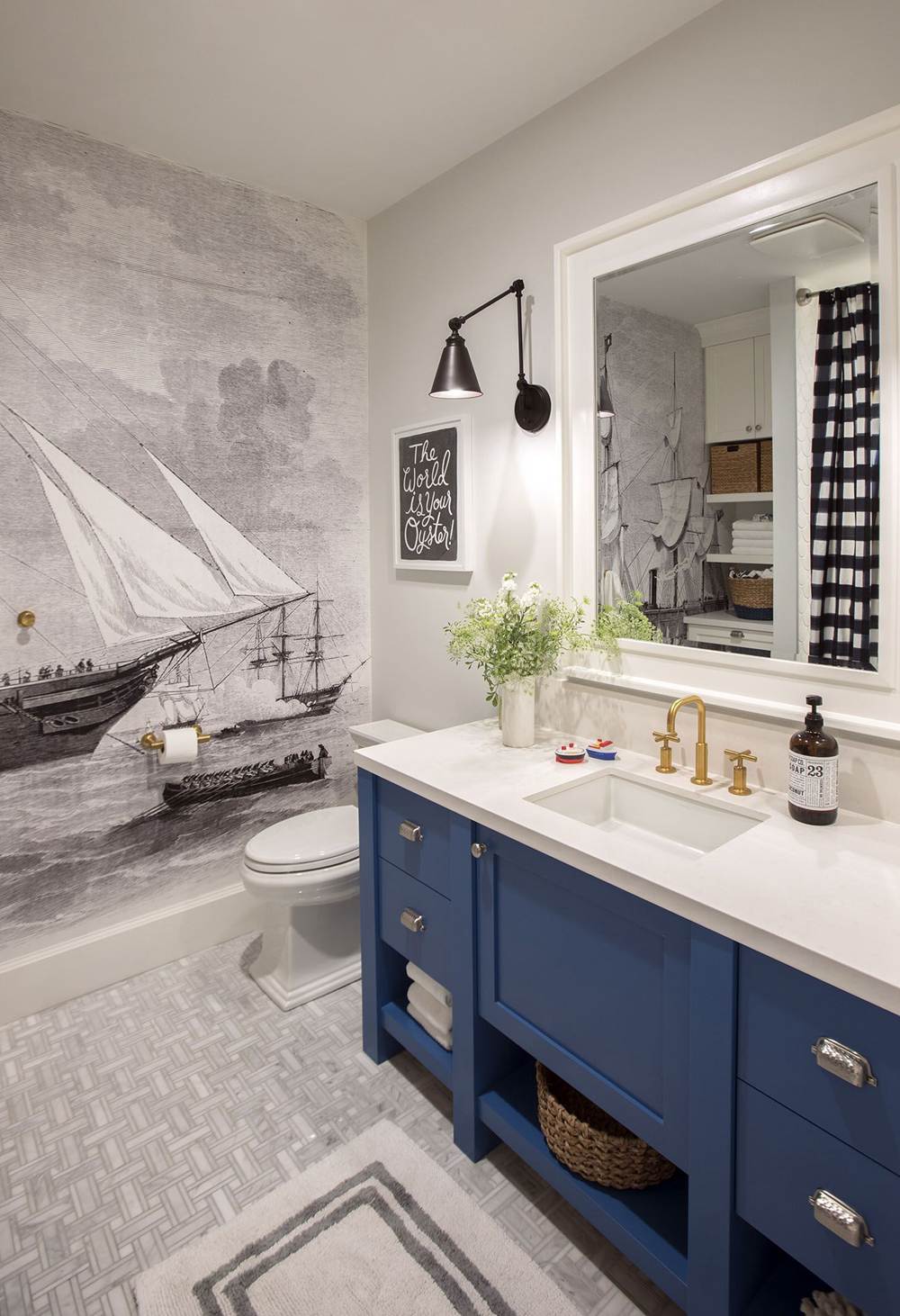 Wallpapers can make a huge difference to a bathroom, and it is very much evident in this photograph! The lamp style lighting and the chalky frames are giving such a fun vibe. The interior of this bathroom is made even more attractive by the use of a Capri blue vanity cabinet. The grey wall paint blends in perfectly with the ongoing theme of this bathroom.
20. Bathroom Essentials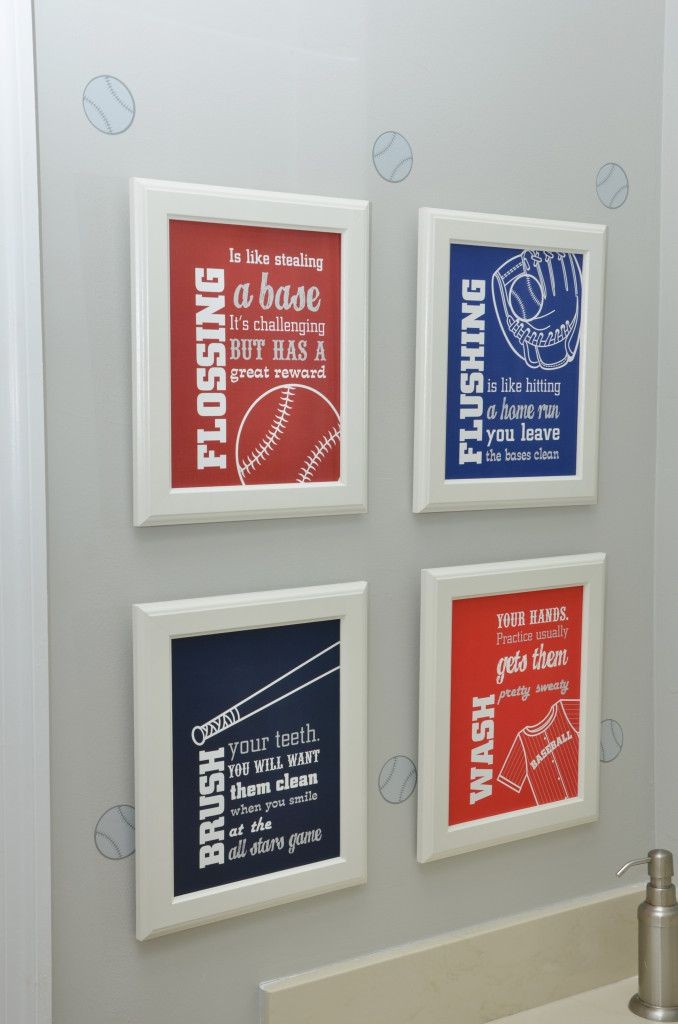 Some football or rugby themed bathroom rules look great in any bathroom. The best part is that such frames can adjust to almost any theme that you have used in your bathroom. They are fun to read and also make the bathroom look very pretty!
21. Welcome To Bali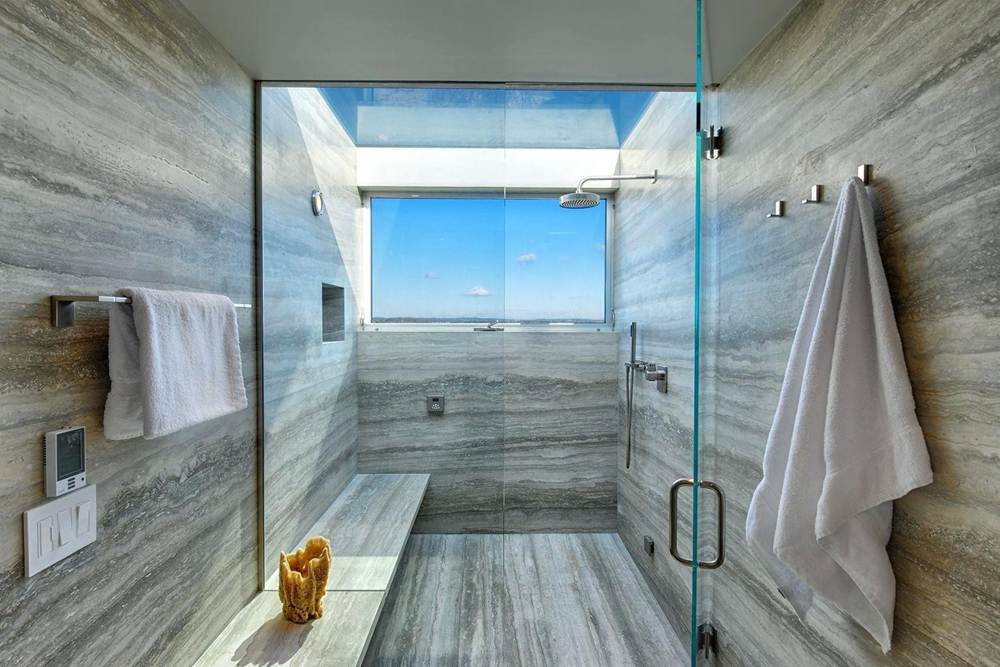 An open to sky ceiling is an amazing way to sink your bathroom into the vibrant hues of blue! If you really enjoy showering or bathing for long, then you can set up a television set as shown in this bathroom. Glass doors add to the reflectiveness which in turn promotes further radiance!
22. Purity In Essence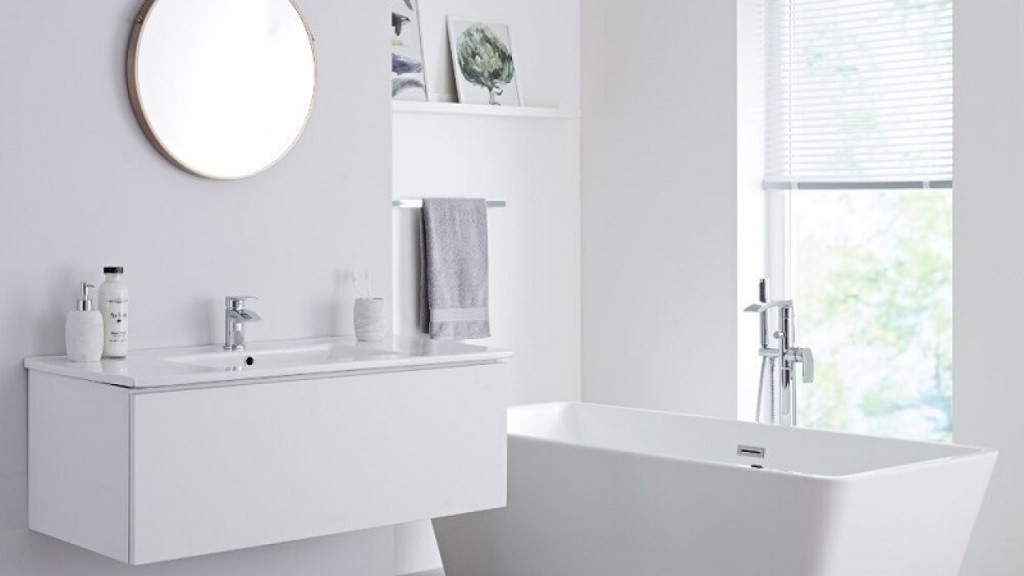 There is no beating the gracefulness of purely white bathrooms. They are ever so blissful and easy to recreate. However, white bathrooms always go well with wide windows which allow copious amounts of natural light to flow in and illuminate the entire area. A bathtub right beside the window will facilitate a pleasant view during bathing so you can relax!
23. Vamp It Up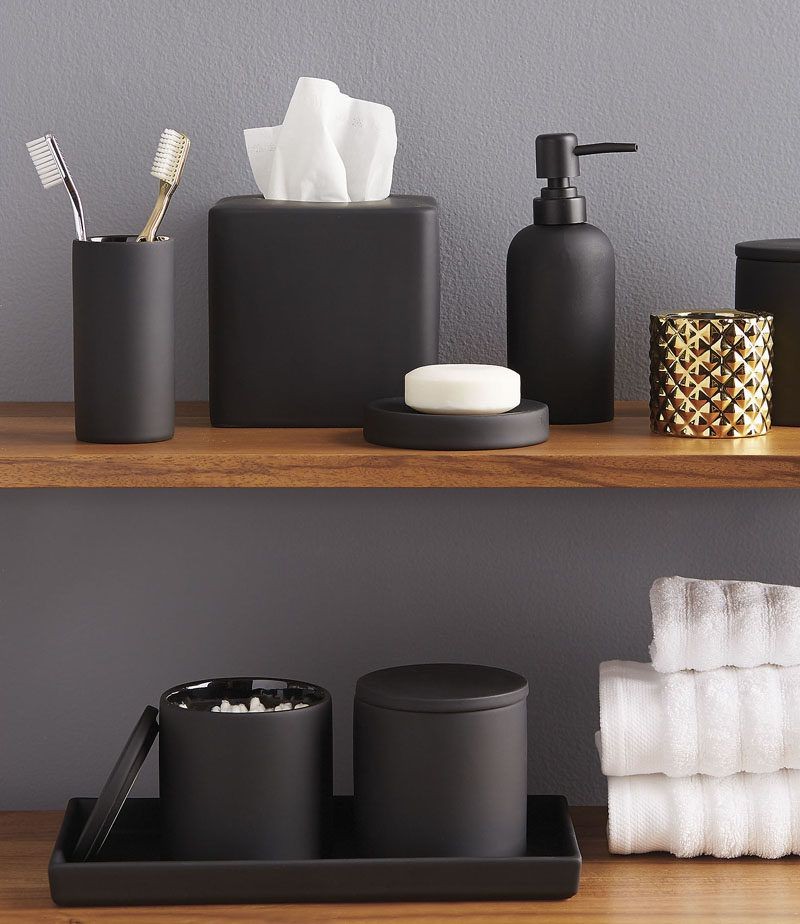 It is the small things that cater to a bigger impact. This bathroom set has a gorgeous manly color. The finishing is satin and neat. Placing this set on your vanity will surely make your bathroom look twice as more attractive!
24. Luscious Leather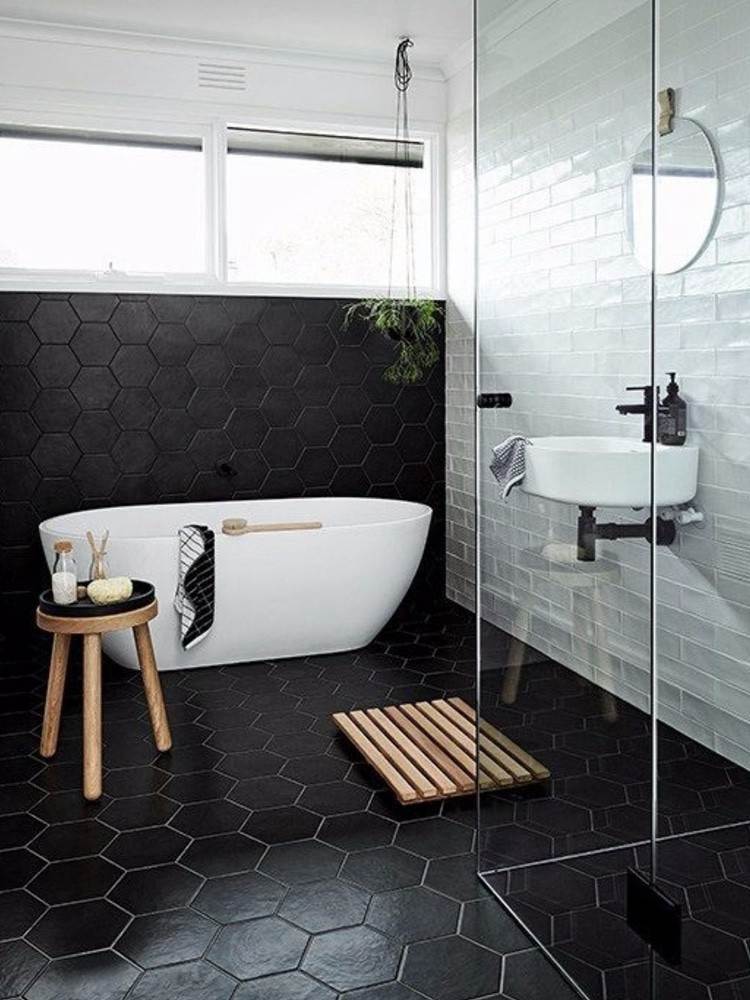 Just analyze the lustrous impact these hexagonal tiles are making. They have such an intriguing texture that makes them look like leather! Choosing to top it up with white bathroom hardware is a clever idea because it neutralized the dark tones and also adds essential brightness to this boy's bathroom!
25. Graphics To Impress
Such wallpapers can instantly make your bathroom look trendy and attractive. Circular mirrors are very fashionable and these are much more preferred than traditional square or rectangular mirrors! Classic cylindrical grid lights add more to the style statement of this gorgeous bathroom!
26. Aspiringly Breathtaking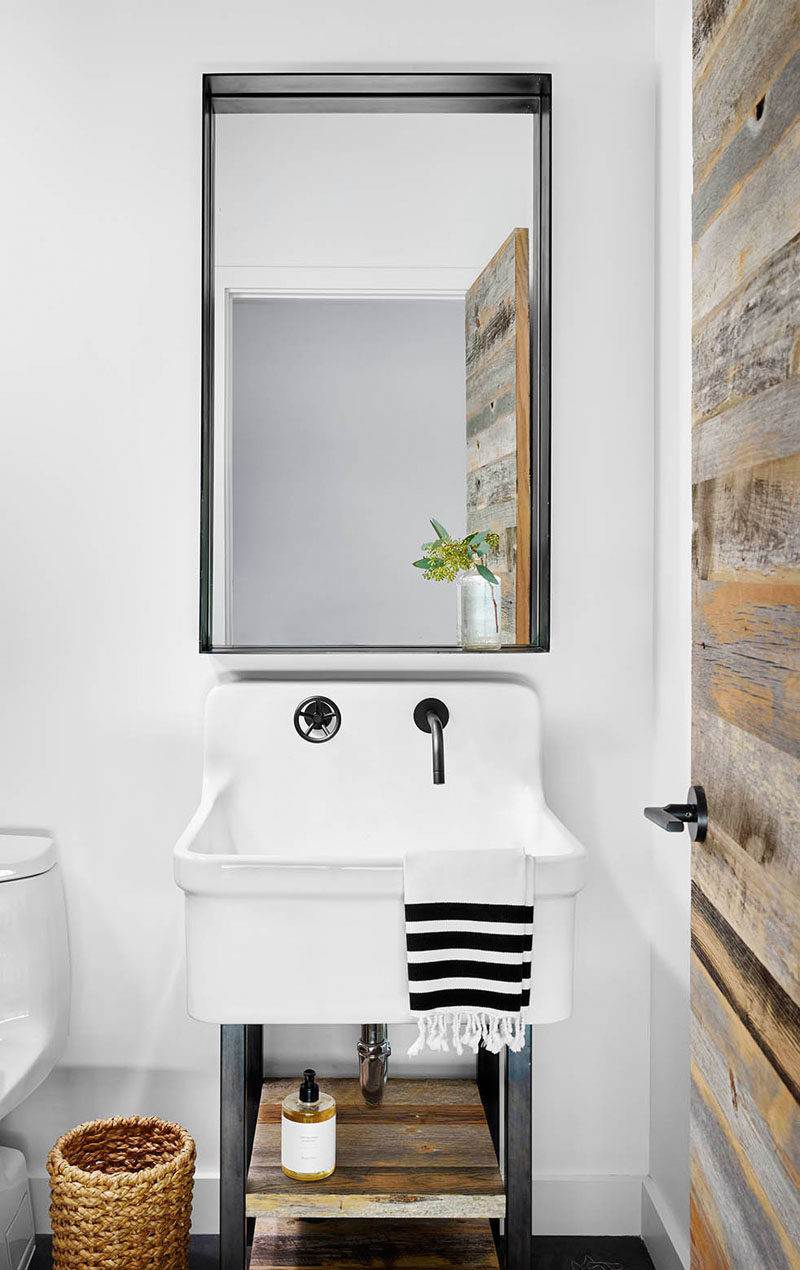 Such well-lit bathrooms will remind you of the beach and the radiant sun! The use of white washbasin with the black framed mirror makes an excellent combination! The faucets used in this sink are particularly distinct and make this bathroom look unique. Basket bins also give off beachy vibes!
27. Tropical Vibes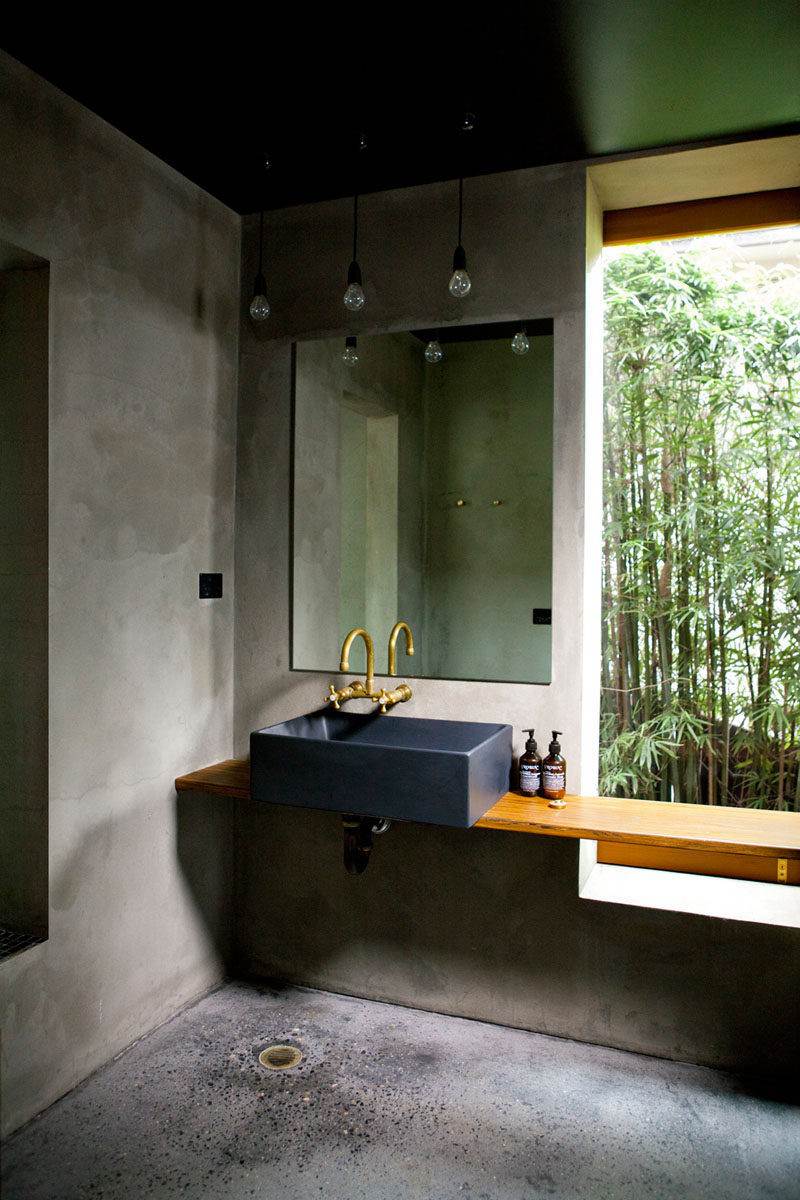 If your window gives views of some tropical trees or scenic scenery then make sure to incorporate windows that are larger in width and length. They will give a breathtaking view and also light the bathroom without you having to invest much in the lighting during day time! The golden faucets with the dark sink exhibit excellent light and dark contrast whereas the unique lighting above the vanity area makes this bathroom stand out a class apart from the rest! You can paint the walls for a neater touch.