This eye-catching collection of bathroom door ideas will open portals of exquisite style and alluring destinations!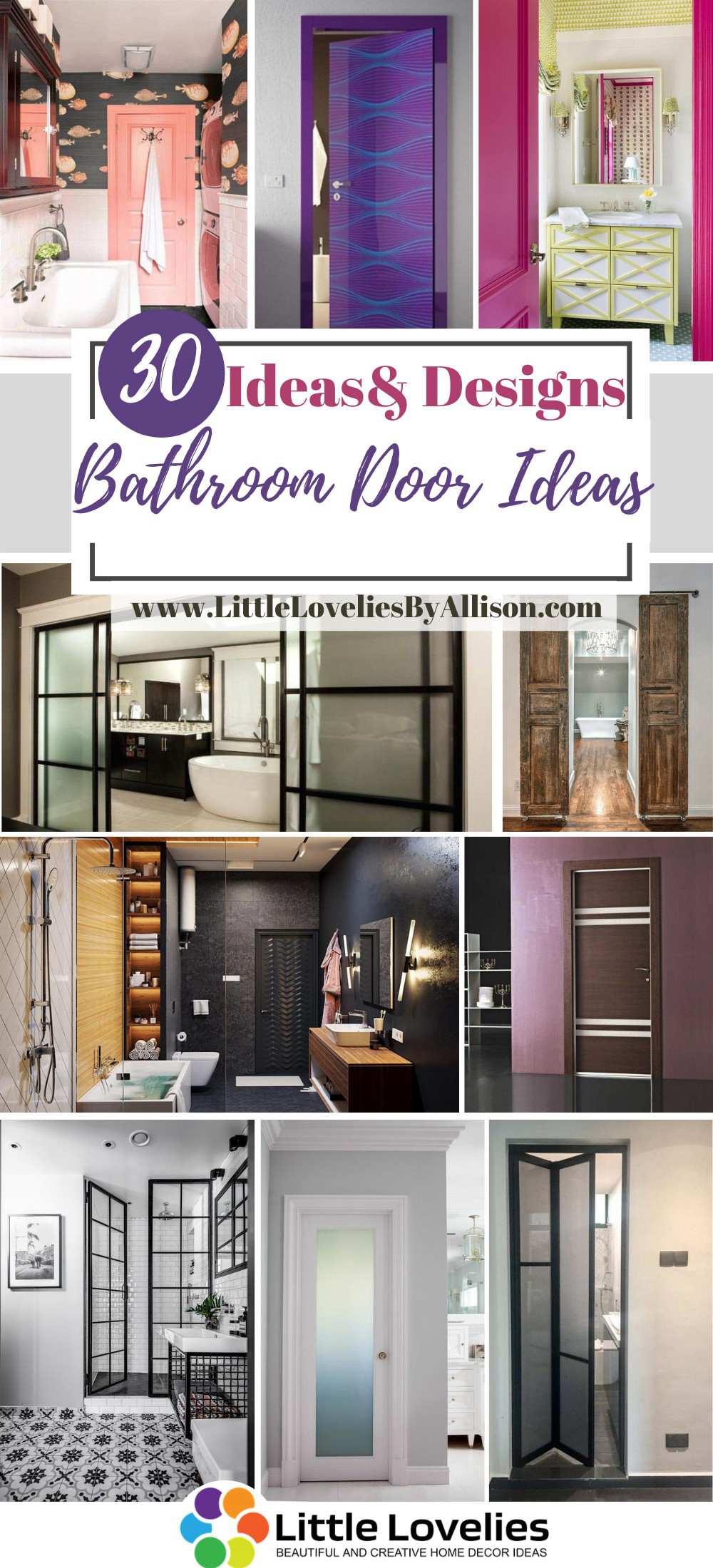 1. Frosted Ice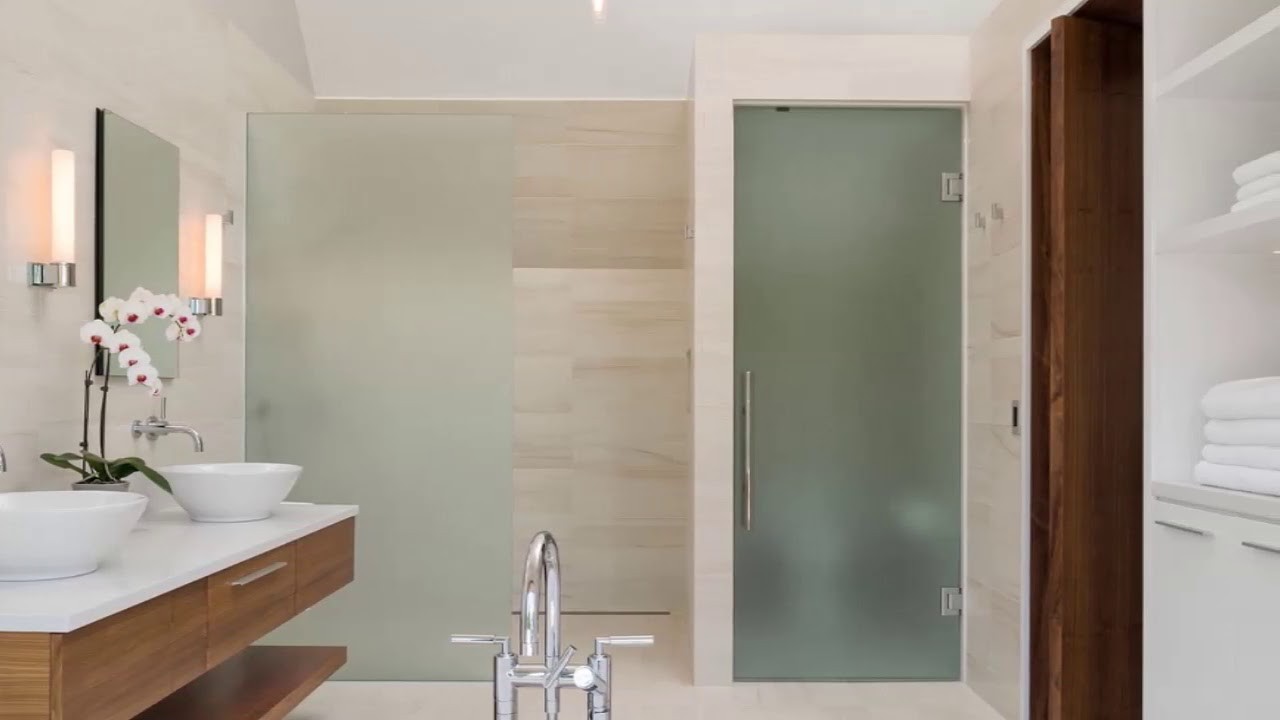 Frosted glass doors are ever so fashionable and they come with a lot of advantages. The foremost benefit of frosted glass doors would be that of the penetration of light without the breaching of privacy. They also give a very posh and executive look to bathrooms or washing areas alike. You could opt for door handles or the sliding glass door option, the latter having more convenience and style!
2. Barnhouse Delights!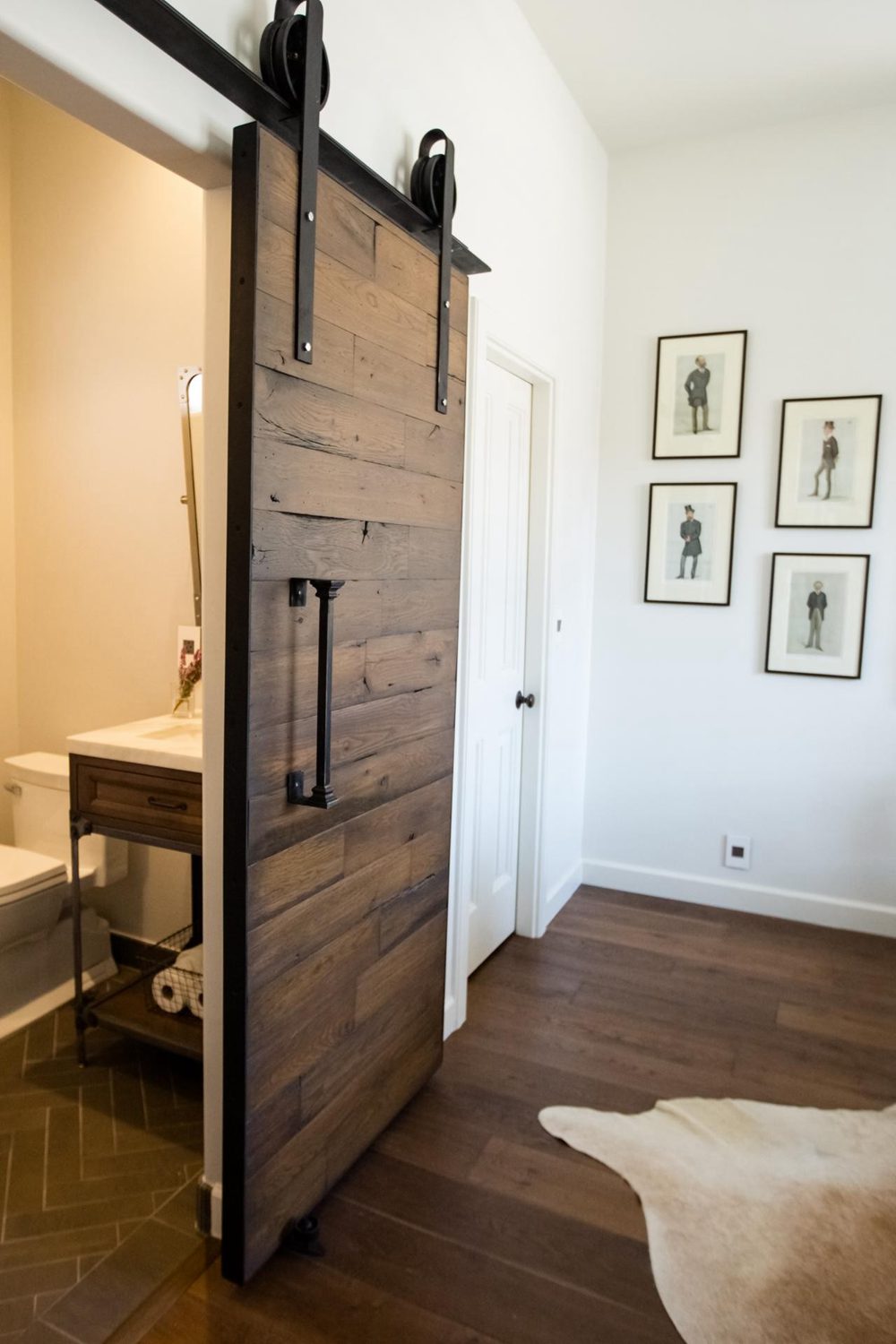 Yet another sliding door option that caters to all your rustic cravings! This gorgeous and sturdy door has appealing handles and smooth gliding systems. It can go very well with any modern contemporary theme as well!
3. Mantle Piece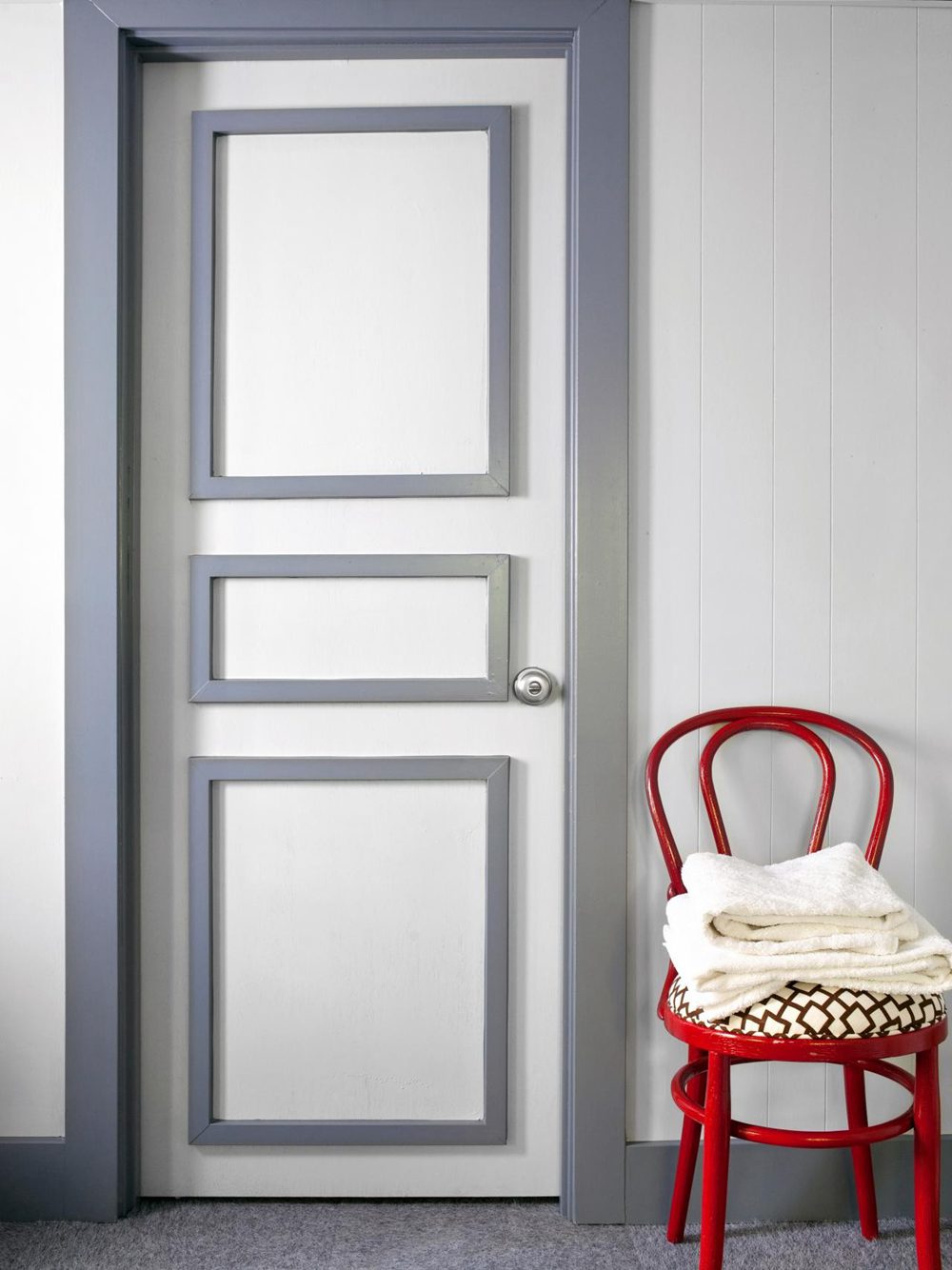 Doors like these often leave you wondering about where they might lead you to! This simple yet delicate design of grey borders leaves an elegant embossment on the style statement of this door. The light colors also look very well in broad daylight.
4. The Executive Touch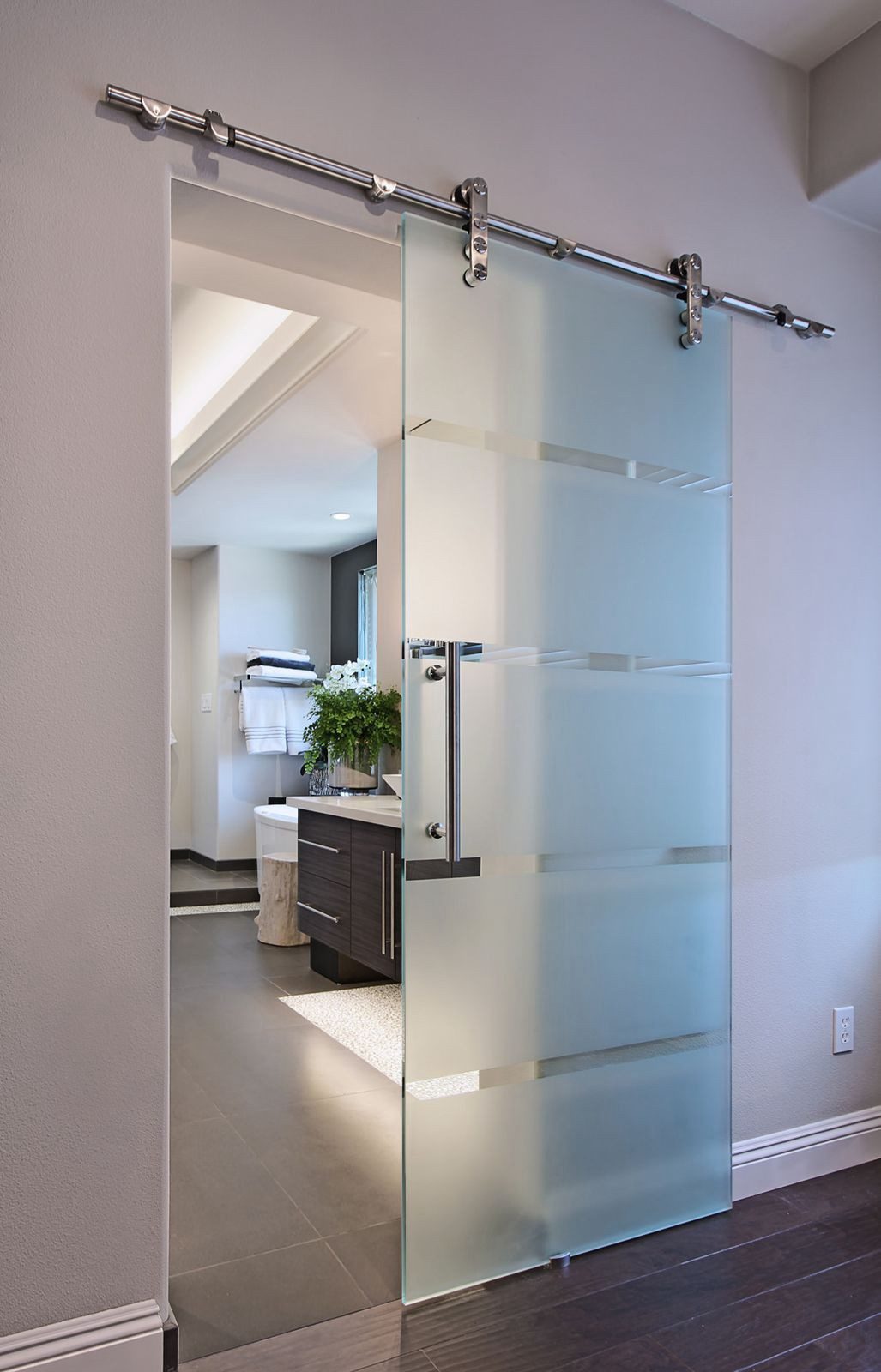 This sliding glass door with striped frosted columns sets it apart from regular frosted glass doors. It adds an element of sleekness whilst enhancing the radiance of the bathroom space. It is very much similar to what you would expect to see in grand hotel rooms.
5. Crystal Clear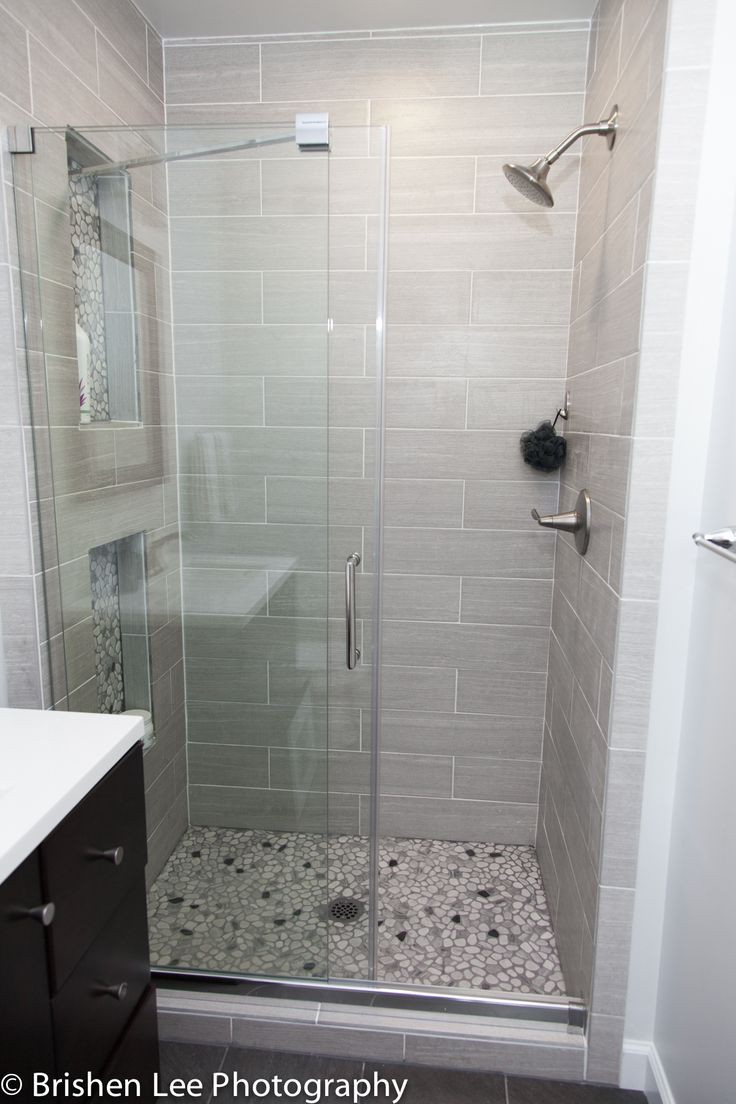 Transparent glass windows are best suited for shower areas only. They prevent excess vapors from humidifying your entire bathroom and also barricade the water from splashing all over your washing area in the bathroom. And not to forget the posh look they are able to impart!
6. Half And Half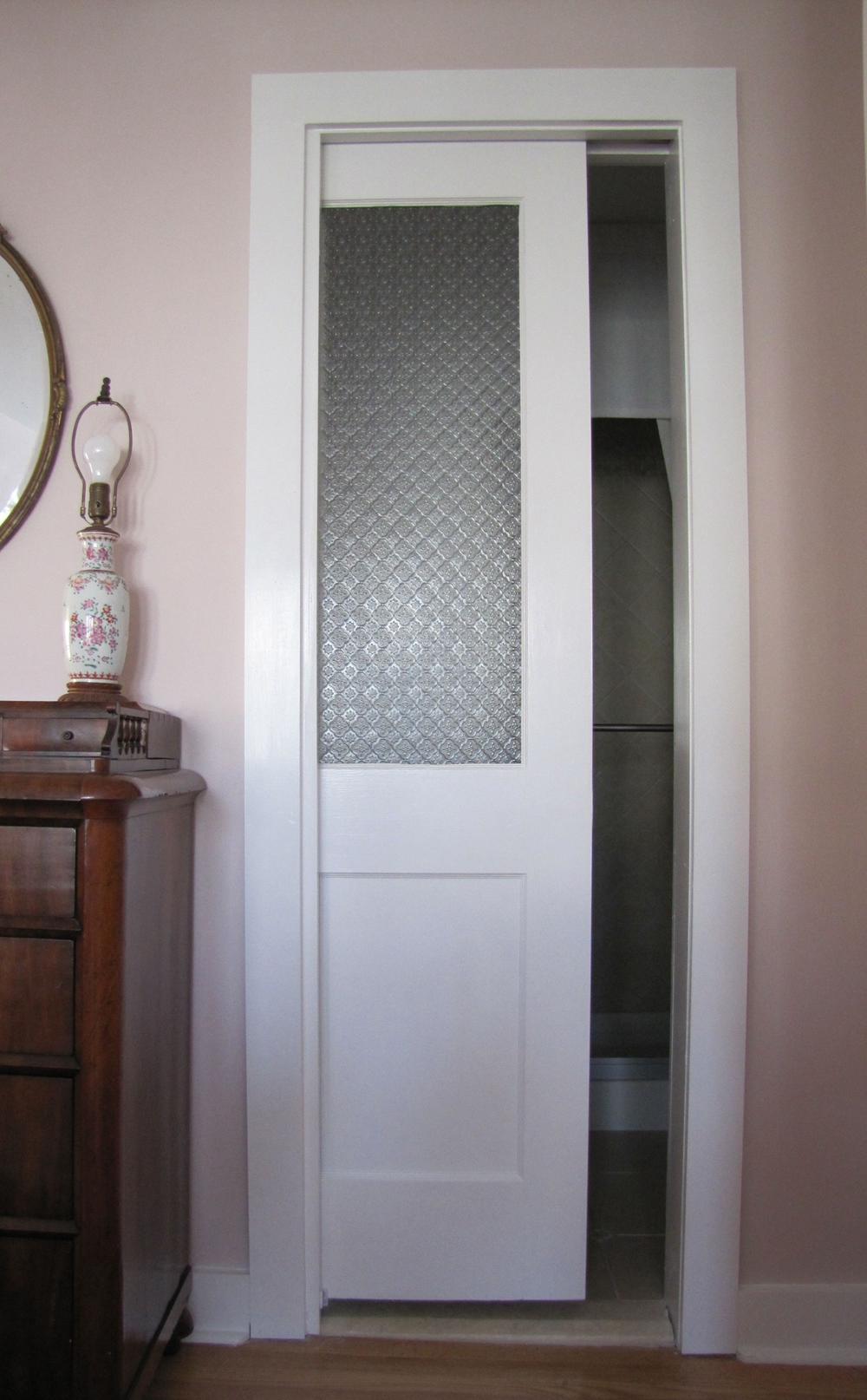 A wooden door with glass panels in the center make an excellent duo. They send off a dollhouse-like delicate vibe. The white ones are classical and manage to pull off a lot of grace but if you are someone who likes grunge looks then a black one would do the job for you!
7. Mirror Mirror On The Wall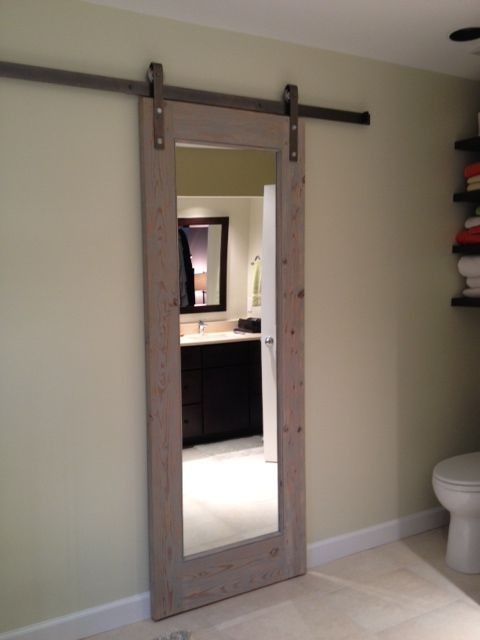 A full-length mirror capped on your bathroom door will make it convenient for you if you connect your dressing room right next to it! It also looks great and since not many people employ this door style, it will make yours look unique! The faded grey panels look absolutely ravishing and give more dimension to the door.
8. Essential Folds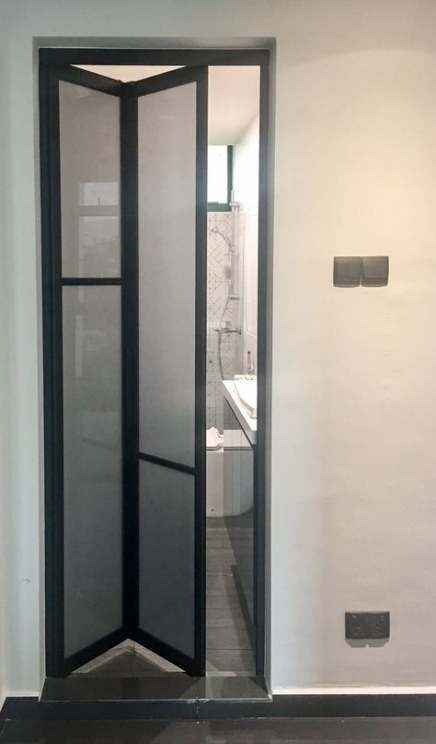 Folding doors are very trendy and can make your bathroom door look ever so unique. They are also much lighter than traditional doors which are really heavy.
9. Ocean Blue Tints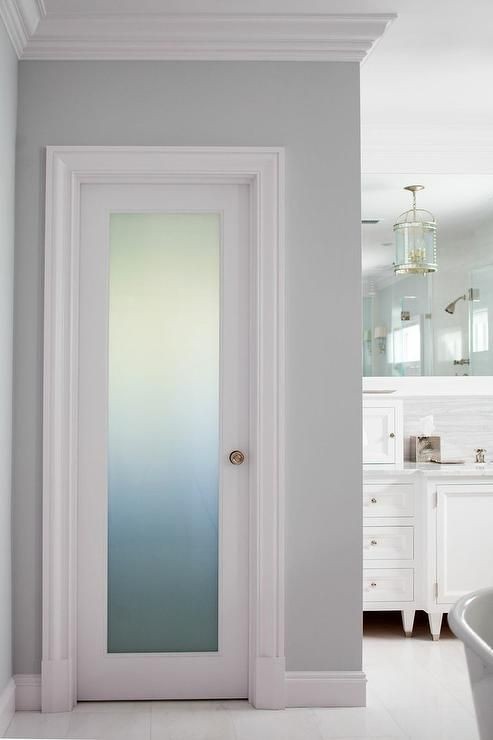 Frosted glass doors with tinges of aquatic blue look ever so exotic and appealing to the eye. A light grey paint to border the door like the one done in this picture makes the most perfect color scheme. Such doors also allow optimum in-flow of light into the bathroom.
10. The Demi-Matte Finish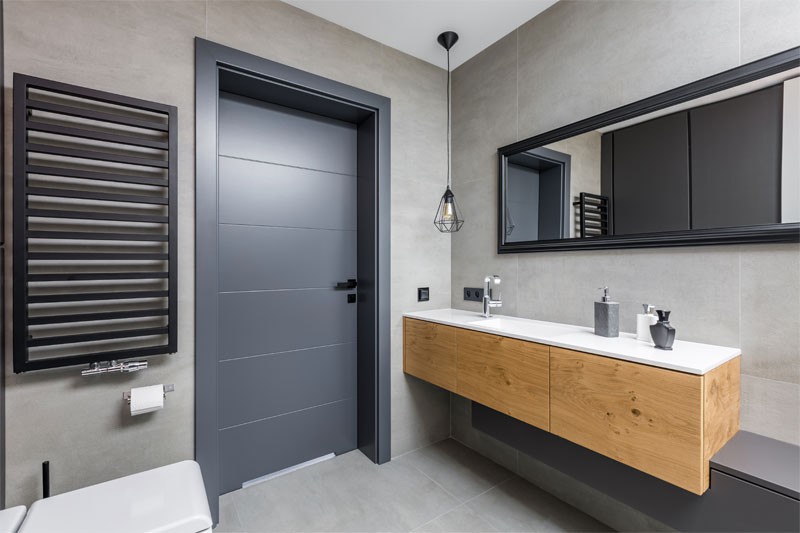 If you are someone who can not decide between glossy or matte finishes, the perfect crossover would be that of a demi-matte texture. Just like this grey door with engraved stripes, which impart a modern contemporary look. You can couple it up with a light-colored wooden vanity and wide mirrors to make your bathroom stand out.
11. The Essential Split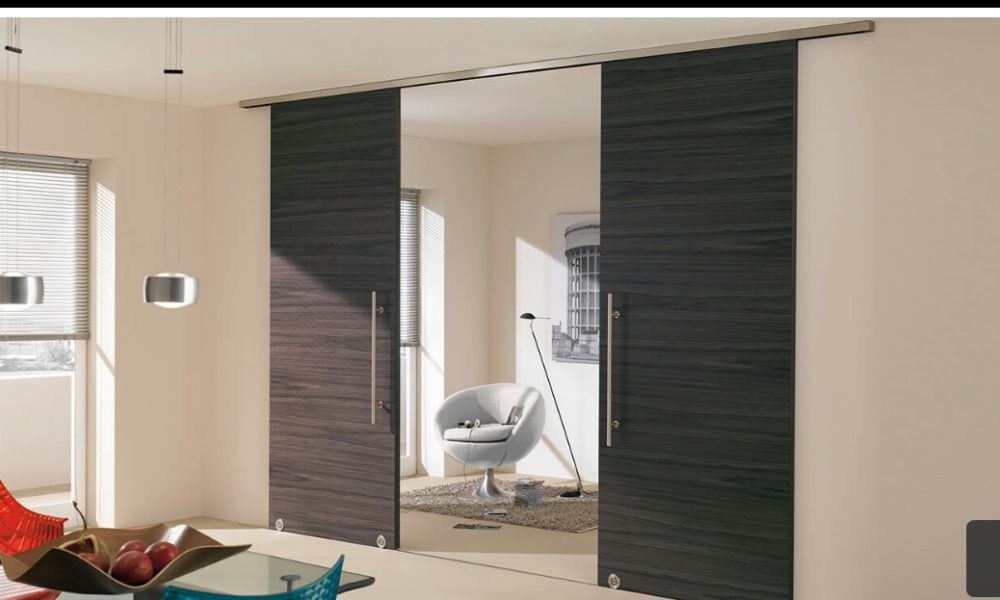 This split-door style has such a unique way of entertaining its visitors. It not only looks grand but also allows a graceful view of the bathroom. Split doors are however heavier to handle.
12. Link It Up!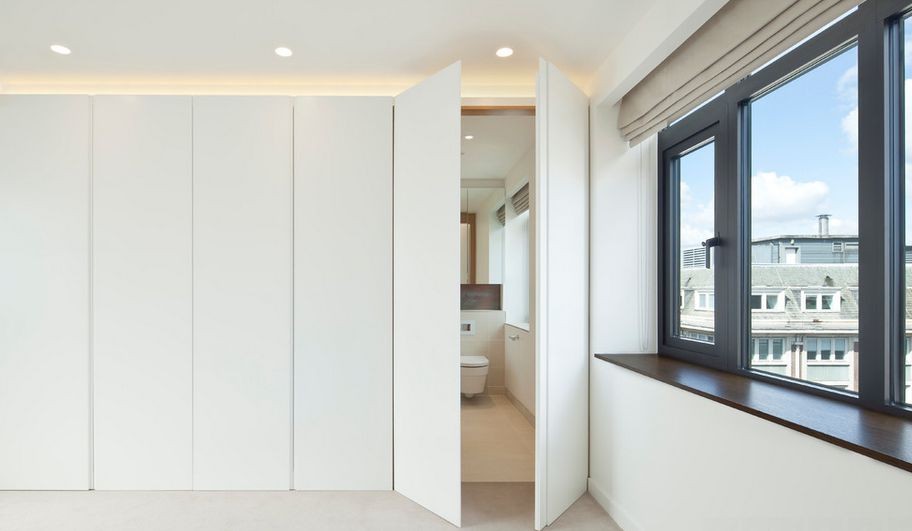 What a great idea to conceal and camouflage the door entry of the bathroom! It is in perfect harmony with the cabinets of the room. The pearlescent white color with its glossy view seems ever so delectable and radiant. The light coming from the window further illuminates the room.
13. Wood Works
Wooden doors have been the epitome of fashion in the history of progressive renovations. You can customize your door by adding acrylic panels that allow a necessary in-flow of natural light. The geometric and sleek door knobs further enhance the beauty of the door.
14. Pearl White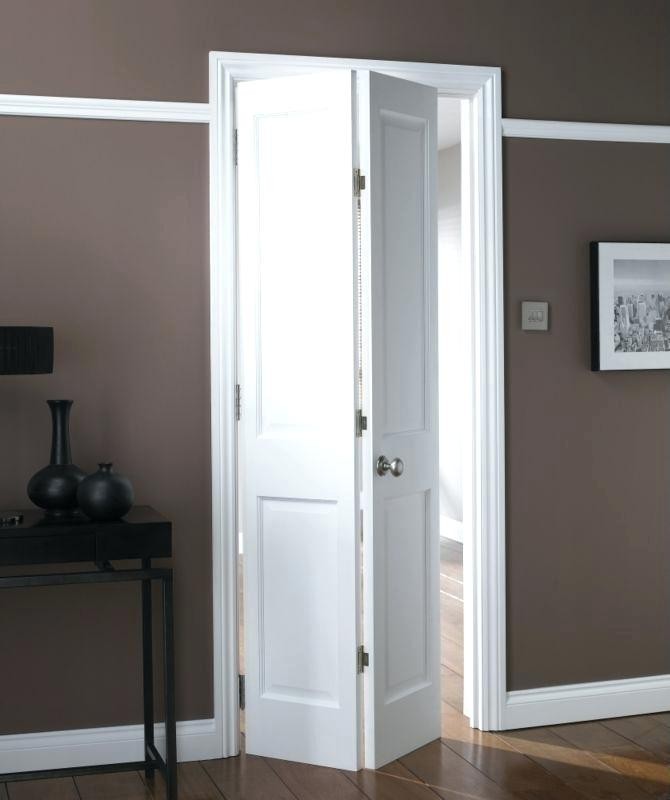 Another folding door that comes with a lot of grace and beauty. These are easily adjustable and allow you to incorporate a wide entry area which is particularly convenient for introducing bulky furniture items like bathtubs and jacuzzis. Bathroom makeovers become very much possible with folding doors!
15. Textures With Luster
This glossy faded black door is giving off stylish and grunge vibes with a tinge of elegance. It perfectly compliments the dark-toned theme of the bathroom! Playing around with such patterns and textures can make your door stand out and make your bathroom look world-class!
16. Revolutionary Barnhouse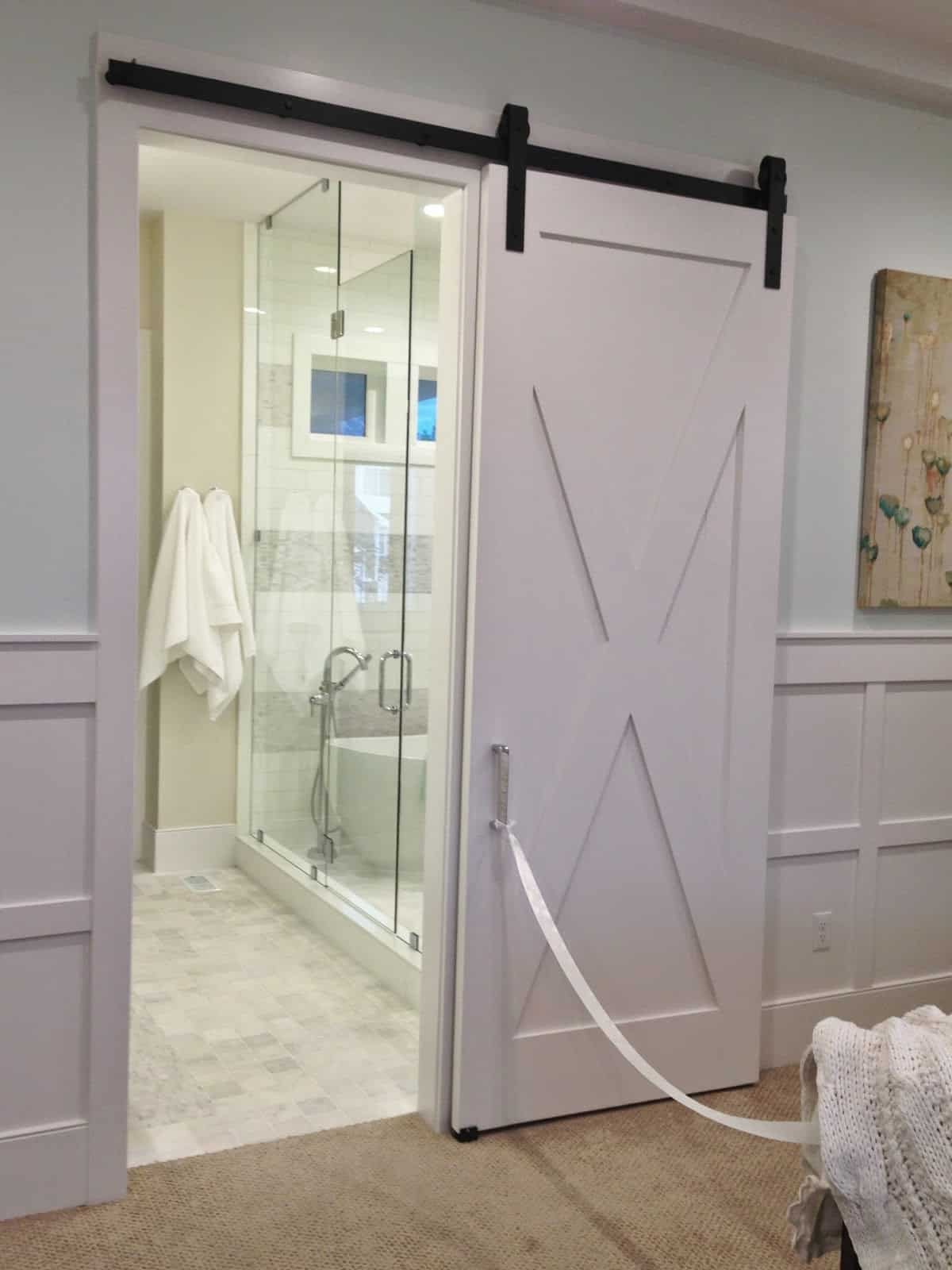 Doors with X's on them are traditionally attributed to Barnhouse style furniture. But this door has so much of modern contemporary flavor that it ends up making the bathroom shine in all its glory! The sliding feature further enhances the futuristic look.
17. Peek-A-Boo!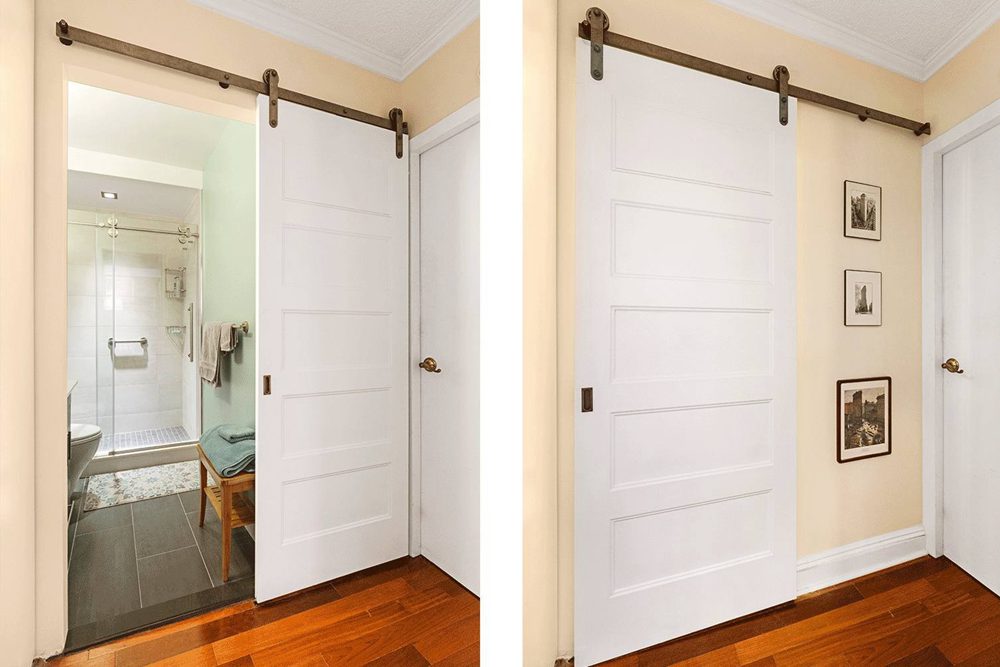 You can slide the door to enter the bathroom and then close it to reveal some really trending frames! Modern architecture is now in full swing and such doors portray these elements in practice!
18. Entry Of Elegance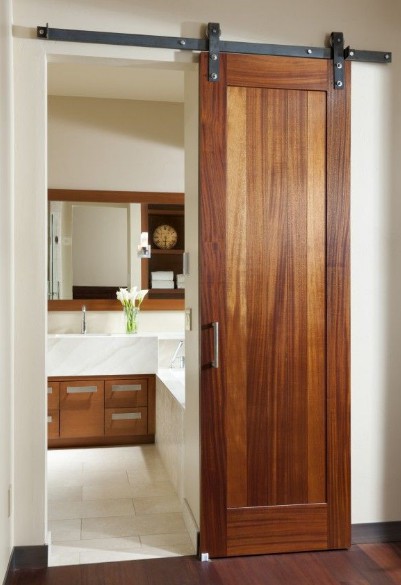 Behold, a marvel of artistic elegance! This sliding wooden door contrasts with the bathroom furniture as well. As soon as the door opens, it reveals a melodious harmony of texture blends and color schemes!
19. Dark Portals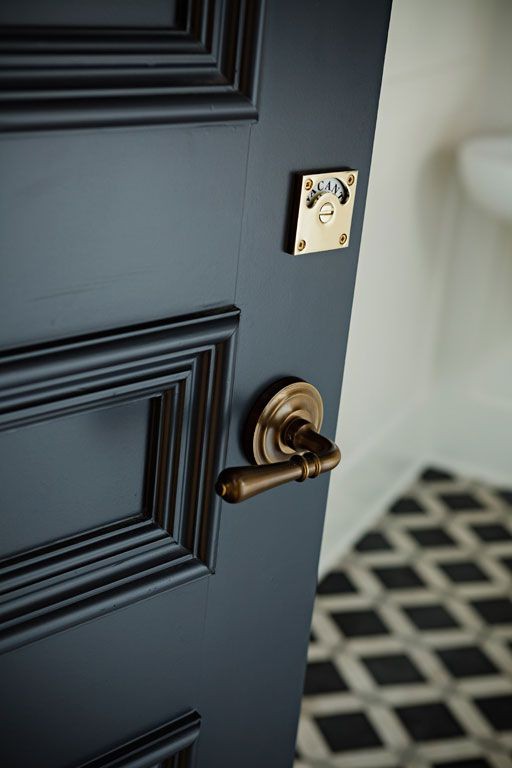 Semi-matte black doors are not just dimensional but impactful too. They reveal strong impressions of elegant grunge. The tiles complement the door ever so gracefully. The golden-brass doorknob gives a royal touch to the door. The white wall tiles bring out the dark black hue of the door even more! You can also get a vacancy sign attachment to add a customized touch to your black bathroom door.
20. Ravishingly Reflective
A borderless mirror door is definitely something outside of a box and will blow the minds of any visitors that happen to pass by. Even though border frames are often used to give dimensions to doors, this one does not need any since it is so exotic on its own. The reflections are tainted subtly to reveal a unique glow!
21. Calm And Cool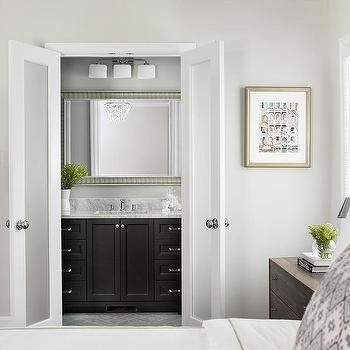 White doors are hallmarks of excellence and serenity. And if they are designed to become double split doors then the architectural significance is taken to another level! This bathroom seems to be inspired by an enchanted fairytale! The black vanity cabinets exhibit excellent contrast with the tintless whites!
22. A Countryside Vibe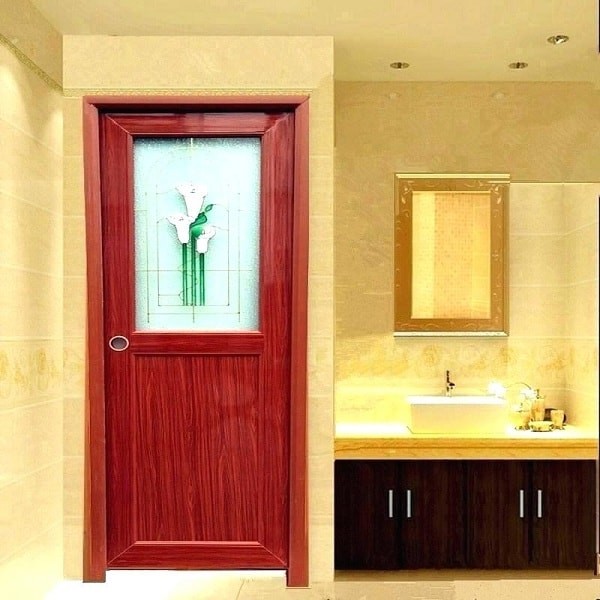 Not for the faint of heart, but red doors are very impactful and sometimes graceful. This rustically painted dull red is executing fun and spicy vibes! The central frosted glass panel has various patterns and an embossed tulip design to display a natural touch!
23. Slide Into Art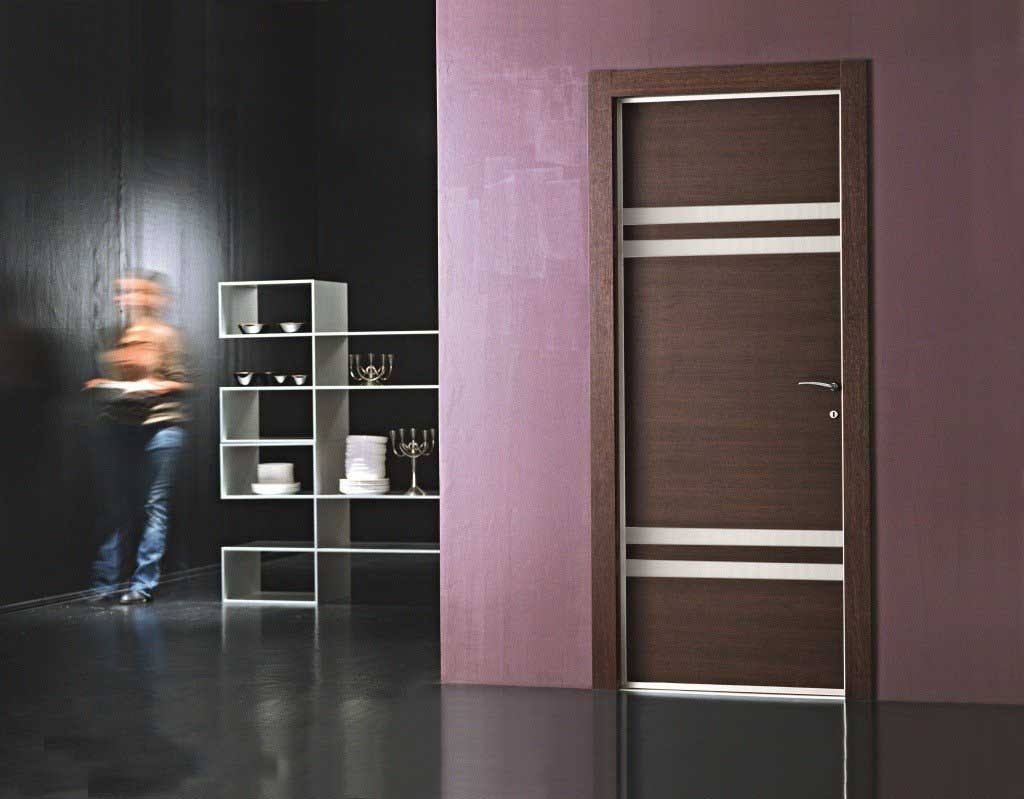 The bathroom and its architecture not only display modern contemporary fashion but also an artsy affair. This door gives luxurious and extravagant energies! The mauve paint and the striped borders are both clever insertions that contribute to a blissful glow.
24. The Black Opulence
Grid style transparent shower doors are a growing trend and that too for good reason. They give a distinctive look that no ordinary bathroom door can. You can set up a grid-themed bathroom like this one! Where everything from the vanity till the mirrors is compliant to one design! The flooring further amplifies the flavor of this black and white bathroom theme!
25. Your Highness!
This grand double sliding door is the epitome of royalty. It has roller wheels at the bottom to give a smooth gliding experience whereas the texture of the door is rustic with speckles of modern contemporary. It opens to reveal a glamorous bathroom inside which is dazzling, thanks to the chandelier!
26. Broader Aspects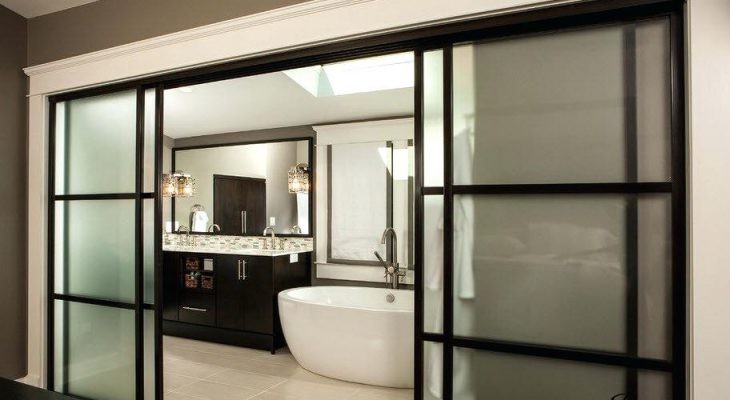 A bathroom the size of a full bedroom needs doors that are just as big! And these sliding rectangular doors do the job! The frosted glass components look great with the interior of the bathroom. It is executing tangible luxury which is delectable to the eye.
27. Pop Of Lemon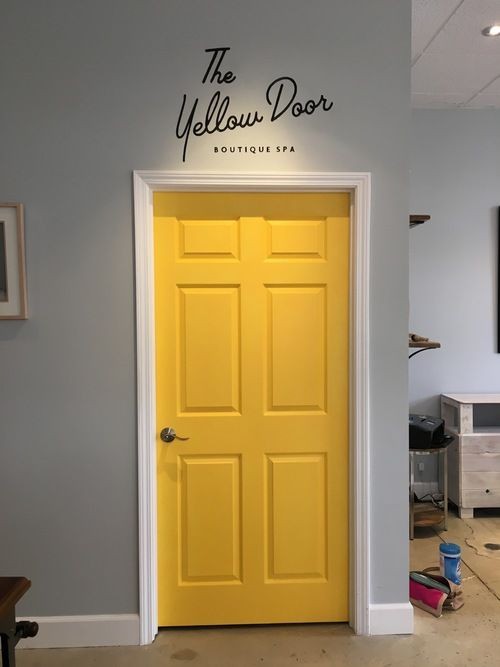 Yellow doors with grey or black paints are classically retro. They give a trendy and fun vibe without becoming too overwhelming. Yellow doors are tricky to play with but if chosen alongside the right combinations, it can prove to be a show stopper! A spotlight on the top can further enhance the radiance of this bright color.
28. A Barbie Fantasy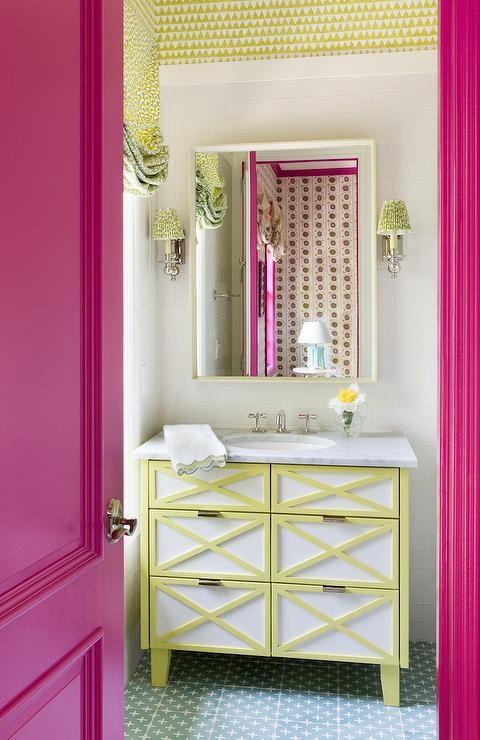 Many of us are crazy about pink colors, and this barbie themed pink door is here to spark our moods! You can couple this with a gold or champagne themed bathroom interior to make it look stunning!
29. Exotic Neons
What can be cooler than an abstract pattern that sheds off hints of subtle neon? This blue and purple door looks absolutely lavish. It also lifts the entire room into a groovy aura that is smoothly exhibiting calmness and serenity!
30. Coral Shores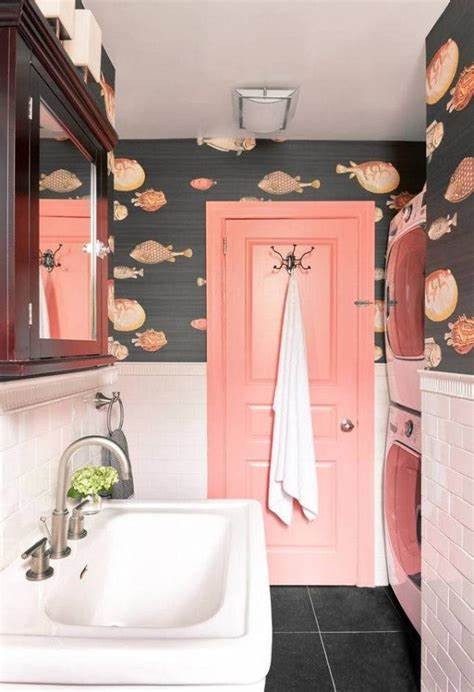 A gorgeous combination can be made between that of a coral door and also a peachy wallpaper to go along with it. This is a particularly good idea for a kid's bathroom because of its fun element!