Furniture, as well as vehicular upholstery, tends to take beatings from pets, spills, soil. And the affected spots soon become a natural accumulator of microscopic organisms.
You definitely can't appreciate the irritating reaction, following the lack of regular cleanups.
That's where you can skip commercial cleaning with an enthusiastic indoor solution. Regular kitchen elements should get you the perfect homemade upholstery cleaner.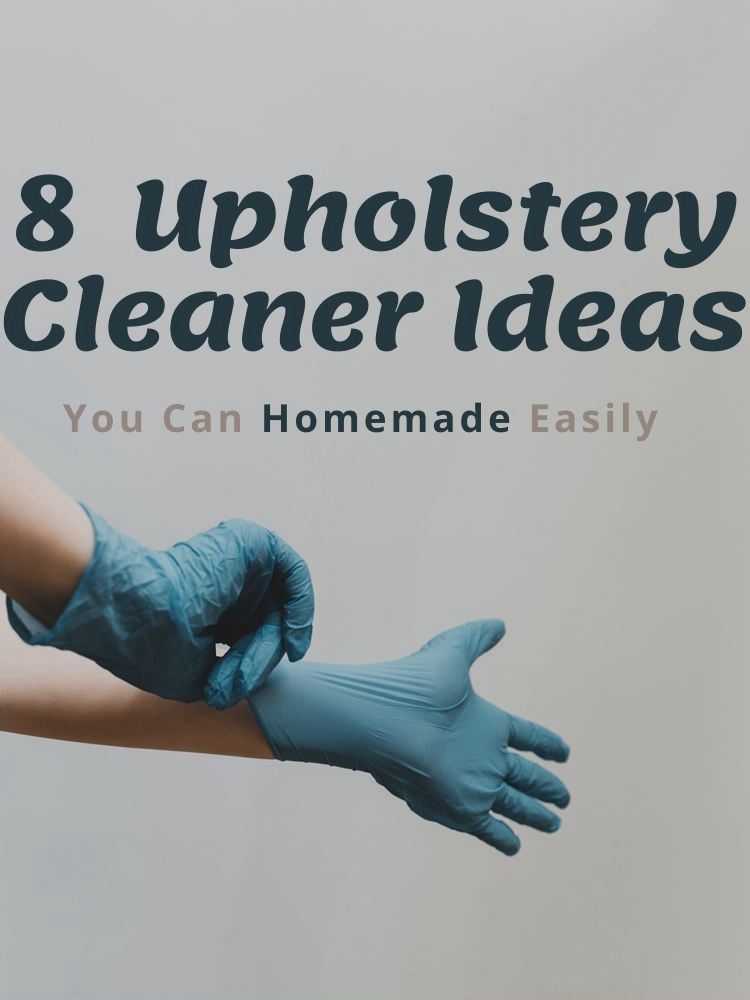 Why Should You Use Homemade Upholstery Cleaner?
People primarily want to try homemade cleaners from financial perspectives. Commercial services are somewhat expensive depending on the upholstery treatment.
And you can't even know the type, composition, or suitability of used cleaner. The upholstery may catch permanent damage from artificial or chemical store-bought mixes.
Indoor cleaners literally take no time, special care, or additional store purchases. Standard solutions are enough to deal with the cleanup requirements all by yourself.
Fiber Content of the Fabric
There are different types of upholstery in the market to cover your intended seats. And particular homemade cleaners are prohibited to use on a specific type. You must check the manufacturer's recommendations for a confirmed cleaning.
The USA made it compulsory in 1969 for all manufacturers to attach care tags. Locating the tags will immediately reveal the upholstery type for your action.
Code S – Only dry-cleaning agents (no water) suffices the upholstery.
Code W – You're free to use water-based cleaners on the upholstery.
Code W-S – Either solvent-based or water-based cleaners stand okay.
Code X – Avoid any kind of homemade mixes for cleaning. But you can initiate vacuuming for primary maintenance. And consult professional service to remove heavy stains.
Necessary Equipment for the Project
Of course, you need to prep the cleaning agent using multiple supporting tools. Here goes the list of the necessary hardware to accomplish the projects at home.
Additional microfiber clothes
Large or medium mixing bowls
Electric hand mixer or whisks
Some functional spray bottles
Upholstery attachment vacuum
Label maker or masking tape
Permanent marker for tagging
Scrub brush with soft bristles
Let's get started with the usable cleaners to consider for upholstery maintenance.
1. Always Start with Vacuum
Vacuuming is indeed the most fundamental cleaning action for dirty upholstery. Cleaning agents actually work well on odor as well as stain-causing substances. But you should face extreme problems in removing ordinary dirt, grime & particles.
Breaking out the hose attachment should treat the fabric holes primarily to ease the task. Always remove the underlying cushions before start vacuuming. Likewise, treating both surfaces properly will loosen most of the dust particles right away.
2. Check the Detergent Alone
Don't just decide on heavy chemical cleaning agents to maintain your upholstery. It's entirely possible to encounter eventual fading of appeal upon dirt or dust. Using normal laundry detergent without extreme composition should suffice an excellent outcome.
Put 2 tablespoons of detergent powder in 2 cups of warm water at normal temps. Apply the soapy mix directly on your upholstery for rubbing with microfiber cloths. Only the stubborn stains with a slight odor should remain for fabrics to contain minimal dirt.
3. Laundry Detergent Solution
However, you can utilize your laundry detergent in a different method. The strategy works great on stubborn stains from recent spills.
Ingredients
2 tablespoon baking soda
2 tablespoon laundry detergent
2 tablespoon white vinegar
2 cup clean, warm water
Directions
Take a bowl rather than a spray bottle to mix the items together. You're free to skip baking soda without odor control problems. Directly dip a microfiber cloth into the solution to apply on fabrics.
Try to maintain a circular or oval motion while rubbing the surface. Don't ever press the fabric with a bristled brush or anything similar. Allow the treated upholstery for fully natural air drying.
4. Rubbing Alcohol Mixture
It's one of the most recognized homemade cleaning agents for anyone. The intended formula goes pretty well in the form of a spray.
Ingredients
½ cup white vinegar
½ cup rubbing (isopropyl) alcohol
Around 1 cup water
Directions
Mix the ingredients at once; give a good shake before application. Use less amount of water to treat heavier stains. However, slightly dilute the solution to use on somewhat delicate fabrics.
5. Dish Soap with Peroxide
Removal of stain may not suffice your intention of restoring the appeal. And the perfect cleaning to secure cleanliness with brightening comes right here.
Ingredients
1 teaspoon dish soap
Sufficient baking soda
50% hydrogen peroxide
16 ounces clean water
Directions
Fill one spray bottle using dish soap with water. Take a second bottle to mix the equal part of hydrogen peroxide concentration and water. It should create the required 50% solution for use.
Spray the soapy solution on your fabric to initiate light saturation. Spray the 50% peroxide on the fabric to secure a uniform treatment. Gently sprinkle baking soda powders on the entire surface.
You may consider a slight hand rubbing to create full evenness. Leave the fabric overnight should dry the cleaner from its inside. Simply vacuum the entire surface orderly to retain the fresh look.
6. Exclusive Baking Soda Paste
Dealing with extremely stubborn stains can become a nightmare. But the special paste should take care of dark, tough, deep fabric marks.
Ingredients
½ cup baking soda
Clean home water
Directions
Place the baking soda on a reasonably flat holding surface. Add a few teaspoons of water to initiate a thorough mixture. Continue adding the water to create a thick yet spreadable paste.
Take a generous bite from the prepared paste to cover a stain. Directly apply the paste on either or both sides of the fabric. Leave the upholstery for several minutes for chemical reactions.
Start scrubbing the area using a microfiber cloth at a gentle speed. Remove the paste using rubbing alcohol or detergent suds. Likewise, skip artificial drying to achieve maximum effects.
7. Dry Cleaner with Cornstarch
Worried about all the water-based formulas regarding no-wet upholstery? Consider the following DIY cleaner to ensure effective results.
Ingredients
½ cup baking soda
½ cup cornstarch
Small water amount
Directions
Combine the ingredients on a flat surface to make a thorough mix. Keep adding water a small amount using one teaspoon. Continue mixing the materials to form a thick yet usable paste.
Directly apply to the targeted spots on your stained fabric. Leave the upholstery for an hour or so, letting the paste dry. Start vacuuming the spots closely to remove the applied paste.
8. Essential Oils for Fragrance
Whether it's rubbing alcohol or white vinegar, the action tends to leave trails. However, the essence is sure to fade away after several days by itself. Still, not every homeowner seems happy about the initial smell on the upholstery.
You can add a few drops of specific essential oil to introduce a great smell. Citrus oils, especially lemon & orange can impart additional disinfecting properties. And lavender, rosemary, or lemongrass can induce a soothing fragrance.
Expert Tips on Homemade Cleaner
Test your prepared cleaner on a hidden, minor spot first. It should help you to determine the extent of possible outcomes.
You can consider different amounts to change the concentration. However, don't try using similar or additional items.
Try to include baking soda in your mixture. The all-around alkali can address grimes, grease & odor extremely well.
Maintain a gentle pace in applying as well as rubbing. Too much cleaner on the surface will give issues on removal.
Protect other surfaces surrounding your place of action. Stronger yet unsuitable agents can cause significant damage.
Always allow some minutes after applying the cleaner on fabrics. Homemade cleaners should work better in this way.
Vacuuming the fabric surface should cover the first & last step. It can help the surface to present the actual appeal.
Suitable Cleaner for Specific Upholstery
As mentioned, there's no way to neglect the upholstery type regarding a cleaning mix. It's time for you to learn the preferable DIY cleaners for particular fabrics.
DIY Cleaner for Fabric or Faux Leather
The category features cotton, linen, blended as well as outdoor upholstery fabrics. Meanwhile, faux leather or vinyl upholstery gets to use the cleaner.
You can use a water-based cleaning mix to treat the fabrics by yourself. It can accommodate vinegar, castile soap, or somewhat similar items with water.
DIY Cleaner for Synthetic or Microfiber
Some of the synthetic fiber can's withstand water-based cleaners for maintenance. Only a mere number of fabrics have proper tolerance for the water-based mix.
Upholstery to have W or W-S tag can suffice suds from dishwashing liquids. However, skip the formulas for the alcohol method on the upholstery to feature code S.
DIY Cleaner for Commercial Leather
Leather needs great care while cleaning in order to retain the original softness. Proper cleaning methods alongside excellent conditioning are a must for suppling.
Better stick to an olive oil – white vinegar mixture prepared right at home. No matter what, you must save everything for a natural suede leather upholstery.
Final Words
The article content remains short enough for you to understand the fundamentals. You just need to figure out the upholstery type with available resources. And the rest should become easy, natural 7 comfo9rtable without adding your expense.