One of the most unsatisfying things is buying onions and driving miles back home only to realize that you got a bad onion and cannot use it. Yes, you might be able to return the bad onion back to the seller or store, but all that stress isn't necessary.
Some onions can look perfect on the outside and bad on the inside, that's where we come in, never again would you buy a bad onion.
We have listed some amazing tips to tell if an onion is bad. As I said, an onion can look okay at first sight, however, you might have to touch, feel and even smell (if the seller allows) to know if it's bad.
When on the counter, whole onions have a lifespan of 2-3 months, and this can only happen if they are stored at the right temperature.
Whether you are buying an onion from your favorite grocery store or you are about to use that perfect onion bulb you got 2 months ago which has been on your kitchen shelf, these tips will come in handy.
Which onion is healthiest?
Just before we dive deep, we have decided to cover some basics that will help you. Eating onions have been known to have some side effects that are not so pleasing, some side effects of onions include;
Stomach pain
Skin irritation and Eczema (when in contact with the skin)
Some people might experience these effects and others won't, we are all built differently and have diverse allergies.
So, of all the onions available for consumption, which one is the healthiest? Yellow and Red Onions are the healthiest to consume, this is because they are richer in antioxidants than other kinds of onions.
Between both, if you asked for my favorite in terms of being the healthiest, I would go with Red onions, they are known to be sharper and spicier than yellow onions.
Of course, if you are interested, you can learn more about the different types of onions in the video below and get a better idea of their differences.
What does a bad onion smell like?
There are a lot of speculations on what a bad onion should smell like. All onions have a smell, and you don't have to be a "super grandma" to know how to identify a bad from a good odor.
Here are some tips to help;
Bad onions usually would have a stronger smell.
A decayed smell is a positive indicator that the onion is bad.
An offensive odor means you should stay away from that onion.
Can you eat an onion that has sprouted?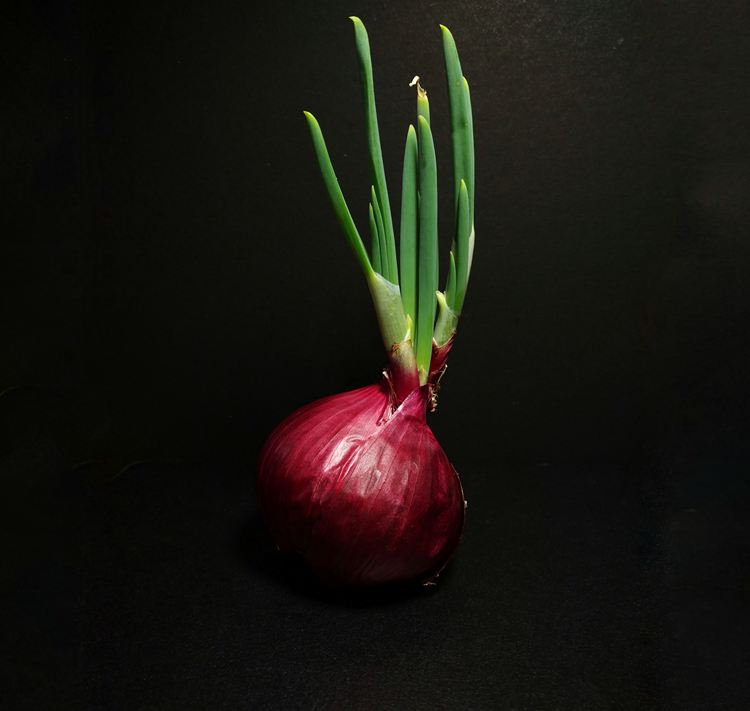 Yes! You can make your favorite local meal with a sprouted onion, it won't harm you. I remember when my kid thought he was going to have a stomach attack after he found out that I used an onion that had sprouted to make his favorite spaghetti recipe.
While this remains unharmful, you should still be on the lookout for oversized roots, and overly mushy onion. It would be best if you stayed away from the very soft onion that has sprouted.
In India, a lot of people eat sprouts due to the high amount of protein.
Can you freeze raw onions?
The answer to this question is Yes! Raw onions can be kept in the freezer to significantly increase their shelf life. However, you shouldn't just buy onions and throw them into the freezer, there's a better procedure that would most likely ensure a prolonged lifespan for your onions.
Peel the onions.
Slice them to your satisfaction.
Put the sliced onions in an airtight container.
Place the container in the freezer (Always ensure the freezer is working).
Doing this can keep your onions fresh for 7-9 months. Simply take them out of the freezer for use whenever you please.
7 Tips To Tell If An Onion Is Bad
Some of the tips listed below might not be enough reason to determine if an onion is bad or not. However, there are very important things you must consider if you want to distinguish a spoiled from a good onion.
1. Bad Odour
One of the most important things to do is smell the onion "never underestimate the power of the nose" With your nostrils, you can determine if the onion you are about to purchase is good or bad. Using your sense of smell, you would want to check for a foul or rotten odor, this is always an indicator that onion is bad.
While most onions naturally have strong smells, the difference is usually noticeable with bad ones. However, this technique might not be ideal if you are purchasing the onion from a grocery store, as the owners might prohibit using your nose to smell what other customers might want to buy.
Before doing this, ask the shop owner if they are okay with it, if you get a "go ahead" then sniff away and keep your mind open for even the slightest foul smell. In a case where you are not allowed to smell the onion you are about to purchase, you should see other tips below.
2. Softness
A good onion is supposed to be a bit hard and firm. If the onion is too soft or squishy, then it could be a sign that the onion is bad. Most grocery stores will let you feel the onion in your hands before buying, be sure to wear the temporary gloves provided while checking.
Also, avoid pressing the onion too hard, just a little squeeze with your thumb and middle or index finger is enough to determine whether it is too soft. I would advise that you do not purchase an onion that is too soft!
3. Color
The color of the onion can also determine if it is good or bad. You would notice dark spots on the onion which is usually an indicator that it is spoiled. Anything extra color on the onion other than its original state would be a good reason to not take it home with you.
4. Soft Spots
Some onions might not be spoiled all around, so, when checking for softness, another tip to consider is checking at least 80% of the overall body of the onion.
While doing this, be on the lookout for soft spots. Some people do not care if some spots are soft, this mostly results in using 75% or less of the onion and throwing the soft spoiled part away. Onions with soft spots can actually be purchased if you want to use them immediately, but if you have the intent of storing the onion, you should stay off ones with soft spots.
5. Sprouting
Research has shown that sprouting onions go bad quickly. You should avoid them if you intend on storing the onions on the shelf. However, in some cases, you can purchase sprouted onions if you are going to consume them immediately.
I have seen sprouted onions that aren't discolored, soft, and smell normal. But don't be fooled because they might have less than 3 weeks before they go bad.
6. Mold
One of the best tips to tell if an onion is bad is by looking for molds, if you see any, it means that the onion is bad.
If you are purchasing onions from a store and you see molds, you most definitely should stay away from it and report what you have seen to the management. However, if the onion is in your home on a shelf, you can still consume it, simply remove the mold part and you should still have some fresh layers inside.
Severely moldy onions should not be consumed! You might be putting yourself and your family in danger if you use severe ones to make a meal.
7. Dry Outer Skin
Your onion should always have dry outer skin, this is usually the first thing that people check when buying onions. A crisp layer of skin will indicate that the onion is fresh and okay for consumption.
Although this is one good factor to tell if an onion is bad, you might still have to look out for sprouts, inner molds, softness, soft spots, and others.
How to Tell if an Onion is Bad After Cooking
Let us say you missed some details above and you are not sure if the onion you used to cook is ideal for consumption, how do you tell if an onion is bad after cooking with it? Cooked onions also have attributes that'll let you know if they are bad or not, this, however, depends on their level of spoilage. Here are some things to look out for;
Appearing slimy or thin.
An unusual smell after cooking.
Awkward taste (stop eating immediately).
Last Words
As doctors would say "Health is wealth" You should pay attention to everything you consume, even the littlest things matter. For some, onions remain the most used vegetable for cooking, with these tips you can easily tell if an onion is bad or safe for consumption.
Your sense of smell and touch can go a long way to help you determine the perfect onion. Start using them now, with time, you will become a pro and might even be able to tell the lifespan or shelf-life of onions with your senses.