Did you recently buy a neon sign that you can't wait to unveil? Are you confused about what to do with the accompanying fixtures? Well, worry no more, we've got the solution to your troubles. Here, we will be showing you how to hang a neon sign.
Mounting a neon sign is quite easy, so we'd like you to keep on reading to learn how to do this yourself.
Questions to Ask Before Hanging your Neon Sign
Before you go ahead to hang your neon sign, there are some questions you'll need to ask yourself.
First, what type of sign do you own?
This is an important question because there are three basic types of neon signs, and each type has its specific mounting procedures. The most popular types of neon signs include;
Hanging
Wall-mounted, and
Free-standing neon signs.
Additional features you'll need to consider are the backboard design of the sign. Is it acrylic? Is it cut to shape?
You have to know this because it influences the way you mount the sign.
N.B: Be careful when hanging a neon sign with acrylic backing to avoid breaking it.
Lastly, ask yourself if you wish to hang the sign permanently or temporarily.
Types of Neon Signs
We've listed them out before, now its time to take a closer look at them;
Overhead Neon Signs
The overhead neon sign is ideal for outdoor use. However, this does not mean you cannot use it indoors too.
Before you hang this kind of neon sign, you need ample space between your ceiling or wall and the ground because hanging it in a low spot will only make that space look clumsy and tacky.
As a rule of thumb, when mounting an overhead neon sign, we suggest that you ensure that the neon sign is at least 57 inches from the ground. This places it at a vantage position and allows it to draw attention from a distance.
You can suspend this sign on a chain with S-hooks, hanging wire, or a strong fishing line. Each neon sign brand has a unique design. The common factor is that the fixture is part of the package.
Types of Wires Used in Overhead Neon Signs
Earlier, we mentioned that different brands use different types of wires for their overhead neon signs. Some of the popular options include;
Plastic-coated hanging wire: This comes with vertical mounts and screws.
Fishing line: Strong fishing lines that you secure by tying a knot.
S-hook Chain: This is a metal chain with small S-hooks for the top and bottom.
Steps To Follow When Hanging an Overhead Neon Sign
Follow these steps to get your overhead neon sign mounted in no time
Step One: Safety First 
If you're reading this, you most likely want to DIY. We advise that you have at least one person to assist you during this process. When you have extra hands to hold your sign in place as you set up the neon sign, the process will be faster and safer.
Step Two: Measure and Mark the Holes
Look out for two or three holes on the top of your neon sign. Position it on the spot you want it to hang. Then, measure the distance between the holes and use a pencil or marker to mark your measurement.
Step Three: Drill the Fittings into the Holes
Drill a pilot hole in the marked spots. Secure the fittings from your package into the pilot holes with screws. There should be two or three of them.
Step Four: Feed-in Your Hanging Wire
This step is the trickiest part of this hanging process. Depending on the type of hanging wire you have, feed it into the hole in the fittings from Step three.
If you're using a fishing line, ensure your knot is tight. Measure your desired height and cut the excess.
For a plastic wire, push down the cylinder in the middle of the fitting and feed it in. Leave some excess on the end that goes in the Neon sign and crimp it.
If, however, you have an S-hook chain hanger, attach one end of the S-hook to the top of the chain and the other on the screw. Measure the height you want and place the other hooks at the end. You can then proceed to hang the neon sign on the bottom hook.
Step Five: Plug in your Neon sign
All that is left to do is plug in your power cable and watch as your sign lightens up.
Wall-mounted Neon Signs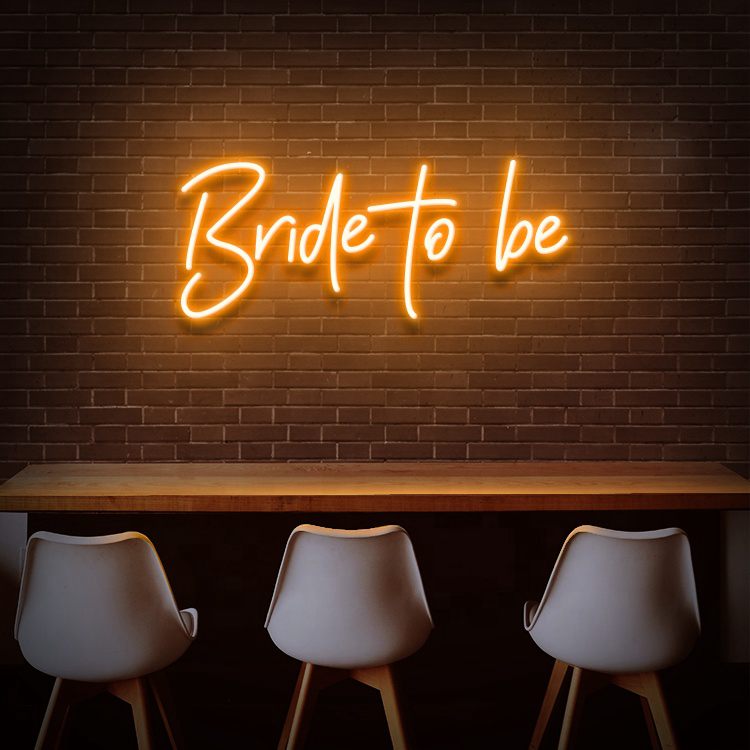 When you need to open up your space, the wall-mounted neon sign is the better option. It's bold and has a way of capturing the attention of anyone that walks in. The beauty of this type of neon sign rests on the fact that you can set it up without marking your walls.
With wall-mounted neon signs, there is no standard positioning for a wall-mounted Neon sign because it will look good anywhere you hang it. You have the freedom to place it at the top or bottom of your wall.
Also, as an added advantage, plugging the sign is relatively easy because sockets are often inside the wall. Wall-mounted neon signs are compatible with different surfaces, be it brick, wood, or panel. It often comes with mounting fixtures too.
How to Hang a Wall-mounted Neon sign
Here's how you should hang that wall-mounted neon sign
Step One: Safety First
Again, you'll need to ask a friend to assist you when hanging a wall neon sign.
Step Two: Find the Perfect Location
Where do you want to place your sign? Ensure there's a socket close so that you can plug in your neon sign easily. Also, check that it's at a vantage position.
Step Three: Prepare the Fittings
Inside your neon package, you should find silver cylindrical knobs. Unscrew the cap and release the inner screws. You will see three fixtures once you take them apart.
Step Four: Measure the Hanging Spot
Place your neon sign on the wall and measure the distance between the holes. Typically, you should have four holes with one in each corner for a four-sided sign. Use a pen, pencil, or marker to note the measurements.
Step Five: Drill in the Pilot Hole and the Fittings
What is a pilot hole? Well, the pilot hole is the anchor that allows precise placement when you're securing your neon sign. Place the cylinder on the marked spot and drill in the screws. Put your sign on the fittings and lock it with the cap.
Step Six: Plugin Your Sign
Connect the power cable to a source. If your sign is hardwired, switch on the control to bring it to life.
Free-standing Neon Signs
If a modern design is what you long for, then you might want to consider the free-standing neon sign. They're sophisticated and the easiest to mount. To mount them, you'd only need a stable surface to stand the sign on – no drills or nails are required.
Whether inside or outside, a free-standing neon sign steals the show. The design is such that you can hide the power plug under the stand. You can place it inside a glass frame or build it around the neon sign.
Once you determine the design of the neon sign, you can go ahead with the mount.
How to Mount a Free-standing Neon Sign
Follow these steps if you want to mount that free-standing neon sign
Step One: Find a Location
Free-standing neon signs don't need screws or nails to hang. All you need is a stable surface – a table, floor, or column. Whichever one you choose, consider the size of the sign.
Step Two: Set up your Neon sign
Place your neon sign on the flat surface and plug it in.
Temporary vs. Permanent Mount
Why are you hanging a neon sign? Do you want it up for a few hours or forever? The duration the sign will stay up for will play a huge role in determining the type of fitting you use.
Instead of screws, opt for a 3M strip for short-term use when hanging a wall-mounted neon sign. Also, if the sign will only stay up for a short period, there's no need to mark your walls with holes; a Free-standing sign is another alternative for temporary use.
However, when considering hanging a neon sign long-term, you'll need the functionality and security screws to provide to neon signs.
Additionally, hardwiring your cables inside a wall is suited for permanent signs. It makes the design more beautiful without having wires peeking out from behind.
Conclusion
You're now a neon sign mounting guru. Here are key points for you remember
Note the type of neon sign you own
Consider how long you want the sign to be displayed
Find the perfect location for the neon sign
Drill pilot holes before securing screws for permanent mounting
Most neon signs have an instruction manual in their packages; read them for more insight on setting up. Please hire an electrician to help you with complex wiring.
Let's know if you have any questions or opinions, hanging that neon sign in the comment box.