Anklets are a remarkable piece of jewelry. The best way to have a truly unique anklet is to make one yourself, one that speaks to your personality, fashion sense, or even your mood on that day. The nice thing about DIY is that you can make more than just one, and you are able to make various styles using similar or even different materials. It's also generally cheaper than buying one at the store. As a starting point to making DIY anklets, you can browse through online flyers for different beads, threads, and other materials that will help you create pieces that are one of a kind.
Below, we are going to tell you about twenty really cute anklets that you can DIY.
1. The Upcycled Anklet
Instead of throwing away old jewelry, you can create a whole new accesssory for your ankles. You can snip an old necklace into an anklet and add other touches of other jewelry you like on there. Alternatively, if its long enough, you can take the old necklace and add charms to it to make it more trendy, and voila - you'll have a whole new anklet. You can even stack old jewelry to make it more fun.
2. The Gold/Silver Chain Beaded Anklet
Use a gold/silver/rose gold upcycled chain to make this one. Thread some beads of your choice through it, and you're ready to face the fashion world!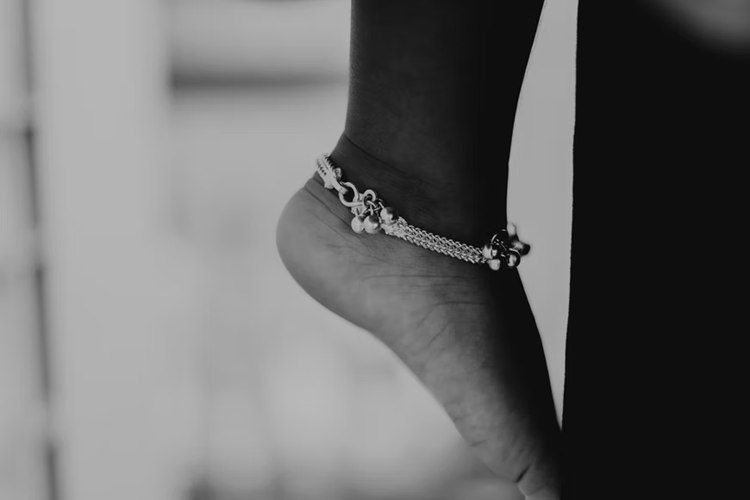 3. The Woven Anklet
As the name suggests, for a woven anklet, all you need is some thick embroidery floss; you can use different colors if you fancy. Weave the floss in and out; make it as long, fancy or detailed as you like. Make knots on both ends, so it doesn't come undone, and you'll be good to go.
4. The Beaded Anklet
With this anklet, you will use beads to create it with some threads or wool or any material that will work well with the beads. Choose colors and sizes that you like to create an anklet that will best speak to your personality and be uniquely you.
5. Woven and Beaded Anklet
Depending on what you're going for, you can use different colors of beads, embroidery floss, or thread to make this one. Add some beads to it to make it more exciting. Here you can go crazy and create an anklet that no one else will have. Remember though, if you are in Africa, every bead and thread color symbolizes something.
6. Easy Peasy Bead Anklet
With this anklet, you can use just a single bead, keeping it subtle, simple, and sweet. You may upcycle an old necklace or use wool or other available materials to execute this very easy-to-make anklet; a single bead gives it some pizzazz.
7. The Indian Anklet
India is synonymous with gold, so a gold chain and some pendants would be the right items to create this masterpiece for you. While this is the popular route to take, if your translation of India is different in the context of color themes, use those too. A cute elephant charm would certainly kick it into high fashion gear!
8.  The Flower Anklet
If you love flowers, this one is for you. Get a simple chain (upcycled, of course), embroidery floss, thread, or wool. Get some flower charms; line them up on your string of choice and you're good to go! Tiny fresh flowers or a single fresh flower would also be great but only for a few hours. Go with where the creativity takes you and make it work!
9. The Leather Anklet
A leather strap of any size will do, depending on your preference. A smaller one is advisable, though, as it will look more delicate on your ankle. You can add seashells or a charm on the end of it to add a little fun to it.
10. The Boho Anklet
Think turquoise, leather, feather charms, and small hoops. This could really be the simplest one to make, depending on your translation of boho. It is likely the most versatile one too.
11. The Braided Anklet
As its name suggests, take some thread, wool, or any material that is best suited to what you want to achieve; braid it together, and you have a new accessory. You can use different colors or make it layered, so you have more than one braid. Really quirky piece if we do say so ourselves.
12. The Braided and Seashell Anklet
Braid it like the one above and add some seashells to it to give it character. Lovely piece, really.
13. The Braided Silver Bead Braid Anklet
Use silver beads between your threads and braid them to give your anklet a nice shiny look.
14. The Knotted Anklet
Whether for spiritual or fashion reasons, we cannot deny the longevity of this very simple yet remarkable piece of jewelry. Using embroidery floss, wool, thread, or any appropiate material, make knots along the length of it and specific intervals making a pattern of the knots.
15. The Knotted, Beaded Anklet
So in-between the knot intervals, add some beads to give it some texture. Use the long rather than the round beads. Stick to the round ones if it works better for you.
16.  The Friendship Anklet
Usually a friendship bracelet, a friendship anklet would work just as well. We love the symbolism of the accessory and that it can work either on your wrist or ankle.
17. The Ocean Themed Anklet
Think trinkets like seashells, starfish, and seahorses all held together by a chain, thread, or wool.
18. The Spell Your Name Anklet
You can get charms that have letters written out on them, and instead of making a bracelet with them, you can make an anklet.
19. The Stretch Anklet
The stretch anklet entails you using stretchy or elastic material instead of thread, wool, or embroidery floss. Use beads or anything else you like to make it fancy.
20. The Birthstone Anklet
In some cultures, anklets hold a very special meaning, and in other societal settings, they are used simply for their aesthetic beauty. This one would be especially sentimental because it is believed your birthstone carries some luck when you have it on your person. Use your birthstone instead of beads or other charms.