hey friends!
Just popping in to tell you a bit about what is in the works around here.
1. I volunteered to stitch a new embroidery pattern for Sara at the Split Stitch. You can
head on over there
to read about the pattern I chose. I have already started embroidering and I am excited for what it is turning into. There is a project and giveaway from me involved when Sara introduces the stitched patterns on her blog, so you should just give her a follow so you don't miss any of the fun!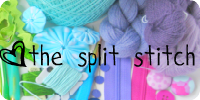 2. I have started work on my big ol' August plans for my blog. I just know you will love it! A whole theme month with tutorials and fun projects and tips centered around one theme. Want a hint? It is not something you have seen a lot of from me here on my blog. Any guesses? I mean, I won't tell you if you are right, but guessing is fun! I have now said fun twice in one paragraph. It will be fun though. Funny fun fun.
3. I also have a new weekly series in the works centered around
Pinterest
. It may even turn into a link party. We'll see how it plays out but I will let you know when I have finalized things.
I am such a tease! I wish I could crank out a project a day, but there are only so many hours. What in the world did I do with my time before I was a mom and had a blog?! No, really, I don't know what I did with my time.