I was so excited to participate in the handmade gift exchange at Craftaholics Anonymous!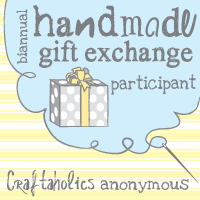 After I was assigned my partner, we emailed back and forth a couple of times, getting to know one another. I really was pretty nervous that I wouldn't be able to think of anything to make. Then she told me her favorite movie is Breakfast Club. Bingo! I knew exactly what I would make.
The cross stitch pattern is from
wee little stitches
. I have talked about this cute little etsy shop before, but let me tell you again how great they are! Great patterns and
really
great customer service. I want to make like 10 of their patterns. So many patterns, so little time.
I severly underestimated how long this would take. I expected a week or two. It took me a month - in fact, I mailed it out one day before the deadline. It was a close one.
Hope you all like it and more importantly, I hope my exchange partner loves it!
Stay tuned for part 2 - what my partner made for me :)