Summer plans anyone?
No vacations here - bummer. No family visits, no theme park trips planned. If anyone wants to, you know, just give us a vacation to Disney World, that would be awesome.
Pretty much our summers pass like every other season - which is fine. We live a good life, vacations or not.
But I have made some crafting plans for this summer that I am really excited about.
First of all, I am participating at the Handmade Gift Exchange over at Craftaholics Anonymous.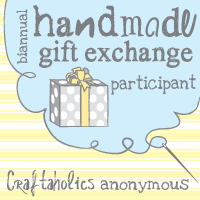 I have already been paired up and I am working away on my partner's gift. I can't wait to finish it, mail it off and then share it with all of you! I think she will love it - at least I hope so.
I am excited to get some project ideas and to work with specialty flosses. I am really in love with embroidery right now and I can't wait to get started on some fun, new projects.
What are your crafting plans for the summer?