Hope your weekend has been great! Mine was busy and full of cranky kid. Until now. This afternoon has been blissful. Sawyer has been asleep for over 3 hours and still going. I have been able to do a little sewing, a little cleaning (very little), and I was able to finish up this to share with you.
This is the cross stitch piece I have been mentioning in previous posts. I finished it Friday night, and was able to frame it and pretty it up today.
I may or may not have mentioned that I don't do great with decorating my house for the holidays. Probably because that is too much work, but also because I tend to dislike a lot of the themed stuff you find in stores. (Christmas is the exception. It looks like Hobby Lobby exploded in my house come December.)
So anyway, I made this to satisfy my spring decorating urge. It's springy what with a baby deer and all. And then there is flowers, which bloom in spring. And orange. Yeah.
frame: Hobby Lobby
paint: delta Orange Pop
yo-yo flowers: made by me
yellow flower: Jo-Ann
linking up: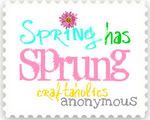 Centsational Girl